John W. McKnight
(1862-1941)

John W. McKnight

John W. McKnight was born on Oct. 23, 1860 (or 1862) in Fayette County, PA, the son of William and Mahala (Minerd) McKnight.
He apparently never married. The photo seen here is thought, but not proven, to be him.
Circa 1900, John resided with his parents on their farm near Sandy Hill, Fayette County, PA, and worked as a coal miner.
John was named in his father's will to inherit the family farm and personal property, including the bank account. In 1906, after his parents' death, he purchased a two-acre tract of their farm at Sandy Hill and lived there for many years.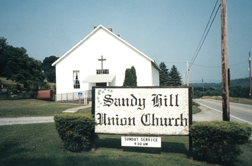 Site of John's final resting place

When the federal census was taken in 1910, John resided alone in a dwelling along the New Salem Road, near Sandy Hill Church. His occupation was written as "coal miner." Several houses away, the widow of his brother Alford made a home for herself and her three adult children -- Nora, Ella (hospital nurse) and Jesse (public school principal).

In 1920, he continued to live on the old family farm, as shown on the census. Circa 1937 he relocated to a new home on Connellsville Street in Fayette City, Fayette County.

John endured hardening of the arteries and died of a heart attack at the age of 80 on July 9, 1941. His remains were lowered into the sleep of the ages in Sandy Hill Union Church Cemetery. His nephew David Prewett was the informant for his official Pennsylvania death certificate.

Copyright © 2000, 2009, 2010-2011, 2014, 2022 Mark A. Miner