Alford Swan McKnight
(1853-1909)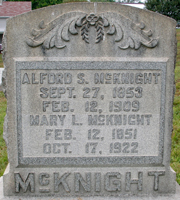 Sandy Hill Church
Alford Swan McKnight was born on Sept. 27, 1853 in Jefferson Township, Fayette County, PA, the son of William and Mahala (Minerd) McKnight.
Alford married Mary L. McGovern (Feb. 12, 1851-1922), daughter of James and Rebecca (Coats) McGovern of Jefferson Township, Fayette County.
Their three children were Nora E. Deck, Emily Ella McKnight and Jesse Minerd McKnight.
Like his father and brothers, Alford was a coal miner.
The McKnights lived on a two-acre tract of his parents' farm near Sandy Hill, Fayette County. They were members of the Central Christian Church of Uniontown.
Alford was troubled with heart disease. He died from its effects at the age of 55 on Feb. 12, 1909, at the family residence on the New Salem Road near Sandy Hill. Interment was in Sandy Hill Cemetery.
Later that year, Mary sold the family property to Mary Kacur. The tract consisted of 1.53 acres plus a two-story frame house and frame outbuildings including a chicken house and a coal house.
Mary outlived her husband by 13 years. When the federal census was taken in 1910, Mary and her three adult children lived together in the family residence, near Sandy Hill Church. Making his home several houses away, but on a bordering property, was her single brother in law, John W. McKnight.
By 1920, when the 1920 census was taken, the 68-year-old widow lived with her son and daughter in law, Jesse and Minnie McKnight, on North Gallatin Avenue in Uniontown. She could not have helped but be proud of her son as a school principal in North Union Township schools.
Burdened with heart valve disease and a urinary infection, Mary passed away on Oct. 17, 1922, at the age of 71. They are buried together at the Sandy Hill Church, near the graves of his parents and step brother John Henry McKnight.
Other distant cousins buried at Sandy Grove are Robert "Milroy" Everly and John F. Rockwell. Whether the McKnights were acquainted with these individuals, or knew of the family connections, is unknown.
~ Daughter Nora (McKnight) Deck ~
Daughter Nora E. McKnight (1878-1936) was born on Jan. 31, 1878 in Sandy Hill, Fayette County.
She wedded James H. Deck ( ? -1962).
He had been married before to Martha Frank ( ? -1913) and brought two sons to the union, John Deck and Roy Deck.
The couple bore a daughter of their own, Naomi Deck.
James earned a living over the years as a groceryman. The Decks initially resided in Uniontown, Fayette County. Later, they migrated to West Newton, Westmoreland County, PA, where they belonged to the First Baptist Church.
Just a few weeks before her 58th birthday, Nora suffered a stroke. A day later, on Jan. 20, 1936, the Angel of Death carried her away. Funeral services were held at the First Brethren Church of Uniontown, led by Rev. Fehr and Rev. William H. Clough. She sleeps in Park Place Cemetery in Uniontown. An obituary in the Uniontown Evening Standard said that the Decks "were formerly well known residents of Uniontown."
James outlived his wife by more than a quarter of a century. He eventually relocated to Harrisburg, Dauphin County, PA, where his married daughter was living. He died in Polyclinic Hospital in Harrisburg on June 28, 1962. An obituary was printed in the Evening Standard. He was survived by seven grandchildren and a dozen great-grandchildren. Rev. True L. Hunt preached the funeral sermon.
Stepson John Deck lived at home with his father and stepmother in 1936. In 1962, he dwelled in Georgetown (PA?).
Stepson Roy Deck relocated to Saltsburg, PA by the mid-1930s. Then in 1962 he lived in Washington, PA.
Daughter Naomi Deck ( ? - ? ) was born in (?). She was united in matrimony with Clarence Gouirand ( ? - ? ). Naomi was employed as a telephone operator in Canonsburg by Bell Telephone. Circa 1948, the couple moved to Philadelphia, where Clarence was a student at the Drexel Institute of Technology, studying retail merchandising, as reported in the Canonsburg (PA) Daily Notes. The family resided in Harrisburg in the early 1960s.
~ Daughter Emily "Ella" McKnight ~

Sandy Hill Church
Daughter Emily "Ella" McKnight (1879-1951) was born in 18879.
She apparently never married, but devoted her life to her work. She was a nurse and historian at Uniontown Hospital, having graduated from the Uniontown Hospital School of Nursing in 1910.
Ella was a longtime member of the Central Christian Church and the Uniontown Hospital Alumnae Association.
At age 50, she made her home with her widowed brother Jesse in Uniontown in 1930.
In the early 1950s, she lived in an apartment in the Titus Building in Uniontown.
She died on May 13, 1951, and received a a front page obituary in the Uniontown Morning Herald. One of the relatives attending her funeral, said the Morning Herald, was her fellow hospital nurse and cousin Mahala Jane "Hallie" McKnight, daughter of Arthur Austin McKnight. Her nephew and niece, Mr. and Mrs. Clarence Guirand of Moundsville, WV, also traveled to attend the funeral.
She is buried near her parents.
Copyright © 2000, 2002-2003, 2008, 2010 Mark A. Miner