Jesse Minerd McKnight
(1882-1953)

Jesse M. McKnight
Jesse Minerd McKnight was born on Aug. 21 (or 22), 1882 in Fayette County, PA, the son of Alford and Mary Louisa (McGovern) McKnight. He was a prominent educator in Uniontown, the county seat of Fayette County.
Jesse may have been named for his great-uncle, Jesse Minerd, who was tragically killed in an accident in 1860.
In 1913, when he was 31 years of age, Jesse was joined in holy wedlock with 25-year-old Minnie Margaret Tuit (Oct. 18, 1888-1921), daughter of J. Morgan and Elizabeth (Shoaf) Tuit. News of their marriage license was printed in the Pittsburgh Post-Gazette.
They produced two children, Margaret Davis and an unnamed infant son. The son was born with autotoxemia -- where the body absorbs its own waste products -- and died at the age of one day on Aug. 20, 1914. The boy's tender remains were lowered into repose in Sandy Hill Cemetery.
High school which Jesse led
During the 1903-1904 school year, Jesse taught in North Union Township (Uniontown). At the very same time, teaching in the South Union Township schools was Roy Sheppard Minerd, who later became secretary of the first Minerd Reunion in 1913. In 1905, Jesse was posted to the Downer School in North Union.
In 1910, Jesse lived with his widowed mother along New Salem Road near Sandy Hill, where he was the principal of a public school. When the high school building opened on Sept. 11, 1911, with 343 students, Jesse was named ward principal of the school.
Two years later, he was mentioned by name in the 1913 History of Uniontown, Pennsylvania, authored by James Hadden, which stated that he was a ward principal of Uniontown High School. The couple's address in 1914 was 235 North Gallatin Street.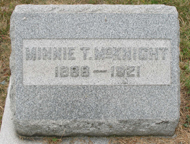 Sandy Hill Cemetery
When the United States entered World War II, Jesse like many local men was eligible for the military draft. On his registration card, he stated his age as 36, occupation as public school teacher in Uniontown, and residence on North Gallatin Avenue.
By 1920, when the federal census was taken, Jesse continued to serve as the principal of a school in Uniontown. That year, he, Minnie, Margaret and his 68-year-old widowed mother lived under the same roof, in their home on North Gallatin Avenue.
Sadly, Minnie contracted pulmonary tuberculosis when she was age 31. She suffered with the illness for 18 months, but a cure was not to be found.

Jesse
She succumbed at the age of 32 on Aug. 27, 1921, at their home in Uniontown. Her remains were laid to rest in the McKnight family plot at the Sandy Hill Cemetery. Minnie was survived by her husband, daughter, mother and several brothers and sisters. Her passing was noted by the Connellsville Daily Courier.
The federal census listings for 1930 and 1940 show Jesse, daughter Margaret and unmarried sister Ella McKnight making their home together in Uniontown on Maurice Street. He remained employed as a grade school teacher.
When a history of local schools was published in the Uniontown Morning Herald on Jan. 12, 1940, and on July 17, 1943, Jesse was named for his early role as a public educator.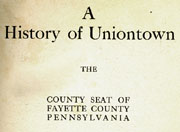 Book naming Jesse
Jesse retired from teaching at some point and retired to Austin, Travis County, TX. His address in Austin was 1001 East 30th Street. During those years, he bore hardening of the arteries and was stricken with two episodes of cerebro-vascular bleeds.
He suffered an acute heart attack and passed away suddenly at the age of 70 on Feb. 27, 1953, in Austin. Funeral arrangements were handled by the Wilke Clay Fish Funeral Home. His remains are believed to have been shipped back to Uniontown for burial at Sandy Hill Cemetery, where his wife, parents and grandparents all rest for eternity.
~ Daughter Margaret (McKnight) Davis ~
Daughter Margaret C. McKnight (1916-2002) was born on Nov. 1, 1916 in Uniontown, Fayette County, PA.
She was a student at Bethany College in 1937.
In August 1941, in the waning months of peace prior to the outbreak of World War II, she married Thomas "Arnold" Davis (1917-1994), son of Thomas J. and Sara R. (Taylor) Davis of Uniontown.
They had met in the Student Endeavor of the Central Christian Church of Uniontown. In 1937, Arnold was a freshman at Waynesburg College. Then in 1941, he had enrolled to study the ministry in Enid, OK, likely the Phillips Theological Seminary associated with the Disciples of Christ Church.
The couple bore four known children -- Patricia Ann Benegar, Phillip Arnold Davis, Dwight Adrian Davis and Jerel Keith Davis.
Over the years, Arnold was assigned to Christian Church congregations in Carnegie, OK in 1946, Austin, TX in 1953, Pampa, TX in 1961, Healdton, OK in 1968 and Newkirk, OK in 1973.
At the age of 77, Arnold died on Dec. 12, 1994, while a patient at University Nursing Center in Enid, Garfield County, OK. An obituary in the Uniontown newspaper said he was survived by a dozen grandchildren and seven gret-grandchildren. Interment of the remains was in Memorial Park Cemetery in Enid.
Margaret survived for another eight years. She passed into eternity in Enid on Sept. 2, 2002.
Daughter Patricia Ann "Pat" Davis studied at Phillips University in 1961. She wedded (?) Benegar ( ? - ? ). Her home in 2015 was in Crossville, TN. She is thought to be affiliated with Saint Raphael's Episcopal Church.
Son Phillip Arnold Davis (1944-1997) was born in 1944. Sadly, he died at the age of 53 in 1997. Details will be added here once learned.
Son Dwight Adrian Davis ( ? - ? ) was born in (?). He married Betty ( ? - ? ). The Davises lived in Enid in 2015.
Son Jerel Keith Davis (1955-2015) was born on Jan. 22, 1955 in Austin, TX. The Davises resided in Enid, where he earned a living working as a security guard at St. Mary's, Integris Bass Baptist and Enid Memorial Hospitals. When he was 56 years of age, on Sept. 15, 2011, he was joined in matrimonial union with Rebecca "Beccy" Stout ( ? - ? ). He was the father of Jason Voth and Chris Voth. In his spare time, he liked to fish and volunteer his time at Hope Outreach. He also was a member of the Cherokee Methodist Church. Sadly, he succumbed to death in Oklahoma City at the age of 60 on Feb. 19, 2015. His remains were cremated, and his obituary was printed in the Enid News.
Copyright © 2000, 2003, 2007-2008, 2011, 2020 Mark A. Miner