Home

Alice (Minerd) Rockwell
(1849-1928)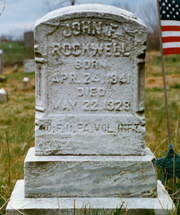 Sandy Hill Cemetery

Alice (Minerd) Rockwell was born on May 20, 1849, at Hopwood, Fayette County, PA, the eldest daughter of Andrew and Sarah (Devan) Minerd. Her father, husband and brothers served in the Civil War.
Alice grew up in and around Hopwood, Broadford and Dunbar, Fayette County. As a young teenager, she saw her father leave home to join the Union Army during the Civil War. Later, for many years as an adult, she lived as a single woman with her aged parents, and did not marry until she was 55. Not much is known of her doings.
Her husband was Civil War veteran John Freeman Rockwell (1841-1928). He was born in German Township, Fayette County, on April 24, 1841, the son of Jesse and Emeline (Baird) Rockwell. At the time of their marriage, John was a 53-year-old widower drawing a pension from his war wounds. He stood 5 feet 9 inches, with black hair and blue eyes, and was a carpenter and farmer.
During the war, John served in the 40th Pennsylvania Volunteer Infantry, and later was transferred to the 11th Pennsylvania Reserves, Company F. While with the 40th Infantry, he became sick and was sent home on furlough in January 1862. Later, upon returning to his regiment, he took part in the battle of Gaines Mills, on June 27, 1862. He surrendered there after a "great disaster" where he was wounded and taken prisoner.
"The officers and men were worn out and exhausted by the picketing and marching and fighting of the previous forty-eight hours," he wrote. The prisoners marched to Richmond and were placed in tobacco warehouses, and later were moved to "the bare and cheerless" prison camp on Belle Isle in the James River.

Union POW prison tents at Belle Isle on the marshy falls of James River, the Confederacy's largest military prison, surrounded by a stockade
John was held by the Confederates until August 6, when he was paroled at Aikens Landing. He returned to his regiment, which later fought in a number of important battles -- Second Bull Run, South Mountain, Antietam, Gettysburg, Brostow Station, New Hope Church, the Wilderness and Spottsylvania Court House.
He was sick in various hospitals until 1864, and in May of that year, according to his pension record, was thought to have "deserted previous to Battle of Wilderness," but charges later were dropped.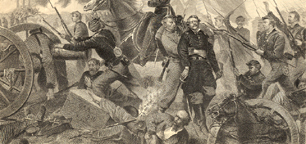 Battle action at The Wilderness, showing the assault on Spotsylvania Court House
are some of the wounded Union soldiers, from the Battle of the Wilderness in May 1864, resting in the shade at Fredericksburg.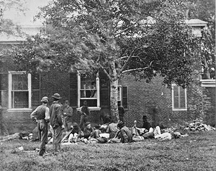 Soldiers wounded at The Wilderness
Library of Congress


He was wounded on May 6, 1864, suffering a contusion in his left forearm by a spent bullet. John was discharged on June 13, 1864, and went back home to Fayette County.

Shortly after his return, John married his first wife, Mary A. Watson (1833-1902), on Aug. 11, 1864, at South Union Township, Fayette County. They lived at Balsinger, and had four children -- Eveline B. Rockwell, Ida May Clark, Elizabeth M. Franks and Lewis W. Rockwell. After nearly four decades of marriage, Mary died on Oct. 18, 1902, of causes unknown, and was buried at Sandy Hill Cemetery near Uniontown.

John was praised as "one of the most widely known men in the county" and was a member of the Will F. Stewart Post, G.A.R., a Union veterans organization.

In the postwar years, the muscles in John's wounded arm became "soft, flabby and atrophied…" He suffered from a variety of injuries, adding to his wartime ailments. In 1887, while raking hay, the team of horses ran off. While John tried to hold the horses, the rake caught him and threw him down and dragged him 100 yards, breaking both his collarbones and injuring his side. The injuries were so bad that he needed to be helped to the house. Then, in the June harvest of 1893, while unloading a load of hay with a hayfork, the rope kinked and dropped a full load of hay directly on him, trapping him underneath and damaging his spine.

On April 14, 1904, after two years as a widower, John married our Alice Minerd, by the hand of her brother, famed Methodist minister Rev. David Ewing Minerd. At the time, he was employed as a carpenter, and lived in South Union Township. They resided in Menallen Township, near Uniontown. At the time, he drew a military pension of $40 per month.

Alice and John hosted a family dinner party in August 1919 at their home in Balsinger for her nephews Ewing D. Minerd and William Alfred Minerd who had returned home safely from World War I. Said the Courier, "The tables were arranged under a large cherry tree which has been climbed by succeeding generations."

After 24 years of marriage, John died of prostate cancer on May 22, 1928. He was buried with his first wife in Sandy Hill Cemetery.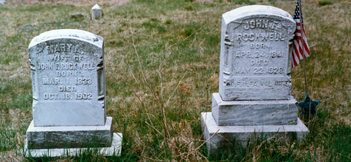 John and his first wife Mary rest together at Sandy Hill Cemetery near Uniontown
Alice lived for just four months afterward, suffering from entero-sclerosis. She moved from her home at Smithfield to Hopwood, residing there with her nephew and niece, George and Sadie Beggs. The Beggses paid for her medication and physician visits.
Alice died on Sept. 30, 1928. At her death, her property included four chairs, two tables and one iron bedstead, "and a few odd dishes."
She was buried at the Hopwood Cemetery, in the company of her siblings, parents and grandparents, among many other uncles, aunts and cousins who lie there for eternity. True to form, she sleeps anonymously, without a headstone to mark her final resting place.


Copyright © 2000-2008, 2010, 2012, 2022 Mark A. Miner
Photograph of wounded soldiers by James Gardner, courtesy of the American Memory Project of the Library of Congress. Belle Isle sketch by Capt. Harry E. Wrigley, Topographical Engineers, and originally published in Harper's Weekly.