George H. White
(1863-1951)
George H. White was born on April 17, 1863 in Hopwood, Fayette County, PA, the son of Perry G. and Mariah (Minerd) White.
In 1880, at age 17, George lived with his parents in Hopwood and worked as a laborer. By 1912 he had moved to Pittsburgh, PA, and earned a living as a foreman of Block Signal Service.
In about 1884, when he was age 21, George married 18-year-old Helen E. (or "Ella") Daugherty (1866-1935), a native of New Geneva, Fayette County and the daughter of Alexander F. and Julia (Moser) Daugherty.
The Whites produced a brood of five children -- Arthur Earskin White, George "Albert" White, Hazel A. McManus Woodington, William White and Mary Jean Kapphan.
Circa 1900, the family resided on Dyke Street in Hazelwood, a community near Pittsburgh, where George was employed as a day laborer, and their eldest son Albert, age 16, as a grocery clerk. Following a popular family occupation, George was a signalman for the Baltimore & Ohio Railroad for many years until his retirement.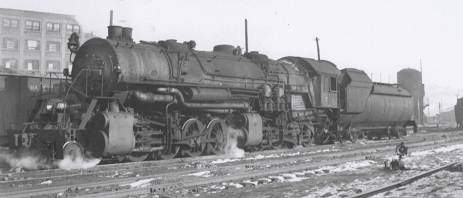 Baltimore and Ohio locomotive in Pittsburgh
When the federal census was taken in 1910, Ellen was enumerated as head of her household, at age 43, with son Albert and daughters Hazel and Mary. Ellen is marked as being married, for 26 years, but George's whereabouts are not indicated. The family resided that year on Elizabeth Street in Pittsburgh.
George and Ellen moved to Harmony, Butler County, PA sometime before 1930, where he continued his work on the railroad. Their home was along Perry Highway, today known as "Route 19." During this time, a grandson came for a visit, staying for two weeks and receiving a fishing pole as a gift, which he used with joy in a nearby creek.
Ellen suffered from liver and gall bladder cancer, and passed away in Harmony at the age of 68 on July 7, 1935. Burial was in the St. Peter's Reformed Cemetery in Harmony.
George outlived Ellen by more than two decades. As he aged, he moved into the home of his son George, at the address of 315 Path Way in Allegheny County, PA. Having endured heart valve problems, hardening of the arteries and senility, George died in his son's residence on April 1, 1951, just 16 days shy of his 88th birthday. His remains were placed into rest in Jefferson Memorial Park in the South Hills of Pittsburgh. Traveling from Hopwood to attend the funeral were his niece Lea Ray (Goff) Phillips, Elizabeth White and D.D. White.
The Whites are mentioned in the 1912 book by John W. Jordan and James Hadden, Genealogical and Personal History of Fayette and Greene Counties.
Copyright © 2000-2004, 2007-2008, 2014 Mark A. Miner