Joseph Benton White
(1848-1873)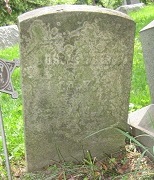 Hopwood Cemetery

Joseph Benton White was born in 1848 near Uniontown, PA, the son of Perry G. and Charlotte (McClatchey) White. He was a veteran of the Civil War, but died after the war of effects of the hardships of soldier life.
When Joseph was about the age of 10, in 1858, his mother died. Within a few years, his father married again, to Mariah Minerd. She thus became Joseph's step-mother.
Joseph stood 5 feet 4 inches, with gray eyes and dark hair, and was a farmer. After the Civil War broke out, Joseph at age 17 enlisted in the 2nd Pennsylvania Heavy Artillery on Jan. 12, 1864. He was assigned to Company K. The details of his wartime military service are not known.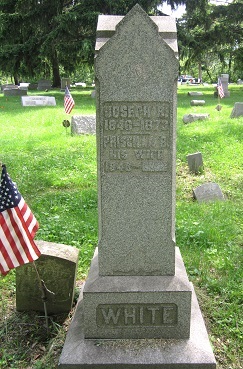 Joseph's grave at Hopwood

After the war ended, Joseph mustered out Jan. 29, 1866 at City Point, VA. Later that year, however, he re-enlisted in the regular Army, Co. E, 16th U.S. Infantry, on Dec. 6, 1866 for a three-year term. He was on duty at Augusta, Macon and Atlanta, GA, from 1867 to 1868.

In 1869, while on detachment at Decatur, AL, he became sick with "chills and fever" in "a malarious district" and "was unable to move with his detachment when it rejoined the regiment..." Joseph remained ill for 18 months. Later, he was stationed at Patona, Huntsville and Summerville, AL. He was discharged at Huntsville on Dec. 6, 1869, and returned home with some of the medicine he had obtained in the Army.

On Jan. 9, 1870, at the age of 22, Joseph married 22-year-old Priscilla B. Farr ( ? -1922) in nuptials held at the Fairchance Iron Works, Fayette County.

They went on to bear at least two children -- Minnie Annette White and Benton "Lucas" White.

Sadly, Minnie died at the tender age of 10 months and 1 day, on Dec. 12, 1871, and was laid to rest in the Hopwood Cemetery. In a moving obituary authored by "H. Lucas," a Uniontown newspaper said:

It was indeed hard for weeping parents and friends to let her go, but the Christian parents said they were resigned to the will of God, and freely delivered her up to Him who was more able to protect her. "Suffer little children to come unto me, and forbid them not, for of such is the Kingdom of Heaven." May parents and child meet in a better country, where there will be no more parting, and no more death.

Joseph worked as a laborer on the National Turnpike (now Route 40) and lived near his father and step-mother. But he was "very much troubled with cough, had a severe hemorrhage of the lung and sunk rapidly after that."

Adding to the family's legacy of untimely deaths, Joseph passed away at age 25, at Hopwood (Monroe), PA, on April 14, 1873 and is buried at Hopwood Cemetery. While a standard issue military grave marker stands on his grave, a larger marble shaft, with Priscilla's name, was added later.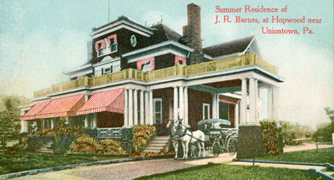 Old postcards showing James R. Barnes' summer residence, thought to have been built in 1906 on land formerly belonging or adjacent to Priscilla's.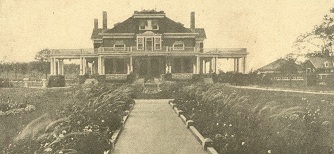 Priscilla lived in Hopwood for the remaining nearly 50 years of her very active social and community life. She made her home in a prominent, two-story house she inherited from her parents. She later sold it to James R. Barnes, a self-made coal and coke dealer who was the son of Staten and Martha Ann (Tibbs) Barnes, and grandson of Thomas and Eliza (Trader) Barnes.
The June 1907 Hopwood Chronicle said that:
One of Hopwood's old landmarks was torn down in the last few days. It was the old house purchased by James R. Barnes from Mrs. Priscilla B. White, who owned it for [many] years. It belonged to her grandparents, John and Lucinda Hopwood Farr in 1812, and was built 150 years ago. The street upon which this old house was built was called Main street many years ago, when the town was called Woodstock, this was before the Pike was built.
The August 1908 issue of the Hopwood Chronicle reported that "A festival was held at the home of Mrs. P.B. White ... for the purpose of getting money to clean out the old cemetery on the hill. It was well attended and a good amount raised."
Priscilla was said to be "one of [Fayette] county's most ardent church workers," who taught Sunday School at the Hopwood Methodist Church for 50 years and served on the church board of stewards for 36 years.
She died on April 16, 1922 at Hopwood. Her husband's step-cousin, Rev. David Ewing Minerd, the famed "Blacksmith Preacher" of Fayette County, officiated at her funeral service at Hopwood Cemetery.
~ Son Benton "Lucas" White ~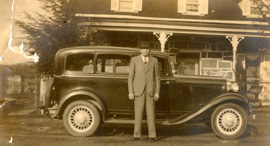 Lucas White with a favorite automobile
Son Benton Lucas White (1867-1940) was born in about 1867. He was but a boy when his father died.
On June 26, 1895, Lucas married Elizabeth Devan (1883- ? ), the daughter of John W. and Susan Devan, members of an old Hopwood family. He was age 28, and a resident of Hopwood at the time, while she was 20 and lived in Dunbar, Fayette County. Rev. John C. Johnson performed the nuptials at 77 Mt. Vernon Avenue in Uniontown.
They had seven children -- Wilbur H. White, Harry E. White, Joseph Benton White II, Clarence White, Mildred Einzig, Virginia Margaret O'Brien and Kathryn Pearl McKnight.
He was a longtime member of the Hopwood United Methodist Church, and is mentioned in an online history of the congregation.
At the time of marriage, Lucas worked as a blacksmith. When the U.S. census was recorded in 1910, the family resided on Elm Street in South Greensburg, Westmoreland County, PA. He made a living that year as a carpenter on the railroad.
In 1920, the federal census enumeration shows the Whites making their home in Hopwood, on the southeast side of Mill Street. Lucas' occupation was listed as "railroad carpenter."
When the census was taken in 1930, the Whites were in Hopwood, with Lucas employed as a truck driver for a gasoline company, thought to be American Oil Company.
Lucas died on March 18, 1940, "after an illness of a complication of diseases," reported the Uniontown Morning Herald. Following funeral services held in the White residence, led by Rev. Wayne Moore of the Hopwood Methodist Church, he was laid to rest in the Hopwood Cemetery.
~ Son Wilbur H. White ~
Son Wilbur H. White (1896 -1937) was born in 1896.
He was married and had two daughters -- Eleanor Hess and Helen White, who resided in Youngwood, Westmoreland County.
Wilbur lived in Hopwood.
He passed away "from complications" on March 8, 1937, at the Uniontown Hospital. He was laid to rest in the Hopwood Cemetery.
~ Daughter Mildred (White) Einzig ~
Daughter Mildred White (1901- ? ) was born in about 1901 in Greensburg, Westmoreland County, PA.
At age 21, Mildred worked as a clerk in Uniontown.
On March 20, 1922, at Harrisburg, Dauphin County, PA, she married Herman Leo Einzig (1901- ? ) in Harrisburg. He was the son of Anthony J. and Gertrude C. (Zinn) Einzig, also of Harrisburg. At the time of marriage, Herman was employed as an assistant manager in Philadelphia.
They had two known children -- Eugene H. Einzig and Cecilia M. Einzig.
In 1930, when the federal census was taken, the Einzigs lived on Fulton Street in Harrisburg, where Herman was manager of a lunch room.
~ Daughter Virginia Margaret (White) O'Brien ~
Daughter Virginia Margaret White (1902-1989) was born in 1902.
He married Samuel A. O'Brien (1899-1963) and lived in Revere and Uledi, Fayette County. They had no children.
The O'Briens were members of the Central Christian Church of Uniontown.
Samuel was a longtime bus driver for the South Union Township Schools. In January 1951, while turning onto Dixon Boulevard from Frankhoover Street in Uniontown, his bus was struck by a moving vehicle. While damages were estimated at $452, "no one was injured," reported the Uniontown Morning Herald.
Samuel died suddenly at home on Nov. 27, 1963, just five days after the assassination of President John F. Kennedy. He was age 64. Funeral arrangements were handled by the Minerd Funeral Home of Uniontown, followed by burial in Oak Lawn Cemetery. Pallbearers included Donald Dugan, John Lilley, Gerald Jordan, Earl Hall, Earl Everly and Arthur Everly.
Virginia survived her husband by 26 years. On the first anniversary of his death, she published a short poem in his memory in the Uniontown Morning Herald. It read:
His memory is all I have now.
His cares are all at rest.
But thankful am I who today can say, I loved and did my best.
She passed away in 1989 at the age of 87.
~ Daughter Kathryn (Pearl White) McKnight ~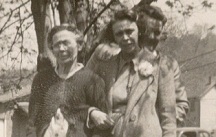 Kathryn and Charles with her mother Elizabeth (Devan) White
Daughter Kathryn Pearl White (1911- ? ) was born in about 1911.
At the age of 22, in 1933, Kathryn was employed as a telephone operator in Hopwood. That year, on Oct. 4, 1933, she married 22-year-old barber Charles Edward McKnight (1912-1954), the son of John and Emma (Dugan) McKnight of Brownfield (or Hutchinson), Fayette County. Rev. Joseph Morledge performed the ceremony.
The McKnights had two children -- Arbutis "Bootie" Zebley and John Benton McKnight.
They were members of the Brownfield Methodist Church. Said the Uniontown Herald, Charles "was a barber by trade, working in Uniontown and Brownfield for the past twenty years" up to the time of his death.
Charles died at the age of 42 on April 27, 1954 in the Uniontown Hospital, followed by burial in the Hopwood Cemetery.
(It is not known whether Charles was connected with two other McKnight families that married into the Minerds in the 1800s -- William and Mahala (Minerd) McKnight and Henry and Barbara [Minerd] McKnight, both of Fayette County. Charles' grandparents were John and Missouri (Conn) McKnight of Fayette County. Charles is not to be confused with another known cousin Charles Edward McKnight of Dawson, Fayette County.)
Son John B. McKnight (1938-2007) married Betty Landman and resided in Brownfield, Fayette County. They had one son. John passed away at the age of 69 on May 27, 2007. Burial was in the Franklin Cemetery in Dunbar.
~ Son Joseph Benton White II ~
Son Joseph Benton White II (1914-1982) was born on Sept. 29, 1914 in Greensburg, Westmoreland County, PA
He later lived in Fairchance and Connellsville, Fayette County.
On Dec. 13, 1935, at Cumberland, Allegany County, MD, Joseph wed Eleanor Mercedes Humphrey (1919-1993).
They had six children -- Patty Jo Warner, Robert Dale White, William Joseph White, Lynette Kaye Myers, Thomas Calvin White and Terris Carol White.
Joseph and Eleanor later divorced.

Harry White
~ Son Harry E. White ~
Son Harry E. White (1922-1978) was born in 1922.
He served in World War II. He is seen here, proudly wearing his United States Army uniform.
He died in 1978 at the age of 56.
Copyright © 2000-2003, 2005, 2007, 2010, 2018 Mark A. Miner