Mary Frances (White) Turner
(1844-1904)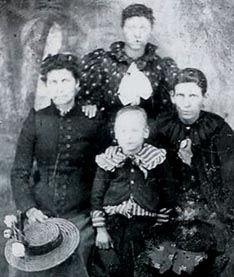 Mary (right) with her daughters
Mary Frances (White) Turner was born on June 3, 1844 in Maryland, the daughter of Perry G. and Charlotte (McClatchey) White.
The photograph at left shows Mary with her daughters Sarah "Elizabeth" Smalley (left) and Sophia Inks (center) and a not-yet-identified boy.
Her husband was a veteran of the Civil War. Their descendants hold an annual reunion every year in Fayette County, PA.
As a young girl, Mary Frances and her parents moved to Wharton Township, Fayette County, where her father was a construction contractor on the National Turnpike. Mary was but a young girl when her mother died, and her father remarried Mariah Minerd.
In August 1862, when she was age 18, Mary Frances married 21-year-old George Washington Turner (1841-1923), son of John W. and Eliza J. Turner. He claimed that he had been born in Pennsylvania and his father in Virginia and mother in Maryland.

George W. Turner

The Turners produced a large family of 10 known children -- Sarah "Elizabeth" Smalley, Sophia Inks Dean, John Perry Turner, Ulysses Simpson "Grant" Turner, Charles S. Turner, Homer W. Turner, Lydia Heltebran, Charlotte "Lottie" B. McMillan and Frank George Turner.

A Uniontown newspaper once said Mary Frances "was a faithful wife and a kind christian mother."

During the Civil War, right around the time of his marriage, George enlisted in the Army on Aug. 20, 1862. He was assigned to Company E of the 16th Pennsylvania Cavalry. One of Mary Frances' cousins by marriage, Samuel A. Birch, also was a member of the 16th Cavalry.

In late April 1863, while at Warrington, VA, and suffering from some sort of physical disability, George was sent to a general hospital in Alexandria, VA, where he remained for some time, most likely at Camp Convalescent. While hospitalized, he missed his regiment's participation in the Battle of Gettysburg. In mid-March 1864, apparently his health not improving, George was transferred to the Invalid Corps, also known as the Veterans Reserve Corps (VRC).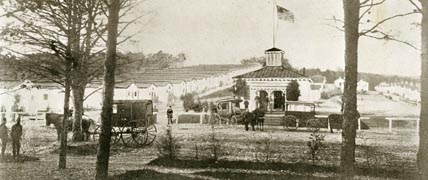 Camp Convalescent in Alexandria, VA, where George is believed to have been treated for a not-yet-identified ailment during the Civil War

Uniontown Daily News Standard, 1904
After the war, George returned home. Said the Uniontown (PA) Daily News Standard, the Turners resided "six miles from Ohiopyle Falls."
A wave of measles swept through the mountain in the spring of 1890, severely infecting the Turner household. The April 11 edition of the Connellsville Courier reported: "George W. Turner's family is seriously afflicted, one child has become deaf and it is thought that another one will lose its eyesight from the effects of the disease."
George drew a pension from the federal government as compensation for his wartime disabilities. The details are not known, but he would have received a monthly check which would have provided a steady stream of income to offset the seasonal nature of farming life.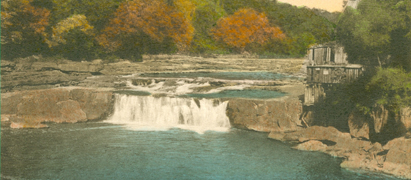 Rare old postcard of the world-famous Ohio Pyle falls, set against the backdrop of the "Little Alps of America."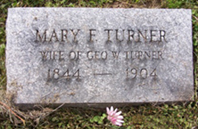 Bryner Ridge Cemetery
When the federal census was taken in 1900, the Turners were listed as living on the outskirts of Ohiopyle. Also residing in the home that year were daughter Charlotte and son Frank, with son Charles residing several doors away.
Mary Frances passed away at age 61 at home on Sept. 23, 1904. She was laid to rest at Bryner Ridge Cemetery, also known as Middle Ridge Cemetery, near Ohiopyle. The Daily News Standard carried her obituary, naming her father and living siblings.
George outlived Mary Frances by nearly two decades.
At the age of 68, on Oct. 26, 1908, George married a second time to his former daughter in law, Flora (Hull) Turner (1877-1953), the ex-wife of Charles S. Turner. George W. and Flora were nearly four decades apart in age -- he 68, and she 31. The matter caused such a controversy that it generated large headlines in the Connellsville Courier, reading: "Woman Becomes Stepmother of Her Divorced Husband." The opening paragraph read:
If Mrs. Flora Turner had any ill will against her husband who was divorced from her three years ago because of desertion, she has taken a long step towards getting even. Today she is her former husband's stepmother. Likewise is George W. Turner, an aged resident of Ohiopyle, now the husband of his former daughter in law.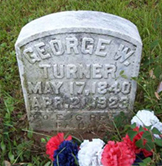 Bryner Ridge Cemetery
The couple went on to have four more children -- Mary Turner, John "William" Turner (born 1908), Robert M. Turner and Albert I. Turner (born 1919). They were together when the federal census was enumerated in 1910.
George was one of nearly 200 Civil War veterans to attend the annual reunion of the Fayette County Veterans Association in August 1919, held in Uniontown. It "lacked nothing in comparison with previous ones," reported the Daily Courier. "The dinner, according to Commander W.P. Clark of Kurtz post, was 'the best we ever had' at a reunion. The dinner was served by the Ladies' Circle of Uniontown... Free transportation was provided the veterans to and from the county seat by the West Penn Railways company. Among the other veterans attending was Mary Frances' step-first cousin Isaac F. Minerd of Dunbar, Fayette County.
When the federal census enumeration was made in 1920, the 79-year-old George was living with his widowed daughter Sophia Inks and 20-year-old boarder Wesley Williams in Ohio Pyle. Flora's whereabouts are not shown.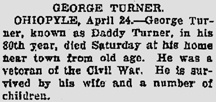 Obituary, 1923
At the age of 83, George was afflicted for nine months with kidney disease. After lapsing into a "uremic coma," he succumbed eight days later on April 21, 1923, at age 83. His remains were placed into honored rest beside his first wife Mary Frances at Bryner Ridge Cemetery, also known as "Middle Ridge Cemetery."
His newspaper obituary, published April 26, 1923, discreetly said George was "known as 'Daddy Turner', in his 80th year, died Saturday at his home near town from old age... He is survived by his wife and a number of children."
Flora began receiving her late husband's Civil War pension payments to support her and their four young children. The Nov. 22, 1924 issue of the Daily Courier said she would receive approximately $600 in back pay, plus $30 per month and $6 per month for each child.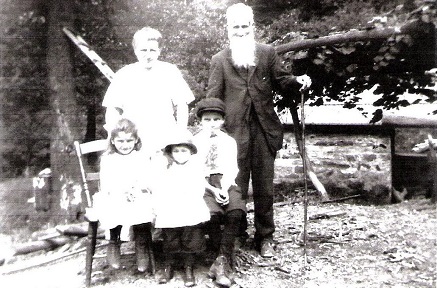 Flora and George Turner with Mary, Irene and Raymond
Flora outlived her husband by 30 years. She cohabitated with her stepson Homer Turner, who was four years older than she. When the federal census was taken in 1930, Flora and Homer were enumerated in the same residence, with Flora marked as "Head" and Homer as "Step-son." Son Raymond, son William and wife Alverta, son Albert and grandson Thurm (?) also lived under the Turner roof that year.
Chalk Hill, PA
She died at the age of 76, on Dec. 26, 1953, at the home of granddaughter Mrs. Ralph Smalley, at Coolspring, Fayette County. The Daily Courier said she was survived by two sons, Albert of Perryopolis and Raymond of Ohiopyle, and a daughter, Nancy Leonard of Dunbar, as well as 16 grandchildren and 11 great- grandchildren. Burial was in the Lutheran Cemetery at Chalk Hill, following a funeral led by Rev. Walter Lohr.
George and Flora's son Albert I. Turner (1919-1955) was born in 1919 in Ohio Pyle. During World War II, he served in Company C of the 151st Infantry of the Army. He was married to Leona Jones ( ? - ? ) and the father of two -- Nancy Turner and Thomas Turner. They dwelled in Vanderbilt, Fayette County, where Albert earned a living providing mill work labor. In the mid-1950s, Albert became depressed when unable to land employment. While in Vanderbilt on the fateful day of July 7, 1955, the 36-year-old Albert took his own life, first by slashing his wrists with a hunting knife and then shooting himself in the head with a .22 caliber rifle. The body was discovered by a brother-in-law. His remains were placed into the sleep of ages in Chalk Hill Lutheran Cemetery, with Rev. Samuel Harper leading the funeral service.
Unfortunately, George's Civil War pension papers, which should be a treasure trove of information about his life, exist but apparently are lost. They were transferred from the National Archives -- where they are widely accessible to the public -- to the Veterans Administration, where they are not. Efforts were made in 2009 to secure a copy of these papers, without success. Two letters received by Minerd.com's founder in June 2009, from the Veterans Benefits Administration in Washington DC and the Department of Veterans Affairs in Pittsburgh, state that the records are not kept by those offices. A January 2010 letter from the VA's regional office in Baltimore states:
We are responding to your request for information submitted under the Privacy Act CFR 503. The service records you requested are not located at our station. We unfortunately were unable to locate a known record on Veteran George Turner. We worked with two National Archive Storage Facilities, and a thorough search was conducted at both sites. We apologize for the delay in processing your request, and for not being able to provide a more favorable response.
~ Turner Reunions ~

News article - 1977 Turner Reunion
In 1975, the descendants of George and Mary (White) Turner began holding annual reunions in Fayette County, PA. The third annual reunion, in 1977, was conducted at Braddock's Inn, with Theron J. Turner elected president. A newspaper article reported that "A buffet dinner was served. The afternoon was spent reminiscing over old pictures, working on the family tree of some eight generations, playing games and contests for which prizes were awarded.... Officers for 1978 were elected: president, Arthur McCartney; vice president, Ray Turner; secretary, Margaret Masiarelli; treasurer, Nell Marker." The 1978 reunion was scheduled to be held on the third Sunday of August 1978. The 2007 reunion was held on Sept. 2, 2007, beginning at 1 p.m. at Wharton Township Park along Route 381 in Farmington, Fayette County.
Copyright © 2003-2004, 2006-2007, 2009-2010 Mark A. Miner
Grave marker photos courtesy of Brenda (Turner) Blake. Charles William Dean, Vivian Kalberer and Paul Kyle also have shared content for this biography.