Sarah 'Elizabeth' (Turner) Smalley
(1865-1909)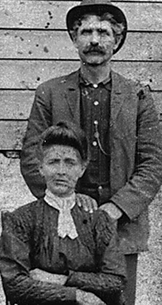 Sarah Elizabeth "Lizzie" (Turner) Smalley was born in June 1863 (or 1865) in Fayette County, PA, the daughter of George Washington and Mary Frances (White) Turner.
Lizzie left behind a very scant paper trail. She and her husband are seen here.
She married George "Burl" Smalley (1849-1930), the son of William and Mary Smalley. The wedding took place in about 1883, when Lizzie was age 18, and George was 34. She was 16 years younger than her husband. Interestingly, George had been born "on the ocean" in 1849 during his family's emigration from England to the United States.
Their two sons were Charles H. Smalley (born 1884) and Frederick G. Smalley (born 1889).
The 1900 census of Stewart Township shows the family together, with George laboring as a farmer.
Sadly, Lizzie died without much warning on April 8, 1909, when she was just 45 years of age. A physician wrote on her death certificate that "death sudden and there was no Doctor could get to her." Interment was in Bryner Ridge Cemetery.
As a widower, George made his home with his son Frederick in Stewart Township. The 1910 census shows the 60-year-old George, and 20-year-old son Frederick, living under the same roof. Their occupations that year both were marked as "farmer." George's listing in the 1920 census has not yet been located.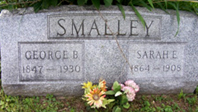 The shadow of death dealt a cruel blow to the family on Dec. 2, 1924, when 40-year-old son Charles, a farmer, was struck and killed by a railroad train in a freak accident at Ohio Pyle. County Coroner S.A. Baltz wrote: "Struck by B. and O. train No. 8 at grade crossing. Fractured skull." Burial was in Bryner Ridge Cemetery. A.A. Corriston of Ohio Pyle, a friend of the family, was the source for information on the death certificate.
George died sometime during the day on March 18, 1930, at the age of 81. Son Fred found him dead in bed that evening. The Uniontown Daily News Standard eulogized him as "one of the oldest citizens of Stewart township..." The funeral was held at the home, led by Rev. Kooser. George and Lizzie are buried together at Bryner Ridge Cemetery, also known as Middle Ridge and the old Sproul(e) farm cemetery over the years.
Son Charles H. Smalley (1884-1924) married Florence Armel (1894-1988). They had six children -- Harry Smalley, Robert Smalley and John Smalley, and three others.
When the census was taken in 1920, the Smalleys lived next door to Charles' brother Frederick, and the brothers made a living as coal loaders at a nearby mine. In November and December 1919, Charles placed the following two classified advertisements in the Connellsville Daily Courier, showing his mettle but also a sense of humor, and displaying some of the complexities of the farming life at the time:
Notice.
THE PARTIES THAT SHOT MY hog are known and unless they call and settle, will be arrested. Chas. H. Smalley, Ohiopyle, Pa.
Strayed.
STRAYED--ON MY PREMISES, ONE bob tall horse. Owner may have same by proving ownership, paying for this ad and feed. Chas. H. Smalley, Ohiopyle, Pa.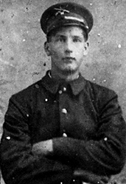 Charles is seen here, wearing a uniform of unknown origin.
Tragedy rocked the family on the morning of Dec. 2, 1924, when Charles was in Ohiopyle. He had made stops to obtain his mail at the post office and to purchase groceries at the store of R.W. Whipkey Company. While heading home, his horse was startled by a noise, and bolted toward the railroad crossing. At the same time, a Baltimore & Ohio Railroad locomotive was bearing down on the crossing. Charles managed to turn the horse away, but his sled crossed into the path of the train, demolishing the sled, and killing him instantly. His mangled remains were laid to rest in the Bryner Cemetery, not far from the grave of his mother.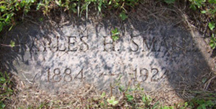 Seen here, Charles' grave marker, with threatens to be overtaken by grass.
Several days later, a Fayette County Coroner's inquest was held. Given the freak nature of the accident, the jury absolved the B&O Railroad from blame, but also recommended that the company "install a crossing warning system at Ohiopyle that would be more uniform than that now in use," reported the Courier. In providing eyewitness testimony, storekeeper Whipkey said that "warning bells ring from several minutes, to two or three hours ahead of trains going in one direction but only a few minutes the other direction. Smalley was crossing the tracks while the bell was ringing."

Widowed, Florence helped raise her six children to adulthood. She survived her husband by an extraordinary 64 years. She died in 1988, at the age of 94.
Son Frederick G. Smalley (1889-1974) was born on Oct. 22, 1889 on Kentuck Knob, near Ohiopyle. He served in the US Army during World War I. Frederick wed Laura Watson (1904-1989), the daughter of W.J. Watson, in about 1919. Laura was age 15 at the time of marriage, while Frederick was a dozen years older. They had six children -- Roy G. Smalley, James E. Smalley, Frederick Smalley, Clyde C. Smalley, George R. Smalley and Sylvia M. Smalley.
The 1920 census shows the newlyweds living near Ohiopyle, with Frederick employed as a loader in a local coal mine.
Just a few doors away from the Smalleys in 1930 lived Frederick's step-grandmother, Flora (Hull) Turner, and her children ranging in age from 11 to 22.
Frederick passed away on Oct. 12, 1974, at the age of 85. At the time, said the Uniontown Morning Herald, he was survived by 18 grandchildren and 10 great-grandchildren. He was laid to rest in Middle Ridge Cemetery.
Copyright © 2003-2004, 2006-2007, 2009-2010 Mark A. Miner
Grave marker photos courtesy of Brenda (Turner) Blake, which also are posted on the Find-A-Grave webpages for Bryer Ridge Cemetery