Homer W. Turner
(1874-1946)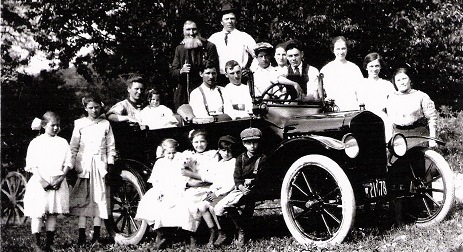 Homer at the wheels surrounded by family -- standing, L-R: Leona Turner, Mary Turner, George Turner, Al Winger, George Turner, Hazel Johnson, Robert and Nora White, Nancy Leonard, Sally Turner. Seated in car, L-R: Nora Turner, unknown baby, Homer Turner, Ed Leonard. Seated on running board, L-R: Madelyn White, Raymond Turner, Bill Turner. Courtesy Paul D. Kyle
Homer W. Turner was born on May 21, 1873 in Fayette County, PA, the son of George Washington and Mary Frances (White) Turner.
He was a longtime farmer in and around Roundtop near Chalk Hill, Stewart Township.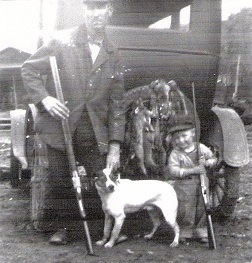 Homer and nephew Theron Turner

Courtesy Paul D. Kyle
On Oct. 9, 1896, when he was about 23 years of age, he eloped to Cumberland, MD to marry 17-year-old Sarah B. "Sally" Hull (Dec. 1878- ? ), daughter of Isaac and Jane (Inks) Hull of Chalk Hill, Fayette County. The Turner and Hull families were unusually close, and Homer's brother Charles was married to Sarah's sisters Flora and Grace. Homer's father also was married to Sarah's sister Flora later in life.
During their 15 years of marriage, Homer and Sarah produced five children, Sophia Holland, Lenora White, George E. Turner, Hazel Johnson and Agnes Wenger, born between the years 1898 and 1905.
The 1900 census shows the family living in Stewart Township, just a few doors away from Homer's older married sister, Elizabeth and George Smalley. In what added to a very complicated set of relationships, Homer's brother Charles wedded Sarah's sister Flora, and when the couple divorced, Flora married her ex's father. Deepening the intrigue, in the 1908-1911 timeframe, Homer and his stepmother Flora were "sparking" -- carrying on an affair -- made convenient as they lived next door to each other.
Homer and Mary couple separated during the decade between 1900 and 1910. When the census was taken in 1910, Homer and the children lived next door to his father.
The couple officially were divorced on March 6, 1911. Reported the Uniontown Morning Herald:
[Flora] also divorced Charles as Sallie had divorced Homer. However, Flo beat sister Sallie to it, and got married again before Sallie ever got her divorce. And who in the world should marry her but old "Pa" Turner, who signs his name George W. Turner, now almost 85 years old.... But Sally got her divorce, and "Pa" Turner not bein a Mormon was unable to marry her, too. Charles didn't seem very keen for her either and so she went to Philadelphia and got a job as a maid for a specialist.... While Sallie was in Philadelphia, her ex-husband, Homer Turner, was grubbing land and raising onions at Greenbriar.
After Sarah's relocation to Philadelphia, she married carpenter Charles E. Hann ( ? - ? ) in 1913. Charles had steady work and earned $22 a week. They resided at 1303 Butler Street. By 1915, the Hanns operated a boarding house.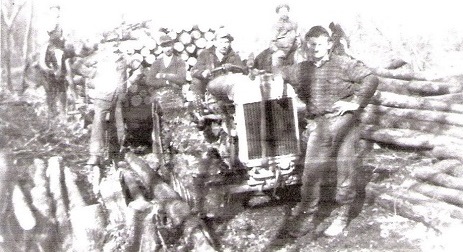 L-R: logging operations with, L-R: Charles Turner, Homer Turner, Theodore "Ted" Turner and Raymond Turner. Courtesy Paul D. Kyle
On Oct. 24, 1912, at age 38, Homer wed his second wife, 29-year-old widow Anna B. "Annie" (Williams) Wallace (1883- ? ), daughter of Isaac Newton and Margaret (McCann) Williams of Stewart Township. Following a common practice in the Turner family, Homer and Anna united themselves in marriage. Anna's first husband had died on July 30, 1910.
Research is underway to determine if Homer and Anna were the parents of James A. Turner.
While Homer had legal custody of his and his ex's children, Sarah felt he did not furnish them with a "respectfable home, frequently failed to provide for them and by a long continued course of improper and immoral conduct, he has rendered himself unfitted and an improper person to have the care and custody of said minor children," she once said. During the summer of 1914, said the Morning Herald, Sarah:
...came to Uniontown and hied over the mountains to see them. She decided they ought to have some new duds and the youngsters were willing to go to town to get them. Then their mother kidnaped them. She said so herself. She got them into an auto and took them to Ohiopyle with the idea of taking them aboard an eastbound train for Philadelphia. The kids didn't want to go and ran away. A short time ago Mrs. Hann arrived here on her annual vacation. She went up to see the children and ex-husband Turner shooed her away, she says, with a shotgun. Daughter Sophia, now 18, wanted to marry Ed. Holland, a mountain farmer. Her father objected, but Mrs. Hann took her to the register's office and gave the official consent. Then Mrs. Hann threw the glare of publicity on her ex-husband by securing a writ of habeas corpus, requiring him to bring the children into court...
Sarah's suit for custody in Fayette County Orphans Court was argued in August 1915. The local press had a field day with the story, and one Morning Herald headline read "Marital Mixup Features Case; ... Matrimonial Entanglements of Hull and Turner Families Aired Before Judge Reppert." When asked, the children Lenora (age 16) and George (14) stated that they preferred to live with their father. Judge Reppert divided the children in twos, awarding custody of Lenora and George to the father and of the two youngest children to the mother. The judge's ruling on Sarah's behalf was that she would keep them in Philadelphia until May 1, 1915, when she was to return them to their father and furnish a $300 bond.
Homer and Anna divorced.

Obituary, 1946
In the summer of 1921, the Uniontown Evening Standard reported that Homer was planning a "big shooting match" about one-and-a-half miles from Chalk Hill, and was offering as prizes some "good mountain spring chickens."
By 1930, he was cohabitating with his former sister in law, the widowed Flora (Hull) Turner, who also had been his step-mother for a time. They are shown together in the the United States census of 1930. Their intimate relationship had spanned more than two decades.
Homer allowed his photograph accompanying a testimonial for a July 1937 newspaper advertisement for the Herb Doctor, sold at Liggett's Drug Store in Uniontown. He testified that:
63 years ago I first saw the light of day at Chalk Hill. The fresh mountain air and the abundant cool spring water have held mo close by these many years. For the past few years, however, I haven't been able to get very much pleasure from anything because of my miserable condition. I found it continuously necessary to be taking some sort of harsh laxative for my constipation, my digestion was very poor and my weight dropped 12 pounds and even my sleep at night was restless and disturbed. I, and my parents before me, have always been a great believer in the powers of herbal medicines. But neither herbal nor any other sort of medicine seemed able to help me until I took Herb Doctor. There's just no comparison between Herb Doctor and all those other medicines.
Suffering from kidney problems and hardening of the arteries, Homer was stricken by a heart attack and passed away at his home at Chalk Hill at the age of 73 on July 30, 1946. The funeral and burial were held at the Christ Evangelical Church. His obituary in the Uniontown newspaper said he was survived by nine grandchildren and nine great-grandchildren.
At the time of Homer's death, his son George and daughters Sophia Holland, Hazel Johnson and Mrs. Albert Wenger were all residing in Philadelphia, PA.
~ Daughter Sophia F. (Turner) Holland ~
Daughter Sophia F. Turner (1898-1986) was born in in July 1898 at Ohio Pyle, Fayette County.
At the age of 18, on July 15, 1915, she married 19-year-old farmer Edmund/Edward Holland (1896-1924), son of Joseph B. and Mildred (Williams) Holland. The ceremony was held at the Hollands' residence at Chalk Hill, Fayette County, with Rev. M.J. Weller officiating. While her father objected to the union, her mother took her to the marriage license office and provided consent.
They bore four children, of whom only one is known -- Rev. Charles Edward Holland.
Sophia held a party in September 1915 for her mother, Sarah Hann, who was now living in Philadelphia. Reported the Uniontown Morning Herald, "The music for the evening was furnished by Fuller Mackey and Alfred Lake. At a late hour delightful refreshments were served in the form of ice cream and cake, and coffee." Among the guests were Edward's sister and husband, Mollie and Bartholomew "Beth" Minerd of Chalk Hill.
Edward also earned a living as a carpenter. When the couple moved to Philadelphia, they established a residence at 3233 Front Street. He was hired for a project in Philadelphia in the spring of 1924. While at work, however, he fell and sustained a bad injury. He received treatment at the Uniontown Hospital and was planning to return to Philadelphia once recovered.
The family was plunged into an anxiety and grief, however, when Edward was diagnosed with intestinal cancer during the summer of 1924. He only lived for another few months and, while in Philadelphia, succumbed to the illness at the age of 28 on Dec. 6, 1924. The remains were sent back to Fayette County for burial in Chalk Hill, with funeral services conducted by Rev. N. Weller. Joseph C. Holland provided key details for the Pennsylvania certificate of death.
Sophia survived her husband by more than 60 years.
Circa 1973, Sophia lived in Conshohocken, near Philadelphia.
Sophia died in February 1986.
Son Rev. Charles Edward Holland made his home in Marlton, NJ.
~ Daughter Lenora "Nora" (Turner) White ~
Daughter Lenora "Nora" Turner (1899-1973) was born June 1899 in Stewart Township, Fayette County. She married a cousin, Robert M. White Jr. (1896-1964), the son of Robert Marshall White. See their biography on the White page.
~ Son George E. Turner ~
Son George E. Turner (1901- ? ) was born in about 1901 in Stewart Township, Fayette County.
At the age of about 14, he and his siblings were caught in the toxic crossfire of their parents' divorce. While they remained in the household of their father, and their mother moved to Philadelphia and remarried, the mother wanted to maintain her own influence.
In a court proceeding in 1915, questioned by Judge Reppert, George and his elder sister Lenora stated that they preferred to live with their father. The judge approved the father's custody of Lenora and George and the mother receive custody of the two younger children.
By the year 1946, George had relocated to Philadelphia.
~ Daughter Hazel (Turner) Johnson ~
Daughter Hazel Turner (1902-1984) was born in 1902.
As a teenager, after her parents divorced, she appears to have moved to Philadelphia with her mother.
She married Leonard Johnson (1903- ? ). They do not appear to have reproduced.
Federal census enumeration records for 1940 show that the couple had lived in 1935 in Philadelphia but had since relocated to Bensalem, Bucks County, PA. There, Leonard was employed as a painting contractor, while Hazel was an operator at a clothing factory.
She resided in Trevose, Bucks County, PA in 1973.
Hazel passed away in Lackawanna County, PA in July 1984.
~ Daughter Agnes (Turner) Wenger ~
Daughter Agnes Turner (1904-1970) was born on Oct. 30, 1904.
Evidence suggests that at about age 11, following the divorce of her parents, she relocated with her mother to Philadelphia.
At the age of 23, in about 1927, she was united in matrimony with 22-year-old Albert Charles Wenger (1906-1997), a native of Philadelphia. Albert earned a living at the time of marriage as a machinist with a radio company.
The couple appears not to have reproduced.
The federal census of 1930 shows the newlywed couple making a home in Philadelphia on West Silver Street.
By 1935, the Wengers had relocated to Lower Southampton, Bucks County, PA. There, circa 1940, Albert earned his wages as a machinist with a textile manufacturing firm.
Agnes succumbed to death in August 1970 at the age of 65.
Burial of her remains took place in Camptown Cemetery in Bradford County, PA.
Albert outlived his wife by 27 years. His final residence was in Wyalusing, Bradford County. He died there on Aug. 8, 1997.
~ Son James A. Turner ~
Son James A. Turner ( ? - ? ) was born in (?).
He lived in Brownsville, Fayette County in 1946.
Copyright © 2003-2004, 2006-2007, 2009-2012, 2017, 2020 Mark A. Miner