Home

Bartholomew A. 'Beth' Minerd
(1881-1962)

Beth Minerd
Bartholomew A. "Beth" Minerd was born on Sept. 25, 1881 in Dunbar, Fayette County, PA, the son of James Valentine and Nancy (Warman) Fuller Minerd. He was a longtime coal miner and public official in Fayette County.
As a 24-year-old, Beth played baseball for the Dunbar Furnace team. In a July 1905 game against Mt. Braddock, he led off with a double and scored on the next batter's triple.
Then on Oct. 4, 1906, at the age of 25, Beth married 23-year-old Mollie Maud Holland (May 30, 1883-1955), the daughter of Joseph and Mildred (Williams) Holland of Coolspring, Fayette County. The wedding took place at Otto, near Glassport, Allegheny County, PA.
The Minerds produced at least four children -- James Howard Joseph Minerd, Mina "Minnie" Markey, Gwendolyn Henshall and Ruth Renz O'Conners.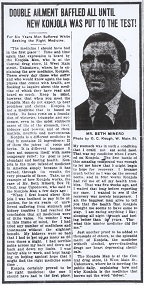 Uniontown Daily News
Standard, March 6, 1929
At the time of marriage, Beth was employed as a coal miner. In 1910, they lived in Hempfield Township, Westmoreland County, PA, where he worked as a cutter in a coal mine.
In 1918, Beth registered for the World War I military draft, and stated his occupation as a miner for the H.C. Frick Coke Company at Brownfield. Mollie was a member of the Women's Christian Temperance Uniontown (WCTU) of Uniontown.
When the federal census was taken in 1920, the Minerds and their four children lived in the Frick company housing at the Brownfield coke works. Beth's occupation was listed as "miner - coal mine." By 1924, they had moved to Lemont Furnace, near Uniontown, and in January 1929 were in the coal mining patch town of Revere.
Beth provided a written testimonial in March 1929 for "Konjola" -- a medicine that cured a variety of ailments -- that was published in the Uniontown Daily News Standard. At the time, his address was Box 72, Uledi, west of Uniontown. In the statement, he said:
When I first heard about Konjola I was inclined to pay little attention, for in six years of unrelieved suffering from stomach and kidney troubles I had reached the conclusion that all medicines were of little value. No wonder I was in this frame of mind, for I had tried any number of medicines and treatments without the slightest benefit. My kidneys were so bad that I had to get up as many as fifteen times a night. I had terrible pains across my back and down my back and down my limbs. I was barely able to work, and kept hanging on hoping against hope that I might find the right medicine some time. Konjola certainly proved to be the right medicine; the one I should have had in the first place. My stomach was in such a condition that I could not eat solid food... The first bottle of this amazing compound was enough to let me know that I might begin to hope for recovery. I became much better as I was on the second bottle, and in four weeks Konjola had rid me of all my health troubles. That was five weeks ago, and I waited that long before reporting my case. I wanted to see if the recovery was merely temporary. I am the happiest man alive to tell you that the health that Konjola brought me seems to have come to stay. I am eating anything I like; sleeping all night through and feeling better than in years.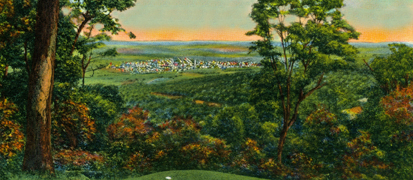 Uniontown far in the distance, seen from the summit of the mountains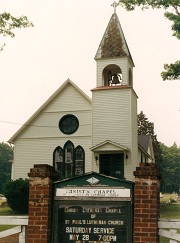 Christ's Lutheran
Chapel, Chalk Hill
During the 1930s, the Minerds resided at Little Brownfield, Fayette County, where he was justice of the peace for 20 years.
Son James enlisted in the US Army circa July 1935, and was stationed for two years at Fort Sherman in Panama. Discharged as a corporal, James returned home to Little Brownfield, near Uniontown, in September 1937. He later served in England as a sergeant during World War II.
Beth's one-room justice of the peace office burned to the ground on Feb. 28, 1933, when a fire swept through the nearby idle Revere coal mine and plant of the W.J. Rainey coal company. The Uniontown Herald-Genius said that "For a period of several hours a roaring inferno threatened to completely wipe out the mining town of several hundred houses." The company supply store, a chemical laboratory, and the Revere Post Office also were destroyed, and collective damages were estimated to be upwards of $30,000.
During the winter of 1938, Beth filed a lawsuit against the estate of the late Alonzo Childs, seeking to recover more than $2,000. According to the Connellsville Daily Courier, Beth alleged that in June 1932, he and Mollie "entered into a written agreement with Childs ... whereby they were to feed, clothe and care for the latter during his lifetime and, in return, as a consideration, were to receive a certain tract of land in South Union township. The agreement continued in effect until March 13, 1935, when, it is alleged, Childs left the farm and refused to accept the care and support proffered by the plaintiffs. Childs then demanded the possession of his property and on Dec. 17, 1935, the Minerds vacated the premises. Childs died Jan. 29, 1937."
Continuing his interest in politics, Beth threw his hat into the ring in 1939 as a candidate for the Democratic nomination for county sheriff, but withdrew in September of that year. The following year, he was a charter member of the Fayette County Minor Judiciary Association, formed in July 1940, and was named to its membership committee.
Mollie was a member of the Women's Christian Temperance Union (WCTU) of Uniontown.
Canton Repository, 1962
In 1947, the Minerds lived in Hopwood. Daughter Mina Markey, residing in St. Petersburg, FL, is known to have spent a three-week vacation at their home in October 1947.
In the 1953-1955 era, the Minerds lived at Shady Grove in Lemont near Uniontown.
For the last decade of her life, Mollie suffered from hardening of the arteries and cancer of her uterus. She died at home on Oct. 12, 1955, at the age of 72. Rev.Melvin Shultz officiated at her funeral service. A death notice in the Uniontown Evening Standard noted that she was survived by five grandchildren and five great-grandchildren..
Beth survived his wife by seven years. In about late 1961, Beth moved to Canton, Stark County, OH, presumably into the home of his son.
Just six months later, on May 6, 1962, said the Canton Repository, Beth passed away in mysterious circumstances. His "body was found ... in an old strip mine near the home of his son..." The coroner "ruled natural causes...," and Beth's remains were returned to Pennsylvania for burial.
Beth rests beside Mollie at Christ Lutheran Chapel near Chalk Hill, Fayette County. Their daughter Mina also and other descendants also are buried there.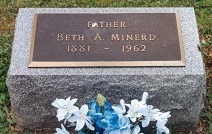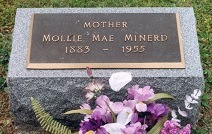 Christ's Lutheran Church Cemetery
~ Daughter Mina May (Minerd) Markey ~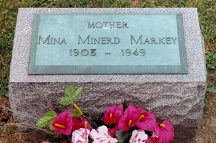 Christ's Lutheran Chapel, Chalk Hill
Daughter Mina May "Minnie" Minerd (1908-1949) was born in about 1908 in Dunbar. As a young woman, she made her home in Lemont Furnace, Fayette County.
At the age of 16, on Jan. 28, 1924, Mina eloped to Cumberland, Allegany County, MD to marry 22-year-old coal miner David Milton Markey (1902- ? ) of Lemont Furnace. Rev. H.L. Schlinke, of the Methodist Protestant Church, officiated.
The Markeys produced two daughters -- Evelyn Hyatt and Vernice Kelly.
Said the Connellsville (PA) Daily Courier, Minnie "was a member of the Brownfield Methodist Church... [She] had engaged in the dress making business at Uniontown for a number of years..."
The federal census of 1940 shows Mina as married but living alone on West Fayette Street in Uniontown, with the census-taker spelling her last name "Markley." Circa 1944, she dwelled on West Main Street in Uniontown, and in a Uniontown Morning Herald photo caption she was named "Mrs. Mine Minerd."
At some point Mina relocated to Florida, making her home in St. Petersburg, Pinellas County, at the address of 1420 9th Street.
Minnie died in St. Petersburg, FL on Feb. 17, 1949, at the age of 41. Her remains were shipped to Uniontown for burial with her parents at Christ Lutheran Chapel, with the funeral service officiated by Rev. John O'Brien. Local funeral arrangements were handled by the Minerd Funeral Home of Uniontown, and an obituary appeared in the Uniontown Morning Herald. Pallbearers included Robert Rankin Sr., Vincent Callahan, Harry T. Matthews, William Nycum, Guido Gentile and Ralph Saul.
Daughter Evelyn Markey (1923-2013) was born on May 25, 1924 in Uniontown. As with her mother, Evelyn learned the seamstress skill. Evelyn was married twice. Her first spouse was Donald D. Hyatt Sr. (Sept. 26, 1908-2006), son of Charles Huffine and Charlotte "Lottie" (Fisher) Hyatt. The couple produced four children -- Charlotte "Joyce" Trump, Donald D. Hyatt Jr., Barry Hyatt and Robert Hyatt. They made their home in Connellsville. Evelyn was employed by the Connellsville Taxi Company as a dispatcher. She belonged to St. John's Evangelical Lutheran Church in Connellsville, the Dunbar Township Eagles Ladies Auxiliary, the American Legion Ladies Auxiliary and the Edna Rebekah Lodge. Donald was employed by the Baltimore and Ohio Railroad and Chessie System Railroad as engineer and belonged to the local Masons lodge. The couple eventually divorced. At the age of 41, on June 25, 1965, she traveled to Winchester, VA to wed twice-divorced World War II Navy veteran Russell Elmer Gibson (May 31, 1920-1978). Rev. Ronald S. Clark, of the local Methodist church, officiated. A native of Grindstone, Fayette County, and the son of Russell M. and Eathel (Lynn) Gibson, Russell was a laborer and Vanderbilt resident at the time of marriage. Sadly, she endured the untimely deaths of her daughter Joyce and step-daughter and husband Barbara and Henry Barcus. Three days before Christmas 1978, Russell passed away in Connellsville at the age of 58. Evelyn lived on for another 34-plus years. Toward the end, she went to live in Westmoreland Manor in Hempfield Township near Greensburg. She passed away there at the age of 88 on Jan. 9, 2013. Burial was in Christ Lutheran Chapel in Chalk Hill, with Rev. Herb Dubler leading the funeral service. An obituary was printed in the Connellsville Daily Courier. Former husband Donald Hyatt wedded again to Grace E. Keefer ( ? -1997) and they raised his daughter Joyce. They also bore several children of their own, among them Patricia Cavalier and Barbara Barcus. Donald died in his home in South Connellsville at the age of 97 on April 15, 2006, with burial in Jersey Baptist Church Cemetery in Ursina, Somerset County.
Granddaughter Charlotte "Joyce" Hyatt (1942-2006) was born on May 29, 1942 in Connellsville. After her parents divorced, she went to live with her father and stepmother. Joyce married Edward A. Trump Sr. ( ? - ? ). Their two offspring were Kimberly Dawn "Kim" Trump and Edward A. Trump Jr. They also raised Carla (Asbury) Furlong. The couple made their home in Connellsville until they separated, with Edward relocating to Portage, IN. Joyce was a member of the Ladies Auxiliary of the Connellsville American Legion Post 301. She "was loved by so many, with her giving ways," said the Connellsville Daily Courier. "Her doors were always open to others." Evidence suggests that she suffered from kidney disease. Her final years were spent living with her daughter Carla. Toward the end of her life, she was admitted to the Harmon House in Mount Pleasant, Westmoreland County. She died there at the age of 64 on Nov. 28, 2006.
Great-grandson Edward A. Trump Jr. (1960-2016) was born on Dec. 8, 1960 in Connellsville. He established a home in Waynesburg, Greene County, PA, where he was a construction worker for an oil company. In his spare time, he enjoyed relaxing at the Waynesburg Moose Lodge. He was the father of Sami Jo Wires Sanner. Sadly, Edward passed away at home at the age of 55 on June 9, 2016. An obituary was printed in the Washington (PA) Observer-Reporter, and a luncheon was held in his memory at the Moose lodge. Daughter Sami Jo wedded Christopher Sanner of Normalville, Fayette County.
Great-granddaughter Kimberly Dawn Trump ( ? - ? ) has dwelled in South Connellsville. Her children are Destiny Trump and Lonnie Lee Durst Jr.
Great-granddaughter Carla Asbury ( ? - ? ) was born on March 23. She married Lawrence Furlong Jr. ( ? - ? ). They reside in Brownsville and have three children Hunter Furlong, Landen Furlong and Bryson Furlong.
Grandson Donald D. Hyatt Jr. ( ? - ? ) was born in (?). He was united in marriage with Darlene ( ? ). Their two known offspring are David D. Hyatt and Shannon Hyatt. He and Carol Cirilli (Dec. 27, 1943-2009), daughter of Albert and Esther (Miller) Cirilli. Donald and Carol produced two more children, Richard A. Hyatt and Donald P. "Skip" Hyatt. They eventually separated. Donald Jr. made a home in 2006-2013 in Portland, OR., while Carol remained in Connellsville and married again to (?) Maloy. She was employed as a bar steward for seven years at the Connellsville Moose Lodge and a Sunday School teacher at St. John's Lutheran Church. She also belonged to the Sons of Italy and the Eagles. Carol passed away at the age of 65 on Feb. 21, 2009. Interment was in Green Ridge Memorial Park, with an obituary appearing in the Connellsville Daily Courier.
Great-grandson David D. Hyatt married Coral D. (?). They were the parents of three -- Daniel Joseph Hyatt, David R. Hyatt and Anna Rebecca "Pinky" Hyatt. Circa 1989, the family dwelled in Oahu, Hawaii and in 1991 in Vancouver. Later they returned to western Pennsylvania. At some point, David and Coral divorced. He married again to Michelle Salt ( ? - ? ), and Coral to (?) Fleischman. Michelle brought two stepchildren to the second marriage, Ryan Salt and Robyn Salt. Son Daniel was a skilled mechanic and carpenter and a member of the New Kensington congregation fo Jehovah's Witnesses. Said the Valley News Dispatch, Daniel "enjoyed studying the Bible and witnessing about the coming kingdom of God. He also enjoyed spending his time fishing, reading and being outdoors. He loved working with his hands.... Daniel had a big heart and an even bigger sense of humor. He touched many lives and always left an impression." Sadly, Daniel died at the age of 29 in his home in New Kensington on Oct. 29, 2018. David and Coral's daughter Anna Rebecca (1991-2019) was born in Vancouver on July 30, 1991 and spent her adult years in Pittsburgh. She liked to bicycle and kayak. Said the Bedford (PA) Gazette, she "had a magnetic personality and made friends anywhere she went. Anna loved to laugh and loved to make others laugh and she had a contagious smile." The family was plunged into further grief at her passing on Sept. 23, 2019, in her home. David and Coral's son David is married with two children and lives and works in New York.
Great-grandson Richard A. Hyatt ( ? - ? ) wedded Bonnie J. Stankey. They have dwelled in Bastrop, TX.
Great-grandson Donald P. "Skip" Hyatt ( ? - ? ) entered into marriage with Sandra Mullins. They have made a residence in Connellsville.
Grandson Robert Keith "Bob" Hyatt (1948- ? ) was born on Sept. 2, 1948. He was joined in wedlock with Judith "Judy" McCoy ( ? - ? ), daughter of Ernest R. and Mary (Fite) McCoy Jr. (In an interesting twist, Robert's distant cousin Barry Ray Quairiere married Judith's sister Linda McCoy, Barry of the family of

Mary "Alice" [Minerd] Ellis Doughty

.). They have lived in Latrobe and Derry, Westmoreland County. They are the parents of three -- Melissa Sue Hughes, Melinda Leigh Thomas

LMFT, CCDP

and Robert Keith Hyatt Jr.
Great-granddaughter Melissa Sue Hyatt ( ? -living) married John Hughes (Feb. 14, 1973-2020), of Jeannette, PA and the son of Catherine Lyons Chishko. Together, they produced a son, Mason M. Hughes. The family resided in Latrobe, PA. Melissa has been employed in the clerk of courts office for the County of Westmoreland, PA. John earned a living through his work at Quality Mold. He had a passion for Jeeps, riding his motorcycle, camp, hunt and kayak. He also enjoyed volunteering his time to help with special events. Said the Greensburg (PA) Tribune-Review, he had a "dynamic personality [and] was always the life of the party with a smile on his face." John was diagnosed with cancer but lived long enough to attend the 2019 wedding of their son to Breanna Nicely. John died at home at the age of 47 on April 25, 2020. Adding to the heartache, their son Mason -- employed by Pepsi Company with a love for motorcycles -- only lived another 19 months after his father. He died at the age of 24 on Nov. 14, 2021.
Great-great granddaughter Melinda Leigh Hyatt LMFT, CCDP ( ? -living) was joined in wedlock in 2001 with Shaun Thomas ( ? - ? ). They became the parents of Brooklyn Thomas and Allison Thomas. The couple divorced. Melinda Leigh is employed as a school-based therapist at Excela Health in affiliation with the Mount Pleasant Elementary Schools. She also owns a private practice, meeting with couples, families and children and advises future counselors and therapists working toward achieving their licenses in Pennsylvania. Since 2000, she has worked for Adelphoi Village in Latrobe, PA, providing outcome-based solutions for abused, neglected, delinquent and other at-risk children and their families. She graciously has provided vital information for this biography.
Great-grandson Robert Keith Hyatt Jr. ( ? -living) was united in matrimony with David Mason ( ? -living). The couple dwells in Atlanta, where Robert is a certified public accountant working for KPMG.
Daughter Vernice Ruth Markey (1926-1965) was born in 1926. She wed William Kelly ( ? - ? ). They produced one known daughter, Judith Kelly. The Kellys lived in Lambert, Fayette County before relocating by 1944 to Warren, Trumbull County, OH. Later, they moved south to St. Petersburg, Pinellas County, FL. Vernice passed into eternity in 1965. Burial was in Christ Lutheran Chapel Cemetery at Chalk Hill.
Granddaughter Judith Raye Kelly (1942-2001) was born on Sept. 8, 1942. She made a home in Phoenix, Maricopa County, AZ. She died at the age of 58 on Feb. 20, 2001. Interment was

in Christ Lutheran Chapel Cemetery at Chalk Hill

.
~ Son James Howard Joseph Minerd ~
Son James Howard Joseph Minerd (1911- ? ) was born on Aug. 11, 1911 in the Continental No. 2 coal mine patch town in South Union Township, Fayette County.
James was employed as a young man as a timekeeper for construction for the Pennsylvania Department of Highways. He was 6 feet tall and weighed 158 lbs., with blue eyes and brown hair.
With World War II looming in 1940, the 29-year-old James was required to register for the military draft. He disclosed that he earned a living through his work for the Works Progress Administration. The WPA was one of the ways President Franklin Delano Roosevelt and the federal government tried to overcome unemployment and is widely considered one of the Roosevelt's largest and most ambitious undertakings of his "New Deal" to get the nation back on sound economic footing. Over the years, the WPA hired millions of out-of-work individuals to build public works projects, such as roads, bridges, retaining walls and buildings.
During the war, enlisting in Maryland, James served as a staff sergeant with the 414th Anti-Aircraft Gun Battalion. He was stationed at Fort Eustis, VA in 1943.
On Sept. 18, 1943, in a ceremony held at a Baptist church in Newport News, VA, James was joined in holy matrimony with Lealot "Lea" (Martin) Nycum (1902-1959). Lea was a native of Dunbar, Fayette County and the daughter of William K. and Elizabeth (Hiles) Martin of Little Brownfield, Fayette County. Baptist minister Rev. David C. Anderson officiated, and attending was a distant cousin, Capt. Wendell Edmund Yeagley and his wife of Confluence, Somerset County, of the family of Mary Todd (Jennings) Shipley. The groom was nine years younger than the bride, and at the time, she worked at the Zimmerman Nut Shop in Uniontown. News of the wedding was printed in the Uniontown Morning Herald.
She had been married previously and brought these children to the second union -- Mrs. William Miller, Mrs. Alvin Vossler, Betty McChesney, Mrs. Robert Makepeace, James W. Nycum, Charles E. Nycum and Richard K. Nycum.
In about 1947, the couple relocated to Canton, Stark County, OH. Their address in 1959 was 1574 Warner Road Southeast in Canton.
Sadly, Lea suffered from heart problems and was admitted in 1959 to Aultman Hospital in Canton. She dhed there at the age of 57 on June 15, 1959. Interment in Sunset Hills Burial Park in Canton. [Find-a-Grave] An obituary was printed in her hometown newspaper, the Uniontown Evening Standard.
James is believed to have married again to Ann Charlotte Davis (1911-2007).
James passed away in Canton on Valentine's Day 1972, at the age of 60.
Ann Charlotte joined him in death on Oct. 26, 2007.
~ Daughter Gwendolyn Elizabeth (Minerd) Henshall ~
Daughter Gwendolyn Elizabeth Minerd (1913-1967) was born on July 13, 1913 in the patch town at Continental No. 2 Mine, Fayette County.
At the age of 15, in June 1929, not yet married, Gwendolyn gave birth to a son, James Huhn. She and her baby son made a home with her parents near Uniontown.
At the age of 25, on Oct. 17, 1938, Gwendolyn eloped to Cumberland, Allegany County, MD to wed 41-year-old James Leroy " Lee" Henshall (Feb. 9, 1897-1980). The ceremony was performed by Rev. Nile Webb. Lee was the son of John and Sara Ann (Gaskil) Henshall of Coal Center, Washington County, PA. At the time of marriage, Lee was a manager living in Monessen, Washington County, and was employed as a manager at the time.
The Henshalls had one son of their own, John Beth Henshall.
Monessen's Donner Avenue
They made their home for many years in Monessen, Washington County, PA at the address of 419 Indiana Avenue.
Gwendolyn served on the card committee of the Fellowship Class of the First Methodist Church of Monessen. Their address was 419 Indiana Avenue in Monessen.
Lee was a veteran of World War I, having served in the U.S. Army. For many years, he was employed with an ice plant in Monessen. Later, he spent eight years with the Pennsylvania Department of Transportation. He was a member of the Thomas McKee American Legion Post 28 in Monessen.
Sadly, stricken with cancer of the abdomen and colon at the age of 53, Gwendolyn died in the Charleroi-Monessen Hospital on May 7, 1967. Her obituary was published in the Valley Independent. Following a funeral led by Rev. Joseph C. Rial Jr., of Monessen's First Methodist Church, she was interred at the Howe Cemetery in Coal Center, Washington County, also known as "Long Branch." Several weeks after her death, her fellow church class members paused in tribute to her memory, following a short reading by class teacher Mrs. Raymond Scales. In a short article, the Independent said Gwendolyn had been "a faithful class member and officer." [Find-a-Grave]
Lee survived his wife by a baker's dozen of years and moved to a new home at 731 Tyrol Boulevard. As his health failed, he was admitted to Mon Valley Hospital. He succumbed there at the age of 83 in Sept. 1980. An obituary in the Independent noted that Rev. Howard W. Greenfield, of the family church, officiated at the funeral service.
Son James Huhn (1929-2005) was born on June 28, 1929. As an infant, he was taken into the home of his grandparents, Bartholomew and Molly Minerd. He was married to Maxine ( ? - ? ). He relocated to Canton, Stark County, OH by 1967 and remained there for good. On July 1, 1988, he and Maxine were pictured in the Akron (OH) Beacon Journal, posed at the McKinley Monument, awaiting a holiday concert by the Canton Symphony Orchestra. James was cut away by the Grim Reaper on Aug. 3, 2005. His remains were lowered into the earth in Sunset Hills Memory Gardens in North Canton, and an obituary was printed in the Canton Repository.
Son John Beth Henshall (1939- ? ) was born in 1939 and received his middle name in honor of his grandfather Bartholomew "Beth" Minerd. Circa 1967, he lived at home with his parents on Indiana Avenue in Monessen. At the age of about 40, on Oct. 7, 1979, he was joined in holy wedlock with Jean Marilyn Walker (Jan. 21, 1939-2002). She was the daughter of Arthur and Martha (Williams) Walker and a native of Columbus, Franklin County, OH. They did not reproduce. Jean was a member of the Monessen United Methodist Church and is known to have volunteered her time with a Latin America mission in Colombia. At some point, the couple relocated to Penney Farms, FL. Jean died at the age of 63 on May 20, 2002. Her remains were returned to Pennsylvania to rest in Howe Cemetery in Coal Center, Washington County. An obituary was printed in the Monessen Valley Independent.
~ Daughter Ruth (Minerd) Renz O'Connor ~
Daughter Ruth Evelyn Minerd (1916-1981) was born on Jan. 19, 1916.
Her first husband was Harry Joseph Renz (Aug. 11, 1911-1995).
Evidence suggests that the couple produced one daughter, Lana Borg Rivas.
When the federal census was taken in 1940, Ruth and Harry were lodgers in the home of widow Ida Law in Washington, Washington County, PA. That year, Ruth earned a living as a hotel waitress and Harry as a hotel bartender. They remained in Washington at least until 1949. During World War II, he served as a technician with the U.S. Army.

Rainbow Pier and Auditorium in Long Beach, California
The Renzes eventually relocated by 1955 to Southern California, making a home in Long Beach, Los Angeles County. She or they were in San Mateo, CA in 1962. The couple eventually divorced.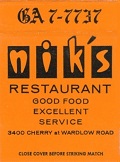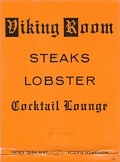 Restaurant where Harry tended bar
Harry remained in Long Beach and was mentioned in Tedd Thomey's "Stepping Out" column in the Long Beach Independent in March 1966: "That pleasant, personable bartender at Nik's Viking Room, Cherry at Wardlow, is Harry Renz, who's been there nearly five years. The VR's $2.45 lobster dinner (including a glass of wine) is one of the best values in town." He is believed to have married again to Annabelle Lee (Olcott) Pichard and to have made a home in Lakewood Village in Long Beach. Annabelle brought a daughter to the marriage, Trina Lee Smallwood.
By 1967, Ruth had married again, to Roy O'Connor (1898-1980), sometimes misspelled "O'Conners." She continued living in San Mateo.
Sadly, Roy died in 1980, at the age of about 82. His remains were shipped to Western Pennsylvania to rest in the Christ Lutheran Chapel at Chalk Hill.
Within a year, Ruth passed away in San Mateo at the age of 65 on April 30, 1981. She rests for all time in Chalk Hill beside her second spouse.
Ex-husband Harry is thought to have died in Riverside, CA on Dec. 20, 1995, at the age of 84. Burial was in Riverside National Cemetery.
Daughter Lana Renz (1945-2018) was born on Oct. 23, 1945. She was wedded twice. Her first spouse, whom she married in San Mateo on April 14, 1962, was George A. Borg ( ? - ? ). Four years later, on Sept. 3, 1966, she was joined in wedlock with Carlos Rivas ( ? - ? ). They made a home in San Jose, CA (circa 1977) and later in Santa Rosa, CA. Their children were Debbie Rivas, James Rivas and Lisa Rivas. Reported the Press Democrat, "Her passions included working in the garden, going on vacation, eating at her favorite restaurants, and creating laughter and love for everyone around her. She enjoyed sharing funny videos and pictures with her friends daily through email, and watching movies at home. She would even watch them multiple times, so that everyone in her family could enjoy them the same way she did.... She also adored the beauty of the outdoors and the simplicity in camping, fishing, and clamming." Sadly, Lana died on May 18, 2018 in Santa Rosa. An obituary appeared in the Press Democrat.
Copyright © 2000-2001, 2006, 2008, 2010, 2012, 2017-2018 Mark A. Miner