Margaret H. Minerd
(1859-1917)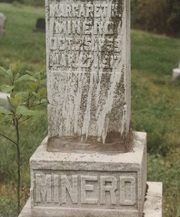 Hopwood Cemetery

Margaret H. Minerd was born on Oct. 25, 1859 in Wharton Township, Fayette County, PA, the daughter of Jesse and Sarah (Smalley) Minerd.

She was just a toddler when her father was tragically killed. She never married and was invalid for 38 of the 58 years of her life.
Margaret and her unmarried sister Sabina A. Minerd (1852-1915) lived together for many years on a farm near Ohiopyle, Fayette County.
In about 1879, when Margaret was 20, she appears to have become debilitated for life. A physician once wrote that she suffered from "chronic spinal disease."
She was bedridden for the remaining 38 years of her life. "During the long years that she was unable to get about," said the Connellsville Courier, "she occupied her time with fancy work and produced many beautiful pieces."
Fayette County court records on file in Uniontown show that the sisters were assisted financially in part by Huffman Liston of Dunbar, a friend.
An article about Ohiopyle in the Connellsville Courier of Sept. 15, 1893 reported: "Miss Maggie Minard, who has been a helpless invalid for a number of years, is now critically ill."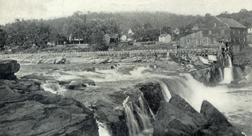 Ohio Pyle Falls, early 1900s

In March 1895, Margaret desired to rent some of her property to generate much needed income. She placed a classified advertisement in the Philadelphia Inquirer, and likely in newspapers in other large markets. The text read: "FOR RENT -- IN COUNTRY, FOUR ACRES ground, house, good orchard and garden, two cows, with pasture and stable, low rent. Address M.H. Minerd, Ohiopyle, Penna."

Yet Margaret did not die of the illness, and five years later, in July 1898, the Courier reported that Margaret's twin nephews Hadden and Joseph Miller of Uniontown had been weekend guests at her home.

At some point, Gertrude Estella Speicher, Margaret's niece, moved into their home to be a caregiver or helper.

The picturesque Youghiogheny River falls at Ohiopyle, near the Minerd sisters' home, was a well-known landmark.

Little else is known of Margaret's life.

Sister Sabina was the first to pass away. She died on Sept. 23, 1915.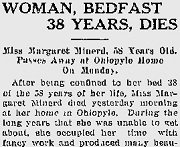 Connellsville Daily Courier

Margaret outlived her sister by a year and and half. As she was dying, her brother Daniel Lucas Minerd, whom she had not seen since he left the region some 34 years before, traveled from his home in Iowa to see her. In fact, said a newspaper, he walked on foot from Uniontown to Ohiopyle in the dead of winter of January 1917 to visit her at her rural home.

She passed away on March 27, 1917. Reported the Courier, "The body will be taken overland to Hopwood for interment. the funeral party will go by train." She and Sabina are buried together at Hopwood Cemetery near Uniontown, PA.

At Margaret's death, there was no one to care for her niece Gertrude, who was considered "a very bright little girl and needs schooling," said a friend. Gertrude was "a little girl that stayed with those girls there so faithfully and has nothing for it except what she gets out of this [estate]."

The small sapling, shown alongside the grave marker in this photo taken in 1988, had grown so large by the year 2000 that it had knocked the marker off its base and flat onto the ground. The marker has since been restored to its full upright position.

Copyright © 2000, 2004, 2005, 2008, 2012 Mark A. Miner

Connellsville Daily Courier obituary courtesy of Ancestry.com.