Sabina A. Minerd
(1852-1915)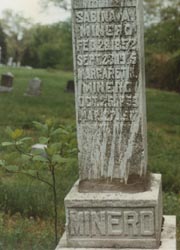 Sabina's grave

Sabina A. Minerd was born on Feb. 28, 1852 in Wharton Township, Fayette County, PA, the daughter of Jesse and Sarah (Smalley) Minerd.

She never married, and apparently was a lifelong caretaker for her disabled sister Margaret H. Minerd.
The small sapling, shown here alongside of the sisters' grave marker in a photo taken in 1988, had grown so large by the year 2000 that it had knocked the marker off its base and flat onto the ground.
The sisters made their home together for many years on a farm near Ohiopyle, Fayette County. The farm had belonged to their great-grandfather, Paul Stull, dating back to the 1790s. Sabina and Margaret inherited the property from their grandmother, Margaret (Shaffer) Smalley.
The Smalley-Minerd farm sat near the Kentuck Road in Stewart Township. Today, on a nearby property stands the well known "House on Kentuck Knob," designed by world renowned architect Frank Lloyd Wright, and built in 1956. (Another world-famous Wright masterpiece, Fallingwater, is just a few miles to the north.)

Sabina and Margaret both suffered from chronic spinal disease, contracted at different times in their lives. Sister Margaret contracted hers' at the age of 20, in about 1879. Confined to her bed, she was bedridden for her remaining 38 years of life. "During the long years that she was unable to get about," said the Connellsville Courier, "she occupied her time with fancy work and produced many beautiful pieces."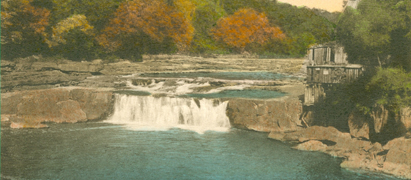 Beautiful Ohiopyle Falls near the Minerd sisters' home
Sabina's spinal disability began in about 1907, when she would have been about 55 years of age. The pain apparently was so great that she regularly took morphine. The habit eventually developed into addiction which led to her death.
Sabina succumbed to the spectre of death on Sept. 23, 1915, at the age of 63. This left her sister alone in the household.
The two women rest together for eternity at Hopwood Cemetery near Uniontown, Fayette County.

Unpaved North Commercial Street in sleepy Ohiopyle, circa early 1900s
Copyright © 2000, 2005-2006, 2008, 2022 Mark A. Miner