Luther Minerd Sr.
(1865-1945)
M. Luther Minerd Sr. was born on Jan. 10, 1865, in Scio, Harrison County, OH, the son of Daniel and Rebecca (Knouff) Minard. Most likely named "Martin Luther" after the famed theologian, he is acknowledged as a pioneer of northern California in the late 1800s, and also spent parts of his adult life in Idaho and Arizona.
Irvine's 1905 History of the New California, seen here, contains a published profile of Luther. It said that while "living the conventional farmer's life, unproductive of any great events, yet he is honored by his fellow men for the many sterling qualities he possesses, among them honesty and integrity in his intercourse with those about him."
Growing up in Ohio, Luther's father felt very strongly that he should be educated at nearby Scio College. In fact, in his will, father Daniel wrote:
… my son Luther Minerd [shall be given] a term of three years schooling at the Scio college in Scio, Harrison County, Ohio, commencing when my said son Luther arrives at the age of eighteen years, the same to be paid out of my estate by [my wife]. Providing that my said son Luther does not desire the benefits of an education and will not attend school as above directed and provided for him, he is not to receive any money out of my estate in lieu of his education or the value of his three years schooling is not to be paid to him in money out of my estate. I mean that if my said son Luther should refuse and neglect to attend school as provided for him, that he is not to be paid the value of the three years' schooling in money out of my estate.

Luther's profile, History of New California
In 1888, some 11 years before his father died, Luther is known to have attended Scio College, but did not graduate. (Scio College later was merged into Mount Union College.) In the old records of Mt. Union College, Luther is referred to as "M.L.," suggesting that "Luther" was actually his middle name.)
Luther must have become disenchanted with the college experience, and did not complete his studies there, rather turning his attention to a future career as a farmer. The March 1888 edition of a national trade journal, The Poultry Keeper, contains a notice that "Mr. M.L. Minerd, Scio, O., would like employment at the poultry business, he 'being experienced'." When that advertisement did not produce satisfactory results, and since he was no longer to receive funds from his father's estate, Luther made the major decision to leave Ohio and migrate to California. He arrived there in 1892 and remained off and on for the next 53 years of his life.
On March 7, 1895, the 30-year-old Luther married 19-year-old Mary B. Cornelius (1876-1973), daughter of H.P. Cornelius of Sacramento County. Her father was from Denmark, and her mother from Norway.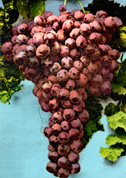 Sacramento's bounty
They lived on Upper Stockton Road and produced at least four children -- Luther Minerd Jr., Lillian R. Raxten, Dannie C. Minerd and Harry Earl Minerd.
Sadly, Dannie died the year he was born -- at the age of eight months, on June 6, 1896, attended by Dr. White in Sacramento. Burial was in the Elder Creek Cemetery, with funeral arrangements handled by the Geo. H. Clark funeral home. His passing was noted in the 1905 History of New California.
After leaving his home state, Luther changed how his surname was pronounced, though the spelling remained the same. This may have been due to a dispute with relatives, but the cause is unknown. He placed the accent on the second syllable, so it is pronounced "minn-ARD" rather than "MINE-erd." His descendants continue to say it that way today.
The History of the New California states that Luther settled in Sacramento in 1890, rather than 1888 which is about the date when he first moved to California. But regardless of the settlement timing, he went on to work there as a farmer and then was a salesman in the retail meat business. Said the History, "in the fall of 1896 [he] purchased and removed to the farm which he now owns and occupies, consisting of twenty acres, thirteen and a half acres of which are devoted to the growing of grapes, principally of the Tokay and Mission varieties. Almost his entire time and attention are devoted to this industry, and his farm is well tilled and produces bountifully." His farm was located "near the Upper Stockton road, about six miles southeast of the Sacramento court house…"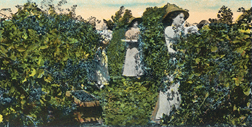 Typical Sacramento grape harvest
Seen here is a postcard from the early 1900s showing a typical grape harvest in the region.
Interested in the welfare of his Sacramento-area neighbors, said the History, Luther "in various ways demonstrated that he is a public-spirited man, ever solicitous for the welfare and advancement of the community in which he has cast his lot."
Luther and family rarely returned east. However, in 1906, the Cadiz Republican in Ohio reported that "Mr. and Mrs. M.L. Minerd, of Sacramento, California, were in Cadiz last week on a visit to his sister, Mrs. W.W. Morgan. This is Mrs. Minard's first visit to Harrison county in sixteen years."

Cadiz Republican, early 1900s
An issue of the Cadiz Republican of the mid-1900s reported that "Luther Minard and wife, and son, Luther, and little daughter, Lyllyian, of Sacramento, California, who are spending the winter with his mother, Mrs. D. Minard, visited last week with his brother, Mr. E.M. Minard, of Scio."
At times the Minerds also are known to have resided in Idaho in Rupert, Minidoka County (1909-1913) and also in Kansas (1915). Brother Grant is known to have traveled to Idaho in 1909, and the federal census of 1910 shows Grant and his wife Anna actually living in Twin Falls, Twin Falls County, ID. A November 1913 article in the Yerington (NV) Times reported that Luther lived in Rupert, ID and "was an arrival in Yerington this week and thinks he will settle in Mason Valley." By August 1917, he had purchased two town lots in Columbus, KS, as noted in the Columbus Weekly Advocate. In November that year, giving his home as Artesia, NM, he placed an advertisement in the Wichita (KS) Weekly Eagle, offering to sell 200 acres in the Pecos Valley, "well improved, irrigated, $15,000, clear, want Kansas or Oklahoma, no equities." that same month, in the Nashville Tennessean, he offered to sell or trade "80 acres, well improved, 50 acres alfalfa, balance corn, et., close in. Want improved place in Tennessee up to $4,000. Balance part cash and long time."
By March 1914, with his residence in Idaho, Luther came to the valley in El Paso, TX to seek land. The El Paso Herald said that he was "an experienced irrigation farmer" and had "recently sold his land under an Idaho project for $250 per acre. He has had experience in the Sacramento valley in California, and has engaged in grape culture and farming on various projects. Mr. Minard [sic] says that prices on land in this valley are low in comparison with other projects."
Then in January 1917, the Columbus (KS) Weekly Advocate reported that Luther had traded his property near the town of Scammon for a tract near Artesia, NM. Said the Advocate, "The family left for that place Saturday."
When the federal census was taken in 1920, Luther is listed in Holbrook, Navajo County, AZ, where he lived alone and was employed as a butcher in a meat market. By 1930, Luther and Mary had moved again to San Bernardino, San Bernardino County, about 60 miles east of Los Angeles, where they made their home at 339 19th Street. There, he continued his work as a butcher and eventually retired from the work.

San Bernardino's E Street as seen from Third Street, with the ever-present San Bernardino mountains looming in the background.
The 1930 census shows Luther, Mary, Lillian and Harry residing in their household, with Luther having no occupation. He was a member of the Damascus Lodge of the Masons.
In about 1937, he began suffering from cancer of his left kidney. He endured this illness for five years. Their address during that period was 339 Nineteenth Street in San Bernardino.
In March 1945, the couple celebrated their golden anniversary, but the celebration did not last. A day later, having suffered a heart attack, Luther died at the age of 80, on March 12, 1945. His remains were cremated and interred in the mausoleum of the Mt. View Cemetery in San Bernardino. An obituary was published in the San Bernardino County Sun.
Mary survived her husband by 28 years. In 1946, at the engagement of her step-granddaughter Mary Kathryn Davis, she held a family dinner party at her home at 339 Nineteenth Street. Reported the San Bernardino County Sun, "The table was decorated with a ship as a centerpiece and miniature sailors for placecards. A beautiful cake, decorated by the bride-elect's sister, bore the inscription 'Kathy and Wayne--September'."
As well, Mary was active with the Order of Eastern Star's Silver Wave Chapter 75 with membership spanning 50 years.
She died on Nov. 8, 1973. After a funeral service held at Bobbitt Memorial Chapel, her ashes were placed into rest for all eternity the Mt. View Cemetery. An obituary in the Sun said that she was survived by five grandchildren.
~ Son Luther Minerd Jr. ~
Son Luther Minerd (1897-1982) was born on March 7, 1897 in Sacramento, CA. He had no middle name.
He registered for the World War I military draft in 1918, and stated his occupation as working for himself. At the time, he was living at Artesia, NM, as was his father.
He married Veronica Viera (1907-1996), a California native whose parents were born in the Azores and whose mother's maiden name was "Azevedo." There was a decade of difference in their ages. The couple had three children -- Francis Loraine Minerd, Marilyn Joyce Massey and Jacquelyn "Jackie" Cochran.
Luther stood 5 feet, 8 inches tall and weighed 140 lbs. He had brown eyes, brown hair and a ruddy complexion. At some point in time, his right hand was amputated at the wrist.
In 1924, living in Needles, CA, he was charged with selling intoxicating liquors under the Wright Act during the Prohibition era. The matter was printed in the San Bernardino County Sun.
When the federal census count was taken in 1930, Luther and Veronica made their residence in a rental unit in Glenwood, Mohave County, AZ, near the Fort Mohave Military Indian Reserve. Luther worked that year as a retail store salesman and Veronica as a local postmistress. She received her appointment on May 9, 1930, as announced in the Arizona Republic.
The 1940 census record shows that the Minerds lived in Huntington Park, Los Angeles County, PA. There, Luther earned a living as a carpenter installing school equipment, and Veronica as a clerk in charge of the post office. Then in 1942, during World War II, Luther was required to register for the military draft. Their address at the time was 6420 Albany Street, and his employer was American Grating Company of Los Angeles.
The Minerds are known to have attended an engagement party for their niece Mary Kathryn Davis at the home of Luther's mother in July 1946.
At some point the marriage dissolved, and the children went to live with their mother. He resided in the Bellflower section of Long Beach in November 1967. At that time, his home was robbed, and the burglar chose to remove a dozen books of trading stamps while overlooking $100 in cash which Luther had hidden. Reported the Long Beach Independent, "It's possible that the thief is thinking of turning in the stamps for a gun and going into another branch of the crook biz."
When named in his mother's newspaper obituary in 1973, Luther's home was in Paramount, CA.
Luther passed away on July 6, 1982 in Los Angeles County.
Veronica survived for another 14 years and dwelled in La Mirada, Los Angeles County. She died on Jan. 5, 1996.

Fran and Selma Minerd
Son Francis Loraine Minerd (1929-2015) was born on May 29, 1929 in Los Angeles County. Some of his early years were spent in Mohave, Mohave County, AZ. He served as a U.S. Army Air Force navigator during World War II. He is said to have shot down, with the aircraft's propeller flying into the cockpit just after he had moved out of his seat. He was rescued and treated in a military hospital. After the war, he was a longtime expert in the steel industry in southern California, specializing in wire processing and machinery, and working in more recent years as a consultant. He and his first wife, Jeanne Gubrud (July 4, 1933-2019) , were married on July 21, 1951 in Los Angeles County. Jeanne was born in Spring Grove, MN during the annual Gubberud/Gubrud family reunion. The Minerds bore several sons, among them Steve Minerd, David Michael Minerd and Timothy F. Minerd. Fran and Jeanne parted ways after 35 years of marriage. Fran married for a second time to Selma and lived in Whittler, CA. They attended the 2005 national Minerd-Minard-Miner-Minor Reunion in Western Pennsylvania, and received the award for "Furthest Traveled." Selma has been a political strategist and organizer with the Republican Party of Los Angeles County, 58th Assembly District, and has been photographed with every Republican president since Richard M. Nixon. She has received many prestigious awards for her work. In 2006, she announced her intention to run for the Republican nomination in the 38th State Senate District. Sadly, Fran passed away on Jan. 15, 2015. Former wife Jeanne remarried to (?) Schremp and made a home in Westminster, CA. Surrounded by family singing Christian hymns, she passed away on June 16, 2019.
Grandson David Michael Minerd
Grandson Timothy F. Minerd

is married to Pamala Keyes. They have a family and attended our 2005 national reunion. The couple resides in Garden City Beach, SC.
Daughter Marilyn Joyce Minerd (1931- ? ) was born in 1931 in Los Angeles County. On Nov. 3, 1951, at the age of 20, she wed 23-year-old Marcellus A. Massey (Nov. 5, 1927?-2000) in Los Angeles. The couple is believed to have produced at least two sons -- Paul E. Massey and John William Massey. Sadly, son John died at birth on May 5, 1958 in Los Angeles. Marcellus is believed to have died in Norwalk, Los Angeles County on Aug. 3, 2000.
Grandson Paul E. Massey (1952-1985) was born on Aug. 20, 1952. He lived in Whittier, CA. He died on Sept. 28, 1985 at the age of 33.
Daughter Jacquelyn "Jackie" Minerd (1934- ? ) was born in about 1934 in California. In 1945, she was inducted into the Nu Phi Mu sorority in Bakersfield. On Nov. 20, 1976, she is believed to have wedded Beryl W. Cochran ( ? - ? ).
~ Daughter Lillian R. (Minerd) Raxten ~
Daughter Lillian R. Minerd (1903-1980) was born on Nov. 4, 1903 in California.
At the age of 26, in 1930, she worked as a "trained nurse - private duty" in San Bernardino. She and her parents are known to have been guests of Mrs. H.P. Pouncey of Menifee, CA in the late winter of 1940. Circa 1946, she was unmarried and living in Manhattan Beach, CA and was active with the Order of Eastern Star.
On Oct. 16, 1956, at the age of 53, Lillian wedded James Raxten (Jan. 17, 1898?-1957), a native of Virginia and the son of (?) (Reilly) Raxten. The nuptials took place in Clark County, Nevada. It is possible that he had been wed multiple times before, and on March 15, 1950 had married Sarah Ann Pouncey in a ceremony in Carson City, NV.
Sadly, the union was not to be blessed with many years. James passed away just 13 months into the marriage on Nov. 25, 1957, at the age of 59. His remains were placed into repose in Pacific Crest Cemetery in Redondo Beach, CA.
Lillian was employed as a nurse in Manhattan Beach, CA and is listed in the city's 1960 directory. Her address was 3420 Highland Avenue. She remained in Manhattan Beach in the early 1970s.
She died in Los Angeles, at the age of 76, on Jan. 22, 1980. Her remains rest beside her parents' in the Mt. View Cemetery mausoleum in San Bernardino.
Nothing more is known.
~ Son Harry Earl Minerd ~
Son Harry Earl Minerd (1909-1987) was born on Jan. 22, 1909 in Rupert, Idaho. In about 1922, he migrated to San Bernardino, CA, where he remained for the balance of his life.
He was a drug store laborer circa 1930, when he was age 21.
Harry was joined in wedlock with Violet Frances (Lewis) Davis (1908?-1968), daughter of Iona Lewis. She apparently had been married previously and brought daughters to the union, Mary Kathryn (Davis) Sutter and Betty Lee (Davis) Ekema. Violet and her daughters had come to San Bernardino in about 1929.
During World War II, Harry was required to register for the military draft. Their address at the time was 1989 Wall Street in San Bernardino, and he worked for Towne-Allison Drug Company located at 4th and D Street.
Violet was employed as a vocational nurse with the County of San Bernardino. She was a member of the Order of Eastern Star, State Association of Licensed Vocational Nurses and the Royal Neighbors of America. When attending the 1954 annual convention of the Licensed Vocational Nurses, Violet was pictured in the San Bernardino County Sun.
Circa 1941, Violet was active with the junior high school's Baptist Young Peoples Union chapter at Calvary Baptist Church in San Bernardino. Harry was a member of the Masons and a onetime Commander of the Knights Templar No. 23. Their address in 1943-1968 was 1989 Wall Avenue.
Sadly, Violet died at the age of 60 on April 18, 1968. An obituary in the Sun noted that her survivors included five grandchildren. The funeral was held at Bobbitt Memorial Chapel, with Rev. James Stricklin overseeing the service, and with pallbearers including Don McKinney, Howard M. Scott, Claude Moseley, Bill boren, C.R. Bales and Amos Cauley.
He passed away at the age of 79 in Tehachapi, Kern County, CA on Feb. 17, 1987, at the age of 78. An obituary was published in the Sun. Interment was in Mountain View Cemetery.
Step-daughter Mary Kathryn Davis (1927- ? ) was born on March 4, 1927 in Indiana but relocated as a young girl to San Bernardino. In 1946, she was engaged to Wayne M. Sutter ( ? - ? ), son of Charles Sutter of Pittsburgh, PA, with a wedding scheduled for September 1946. At the time, she was employed at the Market Spot. Wayne, a member of the U.S. Navy, served in World War II in the Normandy Landing and campaigns in Sicily and Italy. In 1946, he was stationed on the U.S.S. Albemarle at Bikini atoll with an atomic bomb patrol. They were the parents of Richard Wayne "Rickie" Sutter and Dennis Alan Sutter. The family's address in 1958-1977 was 4594 Stoddard Avenue. Circa 1987, their home was in San Bernardino.
Grandson Richard Wayne "Rickie" Sutter (1955- ? ) was born on Aug. 8, 1955. At the age of about 21, on April 9, 1977, he was joined in wedlock with Paula Rae Crawford ( ? - ? ), daughter of Ray Crawford and Mrs. Robert Hinze. The wedding was held at San Bernardino Community Church. Richard was employed at the time with Bendix Mobile Home Systems in Colton, CA, while she worked at Paul's Dry Cleaners in San Bernardino.
Grandson Dennis Alan Sutter ( ? - ? ) was born in (?). On March 23, 1980, he was joined in wedlock with Lisa Wesch ( ? - ? ), daughter of Hazel Oma Wesch of San Bernardino. He held a job at that time with Inland Door & Gate while she was employed by San Bernardino City Schools as a cafeteria worker.
Step-daughter Betty Lee Davis ( ? - ? ) was born in (?). As a young woman, she obtained employment with Southern California Telephone Company and was active with Job's Daughters and the Order of Rainbow for Girls. On Oct. 17, 1946, she wedded Byron Duane Ekema (Sept. 6, 1928-1994), son of Albert Ekema of Redlands, CA. The nuptials were held at Christian Reformed Church in Redlands, with Rev. Harry A. Dykstra officiating. At the time of marriage, Byron worked for Union Oil Company. The couple produced three known children, Thomas Byron Ekema, Larry Kenneth Ekema and Nancy Joan Bunker. The Ekemas lived at 1275 Olivine Street in Mentone, CA in 1949. In 1987, they dwelled in Redlands. Sadly, Byron died in Yucaipa, San Bernardino County on Feb. 11, 1994. After his death, Betty maintained a home in Yucaipa.
Grandson Thomas Byron Ekema (1949-2010) was born on March 4, 1949 in St. Bernardine's Hospital in San Bernardino and grew up in Redlands. During the Vietnam War, in 1969, he joined the U.S. Army and served as a helicopter mechanic. He later returned home and attended San Bernardino Valley College, going on to a career for Universal Rundle Corporation. On June 3, 1977, at the age of 28, he wedded Paula Jean Paxton ( ? - ? ), daughter of William Leslie and Ruby Paxton of Redlands. The nuptials were held in the church of the Nazarene in Redlands. They resided in Calimesa, CA and produced two children, Jill Koelling and Andrew Ekema. Circa 1977, Thomas had a job with Universal Rundle in Mentone, CA and Linda with Loma Linda Medical Center. He obtained work as a housekeeping supervisor with the Veterans Administration Hospital in Loma Linda in 1980. In his spare time, he coached with the Yucaipa Valley Youth Soccer Organization, was a booster for the Yucaipa High School Marching Band and loved to fish and camp in the eastern Sierra Mountains. Their address in 1970 was 342 Hartzell Avenue. He retired from his work in October 2010, after three decades, from the effects of illness. Sadly, Thomas was stricken with amyotrophic lateral sclerosis (ALS), commonly known as "Lou Gehrig's Disease." He was admitted to Loma Linda University Medical Center and died there on Nov. 24, 2010. Burial was in Riverside National Cemetery in Riverside County, CA. An obituary was published in the Yucaipa/Calimesa News Mirror. Their daughter Jill married Matthew Koelling of McKinley, CA and son Andrew resided in Calimesa.
Grandson Larry Kenneth Ekema ( ? - ? ) was born in (?). In August 1970, he was united in matrimony with Nancy Lynn Sanchez ( ? - ? ), daughter of Wallace A. Sanchez. The ceremony was led by Rev. Robert Moore, former youth pastor of Redlands First Baptist Church. At the time of marriage, Larry had received a teaching credential from the University of Redlands and was to start that fall as an educator at Rim of the World High School, while Nancy was a physical therapy aide at Clement Junior High School with plans to attend San Bernardino Valley College that fall. They dwelled in La Mesa, CA in 1977. In 2008, reported the Redmonds Daily Facts, he retired from the Redlands Unified School District after 36 years of service.
Granddaughter Nancy Joan Ekema ( ? - ? ) married (?) Bunker. She was employed with Yucaipa Calimesa School District and sang in the Yucaipa Christian Church choir. Circa 2010, she made her residence in Angelus Oaks, CA.
Copyright © 2001, 2005-2011, 2015, 2018 Mark A. Miner