Home

Daniel Minard
(1820-1897)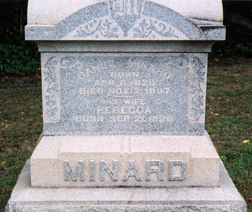 Daniel Minard was born near Scio, Harrison County, OH on April 6, 1820, the son of John and Mary Magdalena (Kohl) Minard Sr. He and at least one of his sons spelled the family name "Minerd," but after his death, his wife and other sons generally went by "Minard."
Daniel lived his entire life on the family farm, a short distance from where the famed Scio Pottery plant would later be built. At his birth, a newspaper once said:
The country was then an almost trackless forest. There amid nature's beauties and grandeur he grew to manhood…. He traveled through the same forests, following the winding streams and trod in the same paths his father did…. [He] died in almost the same spot where he was born.
On March 18, 1847, when he was age 27, Daniel married 20-year-old Rebecca Knouff (1827-1911), a native of Ohio, and the daughter of John and Sarah Susanna (Smith) Knouff, both natives of Pennsylvania. (The Knouffs also may have had family connections in Vermont.)
The Minards had nine children – John Minerd, Amos Bartholomew Minard, Morris M. Minard, Andora "Dora" Hickcox, Ervin M. Minard, Eunice Morgan, M. "Luther" Minerd Sr., Ulysses "Grant" Minard and one unknown.
In the 1921 book, History of Carroll and Harrison Counties, Ohio, Daniel is said to have "devoted his entire active life to resourceful and successful farm enterprise. He developed a fine farm property of 200 acres, was influential in community affairs, and both he and his wife were earnest members of the Presbyterian Church at Scio."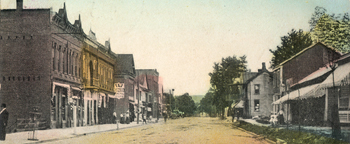 Main Street in Scio, with unpaved streets, circa 1910
In 1840, Daniel is known to have voted for General William Henry Harrison for president. In 1888, when Harrison's grandson (Benjamin Harrison) ran for president, Daniel also supported his candidacy.
Daniel's widowed father joined their household on the family farm sometime in the mid 1840s. The federal censuses for 1850 and 1860 confirm this arrangement. On June 28, 1856, John sold his 100 acres to Daniel. In a remarkable deed document, where the family name was spelled "Minart," John made the transaction dependent on the condition that Daniel provide:
...sufficient boarding, lodging, washing and mending with good and sufficient clothing suitable for all season s of the year and furnish him with all necessary attendance suitable for his age and capacity during natural life also to furnish him with good light shoes the whole year round and also to pay him four dollars in cash on or before the first day of May in each and every year during his natural life….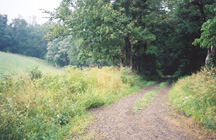 Entrance to Daniel's farm, 2002
The deed went on to say that after John's death, Daniel was to pay $80 each to the offspring, at certain specified times.
Daniel's farm held find stands of oak, hickory and chestnut. Over the years he enlarged his real estate holdings little by little – in 1857 (adding 55 acres), in 1862 (33 acres), and in 1863 (27 acres), while selling small tracts as needed. His total holdings later totaled 200-acres. His farm appears on various atlases of North Township published over the years. Seen here is the rough dirt road entrance, down a steep hill, to the northern edge of the property.
In 1879, Daniel sold 20 acres of his farm to his son John, in return for IOUs of cash, lumber and the construction of buildings on the property. However, in 1887, when the son could not pay, the son's wife sued so she would not be saddled with the debt. In the ensuing litigation, the tract was sold to Daniel's son Ervin.
In 1891, Daniel, sons Amos and Morris, and scores of local men signed a letter published in the Cadiz Republican which endorsed the political candidacy of John Sherman. They wrote: "We are a plain people, devoted … to agricultural pursuits almost exclusively, and we believe in honest John Sherman and in his straightforward methods, and we think it is a bad time to inject the methods of the ward politicians of Cincinnati into the general politics of Ohio."
One of Daniel's proudest possessions was his barn, which stood 3 ½ stories high. The Republican once said it was capable of storing "35 tons of hay and lot of straw, a buggy, harness, wagons, reaper and binder, mowing machine, and other, various farming implements."

Map showing Daniel's 200-acre farm (red dot), due west of Scio in North Township, from Caldwell's 1875 Atlas of Harrison County, Ohio
In November 1896, just a year before his death, Daniel negotiated an oil and gas lease with a man named Snyder, for "the privilege of developing for oil and gas, the premises in question, comprising one hundred acres." After Daniel's death, and no wills having been drilled, the lessees continued making rent payments to keep their contract in place. At some point Snyder transferred the lease to H.W. Brown and Emory Myers. In February 1899, the Ohio Oil Company negotiated its own lease from the widowed Rebecca, and notified Brown and Myers to stay off the premises. A complaint was filed in Harrison County Circuit Court, known as H.W. Brown and Emory Myers v. Ohio Oil Co., to resolve the question of which lease was valid. The case was published in the 1901 book, Reports of Cases Argued and Determined in Circuit Courts of Ohio, Vol. XI, a supplement to The Ohio Legal News.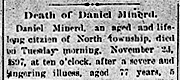 Over the years, Daniel suffered from kidney problems, then known as "Bright's Disease." He died from its effects on Nov. 2, 1897 at age 77, "after a severe and lingering illness," said the Republican. He was buried at the Lutheran Cemetery in New Rumley. Son Amos, eulogizing his father in the Harrison News, wrote:
Of him we can truly say a good man has passed away. He was an affectionate husband, a devoted father, a kind neighbor ever willing to lend a helping hand to those in need. His aged partner through life sits alone now, they having journeyed many years together. No more on earth shall we see his pleasant face or hear his kind words of greeting. However, we take comfort in the thought that God does all things well, and he teaches us that the righteous are held in everlasting remembrance. And we know if we are faithful we shall meet again.
After Daniel's death, Rebecca continued to reside on the old home place, with her grandson Harry C. Minard, and friend Mrs. C. Hazlett. She was very social and in addition to often entertaining guests, she enjoyed visiting her children's homes, including in such places as Newark and Greenville. In 1910, the Republican observed, "This aged mother is 82 years old and enjoys excellent health."

The year 1904 brought disaster. In November, the family's "large frame barn … burned to the ground," said the Republican.
The fire was discovered about 7:30 in the upper part of the barn and the flames spread so rapidly that there was barely time to release the live stock. Harry Minerd and Mrs. Hazlett, who live with Mrs. Minerd, barely escaped with their lives in their brave efforts to save the horses and some cattle that were in the back part of the barn. The fire dropped down on them, burning their hands and settling fire to their clothing. Nothing else could be saved…. It is a heavy loss, especially at this time of year. There is some insurance but not enough to cover one half the loss. The origin of the fire is a mystery.
On June 30, 1911, Rebecca passed away at the age of 84. Her physician wrote that her death was caused by senility and general debility. She was buried beside her husband.
Copyright © 2001, 2005, 2009-2010 Mark A. Miner