Eunice (Minard) Morgan
(1861-1955)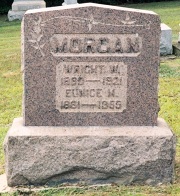 New Rumley Lutheran Cem

Eunice (Minard) Morgan was born on Aug. 11, 1861 in Scio, Harrison County, OH, the daughter of Daniel and Rebecca (Knouff) Minard.
Virtually nothing is known of her first four decades of life. She is thought to have stayed at home to care for her aging parents, marrying only after the death of her father in 1897.
The day after Christmas 1899, at the age of 38, Eunice married 39-year-old Winfield Wright Morgan (1860-1921), a native of Perrysville, Carroll County, OH. Rev. R.T. Price performed the nuptials.
Winfield was the son of Jarrett and Nancy (West) Morgan. Neither he nor Eunice had been married before. Their first home as newlyweds was in Cadiz, Harrison County.
They were the parents of one daughter, Dorothy Carman.
Winfield made a living as a barber and once was praised in a local newspaper as "one of Cadiz's highly respected citizens." The Cadiz Democrat-Sentinel said that he "came to Cadiz [OH] on March 17, 1894, and had been a popular and painstaking employe at A.A. Tressel's barbershop ever since."
They made their home in Cadiz. A 1900 issue of the Cadiz Republican observed that they had "gone to house keeping in their handsome new home on Spring street."
Eunice and Winfield moved to Greenville, Darke County, OH, where they resided in 1908, but moved back to Cadiz at some point. The federal censuses of 1910 and 1920 show the family living on Spring Street in Cadiz.
The Morgans were members of the Cadiz Presbyterian Church. Winfield was said to be "a quiet man of unobtrusive ways, exemplary in his habits, a strictly home man [with] hundreds of acquaintances.... [He] was a good fellow and a good citizen."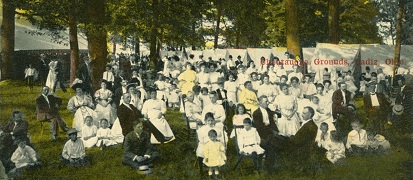 Attending the Cadiz Chautauqua, early 1900s
They are known to occasionally attend the Cadiz "Chautauqua," a cultural event featuring religious sermons, lectures on social problems and political speeches. At one Chautauqua the Morgans observed, one legislator spoke proudly about "the success of a multitude of former Cadiz boys and girls who now occupy positions of trust and responsibility in almost every part of the world."
Eunice often hosted visits by family members, including her aged mother, who would stay at their home for a few days. In 1906, the Cadiz Republican in Ohio reported that her brother Luther and his wife Lillian, from Sacramento, CA, were in Cadiz visiting in the Morgan home. "This is Mrs. Minard's first visit to Harrison county in sixteen years," said the Republican. She also visited at her mother's home, including at Thanksgiving dinner in 1909.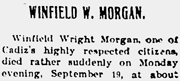 Obit, Democrat Sentinel

Winfield suffered from poor health for many years, "but had kept faithfully at his task." However, at age 61, while at work on Sept. 19, 1921, he suffered a heart attack. Said the Democrat Sentinel:

...he was seized with a weakness and after recovering somewhat he had left the shop for home. He had got as far as the Finnical drug store when some friends found him sitting on the steps. Noticing he did not respond to their greetings Dr. Finnical was called. He was placed in an automobile and taken to his home, where he died a few minutes later.

Dr. Oliver H. Finnical offered a slightly different view of events, writing that Winfield "was brought into my office and died suddenly."

Winfield was buried at the Lutheran Church Cemetery in New Rumley, Harrison County.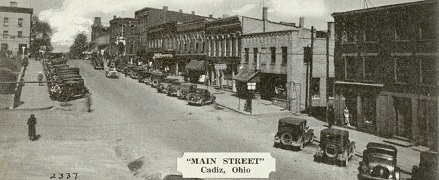 Main Street in Cadiz
Widowed at the age of 60, Eunice outlived Winfield by more than three decades. Her unmarried nephew Harry Calvin Minard (son of her late brother John Minerd) came to live in her home, and is shown there in the federal census of 1930.
By the 1950s, she relocated to Pittsburgh to be near her married daughter Dorothy Carman, who resided in rural Collier Township near Carnegie, PA. In October 1954, afflicted with senility and hardening of the arteries, she was admitted into the Maze Convalescent Home in nearby Washington, Washington County, PA.
She passed away three months later, on Jan. 28, 1955, at the age of 94. Her remains were returned to New Rumley to rest beside her husband, and not far from her parents and grandparents.
~ Daughter Dorothy (Morgan) Carman ~
Daughter Dorothy Morgan (1900-1985) was born on Nov. 14, 1900 in Cadiz, Harrison County, OH.
At the age of 19, in 1920, she lived with her parents in Cadiz and was a student in a business school.
In about 1923, at the age of 22, Dorothy wed 21-year-old Samuel Lloyd Carman (1902-1981), a native of Sturgeon, near Pittsburgh, PA. He was the son of Edward Durand and Sarah Leverta (Buchanan) Carman.
They produced a brood of two known children, Robert R. Carman and Romayne Carman.
They settled in the Collier Township section of Pittsburgh, on Noblestown Road.
When the federal census count was made in 1930, the Carmans lived in Rennersdale, Collier Township, with Samuel employed as an accounting clerk in a power company. They remained in Rennerdale for many years.
At some point, the Carmans retired and moved to Arizona, settling in Maricopa County. Samuel passed away in June 1981. He was laid to rest in Litchfield Park in Sun City, Maricopa County.
Dorothy outlived him by four years. She died in October 1985, at the age of 85. [Find-A-Grave]
Son Robert R. Carman (1924-1992) was born on Aug. 19, 1924 in Cadiz, Harrison County. At the age of 21, on Aug. 23, 1946, he married 22-year-old Mildred L. Reinstadtler (1924-1960), daughter of Charles and Elizabeth (Gendt) Reinstadtler. Rev. John T. Richardson, of nearby Canonsburg, Washington County, performed the nuptials. Mildred resided in Federal, near Rennersdale, and was a clerk at the time of marriage. They had two children -- Robert Lee Carman and Sally Jean Carman. At some point they moved to Akron, Summit County, OH, with their home located at 2125 Springfield Road. After 14 years of marriage, Mildred died in Akron on New Year's Day 1960, age 35. Her remains were returned to Pittsburgh for a funeral at Federal Methodist Church, with burial in Melrose Cemetery in Bridgeville. A short death notice was published in the Pittsburgh Post-Gazette. Widowed at the age of 35, Robert survived his wife by 32 years, a span of more than three decades. He died on June 9, 1992, and rests beside her for eternity. No obituary was published in Pittsburgh as both daily newspapers were on strike at the time.
Grandson Robert Lee Carman ( ? - ? )
Granddaughter Sally Jean Carman ( ? - ? )
Daughter Romayne Carman (1928- ? ) was born in 1928 in Pennsylvania.
Copyright © 2001-2002, 2005, 2012, 2022 Mark A. Miner