Andora (Minard) Hickcox
(1859-1915)
Andora (Minard) Hickcox was born on May 22, 1859 in Scio, Harrison County, OH, the daughter of Daniel and Rebecca (Knouff) Minard. She also went by "Anne Dora" or "Dora" and was said to have been "a loving mother and a friend to every one."
At age 14, Andora became a member of the local Presbyterian church. "After they moved to Greenville," the Cadiz Republican said, "she transferred her membership to the First Christian Church and remained a faithful and devoted member...."
On Sept. 14, 1887, at the age of 28, Andora married Charles Jasper Hickcox (1853-1926), the only child of Larimore and Mary J. (Martin) Hickcox. Park W. Taylor performed the nuptials. On her marriage license, Dora's maiden name was spelled "Minerd."
They had four children -- Edith M. Coombs, Nora M. Turner and Eunice V. McKee, and one who died young in the late 1880s or early '90s.
The family resided for many years at Greenville, Darke County, OH. At one point, in the early 1890s, Andora's sister and brother in law, Eunice and Winfield Wright Morgan, migrated to Darke County as well.

Greenville's main thoroughfare, Broadway, circa 1906.
When the federal census was enumerated in 1900, Dora and Charles and their three daughters lived under one roof along with Charles' widowed mother Mary. He made a living that year and for a long time after as a house painter. Their home was on West Fourth Street.
In the late summer of 1915, Andora learned that her brother Amos Bartholomew Minard had contracted a serious case of pneumonia on the old homestead near Scio. She traveled there to provide him with nursing care. Sadly, he could not recover, and died on Aug. 9, 1915. But the tragedy compounded when Andora herself caught the deadly illness, and died just a week later. She was laid to rest in Greenville Cemetery.

Cadiz Republican, 1915

In recounting the story, The Cadiz Republican reported that she was:

…taken sick the next day and was not able to be up at the time of the funeral. All that could be done by her friends to alleviate her suffering was done, but to no avail. She gradually went down and passed away peacefully…. When told by the nurse that she could not get well she said that all was well, that she was ready and willing to go, and, calling the family about her bed, bade them a final farewell, and fell asleep to wake no more.

Charles continued to reside in Greenville after his wife's death. In 1920, the census shows the 64-year-old widower lived as a boarder in the household of Robert W. and Rosalie Sackett, but had no occupation.

By the mid-1920s, Charles could no longer care for himself, and was admitted to the Darke County Home in Greenville. He died in the home on June 17, 1926, of "general paresis," a type of dementia, reported a physician. He joined his wife in eternal repose in Greenville Cemetery.

~ Daughter Edith Elizabeth (Hickcox) Coombs ~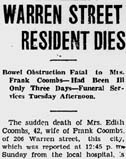 Obituary, 1934

Daughter Edith Elizabeth Hickcox (1892-1934) was born on May 14, 1892.

At the age of 18, in 1910, she was employed in a millinery shop in Greenville.

At the age of 18, she married 21-year-old machinist George Franklin "Frank" Coombs (1889-1941) on July 20, 1910. The ceremony took place in Greenville, led by Rev. John Smith. George was the son of William and Alice J. (Bishop) Coombs.

They together bore four children -- Jean Coombs, Robert Coombs, Richard Coombs and Helen " Ellen" Coombs.

The federal census of 1920 shows this family making its home on Riffle Avenue in Greenville, and that Frank was unemployed at the time.

By 1930, when the census again was taken, the Coombses had moved to a new residence at 206 Warren Street. Frank worked as a laborer at "odd jobs."

Edith passed away of a bowel obstruction in Greenville on Dec. 9, 1934, at the age of 42. She was laid to rest in Greenville.

Frank outlived his wife by seven years. At the age of 52, in the fall of 1941, he had open sores on his hands while dressing rabbits. The hands became infected, and he died shortly thereafter in Wayne Hospital on Nov. 26, 1941. His death occurred just 12 days before the nation was plunged into World War II. He is buried at Greenville Cemetery.

Daughter Jean Coombs (1912- ? ) was born in 1912. She may have married Gene Amspaugh.

Son Robert Coombs (1914- ? ) was born in 1914.

Son Richard Coombs (1918- ? ) was born in 1918.

Daughter Helen " Ellen" Coombs (1921- ? ) was born in 1921.

~ Daughter Nora (Hickcox) Turner ~

Daughter Nora M. Hickcox (1894- ? ) was born in July 1894.

She married Earl R. Turner (1895- ? ) in about 1923, when she was age 27 and he 32.

They had one known son, Robert E. Turner.

Zinc plant in Depue, Illinois
Circa 1930-1934, they resided in De Pue, Bureau County, IL. The federal census of 1930 shows that Earl was employed as an electrician in a zinc plant.
Son Robert E. Turner (1925- ? ) was born in 1925 in Illinois.
~ Daughter Eunice Viola ( Hickcox) McKee ~
Daughter Eunice Viola Hickcox (1897-1942) was born in September 1897.
She married Earl R. McKee (1898- ? ) in about 1920. He had been wed once before. Both Eunice and Earl were age 22 at the time of their marriage to each other.
The McKees had one known son, Glen E. McKee. They also helped raise a niece, Florence McKee, who was in their home in 1930 at the age of nine.
Eunice and Earl resided in Washington Township, Miami County in 1930; Piqua, Miami County in 1934; and in Dayton, Montgomery County in 1942. In 1930, when the United States census was taken, Earl was employed as a weaver for a blanket company in Miami County.
In the summer of 1942, suffering from inflammatory illness, with anemia as a contributing factor, Eunice was admitted to the Stonder Hospital in Troy, Miami County. She died there on July 12, 1942, at the age of 43. She was laid to rest in Pletcher, OH. Husband Earl was the informant on her death certificate, and only knew the name of Eunice's father, but erroneously gave the name of the mother as "Viola" with maiden name unknown.
Son Glen E. McKee (1926- ? ) was born in about 1926.
Copyright © 2001, 2005, 2012, 2016, 2022 Mark A. Miner