Morris M. Minard
(1855-1929)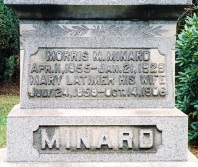 Morris M. Minard was born on April 11, 1855 at Scio, Harrison County, OH, the son of Daniel and Rebecca (Knouff) Minard.
Morris was a longtime farmer. In 1891, along with his father and his brother Amos, he signed a letter published in the Cadiz Republican which endorsed the political candidacy of John Sherman. They wrote: "We are a plain people, devoted … to agricultural pursuits almost exclusively, and we believe in honest John Sherman and in his straightforward methods, and we think it is a bad time to inject the methods of the ward politicians of Cincinnati into the general politics of Ohio."
Morris was appointed guardian of his nephew, Harry C. Minard, in 1892 after the boy's father John was diagnosed with manic depression and was institutionalized.
On April 5, 1894, at age 39, Morris married 36-year-old Mary P. Latimer (1858-1906). The ceremony was performed at New Cumberland, Tuscarawas County, OH, by Rev. R.G. Price.
They had two children, Charles "Wilbur" Minard and another child who died in infancy.
The Minards spent most if not all of their married lives in Unionport, a rural area about halfway between Cadiz and Steubenville, Jefferson County, OH. They maintained their membership in the Presbyterian Church at Scio.
When the federal census was enumerated in 1900, Morris, Mary and their young son lived in Springfield Township, Jefferson County. Morris' occupation was listed as "farmer." That year, 24-year-old George Stall boarded in their home, providing extra income for the Minards.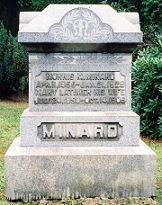 Sadly, after only 12 years of marriage, Mary died on Oct. 14, 1906, at the age of 48. The cause of death is unknown. She was buried at Grandview Cemetery in Scio. Among those attending her funeral, reported a newspaper, was Morris' sister, Eunice Morgan. No obituary has been located in the Steubenville (OH) Herald-Star newspaper.
In 1907, his sister Eunice is known to have traveled to visit at his home in Jefferson County. The 1910 U.S. census shows Morris and 12-year-old son living together on their farm there, in Springfield Township.
The 1920 census records Morris, and his son and daughter in law Wilbur and Violet (McKibben) Minard living under one roof along Salem Road in the Wolf Run section of Jefferson County.

Later in life, Morris resided at Annapolis, Jefferson County. There, at age 73, on Jan. 21, 1929, he passed away, "following an illness of several months," said the Cadiz Republican. Rev. T.W. Pearson led the funeral at the Annapolis Presbyterian Church. Afterward, his remains were returned to Scio to be reunited with his wife. An obituary also was published in the Steubenville Herald-Star.
Their grave is marked with an impressive monument, seen here.
~ Son Charles "Wilbur" Minard ~
Son Charles "Wilbur" Minard (1898-1982) was born on Feb. 24, 1898 in Unionport, Jefferson County, OH. Following the occupation of his father, grandfather and great-grandfather, he was a farmer.
H married Violet Mae McKibben (1899- ? ), the daughter of William and Mary (Trimmer) McKibben of Steubenville, Jefferson County. The ceremony took place at the Two Ridge Manse on July 23, 1919, by the hand of Rev. George W. Applegate. The newlyweds made their first home with Wilbur's widowed father.
They had one son, Beryl Eugene Minard.
Interestingly, while Wilbur should have known his grandmother, but not his grandfather, when he provided information for his father's death certificate in 1929, he knew his grandfather's name but not his grandmother's.
Wilbur died on March 2, 1982, at age 84, and Violet just seven months later, on Oct. 22, 1982, with burial in the Unionport Cemetery in Jefferson County.
~ Grandson Beryl Eugene Minard ~
Grandson Beryl Eugene Minard (1924-2009) was born on May 12, 1924 in Jefferson County, OH.
During World War II, he served in the U.S. Army.
At the age of 19, on April 14, 1944, Beryl married his girlfriend, 20-year-old Margaret Helpinstine (1923- ? ), daughter of Osborne and Lula (Shepherd) Helphinstine. She was a native of Amsterdam, Jefferson County, OH. His parents both signed the marriage license, as Beryl was under the age of 21. They were wed by Rev. Earl C. Brooks at Amsterdam.
After the war, Beryl made his home in Pearland, Brazoria County, TX. They are thought to have had one daughter, Cheryl Kay Cravey.
Beryl died at Bulverde, Comal County, TX on Sept. 8, 2009, at age 85.
Copyright © 2001-2002, 2005, 2012-2013 Mark A. Miner