Home

Mary Ann (Minerd)
Crayton Cross
(1861-1943)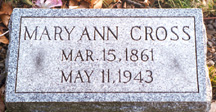 Hopwood Cemetery
Mary Ann (Minerd) Crayton Cross was born on March 15, 1861 in Hopwood, Fayette County, PA, the daughter of William and Sarah Elizabeth (Whoolery) Minerd. More is known about her second husband -- a Civil War veteran -- than about her.
As a young woman, Mary Ann lived with her parents in the coal mining patch town of Mt. Braddock near Uniontown, Fayette County.
On Jan. 19, 1882, at age 21, Mary Ann married her first husband and Mt. Braddock neighbor, Henry L. Crayton ( ? - ? ). Their wedding was held in Dunbar, Fayette County, and was reported in the Uniontown Republican Standard. They "went to housekeeping" in the nearby patch town of Brownfield.
Their two children were William H. Creighton and Alice M. Crawford.
The marriage did not last long. After just two and one-half years, on Nov. 29, 1884, Henry deserted his wife and family. He was last heard from in 1888, when he was residing in Baltimore, MD. In April 1896, after 12 years, Mary Ann sued for divorce, with her father serving as a "next friend" -- a legal term meaning he was charged with looking out for her best interests. At that time, she was living in Hutchinson, Fayette County, and asked that the marriage bond be dissolved "as if she had never been married, or as if he the said Henry L. Crayton were naturally dead." Mary Ann later stated that her first husband had died in December 1891. But in an affidavit signed in 1914, a relative wrote that Henry L. Crayton "went away and is believed to be dead though the date and place of his death is unknown."
In 1892, Mary Ann bore a daughter, Annie G. Crayton. The father of the child is lost to history.
By 1900, Mary Ann and her children had moved back in with her parents in South Union Township.
She gave birth to a fourth child, Alva Edward "Alvie" Crayton, in December 1903. She was age 43 at the time. The identity of the child's father is unknown, although the child later claimed that it was Henry Crayton.
~ A Second Marriage to Heley Patrick Cross ~
At age 47, in 1908, Mary Ann married again to her second spouse, and became the third wife of Civil War veteran Haley Patrick Cross (1838-1924). He son of John and Mary Cross, and a native of Mount Savage, MD. (It's believed that Mary Ann's sister Frances "Fannie" Minerd later married Haley's cousin John, but the Cross relationship needs to be confirmed.) Mary Ann and Haley had no children.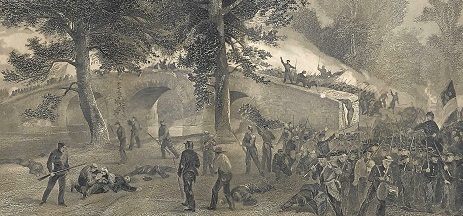 Furious Civil War battle action at the stone bridge at Antietam
Haley was a 69-year-old Civil War veteran at the time of marriage. He had served in the 1st Battallion, 19th United States Infantry and 2nd Maryland Infantry (Companies C and A).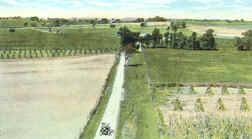 "Bloody Lane" at Antietam in peaceful times
Born as "Patrick Heley Cross" at Mt. Savage, MD, on March 30, 1839, he grew to stand 5 feet 6½ inches, with blue eyes and auburn hair. He was a laborer before the war.
Haley enlisted in the 19th U.S. Infantry at Somerset, PA, and served about 18 months. Having received not "a penny" of pay and overhearing that the government could not hold soldiers after three months without pay, he deserted after the Battle of Antietam. The horrific fight in September 1862 the horrific fight Antietam Creek claimed 22,000 Union and Confederate killed and wounded.
Seen at right is a bird's eye view of the famed "Bloody Lane" at the Antietam battlefield at Sharpsburg, MD, in the quiet postwar years.
After his desertion, Haley went immediately to Somerset County, PA, where his father, attending a Dunkard Baptist Church camp meeting, gave him money. Haley then went to his father's hometown of Winchester, near Alliance, Stark County, OH, and dug coal for a week. Earning enough funds to go to Cumberland, MD, on Feb. 23, 1863, he joined the 2nd Maryland Infantry in which his brother, William R. Cross, was serving.
Haley enlisted under the name "Heley Patrick Cross" to avoid detection. In May 1864, at Greenland Gap, WV, he shot his own right hand index finger while practicing a skirmish drill. He was sent to the hospital at Clarysville, MD, where the finger was amputated. He was discharged at Camp Braddock, Baltimore, MD, on May 29, 1865.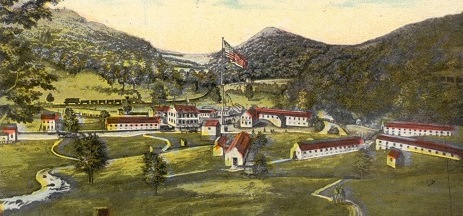 Clarysville General Hospital in Cumberland as seen in 1864 -- where Heley's finger was amputated following an accidental shooting
For many years after the war, Haley drew two pensions, one under each version of his name, finally spurring a government investigation. A special government examiner, Theodore Tallmadge, examined his case, and later made this report:
I found this claimant ready and willing to make a truthful statement in respect to the bounty he actually received and am entirely convinced from his manner, that as far as the receipt of the $300.00 State bounty is concerned, that I made an error in employing words that conveyed the idea that the payment was made upon his enlistment. It is too long ago since that statement was written, over twelve years, for me to undertake to state whether the error was mine or his... [I have] met him at least once since then in connection with a complaint he made which proved well grounded as to a remarriage of a widow pensioner, and he explained that his pension was being continued.
Haley must have had an entrepreneurial spirit. The March 22, 1883 issue of the Uniontown Genius of Liberty reported that "H.P. Cross, formerly of Mt. Braddock, has started a grocery and provision store in the room on Main street, recently occupied as a restaurant by Mr. Richie."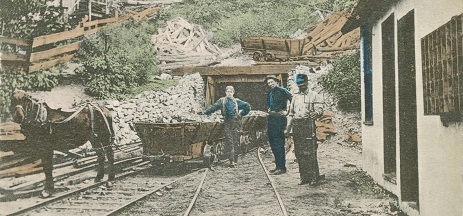 Coal miners in the famed "Connellsville Seam" of Fayette County
Haley and his first wife, Matilda (McClain) Cross ( ? - ? ), lived at Alice Mines, Westmoreland County, PA. Sadly, in February 1886, Matilda died, of causes unknown. Later, he lived at Mt. Braddock and Rodgerstown, PA, working in the coal industry. Co-workers once gave testimony that "most of the time he worked in the mine as a track-layer and was often compelled to work in the water and wet places."
On Oct. 2, 1888, Haley married again, to Catherine Maust ( ? -? ). They had three children -- Elvira "Vira" Black, Blanche Grove and Sherman P. Cross. Divorcing Catherine in June 1908, after two decades of marriage, he claimed she had given him "the clap" -- venereal disease.
He then married our Mary Ann (Minerd) Crayton on Aug. 1, 1908.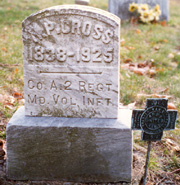 Hopwood Cemetery
~ Mary Ann's Life with H.P. Cross ~
Just two years after marriage, Haley was admitted to the Soldiers National Home in Knoxville, TN on June 12, 1910. While at home on furlough in Smithfield in March 1911, he wrote a letter to an attorney who was helping him receive pension payments from the federal government. Circa 1914, he was back home and living at Smithfield, and was receiving $24 per month in federal pension.
Haley died "from the infirmities of age," said the Connellsville Daily Courier, on Nov. 5, 1924 at home near Smithfield. He was buried in the Minerd family plot at Hopwood Cemetery.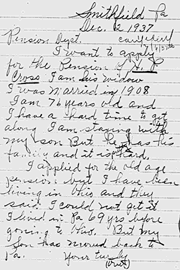 Mary Ann's letter, 1937
Mary Ann outlived Haley for nearly two decades, and tried to obtain her late husband's pension. She resided in Uniontown circa 1930 when her sister Jennie Worrick died, and then circa 1931-1933, she was living at 748 East Market Street in Warren, OH, near her brother James William Minerd.
In a letter from her son's home in Smithfield in 1937, she wrote:
I am 76 years old and I have a hard time to get along. I am staying with my son but he has his family and it is pretty hard. I applied for the old age pension but I have been living in Ohio and they said I could not get it. I lived in Pa. 69 years before going to Ohio. But my son has moved back to Pa.
As she aged, and her health began to fail, Mary Ann moved in with her son Alvie in Woodbridgetown, near Smithfield. When her sister Sarah Crawford died in March 1943, Mary Ann was mentioned in the newspaper obituary.
Less than two months after her sister's death, Mary Ann herself passed away in Alvie's home at age 82 on May 11, 1943, and was buried beside her husband at Hopwood Cemetery. At her death, reported the Uniontown Morning Herald, she was survived by 13 grandchildren and 22 great-grandchildren.
~ Son William Henry Creighton ~
Son William Henry Creighton (1882-1957) was born on Oct. (?), 1882 in or near Uniontown, Fayette County or in Bentleyville, PA. He never knew his precise birth date and generally went by the spelling of "Creighton" as an adult.
He married 18-year-old Estella "Stella" L. Wakefield (Aug. 21, 1881-1955), daughter of Thomas W. and Abbie Wakefield of Monongahela City, but originally from Webster, PA. At the time, William lived in Hutchinson, Fayette County, was age 17 and employed in "digging coal." Rev. P.T. Conaway married the couple on the Fourth of July 1900 in Fairchance, Fayette County.
The Creightons had seven children -- Golda "Goldie" Davis, Helen "Irene" Jarvis, Alice Black, Blanche Creighton, Lowell "Frank" Creighton, Estella "Pearl" Zynosky and Rev. Albert Creighton.
William was a coal industry laborer for many years in Western Pennsylvania. They lived in New Eagle, Washington County, PA in 1910, where William worked as a machinist in a repair shop; in Charleroi, Washington County (1920-1940), where he was a machinist in an iron works and steel mill; and on Fourth Street in Monongahela City, Washington County (1943-1952). The Uniontown Evening Standard once noted that he was a mechanic for the Combustion Engineers of Monongahela City. After retirement, in about 1953, he moved to rural McClellandtown, German Township.
The Creightons belonged to the Free Methodist Church.
Sadly, Stella endured her final illness for two-and-a-half years. She died in her home on Main Street in New Eagle on Aug. 17, 1955. Heer obituary in the Monongahela Daily Republican said she was survived by 21 grandchildren and 11 great-grandchildren.
William was afflicted with hardening of the arteries and heart disease. While at the home of his sister-in-law Mary Crayton on the Core Farm in German Township, Fayette County, he suffered a heart attack and died instantly at the age of 74 on June 21, 1957. Burial was in the Monongahela Cemetery.
Daughter Golda "Goldie" Creighton (1901-1971) was born in 1901. At the age of 19, Goldie was employed as a sales woman in "five and ten cent" store. She married James Davis ( ? - ? ) and resided in Monongahela in 1955-1966. They together produced a brood of three children -- James Edward "Eddie" Davis, Thomas Davis and Thelma Columbus. Goldie lived on Main Street in New Eagle. She died in Monongahela Memorial Hospital at the age of 71 on June 4, 1971.
Grandson James "Eddie" Davis (1929-1981) was born on Oct. 4, 1929 in Monongahela. He married Joan Danilchak and had four children -- Shari Davis, Kim Davis, Denise Davis and James Davis. He worked at Davis Industries and belonged to the Fraternal Order of Eagles in Monessen. After an illness of six weeks' duration, Eddie died in Allegheny General Hospital in Pittsburgh on March 1, 1981, at the age of 51.
Granddaughter Thelma Davis wed (?) Columbus. Her home in 1971 was in Monongahela.
Daughter Helen "Irene" Creighton (1902-1973) was born on July 27, 1902 in Fayette County. She married Earl Mathias Jarvis (June 14, 1902-1959), the son of Matthias and Clara (Chattaway) Jarvis of Monongahela, PA. They had three children -- Helen Irene Gunder, Marilyn Ann Palmer and Arden Earl Jarvis. Circa 1954, the Jarvises lived in Charleroi, PA, where he was employed in river transportation by United States Steel. They relocated in 1954 to 1005 Wayne Avenue in Indiana, Indiana County, PA. Sadly, Earl suffered a heart attack while at the home of their daughter Helen in Hopwood, Fayette County, and died at the age of 56 on May 25, 1959. An obituary in the Monongahela (PA) Daily Republican reported that he "had not worked for two weeks because of the heart ailment, but death was unexpected." Irene outlived her husband by 14 years. In 1966, she lived in Indiana and by 1971, she moved into the home of her her son Arden in East Liverpool, Columbiana County, OH. She was a member of the First Free Methodist Church of East Liverpool. She died at age 71 in East Liverpool City Hospital on April 7, 1973. Following a funeral led by Rev. Richard Merkle, she was laid to rest in the Monongahela Cemetery.
Grandson Arden Earl Jarvis (1926-2009) was born on May 17, 1926 in Charleroi. He married Lois Bailey ( ? - ? ) on Sept. 15, 1947, and they made their home in East Liverpool. They had one daughter, Laurel Jean Barnabo. Arden served in the U.S. Navy during World War II. Later, he spent more than a quarter of a century as a service manager with Tad Motors in East Liverpool. He also was a trustee of the First Free Methodist Church of East Liverpool. Said the East Liverpool Review, "He also enjoyed his boats, his cars, and going to the opera." He died on Dec. 12, 2009. Burial was in Riverview Cemetery.
Granddaughter Helen Elaine Jarvis (1922-2008) was born on April 8, 1922. She wed Rev. Ernest E. Gunder (1923-2008). They were the parents of Darla Rae Perry and Ernest Dale Gunder. Circa 1959, their residence was in Hopwood, Fayette County, PA. By 1971, they lived in Pittsburgh and in the 2000s in Baden, Beaver County, PA. Helen passed away on April 2, 2008, and her husband joined her in death six days later, on April 8, 2008. Funeral services were held in the Cornerstone Christian Community Church in Pittsburgh, with an obituary printed in the Pittsburgh Post-Gazette. Ernest Dale Gunder lived at Rear 861 Josephine Avenue in Indiana, Indiana County and died on March 12, 2010. Darla has a son, Ronald Mark Perry.
Granddaughter Marilyn Ann Jarvis ( ? - ? ) married Richard Palmer ( ? - ? ). The couple produced one daughter, April Michelle McCracken. They have resided in Indiana, Indiana County, PA.
Daughter Alice Creighton (1904- ? ) was born in 1904. She wed Arthur Black ( ? - ? ). They had three children -- Irene Woodall, James Black and Lois Rosena. Her home in 1955-1973 was in Charleroi. She died on Nov. 4, 1986.
Granddaughter Irene Creighton (1923-1992) was born on March 11, 1923 in Twilight. At the age of 20, she married Elmer L. Woodall Jr. on Feb. 18, 1943. They lived in Charleroi where she was a member of the Grace United Methodist Church of Clover Hill. Irene died at home at the age of 69 on Aug. 7, 1992. Burial was in Monongahela Cemetery, with her funeral officiated by Dr. Larry Wilson.
Granddaughter Lois Creighton (1929-2007) was born on Sept. 20, 1929. She married Anthony John Rosena Sr. and resided circa 1960 in Pittsburgh and in 1992 in Williamston, WV. They had five children -- Anthony John Rosena Jr., Gina M. Shiflett, Adrianna Piernick, Cyndi Huff and John Rosena. Lois died on Oct. 1, 2007, in Williamstown. Their daughter, Gina M. Rosena, married Tim Shiflett and was an educator in Randolph County, WV; Gastonia County, NC; and Prince George's and Montgomery Counties, MD. She died in Bowie, MD on Jan. 10, 2011, at the age of 50.
Grandson James Black resided in Charleroi. He and his wife had a daughter Linda, who married Kenneth Wiltz.
Daughter Blanche Creighton (1908- ? ) was born in 1908. She entered into marriage with Carl F. Saunders ( ? - ? ) on Aug. 13, 1925, in Washington County. Their name also has been spelled as "Sanner." Circa 1955, the pair lived in Conway, Beaver County, PA.
Son Lowell "Frank" Creighton (1911-1966) was born on Jan. 9, 1911. He was employed as a steel mill laborer in Charleroi, Washington County, circa 1930. He married Esther O'Neill (1912-2001) and had two children -- Timothy Lowell Creighton and Sharon Slomberg. Later, he worked at the Corning Glass Works' plant in Charleroi. At the age of 55, Frank suffered a heart attack and was pronounced dead on arrival at Charleroi-Monessen Hospital on June 8, 1966. He was laid to rest in the Sacred Heart Cemetery in New Eagle, following a funeral service led by Rev. Ernest Gunder of McKeesport. His obituary was published in the Valley Independent newspaper of nearby Monessen. Esther outlived her husband by almost 35 years. She worked at the Corning Glass Works in Charleroi and at St. Anne's Church in Rostraver Township. She also was a member of Mary, Mother of the Church Parish in Charleroi. Heartache visited her life many times in the intervening years when she lost her daughter, son in law and grandson. She died in Pittsburgh's Mercy Hospital on April 9, 2001, at the age of 89.
Grandson Timothy Lowell Creighton (1950-2002) was born on Feb. 27, 1950 in North Charleroi. He married Theresa Marie (Germock) Hall on June 16, 1984, in Monongahela's Chess Park. He was employed at the time at Pennsylvania Float Glass in Elizabeth, and later was a glass packer and inspector for Guardian Industries of Floreffe. They lived in Donora circa 2001 and had four children -- Lowell Creighton, Cindy Creighton, Rachel Creighton and Ashley Creighton. Timothy died at age 52, on Dec. 30, 2002, in Mon Valley Hospital. He is buried in Sacred Heart Cemetery in New Eagle.
Granddaughter Sharon Creighton ( ? -1996) married Samuel Slomberg ( ? -1991). They had at least one son, Brian Slomberg, who died Aug. 8, 1971. Samuel passed away on Jan. 3, 1991, and Sharon died on March 23, 1996.
Daughter Estella "Pearl" Crayton (1916-1985) was born on March 23, 1915 in Charleroi. On Sept. 27, 1937, under the spelling of "Creighton," she married Sigmund "Ziggy" Zynosky (June 19, 1917-1977), a native of Atlasburgh near Burgettstown, Washington County and the son of Polish immigrants Peter Paul and Anna (Muicka/Nazecko) Zynosky. Rev. R. Parker Andrews officiated. News of their marriage license, obtained in Ohio County, WV, was published in the Monongahela Daily Republican. Also spelled "Zigmund," he stood 5 feet, 11 inches tall and weighed 190 lbs. Four children in this family were Robert Allen Zynosky, Leland Carl Zynosky, Beverly Anna Zynosky and Shirley Jean Hysong Ladebue. When the federal census enumeration was made in 1940, the family dwelled next-door to her parents in Carroll Township, Washington County, and Sigmund earned a living as a laborer with the Pennsylvania Railroad at Shire Oaks near Washington. He is known to served in the U.S. Marine Corps during World War II. During the war years, they made a home in Ginger Hill near Monongahela and then in 1950 in Fallowfield Township, where he was a gas producer in a steel mill. Their residence in 1955 was in Callery, PA, and then in 1971-1977, they resided in Evans City, Butler County, PA. Sigmund died on Dec. 11, 1977. Interment of the remains was in Greenlawn Estates, Butler. Pearl outlived him by seven-plus years. She passed away in March 1985. The Butler Eagle printed obituaries for both. One other child in this family was Janet King.
Grandson Robert Allen Zynosky (1935- ? ) was born in about 1935. He grew up in Bentleyville and later in the household of his grandparents on Fourth Street, Monongahela. During the Korean War, in January 1952, he joined the U.S. Marine Corps, graduating from mechanic's school. He was traferred to battalion headquarters as a draftsman, posted in August to Oceanside, CA. He was pictured in the Monongahela Daily Republican upon his transfer to California. Once his military service was completed, he returned home and obtained employment with American Bridge Company in Ambridge, PA. On Sept. 28, 1957, he was united in holy matrimony with Joanne "Ju-Ju" Denitti ( ? - ? ), daughter of Matthew and Antoinette (Abatanpuono) Denitti of Schoonmaker Avenue in Monongahela. The wedding was presided over by Rev. Martin J.O'Toole in the St. Leonard Roman Catholic Church. In announcing the marriage, the Valley Independent said the bride "wore a gown of white, which was fashioned with a fitted bodice, Italian neckline and long fitted sleeves ending in points on the wrist. The bodice was made of alencon lace and the full skirt of sheer tulle. Her veil of illusion was held to a beaded crown." They made their first home in Ambridge. Joanne was an alumna of Monessen High School and worked at the time of marriage for J.C. Penney Company. By the mid-1960s, the family appears to have put down roots in Monessen. Robert was employed as a patrolman in Belle Vernon Borough circa 1976 under the Manpower Program, and resigned from the position that year. He then appears to have rejoined the force as of 1977. Their residence in 2012 was in Monessen.

Great-grandson Robert Allen Zynosky Jr. ( ? - ? ) was a candidate for mayor of Monessen in 2013.

Grandson Leland Carl "Lee" Zynosky (1937-1983) was born on March 27, 1937. In young manhood he made a home in Evans City, Butler County. Circa 1976, he married Nancy Brighton ( ? - ? ), a resident of Hanover Township, Beaver County and the daughter of George F. and Frances (Stone) Walker. Their marriage license was announced in the East Liverpool Evening Review. The Zynoskys lived in Hookstown, Beaver County, PA. Two known offspring were born to the couple, a son in 1977 and a daughter Lisa Lee in 1978, both in the Rochester Unit of the Beaver County Medical Center. Leland obtained a business administration degree in 1982 from Community College of Beaver County. Sadly, he died in July 1983.
Granddaughter Beverly Anna Zynosky (1938-2010) was born on Aug. 5, 1938. Evidence suggests that she resided in Butler, PA and passed away on May 20, 2010.
Granddaughter Shirley Jean Zynosky (1947-2012) was born in on March 7, 1947 in New Eagle. Over the years, she dwelled in Butler and Mars, Butler County, PA, and was a 1965 graduate of Mars High School. She was first wed to (?) Hysong ( ? - ? ). The trio of children they produced together included Jeffry Hysong, Richard Hysong, Jo-Anna Wooster and Aimee Yeater. Later, in about 1986, she was joined in wedlock with James Ladebue ( ? - ? ). Their union lasted for 25 years until the separation of death. Said an obituary, "She was a member of the Murrysville Congregation of Jehovah's Witnesses. She spent the past 30 years spreading the Good News of God's Kingdom (Matt. 24:14) and teaching people about the Bible's promises of a resurrection and of everlasting life in a peaceful new world... She loved watching Pittsburgh sports, especially the Steelers." Her final home was in Delmont, PA. Sadly, at the age of 64, she passed away on New Year's Day 2012. Her obituary was published in the Butler Eagle.

Great-grandson Jeffry Hysong has lived in Butler.

Great-grandson Richard Hysong tied the marital knot with Victoria. They settled in Chicora, Butler County.

Great-granddaughter Jo-Anna married (?) Wooster. Her residence in 2012 was in Slickville, PA.

Great-granddaughter Aimee wed Jonathon Yeater. They resided in Pittsburgh in 2012.
Son Rev. Albert Westley Creighton (1918-1984) was born on Sept. 21, 1918 in Charleroi. Albert was joined in matrimony with Hannah Mary Beeler (Aug. 9, 1918-2017), a native of Sewickley, PA and the daughter of Elmer Clarence and Nora Blanch (McKinney) Beeler. Five children produced by this union were Donna Grace Murphy, Clarence William Creighton, Cindy Joy Lee, James Arthur Creighton and Betty Lou Webb. Albert became ordained in the Church of the Nazarene and Free Methodist Church. Their home in 1954 was in Callery, Butler County, PA, with him assigned at the time to the Callery Free Methodist Church. Tragedy swept over the family when their 10-year-old son James drowned two days after Christmas 1954, after falling through the ice of a pond on which he was trying to walk. As of 1955, at the death of his mother, he lived in New Kensington, PA. In October and November 1958, based in the Nazarene church in Cherry Tree, PA, he was the speaker at a series of evening revival services held in Ebensburg and Cherry Tree. He is known to have resided in Avonmore, PA in the 1960s, pastoring the Avonmore Free Methodist Church. In 1967, he led the Sunnyside Free Methodist Church in Monongahela before being transferred for a time to the Nescopeck Free Methodist Church, announced on the pages of the Berwick (PA) Enterprise, before returning to Sunnyside. In the early 1970s, he dwelled in Black Lick, PA, with responsibility at the local Free Methodist Church. Said the Greensburg Tribune-Review, Hannah "was a cook for many summers at the Free Methodist camp in Apollo and also sold delicious baked goods from her own kitchen. She was a prayer warrior and prayed daily for her family." Albert died in Penn, Westmoreland County, in May 1984. Hannah survived her spouse by 33 years and relocated to Royersford, Montgomery County, PA. She surrendered to the spirit of death at the age of 98 on Jan. 4, 2017. She was survived by 15 grandchildren, 47 great-grandchildren and 42 great-great grandchildren. The pair sleep at each other's side in Brush Creek Cemetery in Irwin, PA.
Granddaughter Donna Grace Creighton (1938-2021) was born on Oct. 5, 1938 in Monongahela. She entered into marriage with (?) Cahall ( ? - ? ) and (?) Murphy ( ? - ? ). She was the mother of Karen Barnett, Charles Albert Cahall, Michael Cahall, Donna Marie Johnstone and Malcolm Lawrence Murphy, II. Said an obituary, "A strong woman of faith, Donna loved the Lord and enjoyed reading her Bible and other Christian books. Donna loved to garden and enjoyed watching the nature that surrounded her." Donna Grace's final residence was in Norristown, PA. Sadly, she died in Butler Memorial Hospital at the age of 82 on Sept. 14, 2021. Her remains were lowered under the sod of Mars (PA) Cemetery, and her grave marker bears this epitaph: "Resting in the arms of our Lord, Jesus Christ." Her survivors were counted as 16 grandchildren and 23 great-grandchildren.

Great-granddaughter Karen Cahall wed (?) Barnett.

Great-grandson Charles Albert Cahall married Donna.

Great-grandson Michael Cahall was joined in wedlock with Candace.

Great-granddaughter Donna Marie entered into marriage with Steven Johnstone.

Great-grandson Malcolm Lawrence Murphy, II was united in matrimoy with Kristin.

Grandson Clarence "William" Creighton ( ? - ? ) joined the U.S. Navy in young manhood. While stationed in Turkey, he met and married Instanbul native Gülsen (April 21, 1941-2016). At the time, she was employed by Turkish Airlines as a flight attendant. Together, they bore a family of three -- James Michael Creighton, William Creighton and Sarah Creighton. In 1981, the Creightons put down permanent roots in Springfield, VA. Said an obituary, "Family was Gülsen's passion and delight... She enriched the lives of so many and asked for so little in return... She loved gardening, cooking, and spending time with her grandchildren." Sadly, Gülsen died the day after Christmas 2016. Her funeral was led by Rev. Dr. Donald Binder, with burial at the Pohick Episcopal Church Cemetery in Lorton, VA. The family requested that any memorial donations be made to the Fragile-X Foundation or the Disabled American Veterans.

Great-grandson James Michael Creighton (1963-2002) was born on Aug. 23, 1963. He made his residence in Springfield, Fairfax County, VA. Sadly, he succumbed to the spectre of death at the age of 38 on May 17, 2002. He is buried in the Pohick Episcopal Church Cemetery in Lorton, VA in a plot next to his mother.

Great-grandson William Creighton ( ? - ? )

Great-granddaughter Sarah Creighton ( ? - ? )

Granddaughter Cynthia Joy "Cindy" Creighton was born in (?). Circa 1973, living in Black Lick, she was united in wedlock with John Richard Lee ( ? - ? ), a resident of Chester, WV. News of their marriage license was published in the Indiana (PA) Gazette. She was alive circa 2021.
Grandson James Arthur Creighton (1944-1954) was born on Sept. 8, 1944 in Monongahela. As a 10-year-old, he dwelled with his family in Callery, Butler County, PA. Tragically, just two days after Christmas 1954, he drowned while trying to walk on the frozen Henry's Fish Pond in Callery, the water of some 10 feet in depth. The Pittsburgh Sun-Telegraph reported that County Coroner J. Clinton Atwell investigated and learned that "a thin sheet of ice broke as the boy was walking across... Two companions with Creighton escaped injury." The Pittsburgh Press added that "A friend who slipped under the icy water with him managed to thrash his way to shore, but young Creighton sank almost immediately..." The horrific news also was reported widely throughout the state. His remains were laid to rest in Evans City Cemetery. On his grave marker are inscribed these words: "Beloved child of God."
Granddaughter Betty Lou Creighton (1942-1993) was born on May 12, 1942. On July 7, 1987, when she was age 45 and he 33, she married Ralph R. Webb (Oct. 28, 1954- ? ), son of Walter and Dorothy (Eger) Webb. The nuptials took place in Roaring Spring, PA. There was a dozen-year difference in their ages. Evidence suggests that they dwelled in Williamsburg, PA and that she died unexpectedly at home on May 8, 1993, just four days shy of what would have been her 51st birthday. Her remains lie in eternal repose in Royer Cemetery in Blair County, PA. Her grave marker features this verse of scripture: "Not my will but thine be done." Ralph has outlived his bride by several decades and remained in Williamsburg.
Hopwood Cemetery
~ Daughter Alice Mae (Crayton) Crawford ~
Daughter Alice Mae Crayton (1885-1965) was born in April 1885 in or near Uniontown, Fayette County.
Alice married Elmer Austin Crawford (June 23, 1882-1960), the son of Joseph and Tilitha (Smith) Crawford, of Bedford, Bedford County, PA. The ceremony took place on June 30, 1903, in Smithfield, by the hand of Rev. James W. Hays. He was age 21, and she 18 at the time.
The couple bore a brood of two known sons -- William "Leroy" Crawford and Donald H. Crawford.
Elmer stood 5 feet, 6 inches tall and weighed 145 lbs. He was employed in Uniontown in 1910 as a railroad brakeman. When required to rgister for the military draft during World War II, Elmer at age 36 disclosed that they lived at 120 Carlisle Street, Uniontown, and that he was working as a coal miner for the K.J. Wood Coal Company at Percy.
Census records for 1920 show him continuing to make a living as a coal miner. They resided on Carlisle Street in Uniontown in 1920.
Later, they relocated to Warren, Trumbull County, OH circa 1940-1957. When again required to register for the military draft, now on the eve of World War II, their address was 682 Mercer Avenue Northeast in Warren. At that time, his employer was Republic Steel Corporation in Warren, and he carried a scar on his right ankle.
Elmer passed away in Warren's St. Joseph Riverside Hospital at the age of 78 on Nov. 23, 1960. The remains were transported to Uniontown for interment in Hopwood Cemetery.
Alice joined him in eternity five years later, in 1965, and was laid to rest beside him at Hopwood.
Son William "Leroy" Crawford (1905-1981) was born on Dec. 10, 1905 in McClellandtown, Fayette County, and grew up in Uniontown. He attended school through the eighth grade and eventually migrated with his parents to Warren, OH. From there in 1928 he moved to Michigan. On Aug. 31, 1928, when he was 22 years of age, he wed Violet Adenia Parker (June 22, 1910-1995), a native of Hammond, IN. Their wedding ceremony was held in Niles, Berrien County, MI. The three known children of this union were Charles L. Crawford, Murray E. Crawford and Della Francis Crawford. The family in 1940 made their dwelling-place in Niles. At that time, Leroy earned a living as a metal polisher in a storefront factory. Sadness cascaded over the family when daughter Della died in infancy in 1942. By 1950, he worked as a construction carpenter, and was a member of the Carpenters Local 998 of Benton Harbor. He eventually retired from carpentry work, remaining in Niles for good, at the address of 1333 Phoenix Street. Violet was employed at one time with Michigan Bell Telephone Company. The family were members of the local Wesley United Methodist Church. Leroy died at the age of 75 on March 13, 1981 as a patient at St. Joseph Medical Center in South Bend, IN. His remains were cremated and placed for eternity in Sumnerville (MI) Cemetery, with Rev. Mark D. Graham presiding. In an obituary in the South Bend Tribune, the family asked that any memorial contributions be made to the Niles Community Library. Violet lived for another 14 years and resided at 6 North Fourth Street in Niles. The angel of death cleaved her away on July 29, 1995, at the age of 85, in Berrien General Hospital. Her obituary was published in the Tribune.
Grandson Charles L. Crawford (1931- ? ) was born in about 1931. His home in 1995 was in Niles, Berrien County, MI.
Grandson Murray E. Crawford (1935-? ) was born in about 1936 in Michigan. He was a 1954 graduate of Niles (MI) High School and a U.S. Air Force veteran of the Korean War. He made his home in Niles, Berrien County, MI in the 1990s. At the age of 82, on April 17, 2018, he succumbed to the spectre of death in the University of Michigan Hospital.
Son Donald H. Crawford (1915-1989) was born on Aug. 29, 1915 in Fairchance, Fayette County. He relocated in young manhood to Wheeling, Ohio County, WV. At the age of 21, on Sept. 4, 1936, in Wheeling, he entered into marriage with 19-year-old Iona Bechtle (1916-1997), daughter of Byrd Allen and Blanche (Gruber) Bechtle of Wheeling. Officiating was Rev. William H. Fields. One known son of this union was Byrd Allen Crawford. When the federal census enumeration was made in 1940, the Crawfords lived in Wheeling, with Donald generating a living as a body maker in a can factory. In 1950, census records show Donald working as a setup man in the can factory, and Iona as a sales clerk in a retail clothing store. Their marriage dissolved in divorce. In 1941, he dwelled in Wheeling at the address of 39 2th Street. In time, he wed again to Estamae Lee (Stephenson) Brill (1925-2009), originally from Charleston, WV, the daughter of Gertrude Emma Lane Stephenson and the widow of Ralph R. Brill ( ? - ? ). They did not reproduce. She was employed by West Liberty State College as bookstore manager. In her free time, she enjoyed playing bingo. Circa 1981, at the death of his brother, he still was making a residence in West Virginia. Death enveloped him in Wheeling on Feb. 18, 1989. Burial was in the sacred soil of Greenwood Cemetery, Wheeling. Estamae outlived her husband by two decades. She passed away at the age of 83, in Wheeling's Good Shepherd Nursing Home, on Aug. 15, 2009.
Grandson Byrd Allen Crawford (1938- ? ) was born in about 1938 in or near Wheeling and named for his maternal grandfather. His address in 1957 was 2643 Chapline Street, Wheeling. On July 18, 1957, when both were age 18, he was joined in wedlock with his first wife, Martha Patricia Carr ( ? - ? ). Rev. Carl L. Adelsperger officiated. Martha's address as the time was 3925 Wetzel Street in town. By the mid-1960s, he had moved in the city to 51 America Street. Then on July 16, 1965, when both were age 26, he married Mary Carol Hickey ( ? - ? ), of the address 125 South Park, Wheeling, and the daughter of John Leo and Gertrude (Wetzel) Hickey. Ohio County First Judicial Circuit Judge James G. McClure presided. Byrd and Mary Carol are known to have made their residence in Naples, FL in 1990-2022. There, in 1990, they registered their own company, Contract Business Interiors-Florida, Inc. Byrd is believed to have been a co-founder and director of the Holiday Shootout basketball tournaments held in Naples each new year's holiday season. Former wife Iona died in Wheeling on March 18, 1997.
~ Daughter Anna G. "Annie" Crayton ~
Daughter Anna G. "Annie" Crayton (1892- ? ) was born in April 1892 (or 1895).
Annie was unmarried and lived with her married brother Alvie in Warren, Trumbull County in 1930 and after a move together in Woodbridgetown, Fayette County in May 1943. Annie was employed as a housekeeper for private families in 1930 but had no occupation in 1940.
When named in the 1957 Uniontown Evening Standard obituary of her brother, she dwelled in Canton, OH.
Annie is believed to have passed away in 1965, with burial in Canton's Forest Hill Cemetery. Nothing more about her is known.
~ Son Alva Edward "Alvie" Crayton ~
Son Alva Edward "Alvie" Crayton (1903-1945) -- also spelled "Alvey" -- was born on Dec. 22, 1903 in Smithfield, Fayette County. The identity of his father is unknown.
Alvie stood 5 feet, 10 inches tall and weighed 150 lbs. At the age of 21, circa 1924, he married 16-year-old Mary Diehl (1909- ? ). They lived early-on in Smithfield, Fayette County.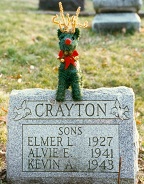 The sons' grave, Hopwood,
adorned by a small reindeer
They had at least three sons -- Harold "Elmer" Leroy Crayton, Alvie E. Crayton and Kevin A. Crayton -- and three daughters -- Anna Mae Grimwood, Mildred Bogol and Virginia Genevieve Whoolery. Tragically, Alva and Mary lost all three sons over a 16-year period, from 1927 to 1943.
Son Elmer died just after birth on Nov. 15, 1927, "probably suffocated as the baby was found dead by the family," wrote a physician. Little Elmer's remains were returned to Uniontown for burial at Hopwood. Son Alvie Crayton died in 1941, followed by his brother Kevin A. Crayton in 1943. All of them rest at Hopwood Cemetery.
When the federal census was enumerated in 1930, Alvie and Mary and their daughters lived together in Warren, Trumbull County. Alvie's unmarried sister Annie resided under their roof, as did three roomers -- William George, Ruby Momula and Mary Momula. Alvie's occupation was listed as laborer and contractor. They remained in Warren into the late 1930s before a relocation back to Fayette County.
In January 1939, Alvie endured a heart-breaking experience at work. He was driving a truck with Works Progress Administration employee James Blair, near Masontown, Fayette County, to get goods for a construction project. After obtaining their material, they were headed onward when Blair suffered a heart attack, collapsed in the truck's cab and died almost immediately. Alvie rushed him back to the company offices, but doctors pronounced Blair dead.
The federal census enumeration of 1940 shows Alvie and Mary in Nicholson Township with a full household of three daughters children, his widowed mother, single sister Annie and 25-year-old nephew Raymond Minerd all under their roof. His occupation at that time was as s truck driver hired by general haulers.
Alvie in the 1940s dwelled in Woodbridgetown, near Smithfield, continuing to provide a home for his mother until her passing in May 1943. When required to register for the military draft during World War II, he disclosed that his employer was Carrado & Galliardi at the Fay West Mine in Connellsville. In a twist, his wartime draft registrar was Freda (Swaney) Minerd of Fairchance, married to Alvie's distant cousin Charles Irvin "Bud" Minerd.
He worked as a truck driver and is known to have advertised a hydraulic hoist and body for sale in April 1942 on the pages of the Uniontown Evening Standard. Their final home together was in rural Smithfield.
At the age of 41, Alvie was stricken with cancer of the stomach. He died in Uniontown Hospital on Oct. 21, 1945. The Connellsville Daily Courier carried a brief obituary, saying he was survived by his widow, three daughters, two sisters and one brother. Burial was in Hopwood Ceetery.
Mary outlived her husband as a widow for four decades. She supported herself as a machine operator in a shirt factory in German Township in 1950. At that time, she shared a home with her married daughter Mildred and family. In 1961, her residence was in Point Marion.
Mary passed away in 1985.
Daughter Anna Mae Crayton (1926-1995) was born in about 1926 in Pennsylvania. She was united in matrimony with Chester H. "C.H." Grimwood (Nov. 28, 1907-1991). One daughter borne by the pair was Barbara Mae Alesi. Chester was divorced from his first wife Nellie Alberta Walters (1905-2003), and he brought three stepchildren into the second union -- William Sidney Grimwood, Robert Edward Grimwood and Mary Jane Melhorn. The Grimwoods were in Canton, OH in 1970. Chester earned a living as a member of Local 69 of the United Brotherhood of Carpenters and Joiners of America in Canton. They relocated to Florida in 1975, putting down roots in Palm City, FL. Sadly, Chester surrendered to the angel of death at the age of 83 on Jan. 12, 1991. His obituary appeared in the Stuart (FL) News, which said he was survived by 11 grandchildren and 13 great-grandchildren. At the age of 69, she died at home on May 3, 1995. An obituary was printed in the Newsbut did not name the stepchildren. Presiding at the funeral service was Rev. John Taylor of the Immanuel Lutheran Church. Interment followed in the mausoleum of Forest Hills Memorial Park.
Granddaughter Barbara M. Grimwood wed (?) Alesi. She was the mother of three and grandmother of eight. Barbara maintained a residence in Palm City, FL in 1995.
Step-grandson William Sidney Grimwood Sr. (1929-2020) was born on June 11, 1929 in Smithfield. He was married to Gloria ( ? - ? ) and the father of five -- Garry E. Grimwood, William Sidney Grimwood Jr., cynthia J. Grimwood,, Pamela J. Grimwood and Rhonda L. Grimwood. William began employment in 1952 with what became Conrail (Consolidated Railroad Corporation). His focus of responsibility was as a train dispatcher in Youngstown. In all, he worked for Conrail for 33 years until retiring in 1985. He lived in Brookfield, OH in 1991 and at one time also dwelled in Hubbard. Said an obituary, William "was a member of the Royal Arcanum Republic Council #2197, from 1952 till 2020, where he was a past officer. In his spare time, he enjoyed listening to Country Music, playing a round of golf, and bowling. In addition, he loved watching both the Cleveland Indians and Browns." His final years were spent in Canfield. He died in Select Specialty Hospital in Boardman, OH on May 26, 2020, at the age of 90. Burial was in Calvary Cemetery, Canton.

Step-great-grandson Garry E. Grimwood married Kathleen. They have dwelled in Pittsburgh.

Step-great-grandson William Sidney Grimwood, Jr. wed Kathleen. The pair put down roots in Hubbard.

Step-great-granddaughter Pamela J. Grimwood has resided in Massillon, OH.

Step-great-granddaughter Rhonda L. Grimwood was in North Canton, OH in 2020.

Step-grandson Robert Edward Grimwood dwelled in 1991 in Brookfield, OH.
Step-granddaughter Mary Jane Grimwood married (?) Melhorn/Melhorne. Her home in 1991 was in Dale City, VA. She was deceased by 2020.
Daughter Mildred Crayton (1930-2014) was born in about 1930 in Warren. She entered into marriage with Michael Bogol Sr. (1918-1978), son of Anna Bogol and stepson of Andrew Todak. One known son of this couple was Mike Bogol Jr. Michael Sr. is believed to have served in the U.S. Navy during World War II. Still in the Navy in September 1945, he made news when encountering his brother-in-law James Burke on a nearby ship. Reported the Uniontown Morning Herald, "Separated by water and being on different ships didn't stop [the two men] from communicating with one another. For the second time during their tour in the South Pacific they took advantage and used the ship's signal lights." In 1950, the Bogols lived with Mildred's widowed mother in German Township, and he labored as a farm helper. As of 1970, the Bogol home was in East Millsboro. The family was plunged into grief when Michael died in 1978. Mildred outlived him by 36 years and remained in East Millsboro. She passed away at home at the age of 85 on Oct. 31, 2014. They rest in eternal repose together in Lafayette Memorial Park, Brier Hill
Grandson Michael A. Bogol Jr. (1949- ? ) was born in about 1949. Evidence suggests that he was a 1967 graduate of Brownsville Area High School and then served in a fighter squadron during the Vietnam War aboard the USS Saratoga. Then in 2003, he was elected as a commissioner of East Bethlehem Township on the Republican ticket.
Daughter Virginia Genevieve Crayton (1932-1997) was born in 1932 in Warren, OH. She was joined in wedlock with Robert E. Whoolery (Aug. 24, 1935-2022), son of Mack and Edna E. (Swaney) Whoolery of Fairchance. Three offspring of the couple were Mark Edward Whoolery, Richard Dean Whoolery, Tammie Marie Whoolery and Robert Whoolery. The family dwelled in Point Marion in 1961 and in Smithfield in 1970. Said an obituary, Robert was a longtime "coal miner and was a member of UMWA Local 1248 for many years also serving as Secretary of the Local. After retirement, Bob was employed with the Uniontown Firemen's Ambulance Transport Service. He was also a member of many local social clubs." Sadly, Virginia died in 1997. Robert then maintained a dwelling-place in Rubles Mill, PA and later in Uniontown. He married a second time. On New Year's Day 2022, Robert passed away at the age of 86 in Uniontown Hospital.
Grandson Mark Edward Whoolery (1958-2000) was born on March 2, 1958. On his third birthday, he was pictured in the Uniontown Evening Standard. He died on Jan. 29, 2000, possibly in Preston County, WV. Burial was in Mount Moriah Baptist Cemetery in Smithfield.
Grandson Richard Dean Whoolery (1959- ? ) was born in 1959. He was pictured on his second birthday in 1961 in the Uniontown Evening Standard. His home in 2022 was in Smithfield.
Granddaughter Tammie Marie Whoolery (1961- ? ) was born in 1961. She was pictured in the Uniontown Evening Standard on her first birthday. She dwelled in Smithfield in 2022.
Grandson Robert Whoolery ( ? - ? ) was joined in marital union with Micaela. They moved to Nashville, NC. Micaela is believed to be a transitional care nurse with Wilson Medical Center.
~ Mary Ann's Step-Children ~
Stepdaughter Elvira "Vira" Cross (1892- ? ) was born on Aug. 25, 1892. At the age of 13, on Feb. 15, 1905, she was enrolled in the Industrial Soldiers' Orphan School. She married (?) Black.
Stepdaughter Blanche Cross (1898- ? ) was born on Jan. 4, 1898. At the age of 7, on Feb. 15, 1905, she was enrolled in the Uniontown Soldiers' Orphan School. She married (?) Grove.
Stepson John C. Cross (1898- ? ) was born on Dec. 6, 1898. At the age of five, on May 2, 1903, he was enrolled in the Uniontown Soldiers' Orphan School.
Stepson Sherman P. Cross (1900- ? ) was born on April 20, 1900. At age five, on Feb. 15, 1905, he was enrolled in the Uniontown Soldiers' Orphan School. He remained there at least through 1916.
In 1924, when Haley died, his children were living in the following locales: Sherman Cross in Uniontown, PA; Blanche Grove in Williamsport, PA; and Vira Black, place unknown.
Copyright © 2000, 2002, 2006-2007, 2009, 2012, 2014, 2018, 2023 Mark A. Miner