2007 Reunion Rewrites
the Story of Our Earliest
German-American Ancestors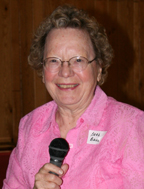 Barbara Bauer
More than 70 cousins and friends of the family attended our 2007 national reunion, held the Father's Day weekend of June 16-17 in Western Pennsylvania. The group included 22 first-time guests and 49 repeat visitors. In all, cousins came from 24 Pennsylvania towns and six states.
At the Saturday picnic, held at the Indian Creek Valley Community Center, cousin Barbara (Boring) Bauer held the audience rapt with her research report on our earliest German-American roots. It changed everything we thought we knew.

Daniel Miner
This was the first time that a member of Barbara's branch has visited the Pittsburgh region for a family event for almost 200 years. In 1812, her great-great-great grandparents, Daniel and Mary Miner Sr., left the Fayette/Somerset County home to become pioneer settlers of Perry County, Ohio. This branch of the family has lived continuously in Ohio ever since. In fact, Barbara is one of the first of Daniel's descendants to attend our reunions.
On Sunday, a smaller group of cousins toured ancient family graves at the Normalville and Imel Cemeteries, with many fascinating stories told, and attended church together.
Over the past 15 years, reunion attendance has averaged 105 annually.
~ Saturday's Picnic - Indian Creek Valley Community Center ~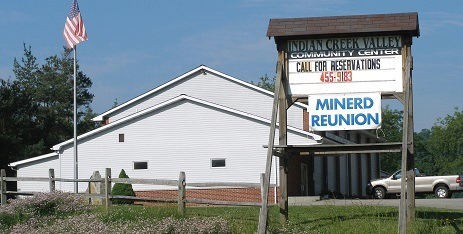 Reunion day at the Indian Creek Valley Community Center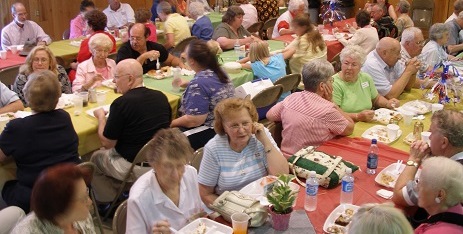 In her well-documented talk, illustrated by overhead slides and assisted by her daughter Karen (Bauer) Bocock, Barbara took us back almost 80 years and three more family generations than what we knew before. She led us into Upstate New York and thence to Germany, using the documentation she has diligently researched. She has spent countless hours delving into the paper trail found in the archives of the Palatines to America Library in Columbus, OH.
We learned that Friedrich Meinert Sr. of Oley Township, Berks County, PA, the father of Western Pennsylvania pioneer and Revolutionary War veteran Jacob Minerd Sr., was not the first immigrant from Germany, as was previously thought. Friedrich actually was the great-grandson of the actual immigrant. Barbara explained that Friedrich's father was Burkhardt "Burger" Meynderts, his grandfather was Meyndert Fredricksen, and his great-grandfather was a man whose name was a version of Friedrich with some completely different second name not yet learned. They came to America from Jever in what is now Lower Saxony, Germany, in August 1656. She told how the old Low German/Dutch naming system – where one's last name was a version of his or her father's first name – was much different than the English system of the time and thus was the cause of much difficulty in her research.
She also told us that upon arriving here, Meyndert Fredericksen had a blacksmith shop on the north corner of Broadway and Huston Streets in Kingston/Albany, Ulster County, New York, and provided armor for the fort located there.
Barbara described the strength of the German culture, and how the German-American families lived as neighbors in Kingston/Albany, and then moved together and settled as neighbors in Oley Township, Berks County, PA.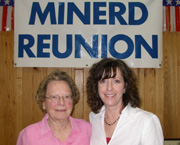 Barbara and daughter Karen
Three very detailed articles Barbara has authored for our website can be found at these links:
Among the cousins traveling the furthest distance were Bill and Gloria (Moennig) Carey, of Fort Wayne, Indiana, whose Minerd ancestors left Western Pennsylvania in 1817 for Ohio and settled in 1844 in Indiana.
Cousins Sandra and Henry Theis of Dilliner, PA were the first-ever members of the family of Burket and Frances (Skinner) Minerd Sr. to come to our reunions. Burket, a War of 1812 veteran who moved to West Virginia about 1814, was a son of Revolutionary War veteran Jacob and Maria (Nein) Minerd Sr.
Another far-traveled group included members of the Harbaugh-Laughery branch, which left the region in the early 1900s and moved to Delaware – Clayton and Loretta (Laughery) Downes and Ronald and Peggy (Laughery) Case.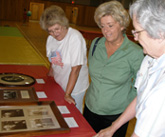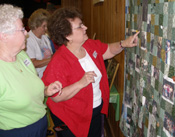 Left: Gloria Carey (right) shows her heirloom photos to Doris Hawker and Peg Mansberry. Center: Frankie Cramer labels her photographs. Right: Loretta Downes and Sharon Kern study a quilt featuring Laughery family photo images

Theme of next year's reunion
Reunion president Mark Miner announced that next year's reunion will focus on helping the City of Pittsburgh celebrate its 250th birthday. This might include holding the reunion weekend events in the city at one or more of its top attractions. The Allegheny Conference on Community Development, which is leading the birthday planning, including the "Return and Reunite" initiative as part of its "Imagine Pittsburgh" program, has approved the use of its "Pittsburgh 250" logo by our reunion and website.
Lunch featured a delicious buffet lunch brought by many cousins -- meat dishes, vegetable and side dishes, and devilish desserts. Cold soda pop and bottled water were plentiful.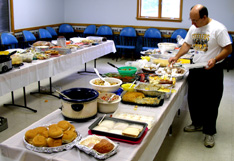 Mike Smith at the buffet line
A number of cousins brought and displayed old heirlooms, including:

Birthday girl
Margaret Moninger
In anticipation of her 100th birthday in February 2008, the group serenaded Margaret (Isiminger) Moninger, of Greene County, PA a friend of the family, seen at left. We also sang happy birthday to cousin Tammy (Miller) Smith.
A drawing was done for special prizes – including quilts made by cousin Doris (Sands) Hawker and Christmas tree skirts created by cousin Bernetha (Ullery) Pritts, as well as other gifts.
Following lunch, cousin Sid Miller took a photograph of our group for the 11th year. Sid's work was highlighted for the group in the periodic cleanup of the Lynn Point Cemetery, and at the monuments to the 107th Pennsylvania Infantry at Gettysburg National Battle Park. Sid always is looking for new recruits to assist him and his family in this valuable work.
~ Sunday Cemetery Tours and Church Service ~

Normalville Cemetery tour group - Chuck McDowell, Sherry Stephens, Sharron Creighton, Sharon Kern, Loretta Downes, Ron Case and Peg Mansberry - standing at the grave of Civil War veteran and original Minerd Reunion co-founder Martin Miner and his wife Amanda (Williams).

Church bulletin
On a picture-perfect morning, with blue skies and no clouds in sight, a small reunion group of 10 cousins toured ancient family graves at the Normalville Cemetery. The earliest, from 1865, was the unmarked grave of Sarah (Ansell) Minerd, known only to us by a hand-drawn map made by her granddaughter, Agnes (Miner) Miller, more than a century later. Tour guide Mark Miner described how the strong German-American culture was illustrated through the lives of many of the cousins buried there, including cousin-marriages, outspokenness and a fear of formal education.
Among the graves visited were Elijah and Hannah (Minerd) Murray, Perry Murray, Jacob and Rachel (Ansell) Minerd III, Elizabeth (Minerd) Long Gallentine, wounded Civil War veteran Andrew Jackson Rose, John N. Rose, local photographer Charles H. and Alcestia (Ritenour) Rose, Charles J. and Margaret (Lancaster) Rose, and Charles D. and Frances (Rose) Minor.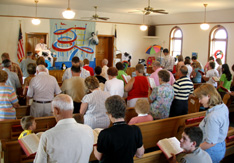 Church service we attended
We also stopped at the markers for George and Ida (Kooser) Murray, Civil War veteran and original Minerd Reunion co-founder Martin and Amanda (Williams) Miner, Charlie A. Miner, longtime justice of the peace William Henry "Squire" and Sara (Basinger) Miner, Fallingwater laborer Frank and Bertha (Basinger) Miner, Jane (Hiles) Miner, and Pearl Harbor survivor Raymond A. Minor.
Following the tour, the group attended Father's Day services at the Normalville United Methodist Church, where we were made to feel very welcome. Pastor Mark Sholtis greeted the "Miner and Minerd family and everyone in between." His sermon, based on the scripture Galatians 2: 15-21, was entitled, "We Who Are … By Birth." Among the hymns sung during the service were "Faith of Our Fathers," so appropriate to the reunion weekend.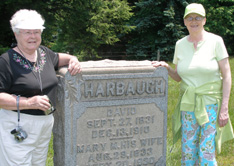 Loretta Downes and Peggy Case at
the grave of their great-grandparents
Following lunch, the group of Laughrey descendants drove to the Imel Cemetery to pay respects to the graves of ancestors of their immediate branch. These included Civil War veteran David and Mary Magdalene (Whipkey) Harbaugh, and three of their their adult children Robert Bacom and Elizabeth (Long) Harbaugh Sr., Charles "Evans" Harbaugh, and William "Dayton" and Lucinda (Harbaugh) Younkin. At least five generations of Harbaugh descendants rest for eternity at this remote, sloping country graveyard.
Seen at left, sisters Loretta (Laughery) Downes and Peggy (Laughery) Case of Delaware at the Imel Cemetery grave of their great-grandparents, David and Mary Magdalene (Whipkey) Harbaugh.
Plans for next year's reunion, focusing on Pittsburgh's 250th birthday, will be announced on this page soon. Check back for details.
Your Reunion Committee:
President: Mark A. Miner, Beaver, PA
Vice President: Peg (Grimm) Mansberry, Normalville, PA
Treasurer: Doris (Sands) Hawker, Morgantown, WV
Secretary: Rosella (Resh) Miner, Grantsville, MD
Past Reunions:
Copyright © 2007 Mark A. Miner