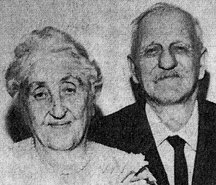 Ida and George Murray
George M. Murray was born on the Fourth of July 1879 at Morgan's Station, Fayette County, PA, the son of Elijah and Hannah (Minerd) Murray.
Tragically, in May 1885, at age six, George was orphaned when his parents died eight days apart. The identity of whomever raised him is lost to history.
George in adulthood was of medium height and build, with blue eyes and light-colored hair.
On July 2, 1908, at Greensburg, Westmoreland County, PA, at the age of 29, George married Ida Kooser ( ? -1970), the daughter of Samuel S. and Hester Ann (Basinger) Kooser of Dunbar Township.
They were the parents of four children – Anna Agnes Warrick and Hazel Pearl Johnson as well as two children who were stillborn.
One unnamed daughter was born and died Oct. 12, 1908, with no physician present, and an unnamed son likewise on April 29, 1916. The physician attending the 1916 delivery wrote that "Child had been dead in uterus some days." The babies' tender remains were laid to rest in what was known at the time as the Levi Grim Graveyard.
Early in their marriage, the Murrays resided at Fairchance, Fayette County and were there at the birth of their daughter Hazel. Later, they moved on a permanent basis to the Normalville area of Fayette County, where George had grown up.
George was a longtime farmer. When required at age 39 to register for the military draft during World War I, he disclosed that he was employed providing "farm labor" for Hiram Shaffer of rural Connellsville. He also named Ida as his next of kin.
For 19 years, George was the sexton at the Normalville Evangelical United Brethren Church Cemetery, where his parents and grandparents were buried. The church later became affiliated with the Methodist Church, and the burying ground is known simply as "Normalville Cemetery."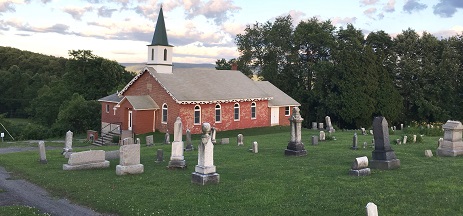 Normalville Church and Cemetery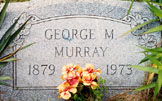 Normalville Cemetery
Circa 1946, efforts were made to clean up the cemetery. Tilden Kern, president of the cemetery association, said in a Connellsville Daily Courier news article that "There's a lot of satisfaction to a community to have a decent place to bury its dead." In the article, he said it was an "ideal location" and noted "the beauty of its appearance, the magnificent view of the distant mountains and the recent acquisition of three acres of ground, which have been added to the four acres already in use." Among the other trustees were George's cousins Lloyd and Agnes (Miner) Miller, secretary and treasurer respectively, as well as O.O. Eicher, Homer Fullem and C.K. Brooks. That year, a home was erected on the grounds for George in his role as caretaker, described by the Courier as "a cozy white frame building of four rooms, built at a cost of around $2,000.... the caretaker is thus on hand at all times."
Reflecting his German heritage and ways of living, George was superstitious. Among his practices was removing warts from his hands by cutting up a potato and rubbing pieces on the affected skin. He would speak some magic words, and then bury the potato. "The wart would go away," said a niece. He and Ida are also known to have enjoyed smoking pipes.
Connellsville Daily Courier, 1946
In 1965, the Murrays suffered the death of their married daughter Hazel Johnson.
They celebrated their 60th wedding anniversary in June 1968, and were pictured and featured in a related story in the Daily Courier.
Ida passed away on Sept. 5, 1970, at the age of 89, in Connellsville State General Hospital.
George survived his wife by three years. He died at home at the age of 94 on Oct. 15, 1973. Appropriately, they are buried side by side at the Normalville Cemetery.
~ Daughter Hazel Pearl (Murray) Johnson ~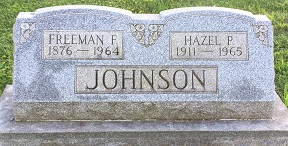 Normalville Cemetery
Daughter Hazel Pearl Murray (1911-1965) was born on May 4, 1911 in Fairchance, Fayette County.
She grew up near Normalville, Fayette County, where she spent the rest of her life.
Hazel married widower Freeman F. Johnson (April 7, 1876-1964), son of Clifford and Mary E. (McMillan) Johnson.
Freeman had been wed once before, to Maude Early (Feb. 17, 1882-1953), daughter of John B. and Minerva (Showman) Early. The couple resided in Alverton, near Mount Pleasant, Westmoreland County. He sued her for divorce in April 1935.
He thus brought five children to the second union -- Raymond E. Johnson, Olive Wiltrout, Helen Ritenour and Harold Johnson, plus a stepdaughter Ethel Hart.

Freeman Johnson
The Johnsons went on to have one son of their own, Jack M. Johnson.
Freeman was a longtime carpenter in the Normalville area. Hazel was a member of the Normalville Methodist Church, and Freeman of the Mill Run Evangelical United Brethren Church.
When Freeman reached his 87th birthday in April 1963, his son Raymond held a dinner in his honor in Connellsville.
Heartache blanketed the family in February 1964 when they suffered the death of Freeman's son Raymond.
Just five months later, after fracturing his left hip, Freeman went into heart failure. He died on July 10, 1964 in Connellsville State General Hospital.
The following year, at the end of January 1965, Hazel was admitted to Connellsville Hospitalfor stomach cancer and severe anemia. She did not recover, and passed away a month later at the age of 53 on March 1, 1965. Following a funeral led by Raymond Varner, her remains were placed at rest in Normalville Cemetery.
Stepson Raymond E. Johnson (1905-1964) was born on Oct. 13, 1905 near Normalville. He married Ethel R. Shaffer and had three children -- Ray E. Johnson, Ronald L. Johnson and Genevieve Cree. The moved to South Connellsville in about 1927, where Raymond obtained employment with the Connellsville Water Company as a pump and filter operator. The Johnsons were members of the Albright Evangelical United Brethren Church in South Connellsville, where he served as a trustee and as a member of the Men's Bible Class. Tragically, while at work, Raymond suffered a heart attack and died en route to Connellsville State General Hospital at the age of 58 on Feb. 25, 1964. His remains were shipped to Hyndman, Somerset County, for a funeral service followed by interment in the Hyndman Cemetery, with Rev. Melroy Wirick, Rev. R.A. Nelson and Rev. M.R. Tyson in charge.
Grandson Ray E. Johnson was married to Anita Turner, daughter of Richard Turner of Cumberland, MD and a nurse at Connellsville State Hospital. They lived in Willoughby, OH in 1960-1963, with Ray employed at Chapin State Forest as a ranger. Their children were Randy Johnson, Rebecca Johnson and Priscilla Maureen Johnson.
Grandson Ronald L. Johnson was married and made a home in 1963 in Westerville, OH. They were the parents of Keith Johnson, Karla Johnson and Kyna Johnson.
Stepdaughter Olive Johnson married Ed Wiltrout and lived in South Connellsville. She was deceased by 1972.
Stepdaughter Helen P. Johnson (1922-1972) was born on April 12, 1922 in Connellsville. She wed Charles E. Ritenour Sr. ( ? -1948). They produced an only son, Charles E. Ritenour. Charles passed away on Oct. 19, 1948. Further heartbreak ensued in 1961 when son Charles, an airman first class, died at age 23 in Boston. In 1962, Helen relocated to Youngstown, Ohio. By 1970, she was in Girard, OH, at the address of 336 Illinois Avenue. Burdened with a lengthy illness, she was admitted to Youngstown's North Side Hospital where she succumbed at the age of 49 on Jan. 7, 1972. An obituary appeared in her old hometown newspaper, the Connellsville Daily Courier.
Step-grandson Charles E. Ritenour Jr. (1938-1961) was born on Feb. 3, 1938 in Connellsville. He wedded Mary L. Goodwin ( ? - ? ). Their only known son was Larry Eugene Ritenour. Charles joined the U.S. Air Force in 1955 and was stationed at Pease Air Force Base near Dover, NH. In 1961, he held the rank of airman first class. He was stricken with illness and admitted to Chelsea Naval Hospital in Boston, where he died at the age of 23 on Sept. 12, 1961. His remains were returned to his hometown for interment in Green Ridge Memorial Park, with Rev. R.A. Nelson officiating. The

Connellsville Daily Courier

published an obituary.
Stepson John "Harold" Johnson (1910-1970) was born on July 10, 1910, near Normalville. He spent his entire life in the Normalville area, and earned a living working for the Barger Coal company and later for Anchor Hocking Glass Corporation in South Connellsville. He married Mary Ellen ( ? -1957) and had three children -- Emma Showman, Clara May Hensel and Robert L. Johnson. Sadly, Mary Ellen died on May 21, 1957. Harold outlived her by 13 years, remaining in his home in Normalville. He died at home at the age of 60 on Nov. 11, 1970. Burial was in the Normalville Cemetery.
Son Jack M. Johnson lived at home with his parents in 1965.
~ Daughter Anna Agnes (Murray) Warrick ~
Anna and John Warrick
Daughter Anna Agnes Murray (1923-1990) was born in about 1923.
She married World War II veteran John Warrick (Aug. 11, 1923-2005), son of John C. and Bessie L. (Witt) Warrick of Rogers Mill, Fayette County.
They resided in Normalville, Fayette County. The couple did not reproduce, but they brought into their lives two foster daughters, Carol Preston Smith and Cathy Price. The also raised a nephew, Jack Johnson.
John earned a living over the years as a machine molder. They were members of the Critchfield Missionary and Allicne Church.
John was driving one of two automobiles involved in an accident in September 1967 at Normalville. Anna, age 44 at the time, and her aged father, 87, were taken to a hospital for treatment. Said the Daily Courier, "Mrs. Warrick suffered a right knee laceration and Murray complained of chest pain."
Anna passed away on St. Patrick's Day 1990.
John outlived Anna by 15 years. He married a second time to Lucinda E. (Ohler) Stenger. She had been married previously and brought eight children to the union.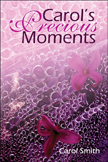 Carol's book
Toward the end, he was treated at the Veterans Administration Hospital in the Oakland section of Pittsburgh. There, at the age of 81, he succumbed to death on March 21, 2005. Funeral services were led by Rev. Thomas Milford, with interment in Normalville Cemetery. An obituary was published in the Daily Courier.

Carol Smith
Foster daughter Carol Smith Preston has written a loving memoir published on our website, entitled Papa's Gone Home. She also has authored a book, Carol's Precious Moments, printed in 2006 by Publish America. The book is about her memories of her foster parents. Over the years, she has lived in Butte, M and Morgantown, WV.
Foster daughter Cathy wedded Calvin Price. Their home in 2005 was in Connellsville.
Nephew Jack Johnson dwelled in Connellsville in 2005.
Copyright © 2001, 2005-2006, 2014, 2019-2020 Mark A. Miner