Charles A. Miner
(1881-1957)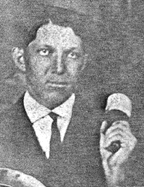 Charles A. Miner
Charles A. Miner was born on Feb. 19, 1881 at Normalville, Fayette County, PA, the son of Martin and Amanda (Williams) Miner.
Raised on the family farm, Charles resided with his parents for many years. He never married and never lived anywhere else but Normalville.
In the autumn of 1898, at age 17, "while crossing a fence with an ax, [he] slipped and was cut very seriously at the knee joint," reported the Connellsville Courier.
Circa 1909, Charles was employed as a fireman on the Baltimore & Ohio Railroad. When he visited his parents during mid-January 1909, the news was printed in the "Normalville" section of the Courier.
Charles registered for the World War I military draft in 1918, and stated his occupation as a coal miner with the Rice (?) Slope Company.
He was known as a heavy drinker. He was burdened with chronic heart disease and hardening of the arteries.
In the 1950s, he made a home in Normalville but was no longer residing on a farm.
Toward the end of his life, Charles was admitted to the Fayette County Home near Uniontown. There, 18 days later, he died on Dec. 5, 1957 at the age of 76. He was buried at the Normalville Cemetery. A short obituary was published in the Connellsville Daily Courier.
Copyright © 2000, 2012, 2021 Mark A. Miner