Lucinda (Harbaugh)
Younkin Johnson
(1859-1940)

Lucinda
Lucinda (Harbaugh) Younkin-Johnson was born on Nov. 1, 1859 on a farm at what is now Clairton Lake near Scullton, Somerset County, PA, the daughter of David and Mary Magdalene (Whipkey) Harbaugh.
Her first husband was William "Dayton" Younkin (1856-1910), the son of George and Charlotta (Younkin) Younkin, first cousins who had married each other. Dayton was a farmer of Clay Run, near Normalville, Fayette County, PA.
The Younkins resided on land that had been in the Younkin family for generations.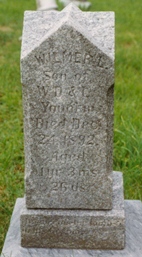 Grave of son Wilmer
L. Younkin, 1892
Their children were Laura Belle Shroyer, Charles Arthur Younkin, George "Osborne" Younkin, Viola Ray Mountain, Ira "David" Younkin, James "Franklin" Younkin, Wilmer L. Younkin, Charlotte Magdalene "Lena" Doyle Showman, Warren Dempsey Younkin Sr. and William "Gustin" Younkin.
Sadly, son Wilmer died in childhood, on Christmas Eve 1892, aged one year, three months and 26 days. His tender remains were placed into eternal rest in the Imel Cemetery. The bottom is inscribed "He carries the lambs in His bosom." His grave marker was still legible when photographed in the 1990s.
Jordan's History of Fayette County states that after marriage, Dayton "settled on a good farm of his own ... containing 180 acres. He also was a stock raiser and dealer. He was a Republican in politics holding the township offices of assessor, collector and school director.... He was a member of the United Brethren Church and a man held in the highest esteem."
Dayton purchased a large farm for the family over the Christmas-New Year's holiday of 1881-1882. Though the exact location is unknown, it was within Springfield Township, Fayette County. Said the Jan. 5, 1882 Uniontown Republican Standard: "John Cramer has sold his farm containing 387 acres to Dayton Younkin for $4,200. Possession given April 1, 1882."
The Connellsville Keystone Courier said in 1896 that "Dayton Younkin is making preparations to build a fine residence on his farm...." The Courier reported in 1906 that "The smokehouse of W.D. Younkin caught fire and buried to the ground. Younkin had over $100 worth of meat and a nice lot of lard consumed in it."
In December 1910, the shadow of death visited the family twice in a span of two weeks. On Dec. 10, Lucinda's father passed away at home. Then, just two days before Christmas, Dayton himself died, of unknown causes. He was buried at the Imel Cemetery at Clay Run. Click to view a photograph of Dayton at rest in his casket.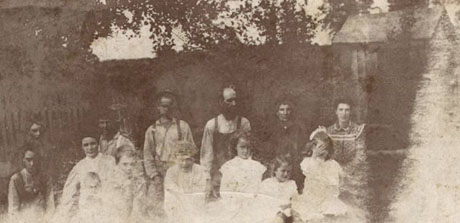 Dayton is thought to be the tall bearded man and bald head. Lucinda may be next to him, to the right. The other identities are not known.
The widowed Lucinda moved to Connellsville, where she joined the Friendship Bible Class of the United Brethren Church. During World War I, sons Warren and Gus served overseas in the Army, and both were gassed by the Germans in action. She regularly wrote to her sons, and in a letter in October 1917 told Warren of a trip she had made to the "mountains" to visit family and friends.
At some point, Lucinda married George W. Johnson ( ? -1933). They remained together until his death in October 1933.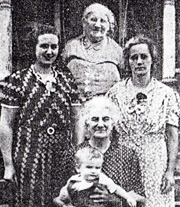 Five generations
In August 1926, Lucinda and George and all her adult children attended her mother's 94th birthday picnic at the old homestead. The event drew several hundred family and friends, and was such a success that it was repeated the following year. The picnics were held until 1929, and became what is now the annual Harbaugh Reunion. Having passed down a wealth of family values and virtues, her son Warren was elected as the first president of the Harbaugh Reunion in 1926.
With what must have been a combination of great pride and some curiosity, Lucinda also watched in 1934 while her son Charles co-founded and became secretary of a large-scale reunion of the Younkin family. It was dubbed the "Great Younkin Re-awakening" and also officially the "Younkin National Home-coming Reunions." In December, Charles founded a newspaper of the Younkin family which was was an outreach to Younkins coast to coast appealing to the most distant of branches. There were eight editions of publication, named the Younkin Family News Bulletin, ending in 1941.
In August 1939, Lucinda's photograph was printed in the Younkin newspaper, showing her in a five-generation image. Seen here, she stands in the back. Also pictured were daughter Laura Belle Shroyer (seated), granddaughter Flossie Shroyer (right), great-granddaughter Mrs. Lloyd J. Morgan (left) and baby great-great grandson, Galen Wayne Morgan.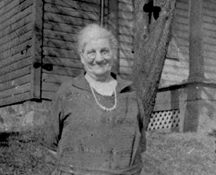 Lucinda
Lucinda enjoyed visiting her sisters, including Rosetta Minerd, who resided for awhile in Connellsville. Lucinda and her sister Susie Conn Strickler are known to have made the long journey to Illinois in the cold October of 1936 to comfort their sister, Letitia Stoner, for the funeral of Letitia's husband Nathan C. Stoner, who had died an untimely death at the age of 66.
Adding to her family pride, her son David became a political leader in Connellsville. In 1929, he was elected to Connellsvilleís City Council, and in 1936 was appointed Mayor of Connellsville, succeeding his distant cousin, Dr. Harold "Daniel" Minerd. He then was elected in 1937. Among Davidís accomplishments, perhaps none was more important than in 1936, when he and Fayette County Commissioner John W. Rankin helped break ground for a new airport in Connellsville, a project they had supported for years. Later in 1936, President Franklin D. Rooseveltís train stopped in Connellsville, and Roosevelt gave a speech to a crowd of thousands at the B&O station. David had originally been scheduled to introduce the president, but declined the honor since time was short on the president's visit. Also during Davidís tenure as mayor, Connellsville High School completed its football field, and city police more than doubled their arrests. In 1940, when US Army Chief of Staff George C. Marshall returned to his hometown of Uniontown, PA, on the eve of World War II, David was one of several to extend greetings at a public ceremony.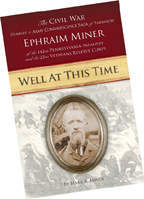 Book about Lucinda's
brother in law
She is seen here, with her usual pleasant smile, later in life, with the snapshot likely taken in Connellsville.
On March 5, 1940, Lucinda died at home in Connellsville. She was 84 years of age, and had been widowed from her second husband for seven years. She was laid to rest beside her first husband at the Imel Cemetery, after having been separated in death from him by a span of three decades.
Compounding the family heartache, just three days after Lucinda's passing, her daughter in law Prudence (Albright) Younkin, also of Connellsville, died in childbirth. This tragedy left Lucinda's son Warren without a mother and wife, and with five children to care for. Both
Lucinda and her ill-fated daughter in law received obituaries in the following edition of her son's national family newspaper, the Younkin Family News Bulletin.
Lucinda is pictured and mentioned in a lavishly illustrated, 2011 book about her sister Rosetta who married a Civil War veteran -- entitled Well At This Time: the Civil War Diaries and Army Convalescence Saga of Farmboy Ephraim Miner. The book, authored by the founder of this website, is seen here. [More]
Copyright © 2000-2003, 2007-2008, 2011, 2017 Mark A. Miner