On March 21, 1897, at the age of 19, Laura Belle married 23-year-old Jacob Adam Shroyer (1873-1949). Jacob was a native of Clay Run, and the son of Adam and Lydia (Linderman) Shroyer. Justice of the peace A.G.C. Sherbondy performed the nuptials.
Sadly, in addition to the infant twin son who died at birth in 1905, their son George succumbed at the age of eight months (on April 1, 1904), and their daughter Hazel passed away at the tender age of five years, eight months after suffering from diphtheria (on Jan. 3, 1907). All three of the young souls rest for eternity in the Imel Cemetery, with still-legible stones marking their graves today.
The deadly wave of disease struck the Shroyers' home in January 1907. Said the Connellsville Daily Courier:
In the depths of winter in 1901, Jacob purchased his wife's old homeplace, a 186-acre farm at Clay Run, from her grandfather, widower George A. Younkin. In comparison to today's bank-backed mortgages, Jacob's arrangement seems to have been a gentleman's agreement. According to the Courier, his down payment on the $2,000 farm was $800 cash (40 percent), and a promise to pay $200 annually on the balance. He then built a house on the property.
In about 1919, Laura Belle's first grandchild was born. To mark the occasion, a historic five-generation photograph portrait was taken, seen here -- standing, left to right: mother Lucinda, daughter Gertrude Harbaugh and Laura Belle. Seated, grandmother Mary Harbaugh and granddaughter Evelyn.
History then repeated itself. In 1938, Laura Belle's first great-grandson was born. Since Laura Belle's mother was still living, this again was a rare situation where five generations were alive at the same time. Laura Belle's brother Charles, at that time the publisher of the national Younkin Family News Bulletin, ran a story headlined "Five Living Generations – Is There Another?" He wrote: "This great [Younkin] family group can boast of at least one, very few persons regardless of age, have known of the fifth generation "to live" and be a part of it is a proud heritage…. [If] there is another within this great family group, would be pleased to know about it." (The photograph may be viewed on the biography of Lucinda [Harbaugh] Younkin-Johnson.)
In the photo seen here, Jake stands at left, with a mustache, with his adult sons William, Kenneth and with John Showman (at far right).
L-R: Jake Shroyer, sons Bill and Ken Shroyer, kinsman John Showman, and boys
In late March 1933, Jake filed a civil law suit against cousin Ephraim Miner (son of John Andrew Miner), alleging that Ephraim owed him $10.00 "for goods sold and delivered ... over and above all discounts which the said Ephraim Miner may have against him." Ephraim is said to have left the county with intent to defraud Jake, so Ephraim's employer, cousin Oakey Harbaugh, apparently was required to garnish his wages for repayment of the debt. The case was heard by cousin William Henry "Squire" Miner, a justice of the peace in Mill Run.
After more than a half-century of marriage, Jacob died of a "coronary occlusion" on Oct. 17, 1949, at the age of 76.
Laura Belle died of leukemia a year later, on Oct. 16, 1950. She was buried beside her husband, near her Younkin and Harbaugh ancestors at the Imel Cemetery.
~ Daughter Annabelle "Gertrude" (Shroyer) Harbaugh ~
Daughter Annabelle "Gertrude" Shroyer (1897-1978) was born in 1897. She married Oakey D. Harbaugh, a cousin, and resided at Normalville, Fayette County. More on this family.
~ Son William Dayton Shroyer ~
William D. Shroyer, 1991
Son William Dayton Shroyer (1905-1992) was born on March 25, 1905 in Mill Run. His unnamed twin brother died at birth and was buried in the Imel Cemetery.
His first wife was Grace Sarah Ann Augustine (1905-1932), the daughter of William Arthur and Ella Blanche (McNair) Augustine. Their wedding took place on Feb. 3, 1925, when both were approaching their 20th year of age.
They produced three children -- Jessie Lorraine Johnson, William Dayton Shroyer Jr. and Carl Welfy Francis Schroyer.
Heartache rocked this family when Grace died an untimely death, in February 1932, at the age of 28. Her remains were laid to rest in the burying ground of the old Maple Summit Church.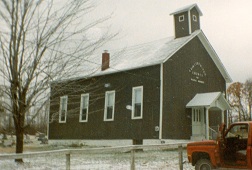 Maple Summit Church
William later married Jenny Hillen (1912-1975), daughter of Elias and Clo Hillen.
They had 10 more children of their own -- Olive "Ruth" Christman, Esther Faye Powell, Gerald Elias Shroyer, Gilbert Lee Shroyer, Linda "Mardell" Powell, Robert Windell Shroyer, Floyd Edward Shroyer, Donna Jean Smith, Paul Richard Shroyer and Marlene Shroyer.
The Shroyers were farmers, with William also laboring as a coal miner for Eastern Gas & Fuel Co. of Melcroft, PA. He was featured in a 1991 Daily Courier story, "Local Mans Turns 86," seen here. His third wife was Mandy Rugg.
Sadly, he outlived his son David (died 1949) and William Jr. (1991).
At his death in 1992, William had "40 grandchildren; many great-grandchildren; and six great-great grandchildren," according to obituaries in the Uniontown Herald-Standard and Greensburg Tribune-Review. He passed away in Dawson on Nov. 12, 1992. Burial was in Maple Summit Cemetery, following a funeral service in the Critchfield Missionary Alliance Church led by Rev. Timothy McGarvey and Rev. Thomas Milford.
Daughter Jessie Loraine Shroyer (1925- ? ) was born on May 9, 1925 in or near Mill Run. She married John Reid Johnson (1924-1961) on March 10, 1943, in Accident, MD. They had six children -- Regis John Johnson, Patricia Jean Pirl, Ronald Clayton Johnson, Debra Ann Stonebraker, Leonard Lee Johnson and Karen Sue Johnson. Sadly, John died on March 14, 1961, at Connellsville State Hospital.
Son William Dayton Jacob Shroyer Jr. (1927- ? ) was born on Jan. 28, 1927. He wed Martha Patricia Williams ( ? - ? ) on July 2, 1951. Their four children were William Eugene Shroyer, Agnes Maria Shroyer, Bernice Dawn Reckner and Dennis Lee Shroyer.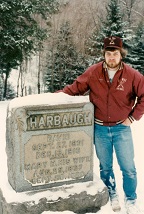 John S. Schroyer, March
1990, at the grave of his
great- great- grandparents
Son Carl Welfy Francis Schroyer (1929- ? ) was born on March 12, 1929 in Somerset County. He was but a young boy when his mother died. On Oct. 6, 1947, in Cumberland, MD, he married Dorothy Jean Channing. She was the daughter of Lester Ward and Mary Blanche (Dailey) Channing. As an adult, he added the "c" to the spelling of the family name. They resided in Chambersburg, Franklin County, PA and had five children -- Carol Ann Witmer, Michael David Schroyer, Beverly Louise Schroyer, John Steven Schroyer and Timothy Carl Schroyer. In the early 1990s, son John Steven Schroyer was active in researching his family roots and contributed significantly to the content of this webpage. He and the founder of this website toured historical family sites in the Connellsville and Clay Run areas on a snowy day in March 1990.
Daughter Olive "Ruth" Shroyer (1938- ? ) was born on June 24, 1938. She married Richard "Dick" Christman on April 21, 1956, in Rockwood, Somerset County. He was the son of Charles William and Elva Pauline (Scotts) Christman. Their five children were Charles Dayton Christman, Kimberly Rae Jones, Teri Lee Baldwin, Tammy Ann Kesslar, Joyce Elaine Jones and Lori Kay Christman.
Daughter Esther Faye Shroyer (1939- ? ) was born on Sept. 25, 1939 in Mill Run. She married Gordon Powell on Oct. 10, 1969, in Winchester, VA. They resided in Connellsville and had two children, Mark Wayne Powell and Darla Faye Powell.
Son Gerald Elias Shroyer (1940-1992) was born on Oct. 14, 1940 in Mill Run. He married Lois Gail Workman (1940- ? ), daughter of Oliver and Helen (Crossland) Workman. Their nuptials took place on Sept. 17, 1966 in Winchester, VA. The Shroyers had two daughters, Tonya Gail Krause and Julie Renae Shroyer. For 22 years, he was employed by Westinghouse in Greensburg for many years as a craftsman, and served with the Pennsylvania National Guard for more than 26 years. He also attended the Calvary Assembly of God in Connellsville. He died just 16 days after his father, on Nov. 28, 1992. He was laid to rest in Green Ridge Memorial Park in Pennsville, near Connellsville, with his funeral service officiated by Rev. George McLean, with full military rites.
Son Gilbert Lee Shroyer (1942- ? ) was born on May 17, 1942 in Mill Run. He wed Joyce Workman on Oct. 9, 1965, in Connellsville. (Gilbert's brother Gerald married Joyce's sister Lois.) Their three children were Cheryl Ann Shroyer, Brian Lee Shroyer and Shawn Ray Shroyer. In 2012, Gilbert attended the Younkin Reunion in Kingwood, PA and in 2013 came to the Minerd-Minard-Miner-Miner Reunion in Indian Head, PA.
Son Robert Wendell Shroyer (1943-2003) was born on July 9, 1943 in Clay Run. A six-year military veteran, he was a carpenter and resided at Lemont Furnace near Uniontown, Fayette County, PA. He married Katherine Emerick, daughter of Caton and Hazel (Wingrove) Emerick, and they produced six children -- Robert Scott Shroyer, David Shroyer, Kathleen Pesuti, William "Bill" Shroyer, Mark Shroyer and Timothy Shroyer. Robert died at age 69 and was laid to rest in Cove Run Cemetery, following a funeral led by Rev. Charles Pringle.
Daughter Linda "Mardell" Shroyer (1944- ? ) was born on June 10, 1944 in Mill Run. She married Lee Powell, son of Thomas and Minnie Powell. Their two sons were Randy Powell and Gilbert Powell.
Son Floyd Edward Shroyer Sr. (1945- ? ) was born on July 9, 1943, on his brother Robert's birthday. Floyd married Nancy Fosbrink on Feb. 27, 1966. Their three children were Christine Dawn Spackman, Vicky Rae Shroyer and Floyd Edward Shroyer Jr.
Daughter Donna Jean Shroyer (1946- ? ) was born on Sept. 27, 1946 in Mill Run. She wed a distant cousin, Ronald James Smith Sr. (1942-1990) on Oct. 3, 1966 at the Indian Head Church of God. He was the son of Harvey and Clema (Romesburg) Smith of the family of Harriet (Younkin) Romesburg Turney of Confluence, PA. In Ronald's family tree, he also was a direct descendant of Weasel Jake Younkin of Cranberry Glade, Somerset County. Their three known children were Ronald James Smith Jr., Penny Michelle Smith and Gloria Jean Smith. Sadly, their daughter Gloria Jean died in infancy. Ronald Sr. passed into eternity while in Philadelphia at the age of 48 on March 12, 1990. Donna Jean outlived her husband by many decades. Her home in 2019 was in North Huntingdon, Westmoreland County, PA.
Grandson Ronald James Smith Jr. (1968-2019) was born on Jan. 21, 1968 in Somerset. He was the father of Kyle James Smith and Madeline Paige Smith. Ronald married Kristine (Shadder) Mimis ( ? -living). She brought these offspring to the union -- Nathan Mimis, Elizabeth Mimis, John Mimis and Emily Cavallo. The Smiths made their home in Acme, Westmoreland County, PA. Ronald was a graduate of Waynesburg College. He went on to a career in teaching and football coaching in the Turkeyfoot Valley Area, Connellsville and Waynesburg districts. He was a member of the Pennsylvania State Education Association (PSEA) and National Rifle Association, and like to hunt, fish and ride quad vehicles. Sadness enveloped the family when Ronald died at the age of 51 on July 7, 2019. His funeral was led by double cousin Rev. Dean Hay, of the family of

Amanda (Younkin) Hechler

, with interment in Maple Summit Cemetery. Obituaries were published in the

Greensburg Tribune-Review

and

Somerset Daily American

.
Granddaughter Penny Michelle Smith ( ? -living) was born in (?). She was joined in marital union with Derron Moose ( ? - ? ). They dwelled in 2019 in North Huntingdon, Westmoreland County, PA.
Son Paul Richard Shroyer (1949- ? ) was born on Aug. 22, 1949 in or near Somerset. He married Edith Pritts (1951- ? ) at Deep Creek, MD on Sept. 22, 1964. Her parents were George and Mary (Dugan) Pritts. They had one daughter, Lisa Michelle Shroyer.
Daughter Betty "Marlene" Shroyer (1953- ? ) was born on March 20, 1953. Her two daughters were Stacey Lynn Shroyer and April Dawn Shroyer.
~ Daughter Lucinda "Mae" (Shroyer) Conn ~
Daughter Mae Shroyer (1910-1999) was born on April 29, 1910 in Springfield Township. She was named in part for her maternal grandmother, Lucinda (Harbaugh) Younkin Johnson.
She married Lester "Toad" Conn ( ? -1966), the son of Edward and Minnie (Hyatt) Conn.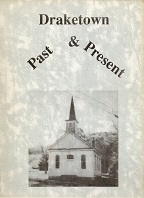 Book picturing the Conns
They had 10 known children -- Warren D. "Chub" Conn, Jacob Conn, Bernon "Bun" Conn, Naomi "Pearl" Harbaugh Oakman, Laura "Dot" Conn, Dana Troup, Melda Wilson, Sandra Kay Fabin, Jacqueline Conn, Alvin H. Conn and Thomas Donald "Tommy" Conn. Sadly, son Tommy, afflicted with enteritis and chronic diarrhea, died at the tender age of two months, five days on July 31, 1940. The baby was laid to rest in the Jersey Church Cemetery.
Over the years, Mae and Lester were employees of the Beacon Restaurant, the L&N Restaurant and the Somerset Food Pantry. Circa May 1958, he also operated a gasoline filling station carrying the Atlantic brand of fuel. "You could always depend on Toad, if you forgot inspection time, he let you know," said the Draketown: Past & Present book.
Sadly, Lester passed away at the age of 59 on Feb. 25, 1966. Interment was in Jersey Church Baptist Cemetery, with Rev. Chester Henneman preaching the funeral service. An obituary was printed in the Meyersdale Republican.
Mae survived him by more than three decades, and also outlived her daughter Jacqueline, son Thomas and grandson Michael.
Mae Conn, 1980s
The Conns are pictured in the book, Draketown Past & Present, and are mentioned in Reflections: Ursina 1787-1994. Mae also was once profiled in the "Area Personality" feature of the Somerset Daily American, which said that Mae "at 74 displays more energy than some folks half her age." The article, seen here, also quoted their struggle raising a large brood of children during the Depression:
Was it rough bringing up nine kids? "You aren't kidding," says Mae, "it was just really rough. When the Depression was, we had a truck and couldn't buy gas for it. There were no Food Stamps, unemployment, welfare, nothing. There was the Salvation Army and Red Cross, and that was it."
Mae passed away at the age of 89 in Somerset Hospital on Oct. 26, 1999. Burial was in the Jersey Baptist Church Cemetery. At her death, reported the Daily American, she was survived by 28 grandchildren, 39 great-grandchildren and four great-grandchildren.
Son Alvin H. Conn (1928-2002) was born on Oct. 31, 1928 in Draketown. He was a self-employed carpenter and World War II and Korean War Army veteran. He married Loretta M. Sproul ( ? - ? ), a resident of Ohiopyle, Fayette County. They resided in Confluence and had six children -- Sheryll Hatfield, Teresa Voss, Geraldine Conn, Rebecca Stechschulte, Randall Conn and Gregory Conn. Alvin died in Westmoreland Regional Hospital in Greensburg, PA on Aug. 23, 2002 at the age of 73. Burial was in Greenlawn Cemetery with Pastor James Keslar and Paastor James Sproul leading the funeral services. An obituary in the Daily American said he was survived by 11 grandchildren and two great-grandchildren.
Daughter Naomi "Pearl" Conn (1930-2008) was born on Jan. 8, 1930 in Lower Turkeyfoot Township. She was married twice. Her first husband was a cousin, James Harold "Hub" Harbaugh (1928- ? ), son of Robert Bacom and Alice Elizabeth (Rugg) (Harbaugh) Jr. They had three daughters -- Brenda Faye Harmon Ahaniz, Rosemary Marie Burkett Fritz, and Mary Jane Harbaugh. Later, after a divorce, she wed Theodore "Ted" Oakman ( ? - ? ) and lived in Somerset and toward the end of her life in Buffalo Mills. Said the Daily American: "She was a retired employee of Gilmour Manufacturing, Somerset and was currently employed at the Somerset Wal-Mart as a greeter, which she loved very much. She also loved bingo, word search puzzles and spending time with her family. She was a member of the First Christian Church." Pearl died at the age of 78 in Somerset Hospital on July 3, 2008. Burial was in Somerset County Memorial Park, with the funeral officiated by Rev. Gerald Deffenbaugh.
Son Warren D. "Chub" Conn (1934-2003) was born on July 22, 1934 in Draketown. He served in the U.S. Air Force during the Korean War, and was self-employed in Confluence for 31 years. He married Nancy Dwire ( ? - ? ) and had four children -- Keith Conn, Kerry Conn, Jacqueline Coughenour and Sharon Kimmel. Chub died at age 69 on Dec. 16, 2003 in Somerset Hospital. After a funeral offiiciated by Rev. Peter Foreman, he was placed into eternal repose in the Kingwood Odd Fellows Cemetery, and an obituary was printed in the Daily American. In widowhood, Nancy continued to maintain her home in Confluence. In March 2017, she endured the death of her adult daughter Sharon Kimmel.
Grandson Keith Conn

married Coleen and resided in Confluence.
Grandson

Kerry Conn

was joined in wedlock with Sheri. In 2017, they lived in Boswell, Somerset County.
Granddaughter

Jacqueline Conn ( ? - ? ) married (?) Coughenour

( ? - ? ). Her home in 2017 was in Confluence.
Granddaughter

Sharon Conn (1959-2017) was born on Aug. 26, 1959 in Confluence. She was wedded to (?) Kimmel

( ? - ? ). The couple produced two daughters -- Angiel Kimmel and Christina Kimmel. They were members of the Confluence United Methodist Church. Sharon obtained an associate degree in business from the West Virginia Career Institute branch in Uniontown, Fayette County, PA. Sadly, at the age of 57, on March 1, 2017, Sharon died at home in Confluence. Rev. Valerie Stark officiated at the funeral service, followed by burial in the Kingwood Odd Fellows Cemetery. An obituary appearing in the

Somerset Daily American

noted that she was survived by eight grandchildren.
Son Jacob Conn married Barbara and lived in Lorain, OH.
Daughter Melda Conn married Paul Wilson. Circa 1994, she hosted a visit to her home in Draketown by the founder of this website. They had at least one son, Alan Wilson, who resided in Kingwood and among other things was a woodworker.
Daughter Sandra "Kay" Conn married Ronald Sabin and made their home in Vermillion, OH.
Son Bernon "Bud" Conn (1946-2015) was born on April 22, 1946 in Confluence. In about 1973, at the age of 27, he was united in wedlock with Linda Nightingale ( ? -living). They were married for 42 years and produced one daughter, Kristy Scarmack. During the Vietnam War, he served in the U.S. Army. Later, he earned a living working at Somerset Hospital and in 1986 was stationed at Fort Balvoir, VA. Sadly, they endured the death of their grandson Michael Scarmack. Bud died on Dec. 28, 2015 at Allegheny General Hospital in Pittsburgh. Funeral services were held at Highland Cemetery in Garrett, Somerset County and led by pastors John and Linda Stoner, with involvement by the Somerset County Honor Guard. An obituary was printed in the Daily American.
Daughter Dana Conn married Dennis Troup. They resided in Somerset.
The late Olive Duff researched the Conn family history and published her findings in the booklet, Moon Genealogy, which is preserved today in the Minerd- Minard- Miner- Minor Archives.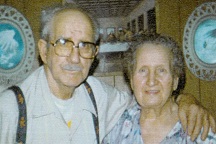 Kenneth and Goldie Shroyer
~ Son Kenneth Melvin Shroyer ~
Son Kenneth Melvin Shroyer (1912-1993) was born in 1912.
He married a distant Younkin cousin, Goldie Della Basinger (1917-1997), daughter of Alva and Lucartha (Showman) Basinger. They remained wed for 59 years. They had three children -- Dale Shroyer, Mildred Louise Shroyer and Florence Irene Shroyer. (In an interesting twist, Goldie's sister Stella Basinger married a distant double-Miner and double-Younkin cousin, John "Raymond" Miner, son of John Andrew and Susan (Pletcher) Miner.
Ken and Goldie had three children -- Kenneth "Dale" Shroyer, Mildred Louise Chrise and Florence Wilt Counts.
When he and Goldie were first married, their neighbor and cousin Lawson Minerd built two chimneys for their new home in Clay Run. It was constructed across the lane from the former homeplace of Ken's great-grandparents, George A. and Charlotta (Younkin) Younkin. Circa 1993, the old George Younkin homeplace was vacant and surrounded by pie trees, near the trailer where Ken's sister Marie Johnson made her home.
A farmer, Ken was a longtime employee of the Pennsylvania Department of Transportation (PennDOT). He also served for 50 years as a forest fire warden for what is now the Pennsylvania Department of Environmental Resources (DER), and in 1992 received a special DER award. He also was a part owner of the Maple Summit Church near Mill Run, having purchased it when the elders decided to close the congregation.
Both of his legs were amputated in about 1988.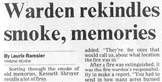 News story about Ken, 1992
He was featured in an article in the Connellsville Daily Courier on June 25, 1988, and in a story in the Tribune-Review of Oct. 4, 1992, seen here, headlined "Warden Rekindles Smoke, Memories."
On Feb. 6, 1993, he and Goldie graciously hosted a visit to their home by the founder of this website.
Ken passed away at the age of 81 on Dec. 9, 1993. Burial was in Imel Cemetery.
Goldie outlived him by four years. She died at age 80 on Sept. 13, 1997.
Daughter Mildred Louise Shroyer wed Jess Chrise and lived in Confluence.
Daughter Florence Shroyer married Kenneth Wilt and Roy Counts.
~ Daughter Marie (Shroyer) Johnson ~
Marie (seated) beside her brother
William, with brother Kenneth
and sister Mae Conn standing
Daughter Laura "Marie" (Shroyer) Johnson (1921-1992) was born on June 19, 1921.
She married Roy Ross Johnson (1920- ? ) and resided at New Eagle, Washington County, PA and later near Mill Run.. They had four children: Marian Darlene Snyder, Kenneth Alvin Johnson, Roy Ross Johnson Jr. and Russell E. Johnson.
The Johnsons are mentioned in the book, Chip's Off the Old Block's by Kimberly Kay (Ritenour) Gach.
Tragedy struck at Christmastime 1991 when their son Russell E. Johnson, a US Navy veteran, was killed in an automobile accident in Saltlick Township.
Marie passed into eternity in 1992, with burial in Imel Cemetery.
Daughter Marian Darlene Johnson married Thomas Snyder in 1965.
Son Kenneth Alvin Johnson wed Wanda Lee Porterfield in 1968.
Son Roy Ross Johnson Jr. married Audrey in 1970.
Son Russell E. Johnson (1957-1991) was born on Dec. 8, 1957 in New Eagle. He was a veteran of the U.S. Navy. He worked at Hidden Valley Resorts and Lichtenfells Nursing of Johnstown, PA. He was age 34 when killed in a one-vehicle accident in Saltlick Township, Fayette County.
Copyright © 2001, 2003, 2007-2009, 2013, 2016 Mark A. Miner