Oakey David Harbaugh
(1894-1975) and
Annie 'Gertrude' Shroyer
(1897-1978)


Oakey and Gertrude
Oakey David Harbaugh was born on Oct. 8, 1894 at Maple Summit, Fayette County, PA, the son of Robert B. and Elizabeth (Long) Harbaugh Sr.
On Valentine's Day 1917, at the age of 20, Oakey married 19-year-old Annie "Gertrude" Shroyer (1897-1978). She was a native of Clay Run, Fayette County, the daughter of Jacob A. and Laura Belle (Younkin) Shroyer.
They were married for more than a half-century -- nearly 58 years, to be exact.
The Harbaughs had five children – Evelyn Morgan, Lester D. Harbaugh, Wilma "Gladys" Kellner, Laura Elizabeth "Betty" Lafferty and Norma Liston.
They are seen here in a penny postcard photograph with their eldest children Evelyn, Lester and baby Gladys.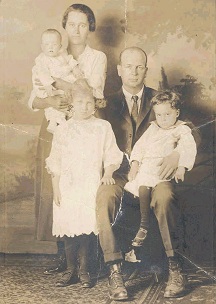 With children Evelyn, Lester & Gladys
Oakey was a longtime farmer residing near Normalville, Fayette County. They were members of the Indian Head Church of God, where Gertrude was a member of the Ladies Bible Class.
The Harbaughs enjoyed attending the annual Harbaugh Reunions, beginning in the inaugural year of 1926. Their involvement continued over a span of more than four decades. From 1969 to 1973, Oakey won the annual reunion award as the "Oldest Man Present." Over that same timespan, he and Gertrude captured the yearly award for "Couple Married Longest."
Oakey worked for 12 years at the Mill Run country estate of Pittsburgh department store owner Edgar J. Kaufmann Sr. Kaufmann is best known for his landmark house, Fallingwater, designed by Frank Lloyd Wright and built over a waterfall, considered the most famous modern house in America.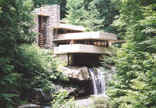 Fallingwater
Oakey and Gertrude resided on the Kaufmann property circa 1956, in a two-story frame house next to the large Kaufmann barn where Oakey labored along what is now Route 381.
When the federal census was taken in 1930, Oakey and Gertrude and their four children were listed as making their home in Springfield Township, Fayette County. Just a few doors away were a number of relatives -- including John Andrew and Susie (Pletcher) Miner, Jacob and Laura Belle (Younkin) Shroyer and J. Frank and Ida (Burkholder) Younkin.
During World War II, when he was age 47, Oakey registered for the military draft. He stated his employer as "self" and that his mailing address was Mill Run. He stood five feet, nine inches tall, and weighed 135 lbs., with grey eyes, brown hair and a ruddy complexion.
Gertrude was an article contributor to the Younkin Family News Bulletin, a national and unique family newspaper published between 1934 and 1941, and edited by her cousin, Charles Arthur Younkin.

Kaufmann house and barn where the Harbaughs lived and worked near Mill Run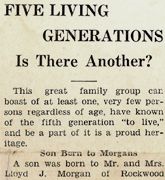 Younkin Family News Bulletin
A 1938 edition of the News Bulletin carried an article headlined "Five Living Generations – Is There Another?" The piece highlighted the birth of Oakey and Gertrude's new grandson, Galen W. Morgan. On Gertrude's side of the family, the baby was a fifth generation of living relatives. Said the article, "This great family group can boast of at least one, very few persons regardless of age, have known of the fifth generation 'to live,' and be a part of it is a proud heritage."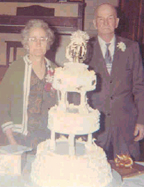 55th anniversary
In December 1934, Oakey and his brothers in law Kenneth and William Shroyer won civil lawsuits against C.B. Moore in wages for labor they had performed for Moore. The case was heard by cousin William Henry "Squire" Miner, a justice of the peace in Mill Run. Oakey's award was for $38.50, and Kenneth's for $25.00. William's amount was not recorded.
In 1972, the Harbaughs celebrated their 55th wedding anniversary. The color image seen here shows Gertrude and Oakey posing beside their three-tiered anniversary cake.
Sadly, Oakey passed away on Jan. 26, 1975, at the age of 80, at Somerset Community Hospital. He was buried at the Indian Creek Baptist Cemetery in Mill Run, Fayette County, where many generations of his ancestors are at final rest.
Gertrude survived him by three years.
She moved to Franklin, Venango County, PA, where her daughter Gladys Kellner made her home. There, Gertrude passed away on Jan. 24, 1978.

Oakey and Gertrude's grave at Indian Creek Baptist Church Cemetery, Mill Run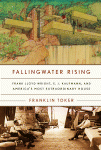 Fallingwater Rising
Oakey and Gertrude are mentioned in a highly praised 2003 book by Franklin W. Toker, entitled Fallingwater Rising. It was published by the prestigious New York house of Alfred A. Knopf. (Click to read more about the book along with short reviews by the New York Times and Washington Post, among others.)
They also were honored at our family's 2004 national family reunion, held at Kingwood, Somerset County, PA, on the theme of honoring all of the cousins known to have been employed at Fallingwater over the decades.
~ Daughter Evelyn (Harbaugh) Morgan ~
Daughter Evelyn Harbaugh (1917-1998) was born on Aug. 18, 1917 in Springfield Township, Fayette County.
In the late 1930s, Evelyn married Lloyd J. Morgan (1909-1974), a native of Rockwood, Somerset County, and the son of Frank and Ada (Growall) Morgan. They were eight years apart in age.
They produced at least three children: Galen Wayne Morgan, Douglas E. Morgan and Jean Hostetler.
When the federal census was taken in 1940, the Morgans dwelled on Bridge Street in Rockwood, with Lloyd employed as a wood worker at a planing mill, apparently helping to build a government park.
The family were members of the United Methodist Church of Rockwood.
Over the years, Evelyn worked as a secretary in the Rockwood office of her husband's business, Clapper's Building Materials.
Said the Somerset Daily American, Lloyd "was a member of the United Methodist Church of Rockwood, the Rockwood Rotary Club, [and] he also managed the Clapper Building Materials in Rockwood since 1957."
Lloyd died at the age of 65, in Somerset Community Hospital, on Christmas Day 1974. Burial was in the Rockwood IOOF Cemetery, following a funeral service officiated by Rev. Dwayne Johnson of the family church.
Evelyn survived her husband by almost a quarter of a century. She entered eternity, in Somerset's Patriot Manor, on Feb. 24, 1998, at the age of 81. An obituary in the Somerset Daily American noted that she was survived by nine grandchildren and nine great-grandchildren.
Son Galen Wayne Morgan (1939- ? ) was born in about 1939. He married Kay (?) and resided in Meyersdale RD3.
Son Douglas Morgan apparently was married twice. He and his first bride had three children -- Wayne Morgan, Kim McGraw and Jeff Morgan. Later, Douglas married a distant cousin, Sharyn (Wheaton) Tinsmith (1947-2015), daughter of Douglas and Kathleen (Younkin) Wheaton of Somerset. She too had been wedded before, and brought two sons to the marriage -- Douglas Tinsmith and Michael Tinsmith. Together, for some 22 years, Douglas and Sharyn owned and operated the Country Trail Store in Rockwood. She also was a licensed practical nurse and worked for many years at the Somerset Correctional Institute (SCI) Somerset. Sadly, at the age of 68, Sharyn died at home on Sept. 29, 2015. Rev. Jim Monticue officiated at her funeral and burial in the Kingwood Odd Fellows Cemetery.
Grandson Wayne Morgan died young -- details to be learned.
Granddaughter Kim Morgan married Jim McGraw and made their home in Jenners, Somerset County.
Grandson Jeff Morgan resided in Rockwood.
Daughter Martha Jean Morgan was united in wedlock with Roger Romesberg. They made their home in Somerset.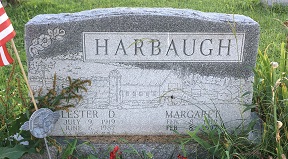 Normalville Cemetery
~ Son Lester Harbaugh ~
Son Lester Harbaugh (1919-1987) was born in 1919.
He married Margaret Brooks (1919-1997), the daughter of Braden and Margaret (Miller) Brooks.
The Harbaughs made their residence in Normalville and went on to have a family of four children -- Vivian Biler, Sandra Tressler, Larry Harbaugh and Rodney Harbaugh.
Lester "was a self-employed farmer and carpenter for the building and trade union," said the Somerset Daily American. "He was a veteran of the U.S. Army in World War II and a member of the Mill Run Grange." During the war, his movements were chrnicled in a hometown newsletter, The Messenger, edited by a distant cousin, Ferne (Minerd) Work.
Brooks history book
In June 1945, for example, the Messenger noted that "Mrs. Lester Harbaugh spent 10 days with her husband at Camp Blanding, Fla. Lester has recently been transferred to Fort Belvoir, Va." Another Messenger article in February 1946 said that "Earl Friend and Lester Harbaugh are both in the Pacific in the Philippines, I believe. They are just two miles apart and have visited each other." In March 1946, it reported that "We hear Lester Harbaugh is going to get home, soon."
They are mentioned in the 1975 book, Brooks Family History.
Lester passed away in 1987 at the age of 78.
Margaret outlived him by a decade. She died at the age of 78 in 1997.
Daughter Vivian Harbaugh Biler
Daughter Sandra Harbaugh Tressler
Son Larry Harbaugh
Son Rodney Harbaugh
Kellner's Fireworks logo
~ Daughter Gladys (Harbaugh) Kellner ~
Daughter Gladys Harbaugh ( ? -living) was born in (?).
She married Samuel Robert Kellner ( ? - ? ).
They were owners of Kellner's Fireworks, founded in 1947 and operating in Harrisville, Butler County, PA.

Erick Foster
Today the family business is run by their son Robert Kellner. Kellner's Fireworks is serving as a corporate sponsor of our 2008 national reunion celebrating "Pittsburgh 250."
Great-grandson Erick M. Foster (seen here), 29, a captain and paratrooper with the 82nd Airborne Division, died Aug. 28, 2007 of combat injuries sustained during an enemy attack using small arms fire in Muqdadiyah, Iraq. He was the troop commander of A Troop, First Squad, 73rd Cavalry Regiment, 2nd Brigade Combat Team. He was a native of Wexford, near Pittsburgh, PA, and graduated from Duquesne University in 2000 with a bachelor's degree in information systems management. Erick had one previous combat deployment in support of Operation Iraqi Freedom from 2004 to 2005. Click here for the Army's official announcement, a related story in the Pittsburgh Post-Gazette, and a KSDK-TV feature in St. Louis about a special tribute made by his sister Elizabeth. Tragically, Erick is now one of more than 30 known cousins of the Minerd-Minard-Miner-Minor family to make the ultimate sacrifice by giving their lives in military service during wartime. Kellner's Fireworks organized a huge fireworks exhibition on Aug. 22, 2008 in Oil City, Pa in memory of Erick and as a fundraiser for the Wounded Warrior Project. Visit the Capt. Erick M Foster Memorial Fireworks Exhibition website.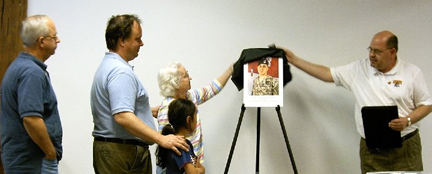 In a moving ceremony at our 2008 reunion celebrating "Pittsburgh 250," Gladys (Harbaugh) Kellner and her family unveil a portrait of her grandson, Capt. Erick M. Foster, who lost his life in military service in Iraq. Assisting is reunion president Mark Miner.
~ Daughter Norma (Harbaugh) Liston ~
Daughter Norma Harbaugh married Ora Liston, a carpenter and farmer.
When they celebrated their 40th wedding anniversary in 1992, the Listons were profiled in the Connellsville Daily Courier. The article later was reprinted in the Younkin Family News Bulletin.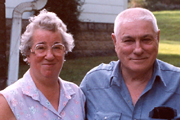 Betty and Bob Lafferty
~ Daughter Laura Elizabeth "Betty" (Harbaugh) Lafferty ~
Daughter Laura Elizabeth "Betty" Harbaugh (1926-2003) was born in 1926.
She married Robert Lee Lafferty (1923-2003), the son of Charles Albert and Elnora (Saylor) Lafferty.
They remained married for 41 years, and had no children.
Robert worked for Dick Sparks Sawmill early in life, and later was a truck driver and laborer for Springfield Township in Fayette County, a position from which he retired.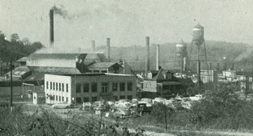 Anchor Hocking Glass, Connellsville
Betty worked for many years at Anchor Hocking Glass in Connellsville, Fayette County, seen here. They were longtime members of the Mill Run United Methodist Church.
They hosted a visit from the founder of this website in the fall of 1992.
Betty passed away at the age of 76 at the Eicher Personal Care home in Normalville, Fayette County, on Feb. 13, 2003.
Robert followed her into eternity eight months later, at the age of 80, on Nov. 8, 2003. They were laid to rest in the Husband Cemetery in Somerset, Somerset County, PA.
Copyright © 2003-2004, 2006-2008, 2015 Mark A. Miner. Fallingwater Rising cover image courtesy of RandomHouse.com. Erick M. Foster image courtesy of the US Army.