James 'Franklin' Younkin
(1888-1967)

James "Franklin" Younkin was born on Christmas Eve 1888 at Clay Run, Fayette County, PA, the son of William "Dayton"and Lucinda (Harbaugh) Younkin.
On Oct. 21, 1914, at Cumberland, Allegany County, MD, Frank married 16-year-old Ida Alphretta Burkholder (1898-1966), the daughter of James Wesley and Jennie (Hartzell) Burkholder.
(There were many connections between our family and the Burkholders. Ida's brother, Daniel McKinley Burkholder, married Kathryn Miner, Ida's sister, Rebecca Burkholder, was the first wife of Otis "Freed" Minerd, and cousin Josephine Gorsuch married William Burkholder.)
They had five children -- Elmer "Eugene" Younkin, James "Fae" Younkin, Hubert Dayton Younkin, Mildred "Esther" Humes and Lois Jean Hensel.
Sadly, their firstborn son Eugene contracted diphtheria and died at the age of six years, 11 months on Feb. 24, 1922. His tender remains were placed at rest in the Imel Cemetery.
Frank was a farmer, and a onetime member of the Springfield Township School Board. With the involvement of his brother David, who was Mayor of Connellsville, PA, Frank served for several years as a central committeeman of the Fayette County Republican Party. Active in the community, he also belonged to the Wesley Chapel Methodist Church and the Indian Creek Valley Lions Club.

Farm near Scullton, Somerset County, where Frank and Ida raised their children, along what today is Route 653, near King's Mountain Resort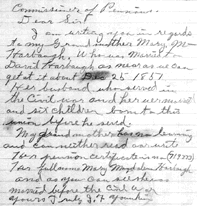 In 1926, Frank helped his widowed grandmother, Mary Magdalene (Whipkey) Harbaugh, who was trying to obtain her late husband's Civil War pension benefits from the federal government. In a letter to the US Pension Commissioner, dated Aug. 4, 1926, Frank attempted to document the date of her marriage to her husband. He wrote: "My grandmother has no learning and can neither read nor write. As near as we can get at it [the wedding occurred] about Dec. 25, 1851." A copy of the letter is seen here, with the original in the National Archives in Washington, DC.
Ida also was involved with the community, and in 1938 is known to have "entertained the Anagram Club … at her home. Prizes were awarded to three highest players."

Frank and Ida and his brother Warren supported the early Harbaugh Reunions. Frank and Ida are seen here at the 1926 event. They are recorded to have attended the reunions almost every year in the 1950s and early 1960s, including in 1959 and 1961-62 when they received the "Longest Married Couple" award; and in 1963 and 1966 when Frank won the "Oldest Man in Attendance" award. In 1952, Ida herself helped entertain with a skit and in 1952, 1956-57 and 1960 was elected Vice President
Frank and Warren also encouraged their brother Charles, who co-founded the Younkin National Home Coming Reunions of the 1930s, and was editor of the Younkin Family News Bulletin. They helped load Warren's piano onto a truck and drive it over the mountainous Springfield Pike to the Kingwood IOOF Picnic Grove for the special events.
Interested in preserving their family legacy, Frank and his brother in law Daniel McKinley Burkholder, along with Roy Schmuch, D.G. Younkin and Kenneth Shroyer, incorporated the Imel Cemetery Association in Springfield Township, Fayette County, to provide care for the old family cemetery. Appearing in court in November 1945 to support their application, they told a judge that "The purpose of the corporation is to improve the burying ground in which these men have relatives buried."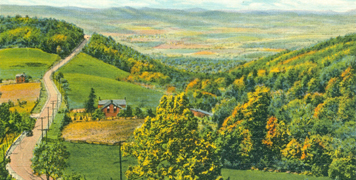 Mountainous and winding "Springfield Pike" -- also known as Route 653 -- near the Younkins' farm
During World War II, with their daughter Esther serving in the military in the European Theatre, Frank supported the war effort by financially supporting publication of The Messenger, a hometown newsletter for local servicemen and women and their families, edited by a distant cousin, Ferne (Minerd) Work.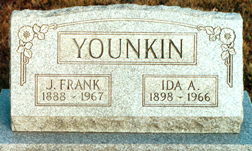 A large landowner, Frank is said to have sold considerable real estate to the owners of what is now the renowned Seven Springs Ski Resort. He also is said to have sold land at Bear Run to Edgar J. Kaufmann, owner of Pittsburgh's Kaufmanns Department Store.
In October 1964, the couple celebrated their 50th wedding anniversary. The event generated an article in the Connellsville Daily Courier.
Two years later, Ida died on Jan. 25, 1966.
Frank passed away the following year, on June 7, 1967. They are buried together in the Imel Cemetery in Clay Run.
~ Son James "Fae" Younkin ~
Son James "Fae" Younkin (1916-1986) married Evelyn M. Faidley (1923-2004) in about 1946. She was the daughter of John F. and Matilda (Pyle) Faidley. He was seven years older than his bride.
The Younkins went on to have six children -- Barbara Beeman, James "David" Younkin and Brenda Younkin, and three babies who sadly died in infancy.
Fae was a farmer and "owned and operated a school bus for Springfield Township schools," said the Somerset Daily American. They were members of the Wesley Chapel United Methodist Church in Scullton. Evelyn opened her home to the founder of this website in October 1991 and provided insights into this branch of the clan. Fae passed away at the age of 70 on July 6, 1986. He was laid to rest in the Imel Cemetery.
Evelyn outlived him by 18 years, minus two days. In late March 1992, she suffered the amputation of one of her arms when "trying to pump water for her cattle on her farm" reported the Daily American. "The pump was connected to a power-takeoff unit on a tractor. She was injured when her clothing became entangled in the spinning drive shaft... [The] pump broke and she fell to the ground. Younkin was flown by helicopter to Presbyterian University Hospital in Pittsburgh, where she was undergoing surgery..."
Evelyn survived her injury, and lived for another dozen years. She died at the age of 81, at Somerset Hospital, on the Fourth of July 2004. Burial was in Imel Cemetery.
~ Son Hubert D. "Hubie" Younkin ~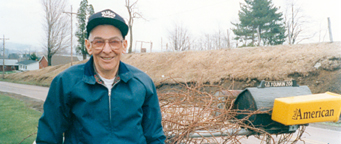 Hubie Younkin, as photographed by Donna (Younkin) Logan for the July 1992 issue of the Younkin Family News Bulletin
Son Hubert D. "Hubie" Younkin (1918-1992) married Opal Schmuck (1917-1991), the daughter of Samuel and Bertha Mae (Henry) Schmuck. They had two daughters -- Lynda Blubaugh and Beverly Stewart.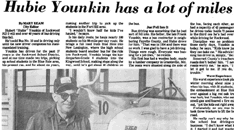 The Younkins belonged to the Wesley Chapel United Methodist Church in Scullton. Hubie was a farmer, carpenter and school bus owner/operator, and a member of the Carpenters Union. He was profiled in the Daily Courier for his 40 years as a bus driver, seen here, headlined "Hubie Younkin Has a Lot of Miles," which reported that "In his daily route, he hauls nearly 100 students on his 66-mile-per-day route." He also is pictured in the July 1992 issue of the "new" Younkin Family News Bulletin.
Opal passed away at age 73 on Feb. 1, 1991.
Hubie survived her by less than two years, and went to live with his married daughter Lynda in Andrews, TX. He died there at the age of 74 on Dec. 5, 1992. His remains were returned home to join Opal in repose at the Somerset County Memorial Park.
~ Daughter Mildred Esther (Younkin) Humes ~

Daughter Mildred "Esther" Younkin married Vance Humes and had two children -- Janet Humes and Terry Humes.
Esther attended California State Teachers College circa 1939. After World War II broke, out, she served for two years in Europe before being transferred after the war to Japan to serve on the staff of Gen. Douglas MacArthur. Her military updates were noted in the Messenger. One article in March 1946 reported that she had "reinlisted and [we] understand she is on her way overseas." In 1947, she made headlines in the Daily Courier when she climbed to the top of Japan's famous Mt. Fuji, later saying: "I wouldn't do it again for anything but I'm sure glad I made the top."
She is mentioned in the 1939 and 1940 editions of the original Younkin Family News Bulletin, the national newspaper published by her uncle Charles. She also is referenced in the 1970 book, A History of Mill Run.
~ Daughter Lois Jean (Younkin) Hensel ~
Daughter Lois Jean Younkin (1929-1973) married William F. Hensel (1917-1985). They moved to Scottdale, PA, in 1952 and had two children -- Peggy Malone and Roger L. Hensel. Lois "was a member of the Mount Nebo United Methodist Church and its Missionary Society," said the Daily Courier.
In 1955, Lois was badly injured "while holding a pan of hot grease in the kitchen of her home," reported the Daily Courier. She slipped and fell on the floor, "spilling the contents of her body and suffering second degree burns of the body, both hands, arms and neck."
Sadly, Lois died at the age of 44 on April 16, 1973. She was laid to rest at Green Ridge Memorial Park north of Connellsville.
Copyright © 2001-2002, 2006, 2009 Mark A. Miner