Josephine (Gorsuch) Burkholder
(1875-1972)
Josephine "Josie" (Gorsuch) Burkholder was born on Sept. 17, 1875 at Bidwell, Fayette County, PA the daughter of Richard M. and Sarah (Knight) Gorsuch. When she was about two years old her, mother died, and her father married Martha Minerd. Josie always considered her step-mother more as her real mother.
In 1898, Josie resided at McKees Rocks, near Pittsburgh, Allegheny County, PA. That year, in June, at the age of 23, she married William Burkholder (1848-1922), son of Daniel and Catharine (Cramer) Burkholder. William was nearly three decades older than his wife.
Together, the pair bore a family of three children, Marion C. Burkholder, Jessie Katherine Burkholder and a child who died young.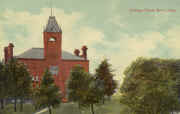 Scio College

William H. Welfley's book, the History of Bedford and Somerset Counties, said that William "received his prepatory education in the common schools..., subsequently entering Scio University, Scio, Ohio. After completing his course of study he taught for two terms in the schools of Lower Turkeyfoot township..." A rare old postcard photograph of Scio College is seen here. (An interesting irony is that a large, distant branch of our cousins resided near Scio, and two of their offspring, Amos Bartholomew Minard and Martin Luther Minerd, also attended the college.)

As a teacher, William taught some of his wife's family, including young Letitia (Harbaugh) Stoner. He is known to have once signed a "Reward of Merit" card for Letitia, which survives today. .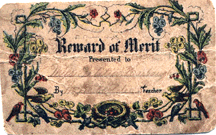 Merit signed by William Burkholder

After leaving teaching, which likely did not pay much salary, William "then engaged in farming, at the same time following his carpenter's trade," said the Bedford and Somerset history, published in 1906. "He has now, for two years, been in mercantile business in Draketown. Politically he is a Republican."

The Burkholders first resided at Confluence, Somerset County, PA. When the federal census was taken in 1910, William served as the enumerator of Lower Turkeyfoot Township, and wrote in his own family's entry. He listed himself as a general farm "farmer."

In March 1912, they relocated to Florida, settling in Bartow, Polk County. In Bartow, the family resided on 12 Lemon Street. It's not known why they made the move, but the local chamber of commerce is known to have aggressively promoted the benefits of year-round farming and "winter vegetable gardens" which would have been quite appealing.

Josie often corresponded with her stepmother and subscribed to the "home paper," probably the Connellsville Daily Courier.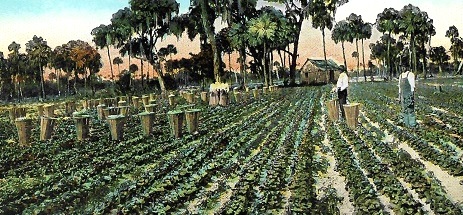 Bartow postcard touting winter vegetable farming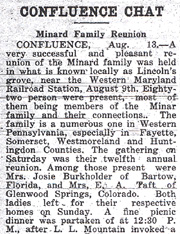 Meyersdale Republican article
naming Josie, 1924

The federal census of 1920 shows the family in Bartow, Polk County. The 71-year-old William was listed as having no occupation, and likely was retired. Son Marion (age 17) and daughter Katherine (13) were still at home.

On March 24, 1922, just 11 days shy of his 74th birthday, William died in Bartow, after a decade of residence there. He was buried in the Wildwood Cemetery, with his obituary carried in the Polk County (FL) Record and back home in the Meyersdale (PA) Republican.

Josie outlived her husband by many decades. She returned to her old home state occasionally to visit her Gorsuch, Minerd and Harbaugh relatives. In August 1924, she was one of 82 who attended the annual Minerd-Miner Reunion held at Lincoln's grove, near the Western Maryland Railroad Station in Confluence. In an article about the reunion, the Meyersdale Republican reported: "A very successful and pleasant reunion of the Minard family was held ... Among those present were Mrs. Josie Burkholder of Bartow, Florida, and Mrs. E.A. Taft of Glenwood Springs, Colorado. Both ladies left for their respective homes on Sunday. A fine picnic dinner was partaken of at 12:30 p.m., after L.L. Mountain invoked a blessing."

When the census again was taken in 1930, the 54-year-old widowed Josie maintained her home in Bartow. Son Marion, age 29, and employed as a newspaper printer, lived under her roof.

In August 1957, Josie is known to have traveled north to celebrate her beloved step-mother's 100th birthday. During the trip, Josie attended the annual Harbaugh Reunion, and received the award for the "Farthest Traveled."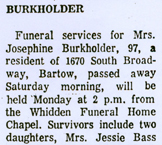 Tampa Tribune, 1972

Josie spent her final years in her home on 1670 South Broadway in Bartow. She died at the age of 97 on Oct. 27, 1972. Her remains were interred in Bartow Wildwood Cemetery. The Tampa Tribune published an obituary.

There were many connections between the Burkholder and Minerd-Miner-Minor families over the years. William's cousin and "foster" sister, Mary Magdalene Whipkey, later married David Harbaugh. William's nephew Daniel McKinley Burkholder married Kathryn Miner; William's niece Rebecca Burkholder married Otis "Freed" Minerd, and another relative, Ida Burkholder, married James "Frank" Younkin.

~ Son Marion Calvin Burkholder ~

Son Marion Calvin Burkholder (1902-1965) was born in Confluence, Somerset County, and migrated to Florida with his parents when he was a boy of 10. Said the Tampa Tribune, he "attended Bartow schools, and had been employed as a printer all his adult life. He worked for the Polk County Record, Bartow Printing Co. and the Polk County Democrat, and for the past 18 years had been with the Lakeland Ledger."

He may have married Eva Huff in 1930, when he was age 28, in Hardee County, FL, but this needs to be confirmed.

At the age of 48, Marion married Laura Maxine Matteson ( ? - ? ) in 1950 in Polk County. Laura brought an adult daughter to the marriage, Florence Morton of Fort Lauderdale. Marion and Laura had no children of their own.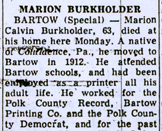 Active in the community, he was a member of Holy Trinity Episcopal Church, the Bartow Moose Lodge and the International Typographical Union.
Marion died at the age of 63 on or about Jan. 2, 1965. His obituary in local newspaper, The Democrat, said he was a "veteran Bartow and Lakeland printer ... [who] died in his sleep early today at his home after a long illness."
Laura's fate is not yet known.
~ Daughter Jessie (Burkholder) Bass ~
Daughter Jessie Burkholder (1906-1989?) was born in Confluence, Somerset County, and moved to Florida with her parents and brother when she was a girl of age six.
She may have married W.C. Robertson in 1928 in Hendry County, FL, when she was age 22, but this needs to be confirmed.
Jessie is known to have married (?) Bass ( ? - ? ). They made their home in Frostproof, Polk County.
She is thought to have died in Polk County on June 5, 1989, at the age of 83. More will be added here when learned.
Copyright © 2000, 2002, 2005, 2007, 2010, 2017 Mark A. Miner