Home

Josephine (Gorsuch) Burkholder
(1875-1972)
Josephine "Josie" (Gorsuch) Burkholder was born on Sept. 17, 1875 at Bidwell, Fayette County, PA the daughter of Richard M. and Sarah (Knight) Gorsuch.
When she was about two years old her, mother died, and her father married Martha Minerd. Josie always considered her step-mother as her mother figure.
In 1898, Josie resided at McKees Rocks, near Pittsburgh, Allegheny County, PA. That year, in June, at the age of 23, she entered into holy matrimony with William Burkholder (1848-1922), son of Daniel and Catharine (Cramer) Burkholder. William was nearly three decades older than his wife.
Together, the pair bore a family of three children, Marion Calvin Burkholder, Jessie Katherine Robertson Bass and a child who died young.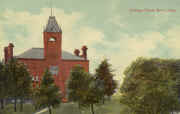 Scio College

William H. Welfley's book, the History of Bedford and Somerset Counties, said that William "received his prepatory education in the common schools..., subsequently entering Scio University, Scio, Ohio. After completing his course of study he taught for two terms in the schools of Lower Turkeyfoot township..." A rare old postcard photograph of Scio College is seen here. (An interesting irony is that a large, distant branch of our cousins resided near Scio, and two of their offspring, Amos Bartholomew Minard and Martin Luther Minerd, also attended the college.)

As a teacher, William taught some of his wife's family, including young Letitia (Harbaugh) Stoner. He is known to have once signed a "Reward of Merit" card for Letitia, which survives today. .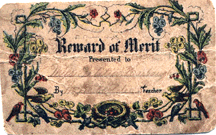 Merit signed by William Burkholder

After leaving teaching, which likely did not pay much salary, William "then engaged in farming, at the same time following his carpenter's trade," said the Bedford and Somerset history, published in 1906. "He has now, for two years, been in mercantile business in Draketown. Politically he is a Republican."

The Burkholders first resided at Confluence, Somerset County, PA. When the federal census was taken in 1910, William served as the enumerator of Lower Turkeyfoot Township, and wrote in his own family's entry. He listed himself as a general farm "farmer."

In March 1912, they relocated to Florida, settling in Bartow, Polk County. In Bartow, the family resided on 12 Lemon Street. It's not known why they made the move, but the local chamber of commerce is known to have aggressively promoted the benefits of year-round farming and "winter vegetable gardens" which would have been quite appealing.

Josie often corresponded with her stepmother and subscribed to the "home paper," probably the Connellsville Daily Courier.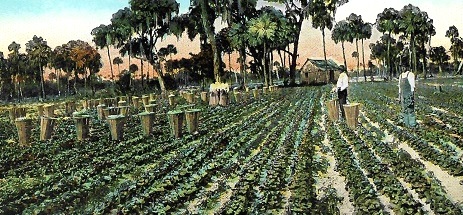 Bartow postcard touting winter vegetable farming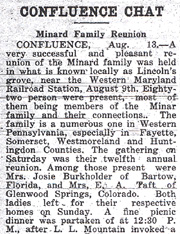 Meyersdale Republican article
naming Josie, 1924

The federal census of 1920 shows the family in Bartow, Polk County. The 71-year-old William was listed as having no occupation, and likely was retired. Son Marion (age 17) and daughter Katherine (13) were still at home.

On March 24, 1922, just 11 days shy of his 74th birthday, William died in Bartow, after a decade of residence there. He was buried in the Wildwood Cemetery, with his obituary carried in the Polk County (FL) Record and back home in the Meyersdale (PA) Republican.

Josie outlived her husband by many decades. She returned to her old home state occasionally to visit her Gorsuch, Minerd and Harbaugh relatives. In August 1924, she was one of 82 who attended the annual Minerd-Miner Reunion held at Lincoln's grove, near the Western Maryland Railroad Station in Confluence. In an article about the reunion, the Meyersdale Republican reported: "A very successful and pleasant reunion of the Minard family was held ... Among those present were Mrs. Josie Burkholder of Bartow, Florida, and Mrs. E.A. Taft of Glenwood Springs, Colorado. Both ladies left for their respective homes on Sunday. A fine picnic dinner was partaken of at 12:30 p.m., after L.L. Mountain invoked a blessing."

When the census again was taken in 1930, the 54-year-old widowed Josie maintained her home in Bartow. Son Marion, age 29, and employed as a newspaper printer, lived under her roof.

Federal census records show that in 1935-1940, Josie was still in Bartow, boarding in the home of 83-year-old Georgia native Emma Harris. She made a living as a housekeeper in a private home.

She and widowed son Marion resumed sharing a residence in Bartow during the 1940s and into 1950.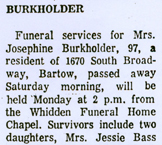 Tampa Tribune, 1972

In August 1957, Josie is known to have traveled north to celebrate her beloved step-mother's 100th birthday. During the trip, Josie attended the annual Harbaugh Reunion, and received the award for the "Farthest Traveled."

Josie spent her final years in her home on 1670 South Broadway in Bartow. She endured the untimely death of her son Marion in 1965.

She died at the age of 97 on Oct. 27, 1972. Her remains were interred in Bartow Wildwood Cemetery. The Tampa Tribune published an obituary.

There were many connections between the Burkholder and Minerd-Miner-Minor families over the years. William's cousin and "foster" sister, Mary Magdalene Whipkey, later married David Harbaugh. William's nephew Daniel McKinley Burkholder married Kathryn Miner; William's niece Rebecca Burkholder married Otis "Freed" Minerd, and another relative, Ida Burkholder, married James "Frank" Younkin.

~ Son Marion Calvin Burkholder ~

Son Marion Calvin Burkholder (1902-1965) was born in Confluence, Somerset County, PA.

He migrated to Florida with his parents in 1912 when he was a boy of 10.

Said the Tampa Tribune, he "attended Bartow schools, and had been employed as a printer all his adult life. He worked for the Polk County Record, Bartow Printing Co. and the Polk County Democrat, and for the past 18 years had been with the Lakeland Ledger."

Circa 1930, at the age of 28, he wed Eva Alice (Huckins/Descoteau) Huff (Nov. 1, 1900-1949), a New Hampshire native. Their wedding was conducted in Hardee County, FL. Earlier in the year, prior to marriage, she was in Atlanta working as a cafe waitress. Immediately, they established their dwelling-place in Bartow.

Eva Alice was divorced from her first husband Leroy and brought two stepchildren into the union, Florence Hicks Morton and Roy Paul Huff.

Marion and Eva Alice did not reproduce. When the federal census was made in 1940, the pair lived in Bartow, but neither of her children was in the household.

Marion's occupation in 1940 was as a linotype operator in the local newspaper office, and Eva Alice a printer with the firm. She was a member of the Bartow Women's Club. The 1945 census of Bartow shows Marion and Eva living next door to or with her son Roy and family. Marion's mother was listed in Roy's household.

Sadly, after what the Tampa Tribune called "a brief illness," Eva Alice died in a local hospital on Sept. 20, 1949. Burial was under the sod of Wildwood Cemetery in Bartow.

Marked as widowed, Marion and his mother shared a residence in Bartow in 1950, with his occupation shown as "printer - newspaper." He was employed at that time in the composing room of the Lakeland Ledger.

At the age of 48, on Thanksgiving Day, Nov. 23, 1950, Marion married a second time to Laura Maxine Matteson ( ? - ? ), daughter of Emory Sherman and Harriet Gertrude (Porter) Matteson of Stuart, FL. The wedding was held at Holy Trinity Episcopal Church in Bartow, led by Rev. Russell S. Carleton. Among those attending from Stuart were Mr. and Mrs. Robert Montgomery, Mr. and Mrs. Fenn Montgomery and daughter Brenda Lee, and Laura's father E.S. Matteson.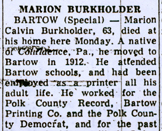 Tampa Tribune , 1965

In announcing the wedding, the Tampa Tribune said that Laura "came to Florida from Erie, Pa., in 1925. She completed nurse's training at the Good Samaritan Hospital at West Palm Beach, and has a B.S. degree from Florida State University. She received physical therapy training at the Medical College of Virginia, and is now employed as a physical therapist at the Bartow Air Base School for Exceptional Children."

Marion and Laura had no children of their own.

Active in the community, he was a member of Holy Trinity Episcopal Church, the Bartow Moose Lodge and the International Typographical Union.

Laura was employed as a full-time therapist in Bartow in 1962 at the Nye Jordan School for Exceptional Children. She was named in an Orlando Sentinel article about the school, which said its "goal is to equip handicapped youngsters, physically and academically, to enter public schools..."

Marion died at the age of 63 on or about Jan. 2, 1965. His obituary in local newspaper, The Democrat, said he was a "veteran Bartow and Lakeland printer ... [who] died in his sleep early today at his home after a long illness."

Laura outlived her husband by a number of years and maintained her nursing license. She is known to have served as vice president in 1968 of the Heart O' Florida Chapter of the American Business Women's Association.

She was pictured in a Miami Herald feature story on Aug. 9, 1976 when, at age 71, and semi-retired, she returned to West Palm Beach for the 50th reunion of the Good Samaritan nursing school. She was quoted saying "I was the first student ever at the school. I was there for 2 months until two more girls came. Then six more came. But only three of us graduated in 1929." The school closed in 1961 when it could no longer financially complete against junior colleges.

Evidence suggests that in 1977, at age 71, she wed again to her widowed brother-in-law, 74-year-old Mack Robert Montgomery (July 2, 1902-1993) of Palm City. Mack's first wife, Laura's sister Alta Lenore, had died a year earlier. Mack was a native of Parrish, FL who was a World War I Army veteran, member of Holy Trinity Episcopal Church and a retired heavy equipment operator. Thus Laura's two nephews became her stepsons -- Robert George Montgomery and Fenn A. Montgomery.

The Montgomerys dwelled in Bartow.

Mack died at the age of 90, in Polk General Hospital, on March 6, 1993. The Tampa Tribune carried an obituary. Burial was in Fernhill Memorial Gardens in Stuart.

Stepdaughter Florence Elmira Huff (1920-1974) was born in about 1920. She was twice-married. Circa 1938, at the age of 18, she tied the knot with her first spouse, 22-year-old Bartow resident James Luther Hicks (1916- ? ). News of their marriage license was printed in the Tampa Tribune. They Hickses dwelled in Bartow and together bore two known offspring, James Luther Hicks Jr. and Nancy Jean Schwencke Schwerdt. The couple divorced by 1958, and he married twice more to Bertha Pauline Barefoot ( ? - ? ) and Dorothy Harris ( ? - ? ). Florence in 1950 relocated to Fort Lauderdale and stayed for the 24 remaining years of her life. As of 1957, still using the Hicks name, she lived at 822 Northeast 17th Terrace. She also wed again to Elvis M. Morton ( ? - ? ). She was a longtime bookeeper and secretary for the Ace Glass Company. Elvis was an expert trap shooter. Their address in 1959 was 727 Southwest First Street in Fort Lauderdale and in 1974 was 4801 Northwest 11 Court in Lauderhill. She died in Doctors General Hospital in Plantation at the age of 54 on Aug. 27, 1974. An obituary in the Fort Lauderdale News noted that Rev. Bernie E. Rodgers, of the Central Baptist Church, officiated at the funeral, followed by burial in Lauderdale Memorial Park.
Step-grandson James Luther Hicks Jr. ( ? - ? ) was born on (?). He was an alumnus of Broward Junior College and in 1966 was employed by a local private school. That same year, he studied at Florida Atlantic University and served as vice president of the university's Flying Club. On Aug. 21, 1966, he entered into the rite of wedlock with Deanna Hodgkiss ( ? - ? ), daughter of Arthur E. Hodgkiss of Fort Lauderdale. She was a graduate of Stranaham High School, also attended Broward Junior College and at the time of marriage earned a living with the Florida Department of Health. The nuptials were held in the Parkway Christian Church of Plantation, FL, and published in the Fort Lauderdale News. As of 1974, he made a home at Lake Worth, FL.
Step-granddaughter Nancy Jean Hicks ( ? - ? ) was born on (?) in Bartow. She was a 1957 graduate of Fort Lauderdale High School and as a young woman studied at the Broward School of Beauty Culture. Nancy was twice-wed. On Nov. 1, 1957, she was united in matrimony with her first husband, Alexander John Schwencke ( ? - ? ), son of Herbert R. Schwencke. The ceremony was held in the home of Alexander's parents at 811 Southwest 16th Street in what the Fort Lauderdale News called "a simple home wedding," with Rev. Paris Bell presiding. Said the News, the "bride wore a white and pink afternoon dress of Swiss organdy fashioned with a bouffant skirt. A picture hat framed her face and she wore a white carnation corsage." Her new husband was a native of New York City who had migrated to Fort Lauderdale in 1954 and was a June 1957 graduate of Fort Lauderdale High. He worked at the time of marriage with J. Frank Knoor & Co. Sadly, their marriage ended within two years, with a divorce granted in May 1959. LAter in 1959, she was joined in wedlock with William E. Schwerdt Jr. ( ? - ? ), son of William E. Schwerdt Sr. of Coral Reef Apartments in Pompano Beach. William was a graduate of Highland Park (IL) High School and served a six-month term in the U.S. Marine Corps. As of 1959, he earned a living in Chicago with Coca Cola Bottling Company. News of their engagement was published in the Fort Lauderdale News. One known son of this union was Barry Scott Schwerdt. Their home in 1974 was in St. Petersburg, FL. By 1983, the Schwerdt marriage had dissolved, with Nancy living in St. Petersburg and William in Countryside Boulevard of Clearwater.

Step-great-grandson Barry Scott Schwerdt ( ? - ? ) was a graduate of Northwest High School in St. Petersburg. He attended St. Petersburg Junior College and as of 1983 earned a living as manager of Buning the Florist. On Aug. 26, 1983, he and Robyn (Martens) McLaren ( ? - ? ) tied the marital knot at Unity Church of Clearwater. She was the daughter of Robert Martens of Clearwater and an alumna of Edgewater High School, Bauder College of Miami and the College of Orlando. News of the marriage was published in the Tampa Bay Times. She was employed at the time by Tad Technical Services Corporation.
Stepson Roy Paul Huff Sr. (1922-1991) was born on July 6, 1922 in Haverhill, MA. As a young man he stood 5 feet, 10 inches tall, weighed 150 lbs. and had brown hair and brown eyes. At some point in his early manhood he lost the third finger on his right hand. He served in the U.S. Marine Corps during World War II. During his term of service, on Feb. 15, 1945, Roy entered into marriage with Frances E. Bender ( ? - ? ), daughter of Louis Bender of Kansas City, KS. Their wedding conducted at Jacksonville, NC. Two children of this couple were Clayton Huff and Florence Huff. Frances was an alumna of Argentine High School and was serving in the Women's Reserve at Camp Lejeune, NC at the time. The family is listed in or beside the household of Roy's mother and stepfather in Bartow in a 1945 census of Florida. Then at the age of 23, in December 1945, despite his status as a newly discharged veteran, he was required to register for the military draft. At the time, he listed his mailing address as P.O. Box 1003, Bartow, FL, but his physical location as 115 Cushing Street in Lowell, MA. The Huffs' marriage was troubled, and they separated on May 12, 1948. Frances sued for divorce i August 1949, as reported in the Springfield (MA) Leader and Press, alleging that Roy "squandered money, drank intoxicants to excess, failed to support plaintiff..." Roy is known to have dwelled in Massachusetts in 1949 at the death of his mother. For a second time he entered into marriage with Shirley Jean (Matthews) Donnelly (May 6, 1929-2005), daughter of Ernest and Helen (Corkum) Matthews of Billerica, MA. She brought a trio of stepsons into the second marriage -- James Donnelly, David Donnelly and Michael Donnelly. The Huffs dwelled in Lowell, MA. Two sons of their union were Roy Paul Huff Jr. and Richard Huff. Sadly, Roy died on Feb. 3, 1991. Shirley outlived him by 14 years and remained in Lowell. One of her favorite activities was reading. She died at the age of 76, on Aug. 28, 2005. Her obituary was published in the Lowell Sun.
Step-grandson Clayton Huff (1943- ? ) was born in about 1943 in Florida.
Step-granddaughter Florence Huff (1944- ? ) was born in about 1944 in Florida.
Step-grandson Roy "Paul" Huff Jr. (1957- ? ) was born on May 15, 1957 in Massachusetts. He was a 1975 graduate of Lowell (MA) High School. He then joined the U.S. Navy and served for 24 years until retirement in 1999. Circa 1977, he lived in an apartment at 9523 21st Bay Street in Norfolk, VA. On July 29, 1977, at age 20, he was joined in matrimony with 18-year-old Puerto Rico native Nilda Rosa Baez (1958- ? ), one of a baker's dozen offspring of Alejandro and Maria Antonia (Colon) Baez, also of Norfolk. The wedding was officiated by marriage commissioner Francis M. Barron. The couple put down roots in Paul's hometown of Lowell and remained for decades.
Step-grandson Richard Huff was deceased by 2005.
Step-step-grandson James Donnelly has dwelled in Lowell, MA.
Step-step-grandson David Donnelly made his residence in Thailand in 2005.
Step-step-grandson Michael Donnelly was deceased by 2005.
~ Daughter Jessie (Burkholder) Robertson Bass ~
Daughter Jessie Katherine Burkholder (1906-1989?) was born in 1906 in Confluence, Somerset County, PA.
She moved to Florida with her parents and brother when she was a girl of age six.
In 1928, at the age of 22, she entered into marriage with W.C. Robertson ( ? - ? ) in Hendry County, FL.
One known son produced by this union was Walter "Glenn" Robertson.
Then in 1952, Jessie married Barney Bass (1895-1969), in nuptials held in Hardee County. Barney was a native of Kissimmee who in 1950 moved from Fort Meade, FL to Frostproof, Polk County. He was divorced from Georgia native Ada (1897-1979) and brought these stepchildren into the second union -- Milton Bass, Alice Zoutes, Eva Lavaughn "Bonnie" Prendes, Martha McAuley, Barney Cleveland Bass, Myrtle Wilkes and Mary "Louise" Sandlin.
They made their home in Frostproof. Barney had made a living in 1940 as caretaker of a citrus grove and in 1950 as the operator of a service station.
Sadly, at the age of 74, Barney died on Dec. 11, 1969. The Tampa Tribune printed an obituary.
She is thought to have died in Polk County on June 5, 1989, at the age of 83. More will be added here when learned.
Son Walter "Glenn" Robertson (1928-1976) was born in about 1928. His early years were spent at Frostproof, FL. He served in the U.S. Armed Forces during the Korean War. Then in 1952, he moved to Tampa. Glenn entered into the rite of wedlock with Gertrude. Their pair of daughters were Rita Speaks and Violet Metcalf. Glenn was employed as a surveyor for the County of Hillsborough, and the family resided in Tampa at 409 East Henry Street. Sadly, at the age of 48, Glenn died in Tampa General Hospital on Oct. 6, 1976. An obituary appeared in the Tampa Times. Funeral services were conducted by Rev. William T. Mulcay, of the First Presbyterian Church, with burial at Silver Hills Cemetery.
Granddaughter Rita Robertson married (?) Speaks and was in Tampa in 1976.
Granddaughter Violet Robertson wed (?) Metcalf. Her dwelling-place in the mid-1970s was in Tampa.
Stepdaughter Myrtle Bass (1917-2002) was born on Sept. 7, 1917 in Kissimmee, FL. She spent her entire life in the area of Fort Meade, FL. She married Rev. Claude Wilkes ( ? - ? ). The couple stayed together for a remarkable 56 years. Their brood of children included Roy Kenneth Wilkes, June DeShong and Connie Fort. She resided at Lake Wales in 1969 and earned a living as a licensed practical nurse. They held a membership in the First Baptist Church of Fort Meade. In about 2000 she moved into the John Knox Village in Tampa. Myrtle died at the age of 85 on Dec. 9, 2002. She was pictured in her Tampa Tribune obituary, which said that her funeral service was held at First Baptist Church of Fort Meade.
Step-grandson M.Sgt. Roy Kenneth Wilkes ( ? - ? ) was born on (?). He was a graduate of Polk County schools and in 1955 was with the U.S. Air Force at Lackland Air Force Base in San Antonio, TX. On or about April 24, 1955, he entered into marriage with Louise Rebecca "Becky" Sutherland ( ? - ? ), daughter of Fred V. and Esther Louise Sutherland of Bartow. Their nuptials were conducted in the First Methodist Church of Bartow. Becky was a 1953 alumna of Summerlin Institute and a member of the Order of Rainbow for Girls and an advisor for the local chapter. She studied at the University of Florida and as of 1955 was employed as a secretary in the office of the Bartow Chamber of Commerce. Roy spent his career with the Air Force an in 1967 was posted to Randolph Air Force Base in Texas and in 1971 in Madrid, Spain. Sadly, he was deceased by 2002.
Step-granddaughter June Wilkes was joined in matrimony with (?) DeShong. She dwelled in 2002 in Tampa.
Step-granddaughter Connie Wilkes was united in wedlock with James Fort. The pair lived in Jacksonville in 2002.
Stepson Milton "Bud" Bass (1919-2000) was born on Jan. 2, 1919 in St. Cloud, FL. As a boy the family moved from Tampa to Fort Meade, and he remained in town for the balance of his life. During World War II, he joined the U.S. Navy and was assigned to the Construction Battalion (Seabees). His four offspring were Paul Bass, Roy C. Bass, Lorraine Harrell and Norma Aggelis. His two stepchildren were Dan L. Moody and Fay Protheroe. He was employed by Mobil Chemical Phosphate Company as a plant operator. He resided over the years in Fort Meade, FL. He surrendered to the angel of death at age 81 on Nov. 5, 2000.
Step-grandson Paul Bass lived in Punta Gorda in 2000.
Step-grandson Roy C. Bass has made a home in Pensacola, FL.
Step-granddaughter Lorraine Bass wed (?) Harrell. Circa 2000, she was in St. Petersburgh.
Step-granddaughter Norma Bass married (?) Aggelis. She dwelled in Fort Meade in 2000.
Stepdaughter Alice Berner Bass (1924-1992) was born in about 1924 in Mango, FL. Her first husband was Robert Schafer Sr. ( ? - ? ). Their two known children were Michael Gene Schafer and Catherine "Cathy" Langford. The couple divorced. Then in June 1959, in Polk County, FL, she was united in matrimony with Eleftheros "Peter" Zoutes (1923- ? ). One son produced by this couple was Edward Zoutes. During World War II, in 1943, Edward was trained in airplane propellers by the Army Air Forces Training Command at a Curtiss-Wright Corporation facility. They lived in Tampa for decades. Alice worked as a registered nurse, and they attended the Episcopal church. Sadly, at the age of 68, Alice passed away at University Community Hospital on April 11, 1992. The Tampa Bay Times printed an obituary.
Step-grandson Michael Gene Schafer (1953-1996) was born in about 1953 in St. Petersburg. He lived in Tampa in 1992 and in Seffner, FL in 1996. Michael was employed by Millard Metals as a sales manager. He is known to have attended the Episcopal Church. Sadly, at the age of 42, he died in Seffner on March 8, 1996. The Tampa Bay Times printed an obituary.
Step-granddaughter Catherine "Cathy" Schafer wed (?) Langford and relocated to Montgomery, AL.
Step-grandson Edward Zoutes dwelled in the early 1990s in Hudson, FL and in 1996 in Port Richey, FL. Evidence suggests that he married Patricia Ann Rodgers in 1990 and Tonya Kay Castleman in 1999.
Stepdaughter Eva Lavaughn "Bonnie" Bass (1926-2010) was born in about 1926. On July 3, 1947, in Pinellas County, the 21-year-old Bonnie sentered into marriage with 24-year-old Joe R. Prendes ( ? - ? ), sometimes misspelled "Prentiss." They first lived in Kentucky, where their daughtr Nancy was born in 1949. By 1950, they relocated to Tampa. Joe worked in Tampa as a radio instructor in a radio and television laboratory, while Bonnie made a living as a hospital nurse. Eventually they moved to Orlando where they dwelled for many years. Bonnie is believed to have died at the age of 84 on March 15, 2010.
Step-granddaughter Nancy Carol Prendes (1949- ? ) was born in 1949 in Kentucky. She was an alumna of Mount Saint Mary's High School of Oklahoma City. On June 28, 1969, she wed Sgt. Michael John Zebosky ( ? - ? ), a native of Youngstown, OH, who was stationed in 1968-1969 at McCoy Air Force Base. The wedding was held at the base chapel at McCoy. By 1985, she changed back to her maiden name.
Stepdaughter Martha Sara Bass (1929-2017) was born on July 25, 1929. She grew up in Fort Meade, FL, where she was a 1947 graduate of Fort Meade High School. When she was 18 years of age, on July 3, 1947, she wed Sam W. McAuley (1923- ? ). They bore four children together -- Bonny Maxwell, Randall McAuley, Joseph McAuley and April Stokes. Their home in 1969 was at Lake Wales and in Fort Meade, FL in 1979-2002. Martha was an exceptional cook, a member of the Order of Eastern Star and the First Baptist Church in Fort Meade. Death swept her away at the age of 87 on Jan. 8, 2017. Her remains werelaid to rest in Evergreen Cemetery, with an obituary appearing in the Ledger.
Step-granddaughter Bonny McAuley wed (?) Maxwell.
Step-grandson Randall McAuley married Susan.
Step-grandson Joseph McAuley ( ? - ? )
Step-granddaughter April McAuley was joined in wedlock with Thomas Stokes.
Stepson Barney Cleveland Bass (1935-2012) was born on Sept. 26, 1935 at Lake Meade, FL. On March 25, 1955, at the age of about 19, Barney married Rosemary Thomas (July 10, 1936-2008), a native of Bartow and the daughter of J. Harley and Esther Lee Thomas. Five children borne of this marriage were Thomas Bass, Scott Bass, Todd Bass, Shelly Worley and Lee Ann Bullard. They resided in Frostproof circa 1969-1976. He earned income as a grove manager and she as a secretary, and they were active with the First Baptist Church of Venus, FL, where Rosemary sung in the choir and taught Sunday School. Barney served in the Army and National Guard. They relocated in 1983 from Frostproof to Punta Gorda, FL. Rosemary died at the age of72 on July 21, 2008. Her obituary was published in the Port Charlotte (FL) Sun. The funeral was held in the family church. Barney outlived Rosemary by four years. He passed away on March 9, 2012.
Step-grandson Thomas Bass lived in Labelle, FL in 2008 and in Immokalee, FL in 2012.
Step-grandson Scott Bass has dwelled in Punta Gorda.
Step-grandson Todd Bass has resided in Frostproof.
Step-granddaughter Shelly Bass wed (?) Worley. Her home in 2008-2012 was in Punta Gorda.
Step-granddaughter Lee Ann Bass married (?) Bullard. Circa 2008, she was in Frostproof and in 2012 in Avon Park.
Stepdaughter Mary "Louise" Bass was joined in wedlock with (?) Sandlin ( ? - ? ). They put down roots at Lake Wales and by 2002 had relocated to Fort Meade, FL.
Copyright © 2000, 2002, 2005, 2007, 2010, 2017, 2023 Mark A. Miner