Letitia Alice (Harbaugh) Stoner was born on Nov. 1, 1871 on a farm at what is now Clairton Lake near Scullton, Somerset County, PA, the daughter of David and Mary Magdalene (Whipkey) Harbaugh.
On May 11, 1895, in Pittsburgh, when she was 23 years of age, Letitia was united in the bonds of holy matrimony with 24-year-old Nathan Clarence Stoner (1870-1936), the son of Levi and Catherine (Shaw) Stoner of Connellsville, Fayette County, PA. The ceremony was performed by the Rev. F. Dewitt Tallmage, a well-known clergyman of the day..
At the time of marriage, Letitia was residing in Pittsburgh's North Side (then called "Allegheny City") and Nathan was in Sistersville, Tyler County, WV, where he was working in the booming oil and gas business.
The Stoners had six children, five of whom lived to adulthood. The six were Oliver Shaw Stoner, Hazel Gertrude Stoner, Agnes Colline Wood, Paul Ernest Stoner, Cyrus Millard Stoner and Dorothy Lena Sheldon.
The Stoners first resided in Sistersville, where all but one of their children were born. There, Nathan opened his own "Stoner's Machine Shop," where he manufactured vacuum pumps used to support oil and gas drilling operations.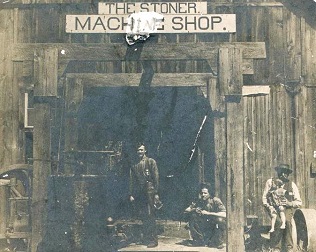 Above: Nathan's machine shop in Sistersville. Below left: pipefitting at a drilling site. Below right: one of the pumps Nathan used.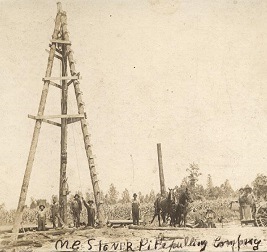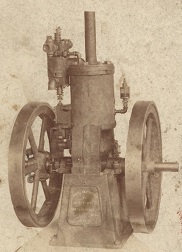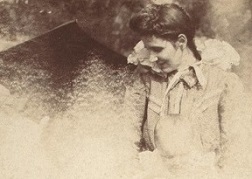 Letitia with babies on her lap and beside
Seen here, Letitia holds one of her babies in her lap -- unfortunately the baby's features have faded over time, and only the ghostly shape of its head is visible.
(Click to see one of Nathan's printed advertisements for his products.)
Their home was high up on a hill, with the front porch facing the Ohio River. Letitia enjoyed watching riverboats pass by, and hearing their music filter up the hill. Nathan worked in Sistersville in a machine shop, within hearing distance when Letitia would call him to dinner.
Nathan is known to have been mentioned in the 1912 book, Genealogical and Personal History of Fayette and Greene Counties, authored by John W. Jordan and James Hadden.
Sadly, their beloved daughter Hazel died of pneumonia in 1902 at the age of only four. The little girl's remains were laid to rest in an unmarked grave in Sistersville. A newspaper called her "beautiful and lovable" and said that "the entire community sympathies [sic] with the terribly bereaved parents ... in this sad hour." The obituary included the following poem:
A precious one from us has gone,
A voice we loved is stilled.
A place is vacant in our home,
Which never can be filled.
God in his wisdom has recalled
The boon his love has given.
And tho' the body slumbers here
The soul is safe in heaven.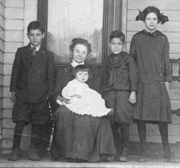 With the 4 youngest children
Sometime between 1907 and 1912, the Stoners relocated west to Illinois. They settled in the town of Robinson, Crawford County, and remained for good. Their youngest daughter Dorothy was born in Robinson.
Letitia is seen here, with her 4 younger children, on the porch of their home. While residing in Robinson, Nathan traveled extensively around the country as a leasing agent for oil properties.
Despite the distance, the Stoners remained in close contact with their Harbaugh relatives in Pennsylvania and West Virginia. On Aug. 29, 1926, Letitia traveled back to her old home to attend her mother's 94th birthday party at the family homestead in Somerset County. The party was such a success that it was decided to make it an annual event -- which served to become the annual Harbaugh Reunion. Letitia and Nathan also attended the 1929 reunion, held at the old Jersey Church near Confluence.
In November 1934, Nathan spent Thanksgiving in Henderson, TX, where he apparently was working on a business deal. He sent daughter Agnes a postcard picturing a turkey, saying "Thot mabe you would to have a Toiky for thanksgiving. I am sending this one, took so long a time to catch him. he may be late in reaching you. Hope not."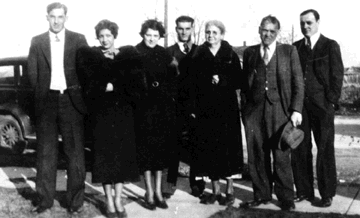 Stoner family on Christmas during the Great Depression -- L-R: Cyrus (age 26), Dorothy (21), Agnes (31), Paul (29), Letitia (62), Nathan (63) and Oliver (37).
Heartache rocked the family when Nathan died in his sleep of a massive heart attack at age 66 in Robinson on Oct. 29, 1936. The day he died, Letitia had written a letter to a daughter, saying, "Nathan has picked a pot of walnuts all hulled out."
Two of Letitia's sisters, Susie Conn and Lucinda Younkin-Johnson, made the long trip to Illinois for the funeral.
In the photo seen here, Letitia (far right) poses with her sisters Sadie Ream (left) and Rosetta Minerd (center). The site is thought to have been the Ream residence in Jersey Hollow near Confluence, Somerset County, PA.
Letitia survived her husband by more than a quarter-century. In December 1942, when she was age 71, she became a grandmother for the first time when her daughter Dorothy gave birth to a baby girl.
The years were not kind to Letitia, but she persevered with strength and dignity. She suffered the tragic death of son Paul in 1942 due to a brain tumor, and the death of a grandson in infancy in 1946.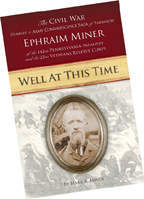 One of the most famous natives of Robinson was author James Jones, whose bestseller From Here to Eternity was published in 1951. The Stoners tracked his career over the years.
Later in life, she moved to Oblong into the home of her daughter and son in law, Agnes and Ralph Wood. One day, while walking in a hallway at home, she fell and broke a hip. Adding to injury, while being treated in the doctor's office, she then suffered a stroke. She lived the rest of her life in a wheelchair, with her left side paralyzed. With strong determination and will, and with her good right arm, she was able to perform certain household tasks such as cleaning the dinner table, washing dishes, using a sewing machine, and making her bed using her cane.
In the late 1950s, Letitia went to live in a nursing home in Robinson. When at the age of 89 in 1960, when her son Cyrus died of acute leukemia, the family decided not to tell her so that she would not be upset.
She passed away in 1962 in Robinson, at the age of 91, relieved of the many sufferings she had borne quietly and with dignity.
Letitia is pictured and mentioned in a lavishly illustrated, 2011 book about her sister Rosetta who married a Civil War veteran -- entitled Well At This Time: the Civil War Diaries and Army Convalescence Saga of Farmboy Ephraim Miner. [More]
Copyright © 2000-2005, 2009, 2011, 2020 Mark A. Miner
The Stoners' granddaughter Sharong (Sheldon) Kern graciously has shared content and images for this biography.