Otis 'Freed' Minerd
(1899-1984)
Freed Minerd
Otis "Freed" Minerd was born on Sept. 24, 1899 in Mill Run, Fayette County, PA, the son of Lawson and Lutitia (Steyer) Minerd.
As a boy, Freed attended the Clay Run School in the local township, taught by Iva Mountain.
On Aug. 12, 1920, at Confluence, Somerset County, PA, the 20-year-old Freed married a distant cousin, 18-year-old Rebecca J. Burkholder (1902-1980), the daughter of James Wesley and Jennie (Hartzell) Burkholder, of the family of Catherine (Younkin) Firestone. Justice of the peace W.S. Bower officiated, with the news reported in the Meyersdale Republic.
Freed and Rebecca produced two children – Ernest "Raymond" Minerd and Ethel "Beatrice" Miller.
A week after the wedding, the newlyweds attended the Eighth Annual Minerd Reunion, held at Ferncliff Hotel at Ohiopyle, and posed in a group photograph taken that day. Click to view a photo of the entire reunion group.

Freed and Becky,
1920 Minerd Reunion
In August 1924, the Minerds were among a crowd of 82 who attended the annual Minerd-Miner Reunion held at Lincoln's grove, near the Western Maryland Railroad Station in Confluence, Somerset County. In an article about the reunion, the Meyersdale Republican reported: "A very successful and pleasant reunion of the Minard family was held ... A fine picnic dinner was partaken of at 12:30 p.m., after L.L. Mountain invoked a blessing." The following year, in August 1925, Freed was one of 120 individuals who attended the reunion, held at Sellars' hall, apparently in Confluence. Said the Republican: "After dinner, at the business meeting, Lawson Minerd was elected President of the Association. Joseph Ream, Confluence, Secretary-Treasurer; Fred [sic] Minerd, Ross Hyatt, L.L. Mountain, Daniel Younkin and J.L. Luckey, executive committee. Rev. Joyce gave an address portraying the benefits of family reunions and showing why they should be held. Burgess C.R. McMillan gave a recitation and Rev. Williams of Connellsville made an interesting address."
Freed was a talented photographer. He took a series of photo images on his parents' farm in the late 1910s and early '20s that provide a glimpse into their agricultural world.
Rebecca and Freed later divorced. Freed then married Marie (Shroyer) Maust, a native of Hyndman, Bedford County, PA, and the daughter of Benjamin and Elsie (Williams) Shroyer. She had been married once before, to George E. Maust, and brought four children to the marriage – Tolva Durst, Reva Lappi, LaNola White and George Maust. Freed and Marie had one son of their own – Braden.
For a time, the family lived in Buffalo, NY, during the World War II era, and then in Reno, NV circa 1950. Eventually they returned to Southwestern Pennsylvania.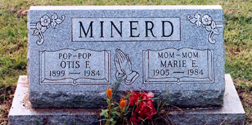 Indian Creek Baptist Church Cemetery
Freed was a member of the Kantner Assembly of God Church and the National Rifle Association. Their home in 1965 was on the old Hunter farm at the Carpentertown No. 2 coal works northeast of Mount Pleasant. In November 1965, he held a public auction of farm assets, among them 19 head of Holstein and Guernsey cattle, tractors, cornpickers, plows, harrows and other machinery. He also sold 20 tons of baled hay, 700 baskets of new corn and a wide range of household goods.
In 1967 they were in Listie, Somerset County. That year, in January, they attended the 50th wedding anniversary dinner for his brother and sister-in-law, Albert "Ward" and Ada (Whipkey) Minerd. Freed's occupation circa 1977 was as a carpenter.
Former wife Rebecca passed away on April 25, 1980 in Memorial Hospital in Johnstown, Cambria County, PA. She was buried at Somerset Memorial Park.
Marie and Freed died 16 days apart – she passed away at Conemaugh Valley Memorial Hospital in Johnstown on Feb. 1, 1984. Freed died on Feb. 17, 1984 at Cambria County Nursing Care Center. They are buried together at Indian Creek Baptist Church Cemetery in Mill Run.
~ Son Ernest "Raymond" Minerd ~
Son Ernest "Raymond" Minerd ( ? - ? ) was born in (?).
He married Gladys E. Brant (1922-2008), the daughter of Morris and Elsie (Marker) Brant. The wedding took place on Feb. 28, 1942.
They had two daughters -- Raynelle Early and Dixie Woolley.
The Minerds moved to Rome, Floyd County, GA in 1973. Gladys was a member of the New Life Church where she was a member of the choir and taught Sunday School for many years. She also enjoyed working in her garden, cooking and housekeeping.
Sadly, Gladys died at the age of 85 in Rome on Jan. 7, 2008. She was laid to rest in the Floyd Memory Gardens.
Daughter Dixie Minerd ( ? - ? ) married Rev. Guy Watson "Tim" Woolley (1942-2010), the son of Ray and Alta Pearl (Durst) Woolley. They were married on July 26, 1964, and had no children. Guy received his ordination in the Church of God in 1975, and during his career was pastor of churches in Georgia and Pennsylvania. He retired in 2001, and retired in Rome, GA, where he was senior adult pastor of the New Life Church of God, Sunday School superintendent and member of the church council. From 2005 to 2010, he was manager of the General Nutrition Center at Mt. Berry Square in Rome. Guy died at the age of 67, in Rome, on Feb. 15, 2010. Following a funeral led by Rev. Sean Belcher, Rev. Paul Stover and Rev. Jeff Coleman, he was laid to rest in Floyd Memory Gardens.
~ Daughter Ethel Beatrice (Minerd) Miller ~
Daughter Ethel Beatrice Minerd (1922-2009) was born in Confluence, Lower Turkeyfoot Township, Somerset County.
On March 7, 1942, when she was about 20 years of age, she married George W. Miller ( ? - ? ), son of Austin D. and Annie Miller of rural Somerset. The nuptials were held in Rossville, GA.
They had five children -- Connie Bittinger, Lynette R. Weimer Feth, Lynn D. Miller, Dennis L. Miller and Wanda K. Fockler Koval.
During World War II, George served in the Armed Forces. Later, Geoherge was owner and operator of Brotherton Garage in Brotherton, Somerset County.
Said the Somerset Daily American, "Beatrice was a member of the Somerset Church of God for over 60 years and served as church organist... She was a loving and devoted wife, mother, grandmother and sister and devoted to her church and God." She also was treasurer of the congregation and was secretary of the Sunday School and Ladies Auxiliary.
George owned and operated Brotherton Garage. He served as chairman of the ushers of their church and as president of its men's fellowship. He also was a member of the Laurel Ridge Sportsmans Club.
On March 7, 1982, the couple celebrated their 40th wedding anniversary with an anniversary party in the fellowship hall of their church. They were pictured and featured in a related story in the Somerset Daily American.
George passed away first, but his details are not known.
The Millers' address for decades was 608 South Ankeny Avenue in Somerset.
Beatrice passed away at the age of 86 in Somerset on June 4, 2009. She was laid to eternal rest in Somerset County Memorial Park.
Daughter Connie Miller (1942-2004) wed was born in 1942. She was united in holy matrimony with Blaine W. Bittinger (1939-1988). They had one daughter, Connie Sleasman. A 1960 graduate of Somerset High School, Connie was secretary for the Church of God state headquarters. Blaine died on July 29, 1988, at the age of 49. Connie outlived him by 16 years. She passed away at the age of 61 on June 22, 2004. They rest together in Mizpah Cemetery (Flight 93 Memorial Cemetery) in Somerset County.
Daughter Lynette R. Miller ( ? - ? ) was born in (?). She was first married to (?) Weimer and in 1982 made a home in the Sunny Acres Trailer Court. Later, she was wed to (?) Feth.
Son Lynn D. Miller ( ? - ? ) was born in (?). He was joined in wedlock with Pamela Wisler and dwelled in Somerset.
Son Dennis L. Miller ( ? - ? ) was born in (?). He married Leola Lane and in 1982 resided in Ephrata, Lancaster County, PA.
Daughter Wanda K. Miller ( ? - ? ) was born in (?). She was twice wed. Her first spouse was James Fockler. They lived in Somerset. She married her second husband, (?) Koval ( ? - ? ).
~ Son Braden F. "Buzz" Minerd ~
Son Braden F. "Buzz" Minerd (1945-2008) was born in 1945 in Buffalo, NY.
He served in the U.S. Navy during the Vietnam War. Braden married Dorie Firment ( ? - ? ) and had two sons, Timothy B. Minerd and David Minerd.
They made their home in Calumet, Westmoreland County, PA. Said the Greensburg Tribune-Review, Braden "was employed as a rural mail carrier for 35 years by the U.S. Postal Service of Mt. Pleasant," PA. He also served as Assistant Fire Chief in Calumet, and was a member of St. Florian Catholic Church of United, PA.
In 1998, Braden kindly opened his home to the founder of this website, and shared many rare old Minerd paper and photographic treasures.
Braden died at the age of 62 on Sept. 21, 2007 in Greensburg. He was laid to rest in St. Florian Cemetery in nearby Trauger.
Dorie has outlived her husband by many years. In 2019, she endured the untimely death of her son Timothy.
Son Timothy B. Minerd (1971-2019) was born on Oct. 31, 1971. In about 2000, he was united in wedlock with Amy Sherrow ( ? -living), daughter of Edward Shultz and Susan Sherrow. They produced a son, Seth Minerd. Tim was employed by Greensburg Beverage for more than two decades and then worked for Precision Pull. In his free time, he relaxed with classic cars and his truck. In early 2019, Timothy was arrested when he was suspected of driving in a hit-and-run incident and then "shot at the ground in front of troopers before retreating into [his] camper," reported the Greensburg Tribune-Review. He allegedly made terroristic threats while brandishing a semi-automatic weapon. Sadly, at the age of 48, Tim passed away at home later that year on Dec. 14, 2019. Rev. John A. Sedlak officiated at the funeral service, followed by interment in St. Floridan Cemetery, Trauger.
Son David Minerd ( ? -living) married Aubri ( ? -living). They are believed to make a home in New York State.
~ Stepson George E. Maust Sr. ~
Stepson George E. Maust Sr. ( ? - ? ) married Dora Merkosky ( ? - ? ).
They had three known children -- George E. Maust Jr., Theresa Maust and Pamela Crawford.
Sadly, son George Jr. died on Feb. 12, 1984, at the age of 13. He was laid to rest in All Souls Cemetery in Cleveland, Cuyahoga County, OH.
Copyright © 2002, 2007-2009, 2012, 2017, 2020 Mark A. Miner