Charles Minerd (1819-1898) and
Adaline Harbaugh (1827-1899)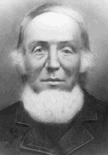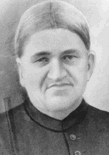 Charles and Adaline Minerd
Charles Minerd was born on Feb. 28, 1819 on the family farm at Hexebarger near Kingwood, Somerset County, PA, the son of Jacob and Catherine (Younkin) Minerd Jr.
Charles married his first cousin, Adaline Harbaugh. She was born in 1827 on a farm at what is now Clairton Lake near Scullton, Somerset County, the daughter of Leonard and Martha (Minerd) Harbaugh Sr.
Charles had light brown hair and blue eyes. He was very responsible, had good interpersonal skills and knew how to read and write. When his father died in 1842, Charles at age 23 was chosen to hand-deliver cash to neighbors to pay off debts.

After his father's death, Charles cared for his widowed mother. In her words, he "faithfully, carefully and diligently labored for me and managed all my business ... [and] performed every thing that a dutiful son cold do to promote my comfort, convenience and interest." In August 1847, just days before her death, she wrote a special deed giving him horses, cows, sheep and hogs as well as stores of wheat, rye, oats and buckwheat, in addition to all her farming utensils and household furniture.
Charles delayed marrying Adaline until Sept. 9, 1847, a month after his mother's death. The ceremony was performed by Rev. J.F. Nessly. When they married, the news was published several weeks later in the Somerset Herald. At the time, Charles was age 28, and Adaline 20 -- there was an eight-year difference in their ages.

Somerset Herald, 1847
Per the instructions of his father's will, Charles purchased his late mother's quarter-share of the farm, totaling 123 acres, and brought his bride into his home. Charles and Adaline then lived on their Hexie farm for two decades with their growing family, eventually totaling nine children. The farm was just about six miles to the east of where Adaline had grown up, and about the same distance from the farm where Charles' grandfather, Jacob Minerd Sr., had settled in 1791.
Their nine children were Sabina Minerd, Josephine Hall, Lucinda J. Hall, Rebecca "Jennie" Conley Woodmency, Martha "Matt" Gorsuch, Lawson H. Minerd, Almira Malissa Overholt, Grant Minerd, and Sarah "Sadie" Luckey.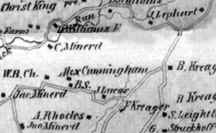 1860 showing Charles' farm in Hexie
The "C. Minerd" homeplace is seen here on a rare 1860 township map. It's located in the hollow below what's now the Old Bethel Church of God (marked "W.B.Ch."). The house was near a stream, along a bend in the road (today "Hexie Road"), surrounded by a "thick stand of wild cherry, sugar maple and chestnut trees." The farms of Charles' brothers Jacob Minerd III ("Jac.Minerd") and John ("Jno.Minerd) also appear on this map.
Charles' name was recorded in Somerset County records when he would buy items at estate auctions of deceased relatives and neighbors. His purchases were small but provide a window into his needs of the time -- including two augurs ($1.13) at estate sale in early 1840 of his deceased cousin, John J. Younkin.
Raising their large family produced its share of heartbreak. Eldest daughter Sabina Minerd had light hair and blue eyes. Sadly, on Oct. 17, 1851, at age three, Sabina died of dysentery. According to a family manuscript, she was buried "on same farm where born." Some 15 years later, on March 10, 1866, the Minerds' black-haired, black-eyed son, one-year-old Grant, died of the croup. Grant is said to be buried in an unmarked grave at the Old Bethel Church of God Cemetery. When two of their adult daughters later had children out of wedlock, Charles and Adaline raised the boy and girl as their own.
During their years in Hexebarger, Charles served as treasurer of the Upper Turkeyfoot Township School Board. He is named in the 1866 edition of The Pennsylvania School Journal
In 1867, the Minerds moved to a 290-acre farm at Maple Summit, Fayette County, PA. It was located "on the Old Turkeyfoot road," said the Connellsville Daily Courier.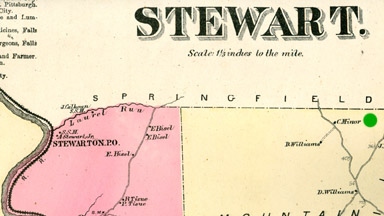 Green dot at right shows Charles' farm (marked "C. Minor") in the 1872 Atlas of Fayette County, near the northern border of Stewart Township and southern border of Springfield Township.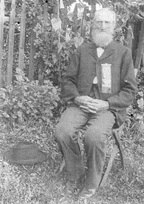 Having helped settle his father's estate, Charles knew how to effectively use the court system. In 1874, when one of his daughters became pregnant out of wedlock, he sued the man on charges of "fornication and bastardy." The next year, the Uniontown Genius of Liberty reported that he had successfully sued Jonas A. Nicola on charges of "having stolen a sheep, -- one ewe of the value of $5 -- [who] butchered it and sold the pelt to Daniel Dumbauld, in whose possession he found the pelt with his mark, which was a letter 'M'." Nicola was jailed for 4 months.
In 1874, Charles borrowed $2,000, an enormous sum at the time, from his cousin's husband, John R. Jennings. What he did with the funds is unknown. In turn, Jennings filed a lawsuit three years later to seize Charles' farm when Charles was unable to pay. Jennings then bought the farm at a sheriff's sale but sold it back to Charles the same year. Charles then sold a small parcel of the farm to neighbor Adam Shroyer to raise funds, and was able to retain the rest for himself.
Charles ran for election for supervisor of Stewart Township in 1882, and came in second, with 71 votes. Seen here, Charles and his hat rest for a moment in the sunshine.
In his later years, the health of Charles and Adaline began to fail. In a 1892 letter by daughter Sadie, he wrote: "Papa come home on Saturday. He has not been well since he come. We was afraid he was going to get another bad spell but he is feeling better."
A photograph portrait taken circa 1895 shows Charles seated at far right, beside his sons and sons in law, with his daughters and daughters in law in the back row, and grandchildren in the front row. Adaline is not pictured, suggesting she may have been ill at the time.
Charles passed away on Aug. 16, 1898 at age 79. News was carried in the Uniontown Daily News Standard and Brownsville Clipper.
Adaline died the following February, at the age of 72.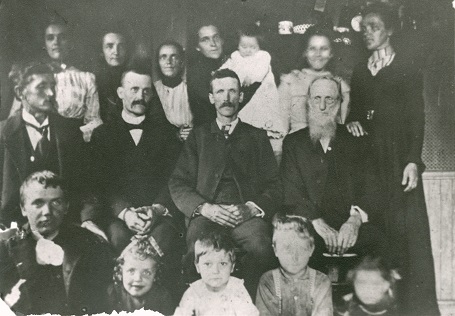 Charles, seated at right, with his family, mid-to-late 1890s.
They are buried at the Peoples United Church of God at Maple Summit.
Interested in keeping alive the distant Minerd connections and relationships, their son Lawson was president of the 1927 and 1928 Minerd Reunions at Confluence, PA.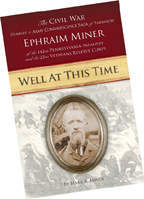 Book naming Charles
and Adaline
Part of this article originally was published in "Update on the Younkin/Minerd Line" in the July 1991 issue of the Younkin Family News Bulletin.
The Minerds have an entry in the 1947 Cooprider book Harbaugh History listing their and their children's dates of birth and other vital information.
They also are mentioned in the October 1995 Hexie Gazette, a newsletter published by the late Clyde B. Miller, formerly of Hexebarger.
Charles and Adaline are pictured, and they and their children mentioned, in a lavishly illustrated, 2011 book about their beloved nephew who was a veteran of the Civil War and lived in their home shortly after his return home -- entitled Well At This Time: the Civil War Diaries and Army Convalescence Saga of Farmboy Ephraim Miner. The book is authored and published by the founder of this website. [More]
In 2014, material from this Minerd.com biography of Charles and his home along Turkey Foot Road was published in the fourth edition of In Search of the Turkey Foot Road — Unraveling the Mystery, Charting New History, Plotting the Route, co-authored by Lannie Dietle and Michael McKenzie, edited by Nancy E. Thoerig and published by the Mount Savage Historical Society in Maryland. [See page 455.]
Charles is cited in a 2020 masterwork of authorship Mark Terry Youngkin, of the family of John Harrison and Eliza Jane (Coble) Youngkin, publishes an updated edition of his masterwork Youngkin Ancestry - Genealogy and History of the Jesse Herbert Youngkin Family. The 456-page publication is solely distributed in Portable Document Format (PDF) from the digital library called the Internet Archive in San Francisco, CA, which contains the latest book version. View/download the web-optimized version of Youngkin Ancestry on DropBox [60MB in size] or the full, high-resolution version on the Internet Archive [360MB].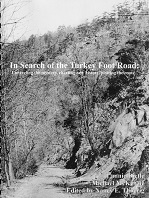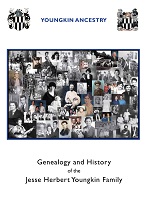 Books naming Charles

-- In Search of the
Turkeyfoot Road and Youngkin Ancestry
Copyright © 1991, 2000-2002, 2006, 2009, 2017, 2020 Mark A. Miner