Home

Jacob Minerd Jr.
(1780-1842)

The illiterate Jacob signed with an "X"
Jacob Minerd Jr. was born in 1780 most likely in Ruscomb Manor Township, Berks County, PA, the son of Jacob and Maria (Nein) Minerd Sr. As a young boy he moved to Emmitsburg, MD, and then at age 11, in 1791, he migrated again with his parents to Maple Summit, along the mountainous border of Fayette and Somerset Counties, PA.
Jacob could not read or write, and signed his name with an "X." He was a prosperous farmer and landowner of hundreds of acres at 'Hexebarger,' a region of Somerset County, PA, near the town of Kingwood.
Jacob's will and estate papers today are on file at the courthouse in Somerset, some of the family's oldest existing original documents. At last count, Jacob and his wife produced nine children, 63 grandchildren and at least 226 great-grandchildren, virtually all born before the year 1900.
In 1800, as a 20-year-old, Jacob found a good farm across the county line in Hexebarger near Kingwood, Turkeyfoot Township, Somerset County, six miles east of his parents' farm.

Catherine's 1787 baptismal record, in German,

Lovettsville, VA
At the age of about 23, circa 1803, Jacob married 16-year-old neighbor Catherine Younkin (1787-1847), the daughter of Johannes "John" and Catharina (Dorscheimer) Younkin and granddaughter of Johannes "Heinrich" and Catherine (Scherer) Junghen.
It was the first of many known marriages between the Minerd and Younkin clans over the decades -- in fact, two of Jacob and Catherine's children married Younkins as did several grandchildren, nieces and nephews.
Catherine was born on Aug. 18, 1787 in Lovettsville in the Shenandoah Valley of Loudoun County, VA and was baptized at the local New Jerusalem Evangelical Lutheran Church. Most likely, Rev. John Andreas Krug weas the pastor performing the ceremony. A notation in the church records, in the German language, reads thus: "158. Johannes Jungken vxor [Frau] Catharina nata [born] d. 18 Aug. b. [baptized] d. 19 Sept. [Jac]ob Jungken vxor [Frau] Hannah [witnesses]." The original baptismal records are on deposit at the Lutheran Theological Seminary Library in Gettysburg, PA, with the Younkin name spelled "Jungken" and "Junghenn."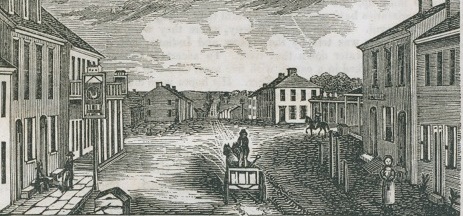 Somerset, Pennsylvania, 1840s, 13 miles from Jacob's farm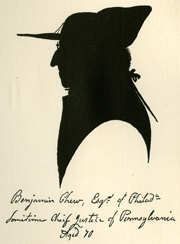 Silhouette of Benjamin Chew,
original owner of Jacob's farm
The newlywed Minerds settled near the dwelling of Catherine's parents in the Hexebarger valley.
The couple together produced nine children, and following the German tradition of naming children after one's own family, many of their names reflect the identities of their Younkin uncles and aunts -- John Minerd, Burket Minerd, Henry Minerd, Laura Younkin, Jacob Minerd III, Charles Minerd, Catherine Barnhouse, Joel Minerd and Eli Minerd.
Jacob relied on his in-laws' financial assistance early in the marriage because in 1811, at the death of his wife's uncle Jacob Younkin, he owed the deceased's estate $10.91 for the "ballance of a note." Township tax records show that in 1808, Jacob was taxed for 75 acres of land, of which 25 were cleared for farming. In 1810, he was assessed for a cabin, one horse and two "horncattle." Each year, the amount of land and livestock changed.
This may have been indicative of many land transactions by farmers in the early years that were not recorded. Rural record-keeping in the 1800s and early 1900s was inconsistent, inaccurate and at times non-existent. Perhaps farmers did not have the time or transportation to make the long trek to the county seat to record a deed, especially in the dead of winter.
A 1918 Somerset County Leader article, with information furnished by their grandson Daniel Martin Younkin, said that Jacob and Catherine "were early settlers in what was known as the 'Hexebarger' community, which is a provincialism that is still frequently applied to that locality in Upper Turkeyfoot township.... The topography is unusually rugged and the primitive inhabitants were themselves a rugged, sturdy people."
Tax records suggest that in 1829, Jacob and eldest son John began renting a large tract of land called "Hunting Lot" from the Ingersolls of Philadelphia, heirs of prominent Philadelphia judge Benjamin Chew (seen here, in silhouette) and Alexander Wilcocks. In 1837, the Minerds purchased the 424 acres outright, though they later claimed and farmed an additional 64 acres adjacent to the property, and treated it as though they owned it.
Charles Jared Ingersoll
The Ingersoll heirs most closely involved with the sale transaction were brothers and attorneys Charles Jared Ingersoll and Joseph Reed Ingersoll, who had married Wilcocks sisters.
How poorly educated farmers came into contact with the faraway Ingersolls is unknown, though probably it was through a local land agent in Somerset, whom the Philadelphians were known to employ. [See "Chew and Wilcocks: Influential Early Landowners in Somerset County, Pennsylvania."]
The lands and waters surrounding the Minerd property were rich in game, fowl and fish, providing the family with sufficient resources for food. Jacob also owned distilling equipment.
The purchase by father Jacob and son John must have reflected interesting values of the times. First, they were opportunists to took advantage of economic forces working in their favor to buy attractive land at affordable prices. Second, they had been successful in the past to save and afford a down payment. Third, they must have had great confidence in their abilities as farmers to generate future income to support themselves and pay off what likely was an installment plan. Fourth, as a Whig (forerunner to today's Republican political party), Jacob believed in the federal government's longstanding policy of favoring the rights of property owners. Whigs such as Jacob were strongly opposed President Andrew Jackson's sweeping reforms to separate the government from a strong central bank.

Trout-filled stream near the Minerd farm, lined with rhododendron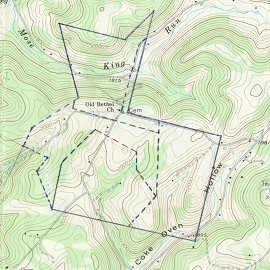 U.S. Geological Survey map showing
the boundary of Jacob's 500-acre farm
Much was changing in our land in the era in which the Minerds bought their farm. President Jackson's goal was to destroy the Bank of the United States and centralized control the U.S. currency to make more money more easily available to the common man. In this gargantuan struggle, chronicled in Arthur M. Schlesinger's Pulitzer Prize winning book, The Age of Jackson, the economy crashed and inflation soared. Jackson prevailed, however, and his successor, President Martin Van Buren, signed legislation in 1840 finalizing the "divorce" between bank and state, sometimes called the "Second Declaration of Independence." Jacob's reaction to these is unknown.
(Son John's politics are less clearly known, but he apparently was not a Whig. He is known to have been a "Republican." Yet it's interesting that in 1840, John's newborn son was named "Martin" Miner apparently in honor of Democrat President Van Buren.)
(The map seen here shows L-shaped Hunting Lot outlined in dark blue pen, with the dotted lines depicting subdivisions, on 3 sides of the Old Bethel Church.) One of the original owners of this tract, Benjamin Chew (1722-1810) had once been Chief Justice of the Pennsylvania Supreme Court, had admired Hunting Lot, and once wrote about its "excellent - upland meadow." (Chew's son in law, Alexander Wilcocks [1741-1801] was prominent in Philadelphia, as a lawyer, judge and recorder of deeds.)
When the Minerd farm estate was sold off in the 1850s and '60s, the extra 67 acres were included in the sale as part of the parcel. This error was due to poor land surveys common in that era. To measure land boundaries, surveyors carried special chains through forests and fields. Maps were drawn by hand. Officials had to make detailed calculations and compute all the angles of the property before they could arrive at an acreage figure. The primitive equipment contributed to the lack of accuracy.
The large farm played an important role in the Minerd family's growth and development. As the older sons grew into manhood, they built homes on different sections, knowing they would eventually purchase them outright. They did some creative "gerrymandering" with the subdivision boundaries so each could share a portion of the precious flat meadow. Four generations lived there between 1837 and 1867, when the last parcel was sold out of the family. In 1851, at the heyday of the family's habitation of the farm, about 35 family members lived in various dwellings within its broad boundaries. The location of the Minerds' large farm has been identified today using an analysis of old deeds and an examination of ancient maps and assessment surveys.

The upland meadow of the old Minerd farm, lush with corn, with the Old Bethel Church of God at far right, circa 1986.

Rev. Campbell
In religion, Jacob and Catherine later in life became members of the Christian Church of Turkeyfoot. The congregation also was known as the Disciples of Christ, founded in 1830 by Rev. Alexander Campbell, seen here. (What faith the Minerds practiced before then is unknown.) A 1916 article in the Christian Standard reports that the pastor of their church was Harmon Husband, whose wife Rachel (Younkin) Husband was one of Catherine's cousins. Harmon "planted" the church "and ministered to it till 1843, when he moved to Illinois.... The church he left in Pennsylvania continued for many years, ministered to by Aaron Schrock and others, until it was absorbed in the Centerville Church." (Note Campbell's shaven upper lip, a style worn by several of Jacob and Catherine's adult sons as well as nephews.)
The Disciples had no creed but Christ, based solely on doctrines found in the New Testament. Their custom was to partake of Communion at each Sunday service, and adult baptism was by immersion. In his will, dated February 1842, Jacob wrote a few of the only known words attributed to him: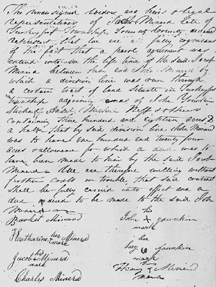 Agreement among heirs, signed by
widow Kate, Burket, Jacob III, Charles,
John M. and Laura Younkin, and Henry
I earnestly entreat my wife's utmost care respectively in and about the morals and education of my children ... and desire that they be brought up and instructed in the doctrine and religion of the Christian Church.
The Minerds may have been in attendance on Oct. 27-28, 1840 when Church of Christ evangelists J. Wesley Lanphear and John Henry were on a circuit preaching tour of "Turkey-Foot" followed by stops at Laurel Hill, Somerset and Shade (today's New Centerville). Services often were conducted in German.
Jacob designated that four of his eldest sons living nearby were to receive equally divided shares of the farm after his death -- John, Henry, Jacob and Charles. Son Burket, the second eldest, was living some distance away near Kingwood, Preston County, WV, and thus did not participate.
Tragically Jacob died on Nov. 11, 1842, after being crushed while chopping down a tree. In his will, written in February of that year, he directed that "my body be interred decently in the burying ground of the Christian Church in Turkeyfoot according to the rites and ceremonies of said Church."
In the will, Jacob named his "beloved wife" as his executor, although she declined in favor of Thomas Hanna. Jacob also stated that the executor should "proceed to get an office right for my home place, where on I now reside (the same being vacant)," perhaps to clear up any inconsistencies in the deed. He said that upon his widow's remarriage or death, the homeplace was to be taken by Charles. An agreement among heirs was signed on April 25, 1843 by Catherine, sons Burket, Jacob Jr., Charles and Henry, and married daughter Laura and her husband John Younkin. Of the group, only sons Burket and Charles knew how to write their own names. The others signed with an "X." The document is seen here.
Catherine outlived Jacob by five years, and died in August 1847 of stomach trouble. She presumably was buried with or near her husband. Their graves are unmarked today.
Local residents report that the old portion of the cemetery, where the Minerds rest, was leveled at one time to provide parking for churchgoers. The vacant grassy site is seen here in August 1978, looking from the road toward where the few modern gravestones stand. The Minerds are thought to be buried to the left, somewhere along the tree line. Click to see a hand-drawn map with more details and precise markings as well as a photograph.


Grand-nephew Allen Harbaugh's genealogy of the Jacob/Catherine family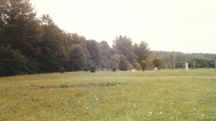 Fairview Church site, ca. 1978, where Jacob and Catherine rest anonymously
The old Minerd farm remained in the ownership of their sons until about the time of the Civil War, when the last parcel was sold out of the family. A grandson, who visited the site in October 1905, later remarked that the "old ear marks of boyhood days are about all obliterated."
Jacob and Catherine's middle-aged grandchildren and grand-nephews remembered them at the First Annual Minerd Reunion at Ohiopyle, PA in August 1913. At that reunion, their grand-nephew Allen Edward Harbaugh read a history which has survived and provides a number of details in this biography. They also were named in a 1918 article in the Somerset (PA) Leader, with information likely provided by grandson Daniel Martin Younkin, in connection with that year's family reunion that he organized.
In October 1934, nearly a century after their deaths, Jacob and Catherine were named in extensive genealogy manuscript records compiled by distant cousins Otto Roosevelt Younkin and Charles Arthur Younkin. The researchers were gathering data in connection with the Younkin clan's new national home-coming reunion. During this research, Charles Younkin found their names in old genealogy records that had been prepared years earlier by their grand nephew, Allen Edward Harbaugh. In Charles' letter of Sept. 29, 1935, spelling out these new discoveries, he wrote: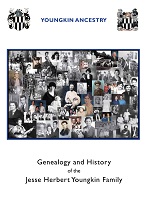 Mark Terry Youngkin's book
Just the other day while looking [at] some old Harbaugh Records I happen to have I came across this where a Jacob Minerd, who was born in Maryland in 1780, married Catherine Younkin, who was born in Somerset Co. 1787. Well I knew that Polly Younkin was married to Henry Minerd, this Henry Minerd, who was married to Polly Younkin, was a son of the above Jacob, as I happen to have the names of the descendants of the Jacob and Catharine union, also a Lorah Miner brother of Henry above was married to a Younkin, the name I do not know at this time.
Then, in 1937, Nellie B. (Younkin) Wiley, secretary of the reunion association, went to the Somerset County courthouse and dug into numerous old Younkin estate files. Among these were the files about Catherine's father, John Younkin, who had died in 1826. Click to see the actual handwritten letter that Mrs. Wiley sent to Otto Younkin on Aug. 31, 1937, outlining her findings. (You will need Adobe Acrobat to read the files.)
During the National Minerd-Miner-Minor Reunion in 1992, attendees took a driving tour of the Kingwood area, stopped at the site of the Minerds' old homeplace in Hexiebarger, and paid their respects at the cemetery where Jacob and Catherine are buried.
Jacob and his sons John, Henry and Charles are named in a 456-page masterwork of authorship by Mark Terry Youngkin, of the family John Harrison and Eliza Jane (Coble) Youngkin, entitled Youngkin Ancestry - Genealogy and History of the Jesse Herbert Youngkin Family. The electronic-only volume is solely distributed in Portable Document Format (PDF) from the digital library called the Internet Archive in San Francisco, CA, which contains the latest book version circa 2020. View/download the web-optimized version of Youngkin Ancestry on DropBox [60MB in size] or the full, high-resolution version on the Internet Archive [360MB].
Copyright © 1988, 1991, 1992, 2000, 2002, 2005-2006, 2009, 2012, 2016, 2020-2021 Mark A. Miner
Parts of this article originally appeared in the February 1988 and August 1992 editions of the Laurel Messenger newsletter and the July 1991 Younkin Family News Bulletin. Silhouette of Benjamin Chew originally published in Benjamin Chew: 1722-1810 (Philadelphia, University of Pennsylvania Press, 1932). Portrait of Charles Jared Ingersoll published in The Life of Charles Jared Ingersoll (Philadelphia, J.B. Lippincott Company, 1897). Sketch of Somerset published in 1843 in Historical Collections of the State of Pennsylvania by Sherman Day.