He grew up in the quiet and slow remoteness of the mountainous wilderness. thus he would have had close interaction with Minerd and Harbaugh cousins on his father's side and Younkin and Hartzell cousins on his mother's, many of whom intermarried.
Henry never learned to read or write. In the few known papers that he signed, he made his mark with an "X," but not his name in long-hand. In the isolation of the Somerset County mountains, German was spoken and may have been predominant to English. The fact that his son Ephraim spoke fluent German ("Pennsylvania Dutch") which was passed on to some of Ephraim's grandchildren is testament to the strength of the language in their family culture.
As an adult, Henry had light brown hair and blue eyes. In the early 1830s, when in his 20s, he married his first cousin, Mary (nicknamed "Polly") Younkin (1815-1886), the daughter of "Yankee John" and Nancy (Hartzell) Younkin.
The fates of son John, Henry Harrison and daughter Sarah are lost to history. Son Henry was born mentally disabled, or to use the term of the times, "idiotic."
The Minerds lived on a 123 acre farm near Kingwood, representing Henry's inheritance of his father's 500-acre farm on three sides of the Old Bethel Church of God. It was a quarter-share of the easternmost parcel of the farm, and Henry received the right to buy the acreage after his father died. His brothers John, Charles and Jacob III also lived in a compound of adjoining farms. View a photo essay of Henry and Polly's farm.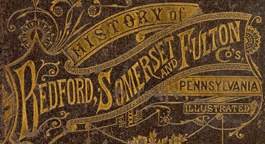 The 1884 Waterman & Watkins history book in which Henry is mentioned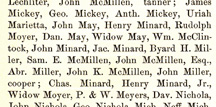 Henry named in the 1884 History of Bedford, Somerset and Fulton Counties
Henry, his brothers John, Jacob and Charles, and nephew Henry, are mentioned in an 1848 Upper Turkeyfoot Township tax assessment list, published in the 1884 book History of Bedford, Somerset and Fulton Counties, by Waterman, Watkins & Co. A section of the page is seen here.
Henry often attended local estate auctions of deceased relatives and friends. His purchases at these sales are recorded in Somerset County probate records. His transactions were small but provide a window into his needs of the time -- barrel (23 cents), rat trap (30 cents) and hillside plow ($5) in 1837; small axe (18 cents) in 1839; bucket (31 cents), candle mold (36 cents), wool wheel ($1.17), , hogshead (56 cents) in January 1840 at the estate sale of his and his wife's mutual cousin John J. Younkin; a tub & crout (sauerkraut) (25 cents) at a second sale of the John J. Younkin estate in March 1840; clock ($2.00) in 1840; lot of old iron (4 cents) and a small wheel (6.25 cents) in 1843; a corn meal sifter and basket (10 cents), a "5-gr" augar (10 cents) and a blind bridle (14.5 cents) also in 1843. At his own father's estate auction in 1843, he purchased a clock case (67 cents), kettle ($2.40), two steers (unspecified amount) and one heifer ($6.80).
President Andrew Jackson
Politically, Henry was a Republican, but a deeper analysis shows that his political leanings were fuzzy and that he respected Whigs and Democrats too. Forrest's 1926 History of Washington County, PA, says that Henry "exercised his right of franchise in support of the candidates of the republican party." Yet in 1841, when one of his sons was born shortly after the untimely death of Whig President William Henry Harrison, the boy was named "Henry Harrison Minerd."
Whigs were strongly united in their opposition to the sweeping reforms of Democrat President Andrew Jackson to separate the government from its strong central bank. Jackson's ultimate goal was to control the U.S. currency to make more money more easily available to the common man. Wrote Arthur M. Schlesinger in his Pulitzer Prize winning book, The Age of Jackson: "A Westerner, a military hero, and a plain man of the people, innocent of the Jacksonian controversies, who could be a better nominee than William Henry Harrison?" Yet our Henry Minerd turned around and named a newborn son "Andrew Jackson" just a year after President Jackson's death in 1845.
Henry had a strong personality. One son, Chance, did not return home after serving in the Civil War, he wrote, "on account of my father's objection to my enlistment..." As well, in faded tax records in the county courthouse in Waynesburg, for the year 1871, seen here, someone scratched out Henry's name and wrote "gon...," a standard phrasing in the records to indicate that someone had "gone" or moved away. Someone else penciled in the additional phrase "to the Divil" -- the equivalent of saying "gone to Hell," which suggests Henry was not well liked or that his character was in serious question.

Greene County tax assessor's note
beside Henry's name: "gone to the Divil"
Yet he showed compassion when a daughter gave birth out of wedlock, and he allowed her and the baby to live under his roof. He and Polly also took care of their mentally handicapped son.
~ Disfiguring Accident ~
Polly suffered from epilepsy and at about age 44 had a seizure and fell into a burning fireplace, horribly disfiguring her face and killing her baby Jakey whom she had been holding. Son Ephraim was present and had enough presence of mind to race to her aid and pull her out of the fire. Ephraim later gave credit to God for giving him the strength. Adding to the horror was that Polly's mother, seeing the events unfold, ran screaming, calling out to the men working in the fields, but had a heart attack and fell over dead.
One wonders whether for the remaining 30 years of her life, Polly may have been confined to bed or otherwise kept away from her family. Several grandchildren alive in her lifetime, and who left written records of her existence, did not even know her name. In the 1880 census she is listed as "maimed, crippled, bedridden or otherwise..."
While in Kingwood, Henry and Polly began a family and to accumulate some measure of wealth. In 1849, they sold their farm and moved to a nearby tract of 135 acres, called the "Troy Land." Within a year or two, a fire apparently destroyed their home, leaving them with nothing but the "shirts on their backs," and Henry sold this property in 1851 for a $225 loss. It's odd that Henry did not rebuild his destroyed home with the help of his neighbor-brothers, but rather chose to leave the area altogether. Over time, their original Hunting Lot farm was occupied by Alexander Rhodes (1860), Polly's sister and brother in law Sarah and John F. Kreger (1876); and cousins Irvin Younkin and Milton Bruce "M.B." Younkin (sons of Rev. Herman Younkin).
~ House Fire and the Move to Virginia (West Virginia) ~
After 1851, Henry appears to have been poor for the rest of his life, residing as a laborer and tenant on others' farms, leaving few permanent traces of his life.
During the early 1840s, Henry and Polly's mutual first cousins John G. and Mary (Henry) Hartzell left Somerset and migrated to the northern panhandle of West Virginia. Their new home was near the Virginia/Pennsylvania state line, an area which later became a draw to other relatives who similarly made such a move. In the 1850s, the Minerds' uncle and aunt George and Nancy (Johnson) Younkin relocated to Wind Ridge, Richhill Township, Greene County. As well, in the 1850s, their aunt Mary (Younkin) Hartzell came to live there. Henry and Polly made the decision to follow suit in about 1856, the last year Henry was assessed for taxes in Somerset County. All of the children went to their new home in Virginia except son Ephraim, who stayed behind in the Hexebarger dwelling of his widowed grandfather, Yankee John Younkin.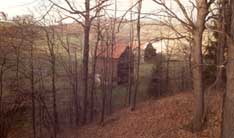 Site of Henry's farm, Beeler Station, WV
In the federal census of 1860, the family -- spelled "Minor" -- was shown making their home in Beeler Station near Glen Easton, Marshall County. While the spelling of the family name in Somerset used the "d" at the end, virtually all spellings thereafter were made as "Miner" or "Minor."
Based on an analysis of that census and old atlas maps, Henry is believed to have resided as a tenant on a farm in Greathouse Hollow near Beeler Station. The photo seen here shows the approximate site of this farm, circa 1988. According to a 1935 article in the Moundsville (WV) Daily Echo, republished by West Virginia Archives and History, Beeler Station was "not a village but merely farms along the road with a Christian church as its only public building."
The family moved again after the Civil War, crossing back into Pennsylvania. Their new home was in West Finley, Washington County, where three of their teenage children joined the Enon Baptist Church circa 1865-1868. Upon his discharge from the Army after the close of the Civil War, leaving Fort Dennison, Ohio, son Ephraim made his first stop at his parents' home in Greene County, as disclosed in his wartime diary.
Family history notes made in the 1930s by Polly's distant cousin, Otto Roosevelt Younkin (president of the first Younkin National Home Coming Reunion), confirm that the Minerds lived in Greene and Washington Counties after they left Somerset.
Sometime in or prior to 1870, the family migrated again, across Wheeling Creek, into nearby Greene County. They lived in Morris Township (1870) and Gilmore Township (1880) in Greene County at the time the federal censuses were enumerated.

Ackley Bridge near West Finley, spanning Wheeling Creek between Greene and Washington Counties. Henry and Polly surely crossed this many times. It was relocated to the Henry Ford Museum Greenfield Village in the 1930s.
~ Murder in the Family ~
The year 1872 brought trouble for Polly's first cousin Charles L. Younken, said to be "a kind friend, a good neighbor and an honest man," who like her had resided in Greene County since the 1850s. But Charles was in the bad habit of drinking to excess, and became verbally and physically abusive when intoxicated. Said the Washington (PA) Review, he "has time and again threatened to kill different members of his family; at one time shooting a hog that he mistook for his wife, after night."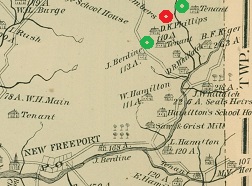 Atlas of Greene County, 1875: the D.K. Phillips farm (red dot) and 2 tenant houses in proximity (green), where Henry and Polly likely lived
One evening in mid-September 1872, after Charles returned home from the local Jacktown Fair, he threatened to kill his wife, although his son Thaddeus intervened and kept watch in the house all night. The next day Charles left home, got drunk and returned with a vengeance, allegedly beating his wife with a water dipper and then a fireplace poker. In defense of his mother, and standing the abuse no longer, the son aimed a gun at his father, pulled the trigger and shot him in the head, killing him instantly.
Thaddeus was arrested and faced trial, with the jury eventually rendering a verdict of "not guilty," even though one local newspaper strongly advocated for execution by hanging. Thaddeus later moved to Kansas and away from public's lingering ugly memories of the tragedy.
~ Final Years in Greene County, PA ~
It's thought that Henry and Polly's final place of residence was as tenants on the farm of D.K. Phillips near New Freeport, Springhill Township, Greene County. The Atlas of Greene County, published in 1875 and seen here, shows several tenant houses in the vicinity of his farmhouse.
Polly passed away in 1886, relieved of her great sufferings that had lasted for more than three decades. She was laid to rest on a hill on the old Phillips farm.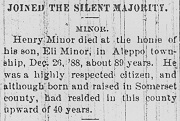 Waynesburg Republican,
Jan. 17, 1889
Henry outlived her by two years. In his final illness he went to reside with his married son Elias in Aleppo Township. There, in Eli's home, he died the day after Christmas 1888. The cause of death was "Pulmonary trouble," as recorded by cousin and family historian Allen E. Harbaugh.
In an obituary dated Jan. 7, 1889, the Waynesburg Republican said of Henry: "He was a highly respected citizen, and although born and raised in Somerset county, had resided in this county upward of 40 years." No obituary has been found in the Meyersdale (PA) Commercial in Somerset County.
Henry and Polly are buried together. Today, their final resting place is difficult to find. With some careful navigation, it may be found in an obscure, overgrown and tiny grave patch. The yellow arrow points to their marker.
Their graves apparently went unmarked for nearly 60 years. In 1946, their grandson William Allen Miner, at that time a 70-year-old resident of Southern California, came back to Western Pennsylvania to bury his wife and relocate the grave of an infant son. In doing so, he made a special effort to purchase and install a small marker for his grandparents.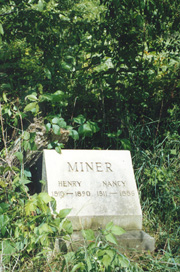 Marker installed in 1946. Note Polly's name misspelled "Nancy."
Records of the Kurtz Monument Company of Washington show that the marker Will purchased was a second-hand stone. There were two glitches made on the marker, Polly's name mistakenly was carved "Nancy" -- the name that Will confused -- which in reality the name of one of Polly's daughters; and the year of Henry's death as "1890" when in fact it was "1888."
In addition to the 1884 History of Bedford, Somerset and Fulton Counties, Henry is mentioned in Forrest's 1926 History of Washington County, PA. In an profile of their grandson, business owner John Wiley Birch, the Forrest history said that Henry and Polly "...were natives of Germany and both died in Greene county. Mr. Minor was an agriculturist..."
They both were remembered in 1934, when a distant cousin of Polly's, Otto Roosevelt Younkin, conducted extensive interviews with elderly Younkins in Somerset County, as part of the effort to hold the National Younkin Home-Coming Reunion. A copy of Otto's typed notes are in the Minerd-Miner-Minor Archives.
~ Polly's Confusing Younkin Lineage ~
When research for this website first began in the 1980s, it was impossible to identify Polly's parents based on available records, including those on file at the Somerset County Courthouse. The Younkins of Somerset County were prolific in number, and precise identities were not always spelled out.
Then in 1991, initial information came to light that Polly's parents were Frederick G. and Catherine (Patton) Younkin of near Kingwood. The source for this were notes made circa 1934 by Otto Roosevelt Younkin, the president of the National Younkin Home-Coming Reunions of the 1930s, based upon extensive research that he had done with Charles Arthur Younkin, secretary of the reunion association. These notes were neatly typed by Otto, and placed in his research notebooks. (Click here to see Otto's actual typed pages outlining what he incorrectly believed to be this Younkin-Miner connection. You will need Adobe Acrobat to view the PDF file.)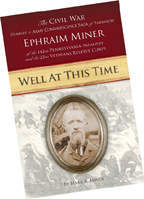 Book about the Minerds' son
Then, in 1935, the following year, Charles Arthur Younkin made additional discoveries showing that Polly's parents actually were not Frederick and Catherine, but rather John J. "Yankee John" and Nancy (Hartzell) Younkin. Charles based this new information on an interview he did with his aunt, Rosetta (Harbaugh) Miner, who was Polly's daughter in law, and who knew everyone in question. Click here to see Charles' actual handwritten letters of Feb. 10, 1935, Feb. 17, 1935, Feb. 19, 1935 and Oct. 15, 1935, where he reports on the progress of his updated findings, and admits that some of his earlier beliefs were in error.
During this research, Charles also learned that Henry Minerd was of Younkin lineage, based on records he examined that had been prepared years earlier by Allen Edward Harbaugh. He wrote: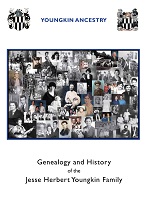 Mary Terry Youngkin's book
Just the other day while looking [at] some old Harbaugh Records I happen to have I came across this where a Jacob Minerd, who was born in Maryland in 1780, married Catherine Younkin, who was born in Somerset Co. 1787. Well I knew that Polly Younkin was married to Henry Minerd, this Henry Minerd, who was married to Polly Younkin, was a son of the above Jacob, as I happen to have the names of the descendants of the Jacob and Catharine union, also a Lorah Miner brother of Henry above was married to a Younkin, the name I do not know at this time.
Read Charles' letter of Sept. 29, 1935, spelling out these new discoveries.
Henry is pictured, and he and Polly and their children are mentioned frequently, in a lavishly illustrated, 2011 book about about their son Ephraim -- entitled Well At This Time: the Civil War Diaries and Army Convalescence Saga of Farmboy Ephraim Miner. The book, authored by the founder of this website, and the great-great-great grandson of Henry and Polly, is seen here. [More]
Henry and his parents are named in a 456-page masterwork of authorship by Mark Terry Youngkin, of the family John Harrison and Eliza Jane (Coble) Youngkin, entitled Youngkin Ancestry - Genealogy and History of the Jesse Herbert Youngkin Family. The electronic-only volume is solely distributed in Portable Document Format (PDF) from the digital library called the Internet Archive in San Francisco, CA, which contains the latest book version. View/download the web-optimized version of Youngkin Ancestry on DropBox [60MB in size] or the full, high-resolution version on the Internet Archive [360MB].
Copyright © 1990, 2000-2006, 2011, 2013, 2014, 2017, 2020 Mark A. Miner
A portion of this bio originally appeared in the Younkin Family News Bulletin. Portrait of President Jackson originally was published in Andrew Jackson by William Graham Sumner (Houghton, Mifflin and Company, 1899).