'Yankee John' Younkin
(1792-1862?)
"Yankee John" Younkin (1792-1862?) -- father of our Mary "Polly" (Younkin) Minerd -- was born in 1792 near Kingwood, Somerset County, PA. He was the son of Somerset County pioneers Johannes "John" and Catharina (Dorscheimer) Younkin, who had migrated there from near Lovettsville, Loudoun County, VA, and the grandson of Johann Heinrich "Henry" and Catherine (Scherer) Junghen of Bucks County, PA.
How he secured his curious nickname is lost to history. In his standard work The American Language, author H.L. Mencken reveals that the word "yankee" was adopted from the Dutch "Jan Kees" meaning a common man's name such as "John Doe" is used today. The word evolved during colonial times "to designate a disliked neighbor to the northward," Mekcken writes, "and there was a time when the Virginians applied it to the Marylanders." The Civil War brought an entirely new meaning to the term, used by southerners to denigrate northerners, and perhaps our John gained the term by his support of the Union cause just before his death.
Yankee John is not to be confused with his first cousin and brother in law John J. Younkin (1787-1839) although their identities have been incorrectly intertwined over the past 100 plus years.
Our Yankee John grew up on his father's 216-acre farm near Kingwood. Circa 1832, some 80 of those acres were cleared, and a two-story log house and barn were erected on the property. Neighboring farms belonged to John Lichliter, Henry Bowlby and brother in law Jacob Minerd Jr.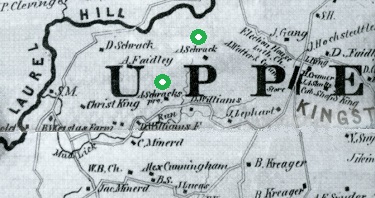 1860 map of Upper Turkeyfoot, showing the "A. Schrock" farm where John lived for the final 16 years of his life, marked with green dots along Hexie Road west of Kingwood
~ Married with Children ~
Yankee John married Nancy Hartzell ( ? - ? ), daughter of Nicholas and Dorcas (Settle) Hartzell -- granddaughter of Hans Melchior ("Melliger") and Margaret (Zolin) Hartzell -- and great-granddaughter of Christoph and Maria Magdalena (Duringer) Hirtzel.
In addition to their daughter Polly Minerd, they were the parents of nine other children -- Susanna Schrock, Jacob H. "Devil Jake" Younkin, Ephraim Younkin, Elizabeth Andrews, Mahala Schrock, John H. Younkin, Nancy Sanner, Syvilla Rush and Sarah "Sally" Kreger.
The Hartzell in-laws also were early settlers of Somerset County. Nicholas Hartzell, the pioneer, settled on a farm in between Coke Oven Hollow and Smith Hollow, with his property abutting the farm of Jacob and Hannah (Nicola) Younkin. In his genealogy notes made in October 1934, cousin- researcher Otto Roosevelt "Pete" Younkin recorded the following about Nicholas and his wife:
NICHOLAS HARTZELL --- married DORCAS SETTLE of Virginia, who was raised in Shenandoah valley. She had come to the Turkey Foot section on a visit, where she met Nicholas and married. (Evidently she had relatives here.) At her death, or upon the death of her parents, Nicholas went down to Virginia to secure her share of the estate, among which was one negro slave, whom he brought back with him until he reached the confines of Penna. where he gave him his freedom.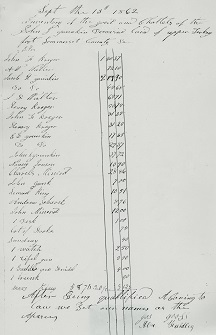 Inventory of Yankee John's estate, 1862
In about 1848, Yankee John went to live with his married daughter and son in law, Susan and Andrew Schrock. Their home was on Hexie Road in the Hexebarger area near Kingwood. This may suggest that Nancy had died by this time, but is only conjecture. He is shown in their household in the census enumeration of 1850. Among their neighbors in the hollow were Daniel and Elizabeth Williams, whose daughter Amanda married Martin Miner, and nephew Charles and Adaline (Harbaugh) Minerd.
Yankee John took grandson Ephraim Minerd ("Miner") under his wing in the 1850s when the boy's parents left Kingwood and migrated westward to Marshall County, VA (later West Virginia), never to return. The old man and youngster enjoyed hunting together. According to one story, Ephraim once was "shooting game for his grandfather Yankee John, who was near by with his horse, and when shot was fired, horse became excited, fell over hill and was killed." (See letter from Charles Arthur Younkin to Otto Roosevelt Younkin, dated Oct. 15, 1935.)
When the federal census was taken in 1860, the 68-year-old Yankee John continued to reside with the Schrocks, while grandson Ephraim Miner boarded nearby in the home of farmers John and Elisabeth Dumbolt (Dumbauld) near Kingwood.
Yankee John died between 1860 and 1862, at around age 70, most likely in the Schrock residence. On Sept. 13, 1862, an inventory was made of the goods and "chattels" of his estate, totaling $876 in value. A number of local individuals owed him money, among them son Jacob H. Younkin, sons in law John Frederick Kreger and Andrew Schrock, nephews Charles Minerd, and John Minerd, and A.W. Walter, J. Walter, Henry Kreger, E.S. Younkin, Nancy Jonson, John Gank and Lemuel King.
As the deceased had resided with the Schrocks for such a long time, there were only a few estate items listed as his assets. Among them were a desk, lot of books, "sundray," one watch, one "rifel" gun, a saddle and "bridel," and one trunk.
Probate court documents on file in Somerset County show that in 1864, sons in law Andrew Schrock and John Frederick Kreger were administrators of his estate, and that Schrock petitioned the court for reimbursement of $120 "for keeping dec'd sixteen years."
Many years later, just before Christmas 1934, Younkin genealogist and national home-coming reunion president Otto Roosevelt Younkin conducted a series of interviews with old-timer cousins. View Otto's handwritten notes about what he learned of Yankee John's family. In a letter to Otto from reunion secretary Charles Arthur "Charleroi Charley" Younkin, dated Feb. 10, 1935, he writes that Yankee John and Polly's great-granddaughter, Carmie Earle, "tells me Yankee John is buried at Cross roads Cemetery between Harnedsville and Ursina."
Based upon the research data spelled out on this page, Yankee John and Polly had 63 grandchildren, and a count of grandchildren numbering in the hundreds. They were the great-great-great grandparents of famed American actress and singer Shirley Jones.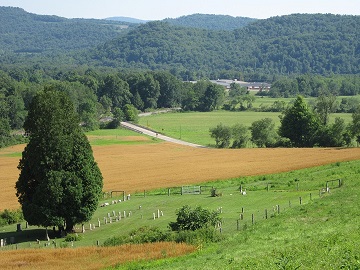 One source from the 1930s places Yankee John's burial site in the Hogback or Crossroads Cemetery near Ursina.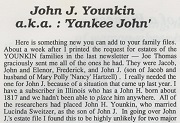 Erroneous combination of
names, YFNB, April 1991
~ Confusion: "Yankee John" vs. "John J." Younkin ~
The two first cousins named John Younkin -- five years apart in age -- married two Hartzell sisters: Yankee John to Nancy Hartzell ( ? - ? ) and John J. Younkin to Mary "Polly" Hartzell (1785-1870). Yankee John's sister Mary Younkin wed George (or John Henry) Hartzell, adding to the complex family inter-connections.
One of the reasons that seasoned researchers may have found this question perplexing is that in the Somerset County probate court, their estate files were co-mingled at some point in time. Even though John J. died a quarter century before Yankee John, someone in authority in the courthouse decided to mix the two sets of documents together. This unfortunate mis-filing occurred before 1990, which is when the founder of this website first saw them.
This confusion further was questioned in the early 1990s when the new Younkin Family News Bulletin, edited by Donna (Younkin) Logan, referred to one by the other's name. Yet Donna concluded that something was amiss. Sadly, she died in 2006 without ever fully knowing the difference.
Copyright © 2013-2014, 2020 Mark A. Miner
Research for this page graciously shared by the late Olive (Rowan) Duff, the late Donna (Younkin) Logan, Linda Marker and Glenn A. Swartz.