Nicholas Hartzell Sr.
(1765-1841?)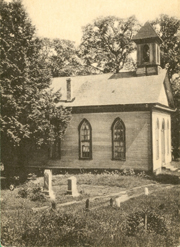 The Jersey Church
Nicholas Hartzell Sr. was born on May 14, 1765 in Turkeyfoot Township, Somerset County, PA, the son of German immigrants Hans Melliger "Melchior" and Margaret (Zolin) Hartzell.
Nicholas married Dorcas Settle (Oct. 7, 1765- ? ), said to have been the daughter of Reuben and Susanna (Lyne) Settle of the Shenandoah Valley of Virginia. Dorcas' surname possibly could have been "Little."
They went on to produce 14 children – George Hartzell, Nicholas Hartzell Jr., Susanna Hartzell, Savilla Hartzell, Mary Peggy Dull, Reuben Hartzell, Jacob Hartzell, Catherine "Katie" Hartzell, Mary "Polly" Younkin, David Hartzell and Dorcas Younkin. Another possible daughter may have been Nancy Younkin.
Their homeplace was located "near the Younkin farm," according to one researcher, likely the farm of Jacob and Hannah (Nicola) Younkin Sr. in what today is Lower Turkeyfoot Township.
Circa 1775, shortly after the outbreak of the American Revolutionary War, Nicholas was among a group of local residents who agreed to establish a church in the wilds of the Jersey settlement in southern Somerset County. It was established at a meeting held at the home of Moses Hall in Turkeyfoot. The congregation was called the Turkeyfoot Baptist Church, otherwise the "Jersey Church," and is widely recognized as the first church site west of the Allegheny Mountains. Inaugural pastors were Rev. Isaac Sutton and Rev. John Corbly.
In 1788, the original log church was replaced by a "two-story log structure with a gallery or porch."
Nicholas was recorded on the tax assessment records of Turkeyfoot Township in 1796. Also paying taxes that year in the township were Jacob Hartzel and Henry Hartzel, who operated a sawmill.
Nicholas is listed in the 1800 and 1810 federal census enumerations of Turkeyfoot Township.
Nicholas is believed to have died on Feb. 22, 1841. His final resting place is not known.
Mrs. James Endsley of Somerfield, PA compiled notes about this family in the 1900s, based on "a little family record" in the possession of Hud Hartzell of Addison, Somerset County.
~ Jersey Church Charter Members, 1775 ~
Abram Colborn, Eleanor Colborn, Robert Colburn, Mary Conventon, Lucetta Drake, Sally Drake, Rachel Harned, Nicholas Hartzell, Lucia Jones, Frankie Ketchum, Jacob Ketchum, John King, Rebecca King, Benjamin Leonard, Almer Mitchell, James Mitchell, Elizabeth Mountain, David Roderick, David Rush, Jacob Rush, John Rush, Margaret Rush, Mary Rush, Mary Rush, Jacob H. Rutzler, Reuben Skinner, Richard Skinner, Sarah Skinner, Willets Skinner, Jane Williams, Abigail Wortman, Abram Wortman.
~ Son Nicholas Hartzell Jr. ~
Son Nicholas Hartzell Jr. (1791-1822) was born on July 31, 1791 in Raystown in Turkeyfoot Township.
He is reputed to have married Mary Goza ( ? - ? ).
The couple appears to have relocated to Missouri, where circa 1814 he went into a tanyard business with Peter Kimmel in Ste. Genevieve.
He died in September 1822. Jack Christopher has researched this family.
~ Daughter Susanna Hartzell ~
Daughter Susanna Hartzell (1793- ? ) was born on April 1, 1793.
~ Daughter Savilla Hartzell ~
Daughter Savilla Hartzell (1795- ? ) was born on May 26, 1795.
~ Son Mary "Peggy" (Hartzell) Dull ~
Daughter Mary "Peggy" Hartzell (1797-1841) was born on Feb. 24, 1797.
She was wedded to John Dull ( ? - ? ), son of Peter and Eva (Knable) Dull.
Mary passed away in 1841.
~ Son Reuben Hartzell ~
Son Reuben Hartzell (1799- ? ) was born on April 18, 1799.
~ Son Jacob Hartzell ~
Son Jacob Hartzell (1801- ? ) was born on April 5, 1801.
He married Hannah ( ? - ? ).
Among their offspring was Malachi Hartzell, who married Annie Johnston, daughter of William and Margaret (Imel) Johnson.
Jacob reputedly succumbed to death in 1866, at the age of about 65.
~ Daughter Catherine "Katie" Hartzell ~
Daughter Catherine "Katie" Hartzell (1803- ? ) was born on Aug. 25, 1803.
~ Son David Hartzell ~
Son David Hartzell (1808- ? ) was born on April 15, 1808.
He was married to Angeline "Anna" Nee (1811- ? ), sometimes known as "Nancy," with her maiden name also spelled "Knee," of Stoyestown, Somerset County.
They were the parents of Julia K. Hoblitzell, Mary Hartzel, Missouri Hartzell, Caleb Fostrer Hartzell, Westly Hartzel, Benson R. Hartzel, Almira Hartzel and Cass Hopkins Hartzel. They may also have borne Susan Mitchell, Alice Hartzell, Irvin Hartzell, Orville Hartzell and Calvin Hartzell.
When the federal census count was made in 1850, the family dwelled in Addison Township, Somerset County, with David employed as a toll collector along the National Pike.
David is believed to be buried in Addison, PA or in Frostburg, MD. A note about him was written by Mrs. James Endsley of Somerfield, PA, saying he was "the ancestor of Julia who was Mrs. J.J. Hoblitzell."
When the U.S. Census again was taken in 1860, Angeline and her children Cass and Orville dwelled in the home of 25-year-old spinster M.S. Mitchell in Addison Township.
Angelina passed away at age 84 on Jan. 29, 1896. Her remains are in eternal repose in Frostburg Memorial Park.
Daughter Julia K. Hartzell (1832-1896) was born on Sept. 14, 1832 in Berlin, Somerset County. On Feb. 27, 1857, she married James Jacob Hoblitzell (1832-1910), with Peter M. McGowan officiating. James was the son of Dennis B. and Sarah A. (Stoddard) Hoblitzell. The couple produced a baker's dozen children -- Julia Hoblitzell, Edward Hoblitzell, Cornelia E. Hoblitzell, William Thomas Hoblitzell, Elizabeth McClelland Ravenscroft, Kate Bowman, Annie L. Hoblitzell, George M. Hoblitzell, Grace Price, James Russell Hoblitzell, Mary Hoblitzell, Frank W. Hoblitzell and Alice Ross. At some point in time, the family lived in Frostburg, Allegany County, MD. Then in about 1876 they relocated to Meyersdale, Somerset County. A friend once wrote this of Julia:
When a young woman she gave her heart to God and united with the Methodist Episcopal Church, in which communion she continued a faithful and consistent member, interested and helpful in every good work, until her death. Much suffering entered into her lot, and as pain and years increased she seemed to draw nearer to God and cling closer to her loved ones. Her life was a blessing to all who knew her. She was unostentatious and persistent in her beneficence, and in times of bereavement endeared herself to her neighbors by her kindly and sympathetic attention. In her home and family she was ever courteous, a devoted, loving, and thoughtful mother. Her confidence in her children was as profound as her love, and to her husband she was always tender, helpful, and deeply affectionate. In the latter months of her life she frequently expressed her confidence in her Lord and her resignation to His Will.
She died in Meyersdale at the age of 63 on Aug. 5, 1896. Rev. W.C. Weaver and Rev. W.R. Moore co-officiated at her funeral services. Interment was in Frostburg Memorial Park in Frostburg. James outlived his wife by nearly 14 years. He succumbed to death on May 17, 1910.
Son Caleb Foster Hartzell (1839-1906) was born on St. Patrick's Day 1839. By occupation, he earned a living as a clerk and circa 1866 dwelled in Frostburg, MD. He resided in later years in Hyndman, Bedford County. He died of paralysis at the age of 67 on June 10, 1906. Burial was in Hyndman. Allie Hartzell of Hyndman was the informant for the Pennsylvania certificate of death.
Son Cass Hopkins Hartzell (1849- ? ) was born on July 13, 1849. He wedded Elizabeth Jane Hansen ( ? - ? ). Cass earned a living over the years as a laborer in a brick works. Suffering from atererial sclerosis (hardening of the arteries), he died in Hyndman on Jan. 27, 1923. Interment was in Hyndman.
Son Orville Hartzell (1854- ? ) was born in about 1854.

Copyright © 2020 Mark A. Miner
H.H. DeLong (ca. 1938), Dale Burkholder, the Somerset County GenWeb, the Historical and Genealogical Society of Somerset County [PA], Inc. and the website DJSmith.com all have researched this family with their findings incorporated into this biography.