John left the regiment and was first treated in a "big church" building in New Berne, NC. He was sent north to New York hospitals for treatment, but when they were found to be "too full," he then was transferred to Lowell Hospital in Providence, RI, arriving May 18, 1865. On July 1, 1865, he was shipped to Philadelphia for treatment at McClelland Hospital for a few days before being moved to Chestnut Hill Hospital. Writing many years later, he said "I got no medison" while at Chestnut Hill.
He received an honorable discharge while at Mower Hospital in Philadelphia on Sept. 15, 1865, and returned home to Ursina. By the time he would have arrived, he had been gone for nine months. One more daughter was born after the war -- Cora in 1869.
Back in the embrace of family and community, John realized the struggle that Lucinda had made to feed and clothe the children. They both learned that, under the Commonwealth of Pennsylvania Act of Assembly dated May 15, 1861, Lucinda was entitled to financial relief. Thus, on Nov. 13, 1865, she petitioned the Board of Relief of Somerset County, stating that she was the mother of four children under the age of 10. (The youngsters would have been Emily at age 8, John [6], Sallie [5] and Minnie [2].) John signed the document, which was witnessed by justice of the peace A. Hanna and Chauncy Blubaugh. Just three days later, Associate Judge John Hanna approved the request and issued an order that the family be reimbursed in the amount of $18.50.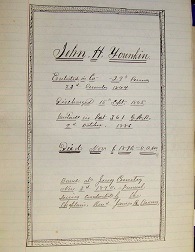 Handwritten tribute and published resolution of respect after John's death, by members of the Ross Rush Post, Grand Army of the Republic, Ursina, preserved today by the Sons of Union Veterans of the Civil War, Mt. Union Church Camp #502.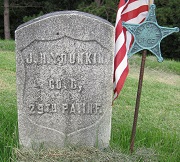 John's grave, Jersey Church
As he aged, John's wartime disabilities continued to take their toll on his health. He complained of pain during bowel movements; "catarrh" settling in his lungs; and spitting blood at times. He filed for and began receiving a military pension as compensation for his ailments, in the amount of $6 per month. Among those relatives signing affidavits in support of his case were his daughter Nancy Forsythe and nephew Marcellus Andrews. He was required to receive periodic physical examinations by government surgeons. Details records of these exams are on file today at the National Archives in Washington, DC.
John struggled making a living providing farm labor. Neighbor and cousin Frederick Dull, who had known John for 10 years before the war, noted that "We worked together on a farm at ordinary work. Before he entered the army he was a sound man." Ursina neighbor George Emmet Cunningham wrote that "I have worked with him at ordinary farm work mowing and other work and I know he was not an able bodied man." Samuel Thompson, also of Ursina, said "I am satisfied he could not perform a day's work. He could not do more than half a day's work to do himself justice."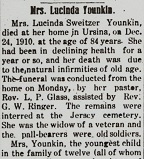 Turkeyfoot News, 1910
At one such examination, in 1889, he complained that he "has a headache nearly all the time, worse at night. My sight & hearing are afflicted." The surgeon wrote that John's "eyes constantly watering" and that "he could not read without glasses... Cannot hear a watch tick when placed against either ear."
John and Lucinda spent their final years together in their home on Park Street in Ursina Borough. He died at home at the age of 65 on Nov. 1, 1890. Among those with him at the hour of death were F.W. Dull and son in law John C. Forsythe. He is buried in the Jersey Church Cemetery in Ursina, Somerset County. The federal government contracted with the firm of Gross Brothers of Lee, MA to install a standard-issue military marker at John's grave.
After John's death, Lucinda began to receive his Civil War pension payments, and survived her husband by two decades.
She died in Ursina at age 82 on Christmas Eve 1910. Her physician wrote the cause of death as old age and heart failure. Reported the Turkeyfoot News, "She had been in declining health for a year or so, and her death was due to the natural infirmities of old age... Her death was peaceful and serene like one that wraps the drapery of his couch about him and lies down to pleasant dreams." Rev. L.P. Glass and Rev. G.W. Ringer led the funeral service, with old soldiers serving as pallbearers in honor of her husband's Civil War service.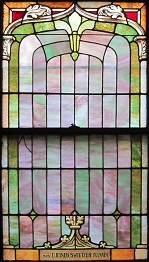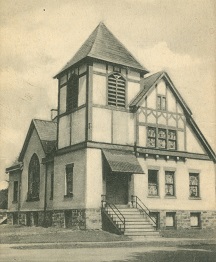 Stained glass memorial window in the Turkeyfoot Valley Baptist Church, Confluence, in memory of Lucinda (Sweitzer) Younkin

Lucinda was memorialized in May 1912 when a stained glass window in the new First Baptist Church of Confluence -- nicknamed the "Mountain Chapel" -- was dedicated in their name. It extended from floor to ceiling, with Mr. and Mrs. Hulda Mountain and Mrs. Alfred King also named in memoriam. Other windows in the sanctuary memorialize Jehu and Mary Ann (Ream) McMillan of the family of Samuel W. Ream, Mary A. Brooks (Harned) Forquer (first wife of LeRoy Forquer of the family of Frederick Dull), Amanda Younkin (first wife of Balaam Younkin) and others including Ruth Rush, Mr. and Mrs. N.B. Critchfield, Rev. and Mrs. J.R. Brown, Rev. and Mrs. W.P. Fortney and daughter Ruth, Almira Lenhart, Mr. and Mrs. Noah Bird, Ella Bird and Mr. and Mrs. Eli Osler. In describing the dedication, the May 9, 1912 edition of the Meyersdale Republican reported: "The church is a neat building with cut-stone foundation, the latter being high enough over ground to give a commodious basement where the heating apparatus is located, and this basement can be finished for class rooms or other purposes, should the growth of the congregation require it. The style of architecture is Gothic, the walls being of opressed brick of a light neutral color; the gables are of concrete, with slated roof. The exterior of the building, while neither imposing nor massive, has an air of cozy comfort and refinement about it that cannot fail to please.... The pews, doors and finish are of quartered oak, frescoed walls and ceilings done in panel work, the latter being of light tint, with the light softened through windows of stained glass, make a pleasing effect that must be seen to be appreciated."
Many years later, Lucinda was named in an article, "Sweitzers Settled Brothersvalley," in the Laurel Messenger newsletter of the Somerset Historical and Genealogical Society.
Rare bird's-eye view of Ursina, from an old postcard
~ Son Winfield "Scott" Younkin ~
Son Winfield "Scott" Younkin (1847-1914) was born on June 27, 1847 near Ursina. He migrated to Brandonville (Bruceton Mills) and Griff Mills, Preston County, WV.
On Oct. 17, 1876, he was united in holy matrimony with Henrietta "Etta" Hartsell (1855-1929), also spelled "Hartman," daughter of John and Mary J. (Anderson) Hartsell (or "Hartman"), when he was age 29 and she 21.
They produced four children: Ada M. Conaway, Mary Alice Caton, Lula Pearl Frankhouser and James Calvin "Cal" Younkin.

Bruceton Mills, WV, along the Cheat River, early 1900s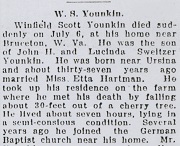 Meyersdale Republican, 1914
The Meyersdale Republican newspaper said Scott was "a man of sterling qualities respected by all and standing high in the esteem of his neighbors." At some point he became a member of a local German Baptist Church.
Henrietta, said the Preston County Journal, "was a life-long member of the Methodist church and a charter member of the Willing Workers class of Salem Sunday school."
Tragically, Scott was climbing a cherry tree on July 6, 1914, at the age of 67 years, 20 days, when he fell 30 feet to the ground and was mortally injured. The Republican reported that he "lived about seven hours, lying in a semi-conscious condition." Burial was in Shady Grove Cemetery, also known as the Willetts Church Cemetery, along Route 26 near Shady Grove Church in Brandonville. In preaching the funeral, Rev. Jere Thomas, "a neighbor during all his married life, spoke very touchingly of their many years of pleasant association," said the Republican. Daughter and son-in-law Mary Alice and Walter Caton traveled from their home in Smock, Fayette County, PA to attend the funeral, as reported in the gossip columns of the Uniontown Morning Herald.
Scott's sudden death ended a marital union of 37 years. Etta outlived her husband by 15 years.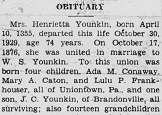 Preston County Journal, 1929
She passed away at the age of 74 of bronchial pneumonia on Oct. 30, 1929, with interment in the Willet Cemetery. The Journal noted that she "will be sadly missed by her relatives and friends of this community" and that her survivors included 14 grandchildren and two great-grandchildren. Rev. S.E. Ryman, assisted by Rev. Jeremiah Thomas and Rev. C.A. Thomas, led the funeral service at the Shady Grove Church.
Their burials are recorded in the 2001 book In Remembrance: Tombstone Readings of Preston County, West Virginia, Volume III, authored by Janice Cale Sisler.

Preston County Journal
Son James Calvin "Cal" Younkin (1879-1950) -- who also went by his initials "J.C." -- was born on Sept. 26, 1879 in Preston County, WV. He was a longtime farmer and resided for decades in the Brandonville/Clifton Mills sections of Preston County. In 1904, at age 25, he was joined in holy matrimony with 24-year-old Josephine "Josie" Thomas (March 17, 1880-1958), a St. Patrick's Day baby and the daughter of William and Martha (Meyers) Thomas. The couple produced four children -- Mabel Jackson, Helen Barnes, Treva Thomas and Charles C. Younkin. Grief blanketed the family when their only son died in childbirth in 1911. James was widely regarded as a "prominent farmer of the Brandonville section," said the Preston County Journal. Commonly known as "Cal," he "was well known throughout the county, and took an active part in the affairs of his community and county. he was for a number of years head of the North Preston Farmers Club and was one of its charter members." James suffered a fatal heart attack while traveling to a neighbor's home at the age of 71 on May 17, 1950. Funeral services in the Salem Church led by Rev. Robert L. Strickler, Elder C.A. Thomas and Rev. Elmer Myers. Burial in the Union Cemetery at Shady Grove in Brandonville. The widowed Josephine survived for another nearly eight years and went to live with her daughter Mabel Jackson over the state line at Markleysburg, Fayette County, PA. Sadly, suffering from cancer which had spread widely, she passed away in the Jackson residence at the age of 77 on Feb. 17, 1958. Son-in-law Lloyd Thomas of Markleysburg was the informant for the official Pennsylvania certificate of death, with an obituary appearing in the Connellsville Daily Courier and the Uniontown Evening Standard. She was survived by four grandchildren and six great-grandchildren. Her remains were transported back to Preston County to rest with her spouse's.
Granddaughter Mabel Younkin ( ? - ? ) was born in (?). On April 7, 1928, she was joined in the bonds of marriage with R. Earl Jackson (April 15, 1900- ? ). The two children born to this union were Patricia Scarlett and Robert Jackson. They resided in 1958 in Markleysburg, Fayette County and on Wharton Furnace Road in Farmington in 1973. At their 45th wedding anniversary in April 1973, a surprise dinner was held in the Jacksons' honor at Bratton's Restaurant, with an accompanying story in the Uniontown Morning Herald.
Great-granddaughter Patricia Jackson ( ? -2013) married a distant step-cousin, Alonzo Dewey Scarlett, son of William "Dewey" and Levina "Grace" (Hyatt) Scarlett of the family of David "Ross" and Minnie Lee (Cassel/Hall) Hyatt of Ohiopyle, Fayette County. See the Scarlett biography for more.
Great-grandson Robert Jackson was married and the father of Sharon Jackson and Carol Renee Jackson. The family was in Farmington, Fayette County in 1973.
Granddaughter Helen Younkin (1907-1969) was born on Feb. 27, 1907. She married Glenn W. Barnes ( ? - ? ). They resided in Brandonville, Preston County and were the parents of W.C. Barnes and Wilda Dailey. The family were members of Shady Grove Church of the Brethren in Brandonville. Helen died at the age of 61 in Monongalia General Hospital in nearby Morgantown, WV on Feb. 6, 1969. An obituary was printed in the Connellsville Daily Courier and Uniontown Evening Standard, which said that burial was in Shady Grove Cemetery, with Rev. Clyde Hylton presiding. Circa 1969, son W.C. Barnes lived in Brandonville and daughter Treva in Alum Bank, Bedford County, PA.
Granddaughter Treva Younkin (1915- ? ) was born in about 1915. On April 10, 1941, when she was age 26, Treva was united in matrimony with 21-year-old Lloyd Thomas (1920- ? ), son of Charles and Laura (Glover) Thomas of Brandonville. The wedding ceremony was held in Kingwood, Preston County, with Rev. Orin D. Curtis officiating. They dwelled in Bruceton Mills and are known to have held the funeral service in their home for her mother in February 1958.
Daughter Lulu Pearl Younkin (1886-1955) was born on Nov. 30, 1886 in Preston County. She wed Walter Claude Frankhouser (1878-1958), son of Jonas and Ruth (Guthrie) Frankhouser. They were farmers. In 1929-1950, their residence was in the rural outskirts of Uniontown, Fayette County, PA. Sadly, having suffered from hypertension and cerebral "sclerosis," Lulu died at age 68 on Nov. 23, 1955. Walter survived her by three years. He was stricken with bleeding into the brain and passed into eternity at the age of 78, in Connellsville State Hospital, on May 3, 1958. His remains were brought back to Brandonville for interment beside his wife in Union Cemetery.
Daughter Ada May Younkin (1878-1961) was born on Feb. 12, 1878 in Brandonville, Preston County. At the age of 19, on July 13, 1897, she was united in marriage with 22-year-old John Conaway (1875- ? ). The ceremony was held at the home of Ada's parents, officiated by Rev. Jeremiah Thomas of the Church of the Brethren. They had three sons -- Gilbert Conaway, Fred Conaway and John Conaway. They lived in Uniontown, PA in 1929-1950. In 1961, her address was 173 Morgantown Street. Having fractured her left hip years earlier, and now burdened with kidney disease, senility and cachexia, a wasting away from muscle atrophy and fatigue, she died at home, at age 83, on May 8, 1961. Burial was in Oak Grove Cemetery in Uniontown.
Daughter Mary Alice Younkin (1881-1954) was born on May 27, 1881 in Brandonville, Preston County, though sometimes stated as Uniontown, Fayette County, PA. On Jan 21, 1914, at the age of 32, she was wedded to 24-year-old Walter Caton (1890-1963) . Rev. Jeremiah Thomas, of the Brethren Church in Brandonville, led the nuptials. The bride was eight years older than the groom. Their two children were James Fred Caton and Hazel Caton. Circa 1914, their home was in Smock, Fayette County. That year, when learning of the death of Mary Alice's father, the couple traveled to Brandonville for the funeral, with the news carried in the Uniontown Morning Herald gossip columns. Later, they lived in Hopwood Crossing at Meadowbrook near Uniontown. At the age of 72, suffering from diabetes, she was admitted to Uniontown Hospital, where she died on March 22, 1954. Walter outlived her by nine years, and passed in 1963, also in Uniontown. Funeral services were conducted at Shady Grove Cemetery in Brandonville.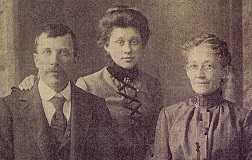 Nancy and John C. Forsythe with
daughter Carmie Browne Earle (center)
~ Daughter Nancy "Nancie" (Younkin) Forsythe ~
Daughter Nancy Younkin (1851-1941) was born on Sept. 16, 1851 near Ursina, Somerset County.
At the age of 23, Nancy joined the Turkeyfoot Baptist Church (Jersey Church).
She married John Campbell Forsythe (Dec. 7, 1853-1933) on Oct. 7, 1879, when she was age 28 and he 26. He was the son of Thomas J. and Martha (Morrow) Forsythe.
The Forsythes resided in Ursina and Humbert, Somerset County, and in Dunbar, Fayette County.
Their two offspring were Walter Forsythe and Lulu Carmolate "Carmie" Browne Earle. Sadly, their son Walter died in infancy, at the age of one year, five months, in 1888, with burial at the Jersey Church.
They eventually purchased the Point View Farm on the Vanderbilt Road near Connellsville.
Nancy and her daughter Carmie are believed to have attended the first Younkin National Home-Coming Reunion in September 1934 in Kingwood, Somerset County. Nancy also was named "Oldest Person Present" at the reunions of 1935, 1936 and 1938. Writing in February 1936, family genealogist Charles Arthur Younkin penned the following in a letter to John E. Younkin of Connellsville: "Your grandfather had a brother John H. Younkin who was the father of Mrs. John Forsythe on the Vanderbilt Road. Mrs. Forsythe has a daughter Mrs. Ronald Earle who lives with her. Now here is where the missing link comes in as yet we have been unable to make any connection as to where the above Yankee John comes in although he lived and died in Somerset Co…. It is claimed by Mrs. Forsythe and Mrs. Earle that the father of Yankee John Younkin as John also, which is reasonable to believe. In time we hope [to] state definitely."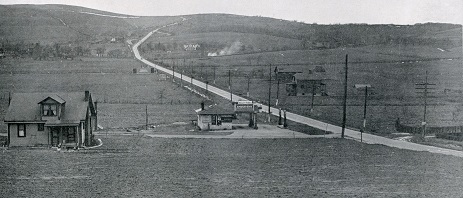 Vanderbilt Road circa 1928. The service station bears Kelly Tire and Amoco signs.
Nancy also was a member of the Magic Sisters Council of the Daughters of America.
Burdened with hypertension, John endured chronic kidney and heart valve disease for the final decade of his life. At the age of 80, John passed away in Dunbar on Oct. 8, 1933. His passing bought to a close some 54 years of marriage. His remains were lowered into repose in Hill Grove Cemetery.
Nancy spent the final year of her life confined to her room. She fell at home and fractured her hip and the upper end of her femur in mid-January 1941, and her health rapidly plummeted. She died at age 89 on Jan. 21, 1941 and was laid to rest in Hill Grove Cemetery. Her passing was front-page news in the very last edition of the Younkin Family News Bulletin newspaper. In an obituary in the Meyersdale Republican, she was said to have "belonged to the famous Younkin Association."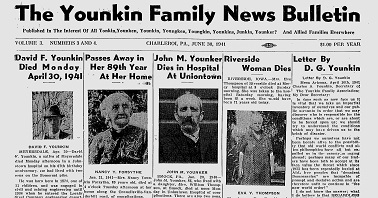 Nancy's obituary, column 2, in the very last edition of the Younkin Family News Bulletin, June 1941.
Daughter Lulu Carmolate "Carmie" Forsythe (1885-1963) was born on Dec. 4, 1885 in Ursina. She was married twice. Her first husband was contractor William Frederick "Fred" Brown ( ? - ? ), son of Charles and Mary E. Browne. They wed on June 8, 1904 in Ursina, when she was 19 years of age. They had one son, John "Elmore" Brown, who also went by "Brownie." Later, following a divorce, she married (?) Earle. Carmie became very interested in her family roots when the Younkin reunion was organized in the mid-1930s and she authored one or more articles in the Younkin Family News Bulletin newspaper. Over time, she became friends with reunion organizers Charles Arthur "Charleroi Charley" Younkin and Otto Roosevelt "Pete" Younkin, and they enjoyed each other's company. Over one weekend in early October 1938, she and her mother hosted guest Mamie (Younkin) Prather of Garden City, Kansas, who was secretary of the Kansas Younkin reunion. After spending a day with Charley in Charleroi, Washington County, PA, Carmie wrote this to a friend:
We visited Charley last week and what a good time was had by all. Some time I am going to put up a tent in their yard just to sit and watch the boats. They have a wonderful view. We just et and et and talked Younkin -- did your ears burn? Would like to have you folks here on June 6 for noon dinner and more Younkin confab.
Read the letter Charley sent to Carmie dated Dec. 30, 1934, and her letter dated May 27, 1937 and one that is undated. Carmie resided in Albuquerque, NM toward the end of her life, and died there on Oct. 12, 1963. She rests for eternity in the National Cemetery in Santa Fe. Her son John "Elmore" Browne wed Mary Rhea and made his home in New Kensington, PA.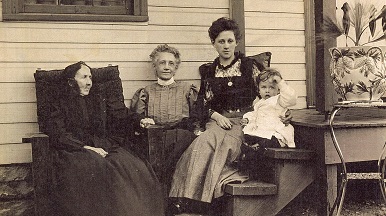 Four generations, L-R: Lucinda Younkin, Nancy Forsythe, Carmie Earle, John E. Browne, at Cora Younkin's home, Ursina, PA
~ Son William Austin Younkin ~
Son William Austin Younkin (1854- ? ) was born in 1854. He disappeared in the hazy mist of history.
Writing in the mid-1930s, family genealogist Otto Roosevelt Younkin penned: "no trace – left home as a young man."
Another source, Betty Sanner, believed he died after falling from a cherry tree in Ursina, but she may have been thinking of his brother Winfield Scott Younkin.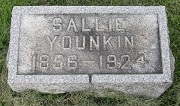 Jersey Church
~ Daughter Sarah "Sallie" Younkin ~
Daughter Sarah "Sallie" Younkin (1856-1924) was born on April 17, 1856 (or 1860). She never married. Sallie resided in Pittsburgh for many years.
When the federal census was enumerated in 1910, the 54-year-old Sallie shared a home with her 48-year-old widowed sister Emma Jane Barnes on Atlantic Avenue in Pittsburgh, with no occupation other than their "own income." That year, their single, 22-year-old, Kansas-born nephew George Emmanuel Myers lived under her roof, employed as a bookkeeper for a local electric company.
By 1920, when the census again was taken, Sally and her nephew remained on South Atlantic Avenue, with George now working as a bookkeeper for a Pittsburgh steel company.
She was afflicted with chronic heart disease and hardening of the arteries. She died of these ailments on July 11, 1924 at the age of 68, at the home of her sister, Nancy Forsythe, at Valley View Farm near Vanderbilt. Her remains were interred in Jersey Cemetery, with a simple headstone placed at her final spot of rest.

The ancient Jersey Church and burying grounds today
Possibly Emma Barnes
~ Daughter Emily Jane "Emma" (Younkin) Barnes ~
Daughter Emily Jane "Emma" Younkin (1858-1918) was born on July 25, 1857.
She married widower Elmore A. Barnes (1845-1909). He had been married once before, to Abby L. (1850- ? ) and had several children with his first wife -- including a son, Joseph L. Barnes.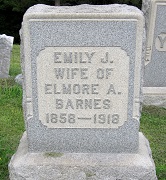 Jersey Church
Circa 1900, when the federal census was taken, Elmore and his first family lived under on Pittsburgh's Amber Street, where he was employed in a laundry. After his marriage to our Emily, sometime in the early to mid-1900s, they made their home in Pittsburgh and are believed to have had no children.
Elmore passed away in 1909, and was laid to rest in the city's Allegheny Cemetery (Section 29, Lot 273). The details of his death are not yet known.
As a widow, Emma outlived her husband by nine years. In 1910, she shared a home with her single sister Sallie Younkin and their 22-year-old, Kansas-born nephew, George Emmanuel Myers, who was a bookkeeper for a local electric company. Their address was 450 South Atlantic Avenue.
Having contracted a serious case of "chronic parenchymatous nephritis" (kidney disease), she suffered a stroke and died "very suddenly" in Pittsburgh on Jan. 30, 1918. A brief news story was reported the Connellsville Daily Courier. Her remains were brought to Confluence by the Baltimore & Ohio Railroad to be laid to rest in the Jersey Church Cemetery. Her sister Sallie was the informant on her official certificate of death.
~ Son John L. Younkin ~
Son John L. Younkin (1860-1938) was born in 1860 near Ursina, Somerset County. As a young man, he set out to find his life's calling, and migrated to South Dakota. He settled in Crestbard, Faulk County.
At the age of 30, in about 1890, he married 21-year-old New York native Sarah "Anna" Stoddard (1870-1959), daughter of Holmes and (?) (Davis) Stoddard. They were a decade apart in age.
The couple had three known daughters -- Leah Mae Williams, Myrle Irene Younkin and Carmen Virginia DeRosa, all born in Faulk County.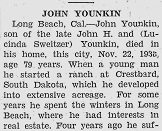 YFNB, Aug. 10, 1939
Briefly interested in public service circa 1908, he was a supervisor for the town of Myron, S.D., along with C.H. Paul and W.A. Childs. When the federal census was taken in 1910, John's occupation was shown as "farmer." He was still living there at the time he was named in the
Daily Courier
obituary of his sister Emma Barnes in 1918. He also is listed in the 1908 book,
History of Faulk County
, authored by Caleb Holt Ellis.
At some point later in life, they migrated further west, settling in Long Beach, Los Angeles County, CA, where John had spent winters and invested in real estate. John fractured a hip in about 1934, and later developed cancer.
He died in Long Beach on Nov. 23, 1938, at the age of 79. He was placed into rest at Forest Lawn Memorial Park (then known as Sunnyside Memorial Park) in Long Beach. Back in Pennsylvania, his obituary was published in the Younkin Family News Bulletin newspaper (Aug. 10, 1939).
Anna outlived him by more than two decades. She passed in Los Angeles County on April 12, 1959 at age 89. She is buried with her husband. [Find-A-Grave]
Daughter Leah Mae Younkin (1891-1974) was born on Dec. 20, 1891 in Faulk County. On June 12, 1911, she married Thomas A. Williams in Brown County, SD. At the time, she was living in Cresbard, Faulk County. Rev. J.W. Taylor officiated. They did not reproduce. Leah died in Faulkton, SD on Oct. 17, 1974, at the age of 83. She is entombed in Faulkton Cemetery.[Find-A-Grave]
Daughter Myrle Irene Younkin was born on Aug. 29, 1896 in Faulk County.
Daughter Carmen Virginia Younkin was born on Feb. 6, 1901 in Faulk County. She wed construction foreman Michael Frank DeRosa (1898-1950). They had two sons, Robert Donald DeRosa and John E. Derosa. They made their home in Los Angeles County, CA. Heartache rocked the family when they learned that son Robert -- a pharmacist's mate in the U.S. Navy during World War II, had been killed on Jan. 15, 1946, five months after the end of the war. The son's remains were not recovered, and his name is etched in the "Courts of the Missing" at the National Memorial Cemetery in Honolulu, commonly known as "The Punchbowl." Michael died at the age of 52 on Jan. 9, 1950, in Los Angeles County. She died on Feb. 9, 1959, just two months before her mother. She is buried at Forest Lawn Cemetery. Their son John E. DeRosa made his home circa 1950 in Forest Hills, NY. [Find-A-Grave]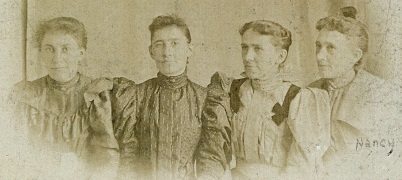 The Younkin sisters, l-r: Cora, Emma Jane, Minnie and Nancy
~ Daughter Minnie F. (Younkin) Myers ~

Minnie Y. Meyers
Daughter Minnie F. Younkin (1864-1950) was born in 1864 near Ursina, Somerset County.
At the age of 19, she married 33-year-old Uriah F. Myers (1852-1933) in Perryopolis, Fayette County, PA. Their marriage notice was published in the Somerset Herald: "MEYERS-YOUNKIN. – On Thursday, February 19, 1885, by Rev. H. Stone, Mr. Urias Meyers, of Milford, Kansas, to Miss Minnie F. Younkin, of Ursina, Pa." Over the years their name also was spelled as "Myers."
Their six children were George Emmanuel Myers, Lula Fern Myers, Mary Ella Hudson, Alice Vivian Hudson, Hazel Elnora Dozier and Mildred Frances Anthony.
The newlyweds are believed to immediately have established a home in Kansas, where Uriah had already settled. The eldest five of their six children were born in the town of Geary, KS. After their two eldest children were born, the Myerses had a family portrait photograph taken at Hopkins & Pennel Studio in Junction City, KS.
In 1906, their residence was in Broken Arrow, Creek Nation, Indian Territory. By 1918, they had migrated again to Missouri, and settled in or near Bloomfield, Callaway County. When the federal census was enumerated in 1930, Minnie and Uriah lived alone in Cedar, with him retired and marked as having no occupation.
Uriah died in 1933 in New Bloomfield, at the age of 81, and is buried at the Hopewell Baptist Church Cemetery.
Minnie survived her husband by 17 years. In 1939, she was mentioned in the Younkin Family News Bulletin obituary of her brother John. Minnie passed away in 1950, at the age of 86, and rests for eternity beside her husband. In about 1934-1935, when Younkin genealogist Otto Roosevelt Younkin conducted a series of interviews with old-timer cousins, he recorded notes about the Meyers family and typed a report about this branch which he kept in his research notebook.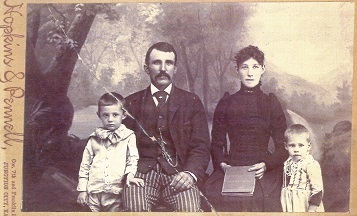 Minnie and Uriah Myers and children, 1890s, in a family portrait taken in Junction City, Kansas, Hopkins & Pennel Studio. Below: the aged Minnie with her adult offspring, l-r: May, Mildred, Alice, George, Hazel and Fern, early 1940s.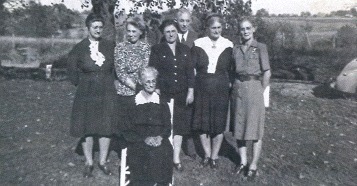 Son George Emmanuel Myers (1887-1961) was born in 1887 in Geary, KS. Trained as a bookkeeper, he moved to Pittsburgh, PA and lived with his aunts Emma Barnes and Sallie Younkin. In 1910, residing under their roof on Atlantic Avenue, he was employed as a bookkeeper with an electric company. Continuing to make his home with his aunt Sallie Younkin in 1920, still on Atlantic Avenue, he had taken a new position with a steel firm. He married Ruth James ( ? - ? ). He died on Nov. 21, 1961.
Daughter Lula Fern Myers (1889-1960) was born on March 6, 1889 in Geary, KS. She died on Oct. 3, 1960.
Daughter Mary Ella Myers (1893- ? ) was born on June 10, 1893 in Geary, KS. She wed Otha Hudson on June 2, 1917, when she was 24 years of age. Their three children were Fern Elizabeth Hawkins, Ralph Myers Hudson and Lois Frances Williamson.
Daughter Alice Vivian Myers (1895-1967) was born on March 22, 1895 in Geary, KS. At the age of 20, she married Moss Hudson, with the wedding taking place on March 17, 1915. They had at least one child, Margaret Shelton. Alice died on Nov. 2, 1967, age 72, and rests for eternity in Dry Fork Cemetery, New Bloomfield, MO.
Daughter Hazel Elnora Myers (1901-1973) was born on March 22, 1901in Geary, KS, sharing a birthday with her elder sister Alice. On Feb. 28, 1921, she wed Thomas Price Dozier (1899-1982). They had three children -- Thomas Nelson Dozier, William Elgin Dozier and Mary Louise Hiatte. Hazel died March 14, 1973. Her husband survived another nine years and passed on Sept. 19, 1982.
Daughter Mildred Frances Myers (1903- ? ) was born on Feb. 18, 1903 in Comanche, OK. She married Frank Anthony on New Year's Day 1929. Their children were Helen Frances Campbell and William Frank Anthony. Both Mildred and Frank are buried in Memorial Gardens in Fulton, MO.

Cora Younkin
~ Daughter Cora M. Younkin ~
Daughter Cora M. Younkin (1869-1929) was born in July 1869. She apparently never married.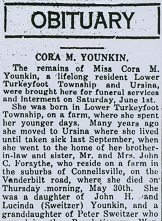 Meyersdale Republican
She grew up in Lower Turkeyfoot, and spent her adult years residing with her widowed mother in Ursina. She provided medical care and paid for the funeral of her mother, circa 1910, and later requested reimbursement from the government for her out-of-pocket costs, as her mother was a Civil War veteran's widow.
In September 1928, having been plagued chronic hardening of the arteries, she became suffered a stroke, and was brought into the home of her married sister Nancy Forsythe in Dunbar Township near Connellsville, Fayette County. She died in the sister's residence at age 59 on May 30, 1929, and her funeral service was held there by Rev. Stevens of the Connellsville Baptist Church.
Her remains were brought back to Ursina for burial in the Jersey Church Cemetery, with another service in the Church of God and officiated by Rev. Stevens and Rev. Frank L. Stuck of Confluence. She rests in a plot with her parents and sister Emily Jane "Emma" Barnes. The Meyersdale Republican gave her a lengthy obituary, saying:
The services were very impressive. A choir rendered a number of fine selections, with Miss Elener Edwards accompanist. Rev. Stevens read the scripture lesson and offered the prayers. Rev. Stuck preached a fine funeral sermon. The pall-bearers were Jefferson J. Van Sickel, S.B. Alcott, Gomer W. Edwards, William R. Wills, Austin E. Walters and Harvey Blubaugh.... During her long residence in Ursina she was respected by the entire community and her death is mourned by a large circle of friends.
~ Daughter Amanda L. Younkin ~
Daughter Amanda L. Younkin (1866-1881?) was born in July 1869.
She apparently never married. Research by Glen Swartz suggests that she died about 1881.
Copyright © 2013-2018, 2020 Mark A. Miner
Research for this page graciously shared by Olive (Rowan) Duff, Donna (Younkin) Logan, Linda Marker and Glen A. Swartz.