Home

Samuel W. Ream
(1788-1874)
Samuel's grave marker,
Cross Roads Cemetery
Samuel W. Ream was born in 1788 in Ursina, Somerset County, PA, the son of John and Anna Rosina (Weitzel) Ream, and the stepson of Catharine (Minerd) Ream. He appears to have been named for an uncle Samuel (1779-1858) who was an early settler of Perry County, OH.
Our Samuel was only four years of age when his mother died from the bite of a poisonous snake.
The Somerset (PA) Herald once said that Samuel was "born, lived and for many years owned the farm on which the thriving town of Ursina is built." He is believed to have carried the nickname "Tinker."
Over the span of his eight-plus decaces of life, he was "one who saw the county change from a rugged wilderness to a rich, beautiful and peaceful land," reported the Herald. "One who saw the Nation emerge from the desperate struggle of the Revolution with a mere existence, with wonderful recuperative power and unexampled rapidity assume a rank and station among the mightiest Nations of the Earth... His last looks were over a fertile and happy land crowded with smiling homes and thriving villages, in strange contrast with his first recollections, the indelible impressions of childhood when a dense wilderness filled with savage beasts and yet more savage men spread limitless and illimitable around him."
Sometime in or before 1811, Samuel married Mary Rheims (1795-1874), sometimes spelled "Ream," whom descendants say was not related to her husband.
Their baker's dozen of known children were Louisa Ann Wilkins, Otho Reams, Levi Ream, James A. Ream, Julia Ann ("Julianne") Nicklow, Henry T. Ream, William Ream, Mary Ann McMillan, Lydia Ann Ream, Jacob W. Ream, Catherine Woods, John Ream II and Rosanna McMillan.
They made their home in the general vicinity of his birthplace area of Ursina, where Samuel farmed and earned income as a blacksmith. A friend once wrote that the couple "had passed in peace and love an ordinary life time." At some point in time in adulthood, he fashioned a sandstone grave marker for his mother, inscribed in German, which once was the largest in the Ream Cemetery. Many years later, the Meyersdale Republican reported: "The decorations are very quaint. At the top of the stone, on the front, a heart is carved; a circular scroll is carved on each side of the heart, terminating in a raised place all the way down to the bottom of the stone.... At the bottom of the stone, below the inscription, cross bones are carved. On the back of the stone a six-pointed star is at the top, with the face and wings of an angel below. The same raised place as on the front is on the back, the carving is supposed to represent a snake. A little vine is carved on each end of the stone."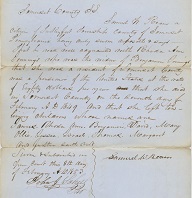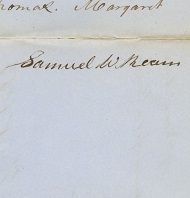 Samuel's affidavit signed on behalf of his late friend Rhoda Jennings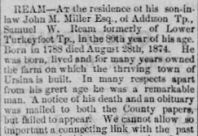 Somerset Herald, 1874
On Feb. 8, 1853, at the age of 65, Samuel agreed to sign an affidavit on behalf of the estate of the late Rhoda (Spencer) Jennings, a longtime friend and the mother of his brother-in-law David Jennings and his nephew by marriage, Thomas Jennings. Penned by Somerset County Prothonotary John Schell, but signed by Samuel, the document reads: "Samuel W. Ream, a citizen of Turkeyfoot Township, County of Somerset Pennsylvania being duly sworn deposeth & says -- That he was well acquainted with Rhoda Ann Jennings who was the widow of Benjamin Jennings, that she was a resident of Somerset County, was a pensioner of the United States at the rate of Eighty dollars per year, that she died in Somerset County on the seventh day of February A.D. 1849 and that she left ten -- living children whose names are James, Rhoda Ann, Benjamin, David, Mary, Ollie, Jessie, Israel, Thomas, Margaret and further saith not."
Said the Herald: "In many respects apart from his great age [Samuel] was a remarkable man.... Originally endowed with great strength and wonderful activity, an excellent temper, a honest, kind and fearless heart, he was of course universally popular in a new country where such gifts were better than gold or silver. He reared a large family in habits of honest industry, and for many years manfully struggled with the hard-ships and dangers incident to a frontier life."
Somerset Herald, 1874
When he was age 56 and she 49, Samuel and Mary were admitted into membership of the Jersey Baptist Church, at that time led by Rev. William Woods. They remained there as worshippers for the rest of his life.
Reported the Herald: "... old age descended on him like a pleasant autumn day. And even to the last his flesh was firm, his cheeks rounded and fat, his teeth beautifully even, sound and white. His hand still gave the firm yet friendly grip, his genial smile was more than a speech of welcome from another, and had all the charms of youth."
After his large brood of children had scattered in many directions, and as his health declined due to old age, Samuel went to Listonville in Addison Township, Somerset County to live with his married daughter and son-in-law, Mary Ann and Jehu McMillan. He died in the McMillan home at the age of 85 on Aug. 28, 1874, between the hours of 7 a.m. and 8 a.m. His funeral was held in the Jersey Church, attended by "many old and attached friends," said the Herald, with Rev. James R. Brown of Confluence preaching from the first two books of Philippians. The remains were transported a short distance to Harnedsville for burial in the soil of the Crossroads Cemetery.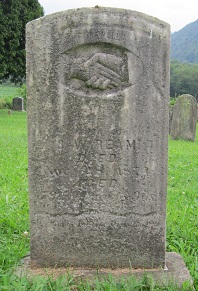 Mary's grave, Crossroads Cemetery
A friend wrote a death notice and obituary sent them to both of the Somerset County newspapers. When the news failed to be printed, the friend then re-submitted the obituary to the Herald, and it was published on Oct. 28, 1874, some two months after Samuel's passing. Wrote the friend: "We cannot allow so important a connecting link with the past to be severed without some notice, however, imperfect. Respect ... forbids that some notice of a lifetime so pregnant with mighty events should not be taken."
Mary's health also was poor, and she only lived for another three months after Samuel's death. The Grim Reaper gathered her up in the residence of her daughter and son-in-law Mary Ann and Jehu McMillan in Addison on Nov. 28, 1874, at the age of 79, between the hours of 4 a.m. and 5 a.m. Following the pattern set a few months earlier, Rev. Brown officiated at the funeral, preaching his sermon based on Revelations 14:13. Burial was in the Cross Roads Cemetery. In an obituary, the Herald reported:
There is something very touching in this swift fading of earthly things that follows the loss of a beloved companion. The aged survivor seems to feel as if the better part was already gone, and hastens to join it in the unchanged and never ending life beyond. Sustained by the Christian's hope she calmly sunk to her rest, cheered to the last by the kindly ministry of affectionate children. May her rest be peace.
After Mary's passing, an estate sale was held on Feb. 13, 1875 to generate funds to pay debts and inheritances. Some 114 lots were sold, raising $105.57.
Over the ensuing decades, the numbers of Ream offspring swelled significantly. The 13 children produced some 79 grandchildren, and many, many more great-grandchildren. The count will be updated as more knowledge is gained.
The family is described in some detail in Paul Ryscavage's 2013 book Norman B. Ream: Forgotten Master of Markets. As well, in 2017, they were spelled out in detail in Iva (Ream) Barkley's book Ream Riehm.
The Reams' final resting place, the Cross Roads Cemetery near Harnedsville
~ Son William Ream ~
Son William Ream (1823- ? ) is said to have been born on Dec. 19, 1823.
At the age of 25 in 1850, unmarried, William lived with his married brother Levi Ream in Ursina, and worked as a laborer, presumably on the Ream farm.
He reputedly married Sarah McNeill (Feb. 7, 1824- ? ).
The Reams relocated to Nebraska at some point in time. Nothing more about them is known.
~ Son Jacob W. Ream ~
Son Jacob W. Ream (1827- ? ) is said to have been born in 1827.
On June 2, 1851, he married Henrietta Shafford ( ? - ? ).
We are exploring whether they are the same Jacob and Harriet Ream who in 1860 and 1870 resided in Hyattsville, Tippecanoe Township, Miami County, OH and in the 1870s migrated to White Mound, Jewell County, KS. This Jacob died during the 1870s and in 1880 his widow lived in White Mound.
More will be added here when learned.
Copyright © 2002, 2009, 2012, 2014-2017 Mark A. Miner