Home

Mary Ann (Ream) McMillan
(1825-1903)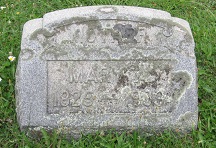 Mary's grave, Addison Cemetery
Mary Ann (Ream) McMillan is believed to have been born on Nov. 3, 1825 in Ursina, Somerset County, PA, the daughter of Samuel W. and Mary (Rheims) Ream.
She was joined in wedlock with Jehu McMillan (May 17, 1822-1900), sometimes misspelled "John," a native of Paddytown, Upper Turkeyfoot Township, and the son of justice of the peace and leather tanner John Kilpatrick and Mary (Rush) McMillan.
In an interesting twist, Mary Ann's sister Rosanna Ream wedded Jehu's cousin, William McMillan (1837- ? ), son of Samuel E. and Rachel (Pringey) McMillan -- and Mary Ann's nephew James Wilkins married Nancy McMillan, daughter of Samuel McMillan.
Jehu's roots in Somerset County ran deep. He was the grandson of John and Nancy (Kilpatrick) McMillan Sr. and great-grandson of James and Eleanor (Wright) McMillan (1735-1821). The patriarch James was an immigrant from Scotland or the northern part of Ireland, who had settled in Dauphin County, PA before migrating to Fort Hill, Somerset County.
The Meyersdale Republican once said that "The McMillans were noted tanners and harness-makers, or what was known in their times as saddlers. John McMillan [Sr.] was a tanner, and [his father] John K. was a tanner. Three of John K.'s sons were tanners and two were harness makers."
Mary Ann and Jehu were the parents of eight children -- Dr. Samuel J. McMillan, Milton R. McMillan, Susan C. "Sue" Liston, Martha J. Augustine, Amanda A. Pullin, Jacob "Lloyd" L. McMillan, William S. McMillan and Charles R. McMillan.

Jehu's home (circled) in the middle of Listonburg, pre-Civil War, showing the location of the tannery and Liston shoe shop and wool factory. Library of Congress

Jehu's father kept a business ledger of the tannery starting in the 1840s and continuing until the Civil War years. The vintage book has been preserved by local farmer and collector Michael J. Miller, and has been digitized and made available online in a joint effort between the Rockwood Area Historical Society and Meyersdale Public Library. The 180-year-old ledger lists the credits and debits of scores of individual customer accounts. Among them are myriad cousins of the Minerd-Minard-Miner-Minor, Younkin-Younken-Youngkin, Harbaugh, Ream and Hartzell families. A number of customers later migrated away as pioneer settlers of western states, with the pen and ink entries serving as a rare record of their brief early years in southwestern Pennsylvania.
The one-of-a-kind book opens a fascinating window into how much the farming community depended on a good tannery during the 1800s to transform their livestock hides into leather farm tools and footwear. It also gives insights into the political and religious leanings of the McMillan family owners. View the Minerd.com page featuring excerpts, images and analysis -- with the the full library of images is available for viewing and download on the RAHS page on Rootsweb.com [PDF, 132 MB].
Circa 1850, the McMillans resided on a farm in Upper Turkeyfoot Township. Their home was just a few houses away from the the dwelling-place of widow Elizabeth "Betsy" (Weimer) Younkin and her unmarried daughter Ann.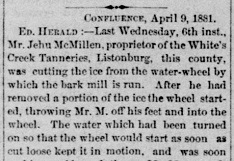 Somerset Herald story about Jehu's injury Library of Congress
By 1860, census records show John and Mary Ann on their farm, with their post office listed as Addison, Somerset County. That year, they lived next to John's aged parents.
On May 28, 1877, Jehu was appointed the first postmaster when a post office was established at Listonburg. It's said to have been located on Jones Mill Run, referred to after 1858 as Whites Creek. Also in the locale was a water mill built for milling flour by a man named Jones.
Jehu is known to have suffered a painful accident in April 1881 as reported in the Somerset Herald, while cutting ice away from the frozen waterwheel used at the bark mill of his facility:
After he had removed a portion of the ice the wheel started, throwing Mr. M. off his feet and into the wheel. The water which had been turned on so that the wheel would start as soon as it cut loose kept it in motion, and was soon making rapid revolutions. Mr. M. succeeded in getting hold of one of the middle braces of the wheel to which he clung with a death grip at the same time calling loudly for help, but unfortunately no one heart him. He had been in this condition, he thinks, about an hour when his son started for the tannery; nearing the mill-house he heard his father, who by this time had become quite hoarse from his continued and energetic efforts to make some one hear. The son first attempted to stop the wheel by shutting off the water, and putting bark into the mill; failing in this he ran toward town calling for help, which soon brought a number of men who succeded [sic] in stopping the mill and rescuing the unfortunate man. It is supposed that he was in this situation for nearly and hour and a half; all this time the cold water was pouring down over him, and when rescued he was nearly frozen. His head and other parts of his body were badly bruised, and the flesh was torn from his hands, arms, and legs. Mr. McMillen has the sympathies of his many friends in this community.

McMillans' large grave stone at Addison Cemetery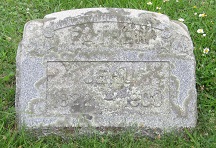 Jehu's grave in Addison
Jehu passed away in 1900 at the age of 78. The cause of his passing is not known. His remains were placed into repose in the McMillan family plot of graves in Addison Cemetery.
Mary Ann followed him to the grave just three years later, in 1903. Today a large stone marks their grave. [Find-a-Grave]
Among their nephews and nieces -- offspring of John's brother Eli -- were Rush McMillan, a Somerset County Commissioner at one time; Dr. W.T. McMillan of Meyersdale and later Los Angeles and his twin Dr. Edward McMillan of Pasadena, CA; Emma Speicher of Los Angeles; and Mrs. D.H. Wolfersberger of Pittsburgh.
They are named in the 1906 book History of Bedford and Somerset Counties, Pennsylvania, authored by E. Howard Blackburn and William H. Welfley.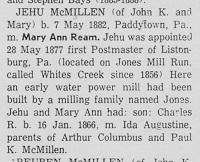 The McMillans were memorialized in May 1912 when a stained glass window in the new First Baptist Church of Confluence -- nicknamed the "Mountain Chapel" -- was dedicated in their name. It extended from floor to ceiling, with Mr. and Mrs. Hulda Mountain and Mrs. Alfred King also named in memoriam. Other windows in the sanctuary memorialize Lucinda (Sweitzer) Younkin, Mary A. Brooks (Harned) Forquer (first wife of LeRoy Forquer of the family of Frederick Dull), Amanda Younkin (first wife of Balaam Younkin and others including Ruth Rush, Mr. and Mrs. N.B. Critchfield, Rev. and Mrs. J.R. Brown, Rev. and Mars. W.P. Fortney and daughter Ruth, Almira Lenhart, Mr. and Mrs. Noah Bird, Ella Bird and Mr. and Mrs. Eli Osler. In describing the dedication, the May 9, 1912 edition of the Meyersdale Republican reported: "The church is a neat building with cut-stone foundation, the latter being high enough over ground to give a commodious basement where the heating apparatus is located, and this basement can be finished for class rooms or other purposes, should the growth of the congregation require it. The style of architecture is Gothic, the walls being of opressed brick of a light neutral color; the gables are of concrete, with slated roof. The exterior of the building, while neither imposing nor massive, has an air of cozy comfort and refinement about it that cannot fail to please.... The pews, doors and finish are of quartered oak, frescoed walls and ceilings done in panel work, the latter being of light tint, with the light softened through windows of stained glass, make a pleasing effect that must be seen to be appreciated." Today the church is known as Turkeyfoot Valley Baptist Church.
Mary and Jehu were named in a May 1977 article in the Laurel Messenger newsletter of the Historical & Genealogical Society of Somerset County, entitled "Some Descendants of James McMillen," and authored by Kenneth Sanner.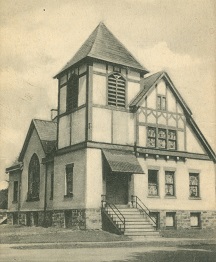 The McMillans' stained glass memorial window -- spelled "McMillen" -- Turkeyfoot Valley Baptist Church, Confluence

~ Son Dr. Samuel J. McMillan ~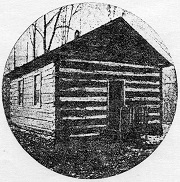 Log schoolhouse, Listonburg
Son Dr. Samuel J. McMillan (1848-1922) was born on Feb. 10, 1848, most likely in Listonville.
He studied as a boy in the local school in Listonburg, Somerset County.
He pursued higher education at Scio College then located at Harlem Springs, OH.
On April 21, 1880, when he was age 32, Samuel married Mary Charlotte Kantner (Sept. 16, 1850-1925), a native of Preston County, WV and the daughter of Charles and Mary Kantner.
They produced two daughters, Leane "Lena" Gloss and Eunice Davis.
The newlyweds initially resided in Middlecreek Township, Somerset County, where in 1880 he earned a living as a leather currier for a dozen years. By the early 1880s, inspiring to higher accomplishment, he entered dental school at the University of Pennsylvania in Philadelphia and in 1884 obtained a degree as doctor of dental surgery. He initially practiced dentistry in Philadelphia but then returned home and interned for a few months in a practice owned by Dr. Tannehill. By late 1884, he was ready to open his own business in the county seat. Said the Meyersdale Republican, he "practiced dentistry [in Somerset] for many years and was held in high esteem by all who knew him."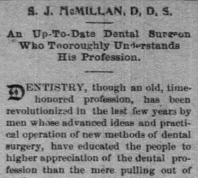 Somerset Herald, Nov. 1898
Library of Congress
His offices in 1885 were in Baer's Block of Somerset, with the entrance one door west of Wood's Jewelry Store. The Somerset Herald in November 1898 reported that Samuel was an "up-to-date dental surgeon who thoroughly understands his profession... Dentistry, though an old, time-honored profession, has been revolutionied in the last few years by men whose advanced ideas and practicel operation of new methods of dental surgery, have educated the people to higher appreciation of the dental professionan than the mere pulling out of teeth. Dr. McMillan is one of the leaders of this new class of modern dentists." Samuel was a member of the Masons, International Order of Odd Fellows, the Hiawatha Lodge of Addison and the Golden Eagle Lodge.
They were members of the Christian Church in Somerset. Circa 1899, Samuel was profiled in the book Biographical Review Containing Life Sketches of Leading Citizens of Somerset and Bedford Counties, Pennsylvania (Boston: Biographical Review Publishing Company). Samuel was a public speaker and in 1917 is known to have delivered an address as the annual picnic of the International Order of Odd Fellows at Kingwood.
By 1920, he was retired. The Grim Reaper of Death cut Samuel's life away on the fateful day of May 24, 1922. At the age of 75, he was on a ladder trimming a pear tree at his home when he fell about 12 feet to the ground, and the ladder further struck the base of his head and fractured his skull. Within minutes he was dead. Burial was in Husband Cemetery, with an obituary or death notice appearing in the Republican and Pittsburgh Post-Gazette and as far away as the Harrisburg (PA) Telegraph, and in the professional journal The Dental Summary. Mary only survived her husband by three years. Burdened with asthma, she contracted an incurable case of influenza and died at age 72 on May 13, 1925.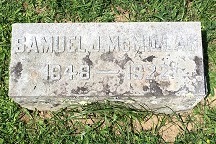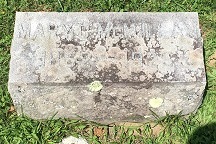 L-R: graves of Samuel and Mary McMillan, Husband Cemetery, Somerset
Daughter Leana Blanche McMillan (1881-1971) was born in February 1881 in Middlecreek Township, Somerset County. When she was 32 years of age, on Sept. 5, 1913, she wedded William Owen Gloss (1886- ? ), son of William and Ella (Reed) Gloss of New York City. Rev. I.G. Buckner of te Christian Church officiated at the ceremony, held in the McMillan home, and the news was printed in the Pittsburgh Post-Gazette. They were the parents of an only child, Eunice Mc. Gloss, born in 1915. Their home in 1920 was on Beechview Avenue in Pittsburgh, with William working as a motorcycle dealer. Advertisements in the Pittsburgh Press show that he dealt in Indian and Excelsior motorcycles with his facility next to Russell's Garage in Bridgeville. By 1917, he had expanded his line into Harley Davidson cycles, with his office at 5 Federal Street in Pittsburgh's North Side. They relocated to Detroit by 1922, where he represented the Harley Davidson brand in Detroit and Wayne, Macomb and Washtenaw Counties, with offices at 19 Abbott Street. The brutal impact of the Great Depression likely ruined William's business prospects as consumers could no longer afford luxurites such as motorcycles. He turned to surveying and advertised his services in the Detroit Free Press. By 1951, Lena had returned to Somerset, with a residence on North Patriot Street, and was named in the Somerset Daily American gossip columns for a trip she made to visit her daughter Eunice in New York City. She passed away on March 12, 1971 at the age of 90. Interment was in the Husband Cemetery. The following poem was inscribed on the face of her upright grave marker: "Swiftly, the leaves of memory fall gently. I gather and shall eternally cherish them all. Inner thoughts keep you forever with me, Mother dear. Though obediently you answered your masters beckoning call."
Grandson Eunice McC. Gloss (1915- ? ) was born in 1915 in Pittsburgh and was named for her aunt Eunice (McMillan) Davis, an international opera singer at the time. She apparently never married. She was in New York City in 1951 even as her mother was in Somerset, Somerset County, and they exchanged visits in both places. Eunice arranged for upright grave markers with beautiful poems in 1971 at the death of her mother and beloved aunt. Evidence suggests that she made her home at 220 West 72nd Street in New York City. She may well be the same Eunice Gloss who died in New York on Feb. 5, 1993 and, with no living relatives to claim her remains, was placed into rest in the Hart Island potter's field in New York, permit #6691, plot 231, section III. See her page on the

Hart Island Project

website. For more on Hart Island, see the

New York Times

investigative story, "

Unearthing the Secrets of New York's Mass Graves

," by Nina Bernstein, published May 15, 2016.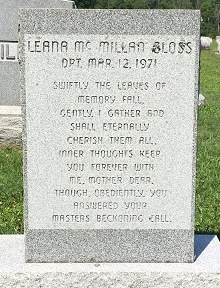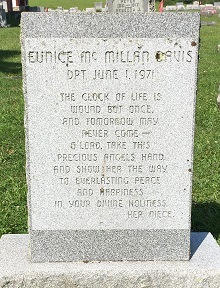 Sisters' grave markers at Husband Cemetery, Somerset
Daughter Eunice B. McMillan (1883-1971) was born in January 1883. On Oct. 17, 1904, at the age of 21, she married 22-year-old sales manager Lloyd J. Davis (1877-1947) of Pittsburgh, the son of Lester M. and Addie L. Davis. Rev. George W. Knepper officiated at the wedding. Eunice studied music and was an opera singer with the San Carlos Grand Opera Company, going on an international tour circa 1920-1921. They opened in Montreal on Sept. 6, 1920-- went to Seattle in March 1921 -- and ended the season in Winnipeg, Canada in April 1921. In 1922, their home was in Chicago and in 1925 -- when she traveled to Confluence and visited with her aged aunt Susan Liston -- lived in St. Louis. By 1939, they had relocated to the Bronx, NY and Eunice again visited her aunt Susan Liston in Confluence in August of that year. Sadly, Lloyd died in New York City after a lengthy illness on April 16, 1947, at the age of 70. Now widowed, Eunice remained in New York and, in the winter of 1951-1952, hosted an extended visit from her sister Lena and niece Eunice in New York. Then in August 1952, the Eunice and her niece traveled from New York to visit Eunice in Somerset. Eunice's sister Leana died in March 1971 and Eunice followed her to the grave just a little more than two months later on June 1, 1971. She was placed into eternal repose in Husband Cemetery, and an obituary was published in the Somerset Daily American. Her niece Eunice arranged to have this epitaph inscribed on the upright grave marker: "The clock of life is wound by once, and tomorrow may never come -- O'Lord, take this precious angels hand, and show her the way to everlasting peace and happiness in your divine holiness. Her niece."
~ Son Milton R. McMillan ~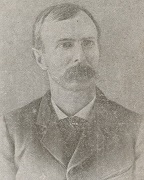 Milton McMillan
Son Milton R. McMillan (1851-1935) was born in about 1851 in Addison. He grew up on his parents' farm and worked in the fields at the age of 19, in 1870. Milton never married. In 1890, he served as deputy sheriff of Somerset County, working for his uncle Rush McMillan.
On one fateful day, in a selfless act, made a name for himself while in the face of deadly danger. Said the Meyersdale Republican, "In the whole history of Somerset County, or for that matter of any other county in Pennsylvania, who has done a braver act than that of Milton R. McMillan ... when the Nicely brothers, convicted murders, attempted to escape?" At noon on Sept. 16, 1890, "the day watchman had been let out for the purpose of procuring a bucket of water," said the 1906 book History of Bedford and Somerset Counties, Pennsylvania, by E. Howard Blackburn and William H. Welfley, as quoted in the Republican.
On his return, Deputy Sheriff Milton McMillan unlocked the jail door from the outside and admitted him. As the guard stepped away from the door, and before the deputy sheriff could close it, Joseph Nicely stepped forward and pointed a revolver in the deputy's face. A struggle at one took place between the two men, in the outer hall leading to the door of the jail corridor, during which the deputy sheriff was shot twice by Joseph Nicely, and was at that time supposed to be fatally wounded. The deputy had, however, during the struggle with Joe, succeeded in locking the door, but could not take the key out of the lock. David Nicely put his hand through a small opening in the door, turned the key and made his escape from the jail while the struggle between his brother and the deputy was still going on. On being shot the second time, Deputy McMillan released his hold on Joseph Nicely, who at once ran out of the front door.... The plucky fight made by the deputy was something that had not been anticipated by them, as they supposed he would throw up his hands, and they could lock him up in one of the jail cells while all the prisoners could make their escape before any alarm could be given.
It took a year for Milton to recover from his gunshot wounds. As he convalesced, in the spring of 1891, the Nicelys were executed by hanging in the Somerset County jail, generating sensational coverage in newspapers from coast to coast. Later that year, Milton was pictured in a commemorative booklet about the entire affair, authored by Edward H. Werner, and entitled The Umberger Tragedy, with a Criminal History of Somerset County, Pa. The Republican reported that he "recovered from his wound and lived to a ripe old age, but the bullet remained imbedded in his body until the day of his death."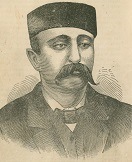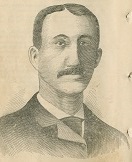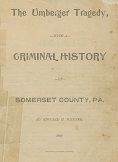 Murderers Joseph and David Nicely (right) and The Umberger Tragedy booklet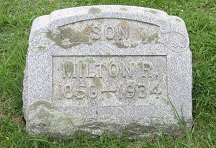 Milton's grave, Addison
Circa 1921, he returned to his native county for the first time in two decades, telling the Meyersdale Republican that "he was greatly surprised at the improvements that were made in that time, puts it mildly. The new court-house, new churches, and paved streets, were among the notable changes."
During that period, he was an orange inspector in Orlando, FL but spent his summers in Philadelphia, where he was employed by the wealthy sisters of the Richardson family, who gave him a home and provided good care as he ran their estate. When attending a family reunion at Listonburg in 1920, the story of his heroism was republished in the Republican. The residence was along Academy Road in Torresdale, a community along the Delaware River northeast of the city.
Suffering from heart and kidney problems, at the age of 84, Milton passed away in Philadelphia on Feb. 17, 1935. His remains were transported by express train to Confluence, and then brought to Addison Cemetery to rest with his parents and brother Charles. Services were conducted at the Addison Methodist Episcopal Church by Rev. John O. Martin, and pallbearers were Merle G. Shope, Nelson A. Wright, Ross F. Lenhart, Charles N. Jefferys and William F. Null. His patron, Sara Richardson, traveled from Philadelphia to attend the funeral, and Milton's sister Martha came from her home in Pittsburgh. Because of illness, their sister Susan Liston was unable to attend. [Find-a-Grave]
~ Daughter Susan C. "Sue" (McMillan) Liston ~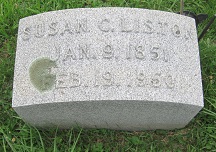 Graves of Susan and Jesse Liston, Addison Cemetery
Daughter Susan C. "Sue" McMillan (1851-1950) was born on Jan. 9, 1851 in Paddytown.
On Nov. 7, 1871, at the age of 19, she was wedded to 31-year-old Jesse Liston (Aug. 3, 1839-1906), the son of Thomas and Elizabeth (Keller) Liston of Listonburg, and the grandson of John Liston. Their wedding was performed by the hand of Rev. Lemuel W. Haslup, pastor of the Methodist Episcopal Church South.
Susan and Jesse were a dozen years apart in age and initially made their home in Meyersdale, Somerset County. (Jesse's brother, Simon Liston, also is profiled on this website.)
Jesse had dark hair and blue eyes, standing 5 feet, 6 inches tall and weighing about 180 lbs.
The couple produced two offspring. Both died young within just nine days of each other -- Harry E., who passed at the age of seven on Nov. 26, 1879 -- and Thomas J., who succumbed at age five on Dec. 5, 1879. Both boys' remains were laid to rest in Addison Cemetery.
During the Civil War, on Sept. 22, 1862, Jesse enlisted in the Union Army. He was assigned to the 54th Pennsylvania Infantry Reserves, Companies B and H, commanded by Capt. Hight. Said the 1906 book History of Bedford and Somerset Counties, Pennsylvania, authored by E. Howard Blackburn and William H. Welfley, Jesse "participated in the following battles: Cherry Run; Williamsport, Maryland; Hedgesville, and many others, being wounded at the battle of Newmarket, Virginia."

Above: re-enactment of the Civil War battle of New Market, Virginia, where Jesse was wounded. Below: Army hospital in Clarysville, MD, where he was treated.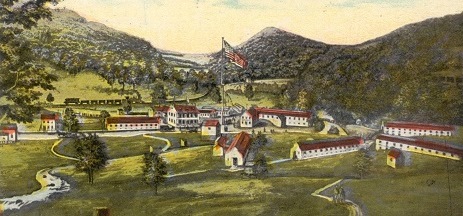 His wound at New Market, suffered on May 15, 1864, was from a bullet which struck his left shoulder and exited the body. The enemy's Minié ball entered at the back of the shoulder, above the scapula, and passed out through the center of the deltoid muscle. His lieutenant, John H. Benford, was aware of the wound.
Jesse was sent to the Army hospital at Clarysville, MD, near Cumberland, where he was treated from late May until mid-September 1864. He was transferred back to his regiment and from there was send to the U.S. General Hospital in Frederick, MD. While in Frederick, he also began suffering from acute diarrhea.

An examining surgeon once wrote that the "deltoid muscle was cut through. Complete loss of power and inability to raise the arm." Any time he tried to raise his arm he felt pain. Another physician noted that Jesse was "not able to raise the arm directly. Can raise it by a forward or backward motion. Slight atrophy of arm." He was transferred to Company H of his regiment in March 1865 and honorably discharged June 7, 1865.
At some point, Jesse received word that his brother in law Alexander Van Horn, of the 11th Pennsylvania Reserves, had been killed in the Peninsula Campaign.
Following his discharge from the Army in June 1865, Jesse returned home. He applied for and began receiving a military pension as compensation for his wound, awarded in November 1866. [Invalid App. #119.335 - Cert. #79.779]. He began receiving a monthly check in the amount of $4.

Actual surgeon's sketch of Jesse's wound. Below: fancy hand-lettered document in his army pension file, 1878. National Archives
Jesse's father had migrated from Selbysport, Garrett County, MD "to take charge of the Cantner woolen factory, Somerset," said the 1906 History. Later, in about 1844, the father " took charge of the Listonburg woolen mill," a family owned business handed down over several generations. After the father's death in about 1875, Jesse and his brother Jeremiah took over its operation, named Liston Brothers. The 1884 book History of Bedford, Somerset and Fulton Counties described the business, saying that "Liston Brothers, in addition to their woolen factor, operate a sawmill, run a store, and have a farm of five hundred and thirty acres. They manufacture, including custom work, about thirty thousands pounds of wool per year, into all kinds of domestic linens." In all, Jesse operated the woolen mill for 43 years.
Then when the business was profiled again in the 1906 History, it had been purchased circa 1904 by Cook, Emert & Co., of Somerset. "They have since enlarged it," the 1906 History said, "adding ten thousand feet of floor space, and have also added much improved machinery."
In 1872, when the Listonburg Methodist Episcopal Church was erected, Jesse was among the first trustees, serving with Thomas Liston, Hiram Mitchell, Alfred Mitchell and George Wass, and also was the first steward and Sunday School class leader. (The church also has been known as the Southern Methodist Episcopal Church.) Jesse enjoyed the comradeship of his fellow army veterans and was a member of the Grand Army of the Republic. He was a Democrat in his politics.
Military surgeons eventually determined that he was three-quarters disabled from its effects. In August 1878, living in Listonburg, he was awarded an increase in his pension, now in the monthly amount of $6. The amount was raised again to $8 per month in August 1884, and to $10 in December 1887. The examining surgeon observed that Jesse had a "general weakness of arm with atrophy of muscles and inability to grasp any object firmly."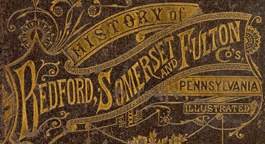 Above, the 1884 History naming Jesse and the family firm. Below, Jesse's profile in the 1906 book, History of Bedford and Somerset Counties.

Susan's signature.
National Archives
As Jesse aged and his health grew worse, he told doctors that he had partial paralysis of the left side. "I have constant pain in my arm from shoulder to elbow and cannot work without great suffering following," he told a doctor in 1886. "I have heart trouble when I walk any distance, get out of breath. Have rapid beating of my heart." He also complained of a double hernia and an "affection of the heart" although he did not attribute them to his wartime wound.
When the federal census was enumerated in 1880, the childless Listons made their home in Listonburg, Addison Township, with Jesse earning a living as a merchant. That year, they lived in the vicinity of homes of 74-year-old Elizabeth Liston, Jere and Emily Liston, and Susan's parents Jehu and Mary Ann McMillan.
By 1900, having produced no additional children, the Listons continued to live in Listonburg, Addison Township, and had two servants and a boarder under their roof.
Sadly, burdened with heart valve problems, and possibly paralysis, Jesse died on Dec. 1, 1906 at the age of 67. Burial was in Addison Cemetery. Brother in law Milton R. McMillen signed the official Pennsylvania certificate of death.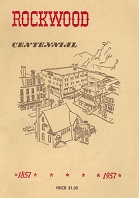 Booklet naming Sue
Susan spent her 44 remaining years as a widow. With her late husband having acquired some measure of wealth, Susan was invested in stocks and bonds. By 1907, after his death, these securities were valued at $2,000, yielding an annual return of about $128. She employed J.E. McCartney as her bookkeeper.
At the same time, she owned real estate which was partly wooded with a small portion cleared land, valued at about $4,500.
Susan applied for and began receiving her husband's monthly pension checks. [Widow App. #875.810 - Cert. #647.364] Her claim originally was rejected because, stated an examiner, she was "in possession of property which yields her a net annual income in excess of $250." But after some delay she was awarded the pension in December 1907 and received monthly payments for the balance of her long life. Her pension file received the additional all-important number XC 2678782.
In July 1915, she left for a vacation in the west, and stopped to see her nephew Paul Kilpatrick McMillan in Akron, OH, and underwent muscle pain which caused her to pause on her plans. The Meyersdale Republican once said that she was "one of the very best types of true Christian womanhood. She never tires of doing good, in the church and Sunday school and in the W.C.T.U. and every other place where she can alleviate suffering or aid in the uplift of humanity. Her very self-sacrificing life is in itself a sermon on Christianity, and it is the prayer of her many friends that she may live many years in her good work."
Her residence in 1925 was in Springdale, near Pittsburgh. In time she relocated to Meyersdale, Somerset County. Due to illness, in February 1935, she was unable to attend the funeral of her brother Milton in Addison. Late in 1935, she moved from 104 Blackly Street in Meyersdale to Duquesne, with an address of 405 Kennedy Avenue.

Church letterhead on which Susan wrote to the Pension Commissioner
National Archives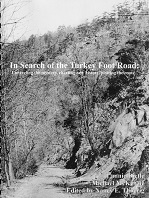 Book naming Jesse, 2014
Susan's monthly pension check from Washington, DC was returned to sender after she moved from Meyersdale. Writing from Duquesne in December 1936, she contacted the Pension Commissioner, saying "I am greatly in need of the money and would appreciate it greatly if you would forward my December check at one." In doing so, she used stationery of Duquesne's First Evangelical Lutheran Church, located on Kennedy Avenue and South Fourth Street.
She moved back to Listonburg from Duquesne in 1941. About seven years later, she was admitted to the Ladies Grand Army of the Republic Home in Swissvale near Pittsburgh in about 1948. She died there of senility and heart disease at the age of 99 on Feb. 19, 1950. Her remains were brought back to Addison for burial. Simon is mentioned in the 1884 book by Waterman, Watkins & Co., History of Bedford, Somerset and Fulton Counties, Pennsylvania.
Susan is named in the commemorative booklet Rockwood Centennial: 1857-1957, citing her work among other "pioneers in W.C.T.U. work" by attending conventions and whose "memory will always be cherished. Other names cited among her colleagues were Mrs. Hochstetler, Annie Frease, Hon. Amos Knepper, A.f. Ferner and James Ferner.
Many years, later, in July 2017, the founder of this website requested access to Jesse's full and complete Civil War pension file under the Freedom of Information Act. As of today, the request has not been honored.
In 2014, the language about Jesse and Liston Brothers from the 1884 book was reprinted in the fourth edition of In Search of the Turkey Foot Road — Unraveling the Mystery, Charting New History, Plotting the Route, co-authored by Lannie Dietle and Michael McKenzie, edited by Nancy E. Thoerig and published by the Mount Savage Historical Society in Maryland.
~ Daughter Martha Jane (McMillan) Augustine ~
Daughter Martha Jane McMillan (1853-1939) was born on Christmas Eve 1853. Over the years her maiden name also was spelled "McMillen" and "McMillin."
She wed John "Hampton" Augustine (July 30, 1851-1921), son of Jonas and Julia (Pyle) Augustine of Addison Township, Somerset County. Hampton's father was well-known in the community and once served in the Pennsylvania legislature.
They were the parents of two offspring, Charles "Willis" Augustine and a daughter. Sadness enveloped the family when the daughter died at the age of only two.
The family dwelled on a farm three miles east of Addison, known as "The Willows." The tract was located at an intersection of the National Turnpike -- a spot locally referred to as the "Y," not far from the old tollhouse. They held a membership in the Methodist Episcopal Church.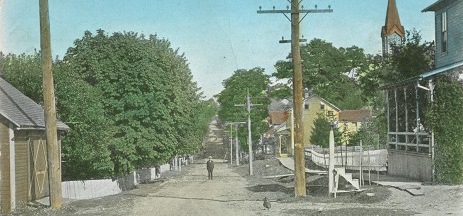 Above: West Main Street, Addison. Below: the old National Turnpike toll house in Addison and its "Rates of Toll" from the 1800s.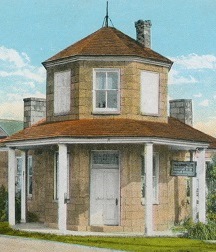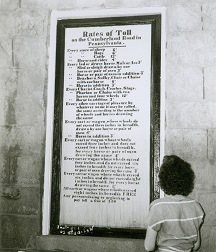 Hampton contracted acute bronchitis at the age of 70, in the autumn of 1921. Added to chronic heart problems, his health declined rapidly. He succumbed within the week on Nov. 6, 1921. An obituary in the Meyersdale Republican called him "one of the most prominent citizens of Addison Township [and] highly respected in the community." Their son and his family traveled from Pittsburgh to attend the funeral, as did their niece Letha Failinger.
Martha outlived her husband by 18 years. She remained in Addison and enjoyed visits with her friends as well as her siblings and their families. Her name often was printed in the gossip columns of the Republican for her social calls.
She sold the Willows farm to John W. Greaves in 1922 for $10,000. Some 90 acres of the property was sold in or before 1934 to R.F. Lenhart.
In July 1928, Martha and son Willis traveled to Confluence to attend a McMillan Reunion held at the home of her brother Charlie. By 1935, she had moved to her son's home Pittsburgh. Her address in the late 1930s was 7228 Mt. Vernon Street in the city.
Suffering from senility and heart disease, she passed away at the age of 85 on June 12, 1939. Her son signed the death certificate. Her remains were transported to Addison for interment, with a brief death notice appearing in the Pittsburgh Press and a longer obituary in the Republican. Rev. Kelly led a funeral service in Pittsburgh, and when the casket arrived at the graveside, Rev. C.W. Baker of Duquesne led the burial services.
Son Charles "Willis" Augustine (1877-1958) was born on May 26, 1877 in Addison, Somerset County. He relocated to Pittsburgh, where he is known to have resided circa 1928-1958. He was employed for many years as a clerk and assistant cashier with the Pittsburgh Railway Company, and ultimately retired from the position. Willis was married to Pauline Gerst (Dec. 5, 1875-1956), daughter of Charles C. and (?) Gerst of Pittsburgh. They were the parents of two known offspring, Cecil Hampton Augustine and Evelyn Martha Augustine. Sadly, Pauline endured a massive heart attack and succumbed to death at home at the age of 80 on May 19, 1956. As a widower, his address in the 1950s was 7228 Mt. Vernon Street. At the age of 81, suffering from hardening of the arteries, he was felled by a heart attack and died at home on Sept. 21, 1958. Son Cecil was the informant for the official Pennsylvania certificate of death. The remains were shipped back to his hometown for interment in Addison Cemetery, and the Pittsburgh Press printed a death notice.
Grandson

Cecil Hampton Augustine

( ? -1978) was born in (?). On June 23, 1926, he entered into holy matrimony with Jean Richmond Cochrane ( ? - ? ), daughter of Raymond E. and Lucy (Richmond) Cochrane of Pittsburgh's East End. News of their engagement was published in the

Pittsburgh Post-Gazette

, and Jean's wedding portrait was printed in the

Pittsburgh Press

"Social Happenings" section. One daughter was born to this union, Lucile Cochrane Augustine. Circa 1939, they dwelled in the city's Homewood neighborhood. The couple's postal address in the 1950s was 172 Mayfair Drive in Pittsburgh. Believed to have been burdened with cancer, Cecil died on July 3, 1978. A memorial service was held in the Southminster Presbyterian Church in Mount Lebanon. In a

Pittsburgh Post-Gazette

death notice, the family asked that any memorial donations be made to the church building fund or to the American Cancer Society.
Great-granddaughter Lucile Cochrane Augustine (1927-2008) was born on July 17, 1927 in Pittsburgh. She is believed to have enrolled as a freshman at Westminster College in September 1945. She never married but, as had her aunt Evelyn, took the path of a professional career as an executive secretary with United States Steel Corporation. In the community, she volunteered her time at Kane Hospital and Friendship Village. She died in Friendship Village at the age of 81 on July 17, 2008. An obituary published in the Pittsburgh Post-Gazette saying she was a "loving cousin and 2nd cousin of many." Her remains were interred in Allegheny County Memorial Park in McCandless Township, north of Pittsburgh.
Granddaughter Evelyn Martha Augustine (1905-1937) -- also spelled "Evalyne" -- was born on Aug. 17, 1905. She never married. Rather, she pursued a business career as a stenographer for Gault Brothers in Pittsburgh and lived at home with her parents. She stopped working in about 1932. Tragically, she was diagnosed in the summer of 1937 with cancer of the rectum and the brain which had spread elsewhere. She underwent surgery to remove the rectal growth and also a cerebral decompression, where a flap of her skull was removed so that surgeons could relieve pressure on the skull. After several months of suffering, she died on Nov. 1, 1937. The body was sent to her parents' hometown of Addison for interment.
~ Daughter Amanda A. "Mollie" (McMillan) Pullin ~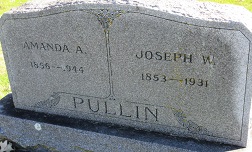 Hudson Cemetery, Iowa
Courtesy "Mary E." -- Find a Grave
Daughter Amanda A. "Mollie" McMillan (1856-1944) was born in July 1856.
On Oct. 25, 1877, when she would have been 21 years of age, Amanda was joined in marital union with 24-year-old Joseph Walker Pullin (July 30, 1853-1931). The nuptials were held in Listonburg, officiated by Rev. Luke Markwood of the Methodist Episcopal Church.
Together, they were the parents of four children, among them Mary Etta "Marietta" Baldwin, Russell Edwin Pullin, Lola G. Pullin and Scott Elbert Pullin.
The family first dwelled in Addison, Somerset County. Then in 1890, after a baker's dozen years of marriage, the couple arrived at a monumental decision to pull up stakes and migrate westward.
They voyaged to Iowa and first settled on a rented farm near the town of Hudson, Black Hawk County. Some 60 years later, a local newspaper referred to them as "pioneers of the Hudson community."
Others from Somerset County known to have relocated to Black Hawk County in the 19th century -- including some who became close neighbors -- were Amanda's Ream cousins Simon and Hattie "Weyand) Shauls of the family of Samuel and Caroline (Umberger) Weyand -- as well as John and Sarah (Saylor) Dull, Samuel and Sarah Ann (Dull) Saylor, Josiah and Elizabeth G. (Ross) Dull. Other more distant cousins living in the county were Joseph and Laura (Miner) Troxel.
In time, the Pullins acquired a farm in Orange Township, where they remained until retirement. Comprising 160 acres, the tract was named "Prospect Farm" and sat in Sections 17 and 18. When Joseph and Amanda retired in 1905, they moved a short distance into the town of Hudson.

1910 Atlas of Orange Township, Black Hawk County, Iowa, showing Joseph W. Pullin's 160-acre "Prospect Farm." Amanda's cousin Hattie Shaulis and her husband Simon lived a mile to the south.

When the federal census was taken in 1910, the Pullins dwelled on Fifth Street in Hudson, with Joseph not working, stating that he relied upon his "own income." A local newspaper once called him "one of the best liked and most respected citizens in Hudson. An honest, upright christian who always did his best to make life better for his fellowmen."
The Pullins are known to have owned an automobile circa 1914 and to have driven from their home in Waterloo to visit their son Scott in Wapello. They belonged to the United Brethren Church of Hudson.
At the death of Joseph's mother in July 1913, he traveled back to Somerset County to attend her funeral. Then in late May-July 1920, they again visited in Pennsylvania, attending the McMillan Reunion at Listonburg and visiting at the home of Amanda's sister Susan Liston and Joseph's uncle Alfred N. Pullin in Unamis. At that time, the Meyersdale (PA) Republican reported that the couple were:
...both natives of Addison Township and members of two of the oldest and best known pioneer families of that township. They removed to Blackhawk County, Iowa, many years ago, and have prospered in their western home. This is their first visit to their native county in the last seven years. The Republican had the pleasure of a call from Mr. Pullin last Thursday. He has been a reader of the paper ever since the Turkeyfoot News was absorbed by it.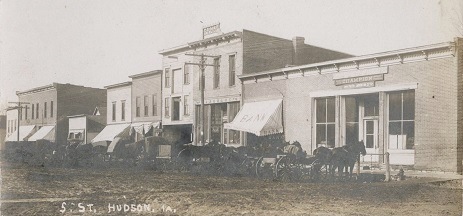 Hudson, Iowa, showing the hardware store, bank and other businesses
In October 1927, the couple marked their 50th wedding anniversary. They were pictured in a feature story in the Waterloo Courier gossip columns, which said that they had resided in the Hudson vicinity for 37 of those years and that all of their children, 13 grandchildren and one great-grandchild would "be present at the jubilee festivities...."
The Pullins held another family reunion the following summer at a park in Iowa City.
In the late spring of 1931, Joseph and Amanda and their son Russell drove to Pennsylvania, presumably to visit their old home region.
Joseph died suddenly at home on Dec. 20, 1931, at the age of 78. An obituary in the Hudson Herald said that:
Although Mr. Pullin had not been in the best of health for some time, he had not been confined to his bed and no one thought he would pass thus quickly. [He] was feeling about as usual the Saturday before his death, and in the evening attended the U.B. church services, where he was a faithful worker. On Sunday forenoon he did not feel so well and decided not to attend church. However, he ate a hearty dinner, and afterwards went to read the Sunday paper. A little later when Mrs. Pullin went into the room, she found him dead in his chair.
Funeral services were conducted by Rev. W.N. Roush, assisted by Rev. H.V. Riggs. Traveling to attend was Amanda's brother Lloyd McMillan from his home in Morrell, KS. Joseph's grandsons Harold Pullin, Wilbur Baldwin, Edwin Pullin, Joseph Pullin, Carro Loonan and Everett Loonan acted as pallbearers. Burial was in Hudson Cemetery, and the Herald obituary was printed in the Pullins' old hometown newspaper, the Republican.
Amanda lived for another baker's dozen years. She endured the heartache of the death of her son Russell when gored by a bull in February 1941. At the death of her brother Charles in 1934, and her sister Martha Jane in 1939, she was named in their obituaries printed in the Meyersdale Republican. Her home in the early 1940s was at 1015 Irving Street in Cedar Falls.
Amanda passed in 1944.
In July 2002, a reunion of Joseph and Amanda's family was held in Hudson at the Community Center. The Waterloo Courier said that 102 attendees came from California, Colorado, Illinois, Indiana, Iowa, Minnesota, Montana, Texas and Wisconsin. Glen Pullin and Nancy (Pullin) Reese comprised the planning committee. Harold Pullin at age 94 received an award as the oldest in attendance, and two-year-old Anthony Charles Nelson of Chicago the youngest.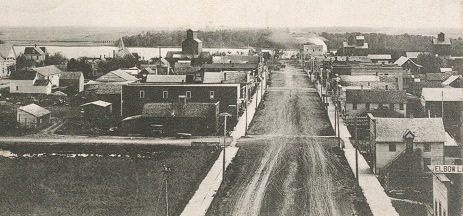 Elbow Lake, MN, where the Baldwins settled in the mid-1900s
Daughter Mary "Etta" Pullin (1878-1968) -- also known as "Marietta" -- was born on Sept. 14, 1878 in Listonburg/Addison, Somerset County. At the age of 12, she made the move to Iowa with her parents and grew to adulthood in Hudson, IA. When she was age 20, on March 15, 1899, she was united in wedlock with 19-year-old farmer Jay Allen Baldwin (1879- ? ), also of Hudson. The wedding took place in Black Hawk County, with Rev. J.C.H. Light, of the Evangelical United Brethren Church, presiding. Witnesses were A.T. Baldwin and George Martin. The couple bore a brood of children, among the known names Carlton Baldwin, Howard J. Baldwin, Wilbur Allen Baldwin and Walter L. Baldwin. Sometime between 1903 and 1909, the couple migrated into Minnesota. Federal census enumeration records for 1910 show them in or near St. James in Rosendale Township, Watonwan County, MN. That year, Jay earned a living as a farmer. In 1915, the family migrated to a farm in Sanford Township, Grant County, MN. The censuses of 1920, 1930 and 1940 show them remaining in Sanford. In 1940, with all four sons having left the household, they engaged Clayton Jessop as a hired hand. For 53 years, they were members of the First Presbyterian Church of Elbow Lake. The couple retired in 1944 and moved into the town of Elbow Lake. Etta succumbed to death in Elbow Lake Community Hospital at the age of 90 on Nov. 27, 1968. An obituary in the Fergus Falls (MN) Daily Journal said she was a "longtime resident of this community." Survivors included 15 grandchildren and 29 great-grandchildren. Rev. James Clark led the funeral service. Burial was in Union Cemetery.
Grandson

Carlton Baldwin

(1900- ? ) was born in about 1900 in Iowa.
Grandson Howard A. Baldwin

(1903- ? ) was born in about 1903 in Iowa. He made his home in Big Lake, MN in 1968. Evidence suggests that he wedded Gilma Soliah ( ? - ? ), daughter of Arnold and Myrtle (Bjore) Soliah. They may have had a son Richard J. Baldwin who was wounded in the Korean War.
Grandson Wilbur Allen Baldwin

(1909-1997) was born in about 1909 in Grogen, Rosendale Township, Watonwan County, MN. He received a bachelor of science degree in 1933 and a master of science degree in 1937, both from the University of Minnesota. On June 19, 1934, when he was about 25 years of age, Wilbur entered into marriage with Vivien O. Stebbins ( ? - ? ), daughter of Victor F. Stebbins. The wedding was held in the Judson Baptist Church, presided over by Rev. G. Merrill Lenox. Reported the

Minneapolis Star Tribune

, the bride "wore white satin, made with a stand-up collar, long sleeves and a train. Her tulle veil, embroidered at the edges, was held by a cap of orange blossoms. Her bouquet was of white and tea roses, white sweet peas and baby breath." The couple's union endured for an extraordinary 62 years. Together, they produced a brood of five offspring -- Allen J. Baldwin, David F. Baldwin, Bruce T. Baldwin, Robert J. Baldwin and Joyce Howe. Over the decades, the Baldwins lived in Wright County, MN and New Lebanon, NY. They belonged to the Silver Lake Congregational Church. Wilbur was employed in operations for nurseries and greenhouses in the Minneapolis area. Said the

Star Tribune

, he also "was a beekeeper for 70 years." He is known to have held memberships in the Berkshire Beekeepers Association, Wright County Historical Society of University of Minnesota Alumni Association. His final years were spent in Colts Neck, NJ, likely to be near his married daughter. At the age of 87, Wilbur died in Colts Neck on March 3, 1997. An obituary was printed in the

Star Tribune

, which reported that he had "requested that his body be donated to the Anatomical Gift Program of Albany Medical College, Albany, NY."
Great-grandson Allen J. Baldwin dwelled in Minneapolis in 1997.
Great-grandson David F. Baldwin made his home in Arizona.
Great-grandson Bruce T. Baldwin migrated east to New York.
Great-grandson Robert J. Baldwin resided in Chicago.
Great-granddaughter Joyce Baldwin was joined in wedlock with (?) Howe. Her home in 1997 was in New Jersey.
Grandson Walter LeRoy Baldwin (1912-1991) was born on June 2, 1912 in St. James, Watonwan County, MN. On Feb. 23, 1935, at the age of 22, he was joined in the bonds of holy matrimony with Gladys Ethel Olson (Aug. 20, 1915-1966), daughter of Oscar E. Olson of Sanford Township. Two children born to this marriage were Constance Lindblom and Glenn Olson. The couple were farmers and made a home two miles south of Elbow Lake, MN. Circa 1961, Walter served on the board of directors of Elbow Lake Hospital and held the seat of board secretary, at a time when a new facility was constructed. Sadly, Gladys died at the age of 51 on Sept. 7, 1966. An obituary appeared in the Fergus Falls (MN) Daily Journal, which said that she was survived by two grandchildren and two sisters. Funeral services were conducted at Our Savior's Lutheran Church of Barrett, MN, led by Rev. K.M. Mattheisen, with interment in the church's burying ground, Peace Lutheran Cemetery. The widowed Walter married a second time on Jan. 3, 1970 to Irene Rosalind (Alberts) Thompson (Sept. 9, 1917-2006), daughter of Clarence Robert and Ida (Roswold) Alberts, and widow of Orean Thompson (1915-1949). Irene brought two children to the union from her first marriage -- Dennis Thompson and David Thompson. She was a longtime music teacher in Evansville, MN, and organist and choir director of Immanuel Lutheran Church and later Faith Lutheran Church. She loved to accompany students and musical groups in their performances. She also was part of many prayer and Bible study groups. During their years together, Walter and Irene traveled extensively, spending their summers in a cabin on Stalker Lake and winters in Mesa, AZ. He died in Arizona at the age of 78 on April 6, 1991. His remains were shipped back to Minnesota to rest beside his first bride. Irene survived for another 15 years. She relocated to Alexandria, MN and remained for the balance of her life. Toward the end she became a resident of the community's Knute Nelson Memorial Home. There, at the age of 88, she was swept away by the angel of death on March 11, 2006. Rev. Russell Osterberg led her funeral service in the Faith church, with an obituary printed in the Echo Press.
Elbow Lake Community Memorial Hospital, constructed when Walter Baldwin was secretary of the board of directors. Photo by A. Pearson Co., Inc., Minneapolis
Great-granddaughter Constance Gladys Olson (1938-2019) was born on May 19, 1938 in Fergus Falls, Otter Tail County, MN. In young womanhood she attended the Minnesota School of Business and then became employed by Union Carbide Chemical Company in Minneapolis. When she was 19 years of age, on May 3, 1958, she wedded LeRoy Howard Lindblom (Oct. 1, 1936-2016), son of Hugo Anderson and Elin Mathilda (Oakstrom) Lindblom. They were together for a remarkable 57 years until cleaved apart by death. Together, they produced four children -- Debra Solis, Dawn Lindblom, Darwin Lindblom and Darrin Lindblom. After marriage, Constance began working for First National Bank and in 1961 was hired by Elbow Lake Public School. LeRoy earned a living initially as an employee of Farmer's Coop in Elbow Lake. After a move to Luverne, MN in 1967, he was named manger of the Farmer's Union Oil Company, working there for 39 years, and she joined the Luverne Elementary School staff and remained for 35 years. She retired in 2002, followed by work for the Sanford Sycamore Clinic, Curves fitness clinic and the Luverne Public Library. Very active in the community, she served on the church council of Grace Lutheran Church of Luverne and was involved with its stewardship, women's ministry, handbell choir and Sunday School. She belonged to the Luverne Riverside 4-H Club and played bridge, raised flowers, made quilts and liked to go to dances with her husband. Said a newspaper, she "was a member of the Tripoli Club, the Luverne Tourist Club, Mrs. Jaycees, and Lazy Susan Extension Club. She was a charter member of the Red Hat Society. She was an avid sports fan of both the Luverne High School and the Minnesota Vikings football teams and had served as a parent rep for the Luverne hockey program."Sadly, LeRoy died in Luverne on March 5, 2016. Burial of the remains was in Maplewood Cemetery. Constance survived for another three years and went to live in The Pines Senior and Assisted Living in Richfield, MN. She succumbed to death at the age of 80 in Fairview-Southdale Hospital in Edina, Hennepin County, MN on March 6, 2019. Her remains sleep eternally in Maplewood Cemetery in Luverne.
Great-grandson Glenn Olson relocated to Riverdale, ND. By 2006, he had migrated to Wayzata, Hennepin County, MN.
Step-great-grandson Dennis Thompson married Priscilla and lived in Alexandria, MN.
Step-great-grandson David Thompson was united in wedlock with Stephanie. They moved to New Mexico where they made a home in Albuquerque.
Son Russell Edwin Pullin (1881-1941) was born on June 7, 1881 in Pennsylvania. At the age of nine, he traveled with his family cross-country in their migration to Iowa. In 1900, at the age of 18, he provided labor on the home farm. At the age of 26, on Oct. 18, 1906, he entered into marrige with 20-year-old Anna Matilda Schraeder (Feb. 26, 1887- ? ) of Spring Creek, Black Hawk County, IA. She was the daughter of William Henry and Emma Sophia (Buttke) Schraeder, the father an immigrant from Germany. The nuptials were held in Waterloo and led by Rev. William Tiede, of the Evangelical Lutheran Church, with John Dage and Lena Widdel serving as witnesses. The newlyweds resided on a farm in Orange Township and never left. The pair were the parents of nine offspring -- Harold R. Pullin, Donald F. Pullin, Gladys M. Eiklenborg, Ruth M. Pullin, Edwin R. Pullin, Delores Wilson, Virginia M. Barrows, Willis Pullin and Phyllis Pullin. The family was plunged into grief at the early deaths of son Willis and daughter Phyllis. The family belonged to the Graves Memorial United Brethren Church. During World War I, the family lived five miles southwest of Waterloo. He pounced upon a business idea when local sheep and lamb farmers did not make a practice of slaughting their livestock, so he "gathered them in carload lots and shipped them to the Chicago market," said the Cedar Rapids Gazette. Then in 1924, he purchased a flock of purebred Cheviot ewes, lambs and rams from a local banker and eventually had a headcount of 150. Around that same time, in autumn 1925, Russell and Anna made a visit to his old home state of Pennsylvania. Over the years, the Pullins' activities were chronicled in the gossip columns of the Waterloo Courier. Russell's name was in the news in October 1930 when he "received a carload of feeding cattle from Kansas City," said the Courier. In December 1931, he shipped a carload of sheep to Chicago. The family in February 1932 rented a farm northeast of Hudson, owned by Malcolm Thompson. That April, he sent a railcar load of cattle to the Chicago markets, and did so again in June 1933. When the United States Censuses were made in 1920-1940, the Pullins made their dwelling in Orange Township, Black Hawk County, with Waterloo as the closest town. Anna Matilda's widowed mother, Emma Widdel, lived in their home in 1940 and remained until her passing in November 1942. Russell then took advantage of an opportunity to buy a 80-head flock of ewes from a local doctor and then hired "Shep" Uhl, known as "Iowa state's shepherd," to provide advice for how best to breed them. He and his sons started to exhibit their Cheviots at the Mississippi Valley Fair in Davenport circa 1925 and in 1928 did so at the Illinois State Fair, where their yearling captured the prize of grand champion with first places earned for their aged ewe, yearling ram and young flock. Other state fairs in which they took part were in Wisconsin, Iowa and South Dakota. At their 28th wedding anniversary in 1934, the couple received a surprise party with 30 friends and neighbors attending. Russell is believed to have gone to Chicago in April 1935 to market a carload of cattle to prospective buyers. In the downtime of late autumn 1938, Russell traveled to Canada with friends for a week of hunting deer.
He continued to expand his business, raising purebred Cheviot, Hampshire and Oxford sheep under the name R.E. Pullin and Sons. He also increased his public visibility through roles as a board director of the Iowa Sheep and Wool Growers Association and vice president of the American Cheviot Sheep Society, and winning prizes at national sheep shows. In the local community, he was vice president of the Hudson Electric Company, trustee and assessor of Orange Township, and a trustee of the consolidated school district. He also was a founding member of the Waterloo Knife and Fork Club. Their farm in 1941 was two miles southwest of Waterloo. But tragedy intervened on the dark Sunday morning of Feb. 16, 1941. With the family away at church, Russell was working in the barnyard when a bull made a surprise charge and gored him in the chest, puncturing his heart. Reported the Courier, "The bull, a 4-year-old, apparently rushed Pullin as he turned a number of cows out of the barn. After being gored and knocked to the ground, the injured farmer crawled under a fence before becoming unconscious. His cap was 100 feet from his body..." He was discovered after the family came home about 1:15 p.m. His son Edwin picked up the unconscious man and drove him to the Presbyterian Hospital, where he was pronounced dead. Russell was pictured in an obituary in the Courier, which called him "one of Iowa's leading breeders of purebred sheep." News of the tragedy was printed throughout the state, including in newspapers in Cedar Rapids, Davenport and Iowa City. Rev. Lloyd Dutro officiated the funeral service, with interment in Memorial Park Cemetery. Pallbearers nicluded Ira W. Blough, R.C. Hollis, D.C. Iseminger, W.W. Klingaman, J.J. Miller and B.S. Strayer.
In the years to follow, Russell's offspring continued to under the revised trade name R.E. Pullin's Sons of Waterloo. The family discontinued raising the Cheviots in 1951 and stopped raising Oxfords in 1955. From that time on they focused on Hampshires. By 1961, they had 130 ewes under management. Said the Cedar Rapids Gazette in 1961, "For more than 30 years the firm ... has been a potent factor in the purebred sheep business." Son Donald took the lead in managing the firm and eventually brought his sons Alfred and Ronald in as partners. On Oct. 8, 1972, the Des Moines Register published a major feature story, headlined "Four Generations of Sheepmen -- The Pullins." It recounted how, at the 1972 Dairy Cattle Congress, the 84-year-old widowed Anna, her son, two grandsons and three great-grandsons attended the sheep barn, "symbolizing 47 years of sheep showmanship." Anna and her family were pictured in the article.
Anna outlived her husband by more than three decades. When she reached her 90th birthday, in February 1977, an open house was held at Graves United Methodist Church, and she was pictured in the Waterloo Courier.
Grandson

Harold R. Pullin

(1907- ? ) was born on Oct. 27, 1907 in Black Hawk County. Unmarried at the age of 22, in 1930, he provided labor on the home farm near Waterloo. On Dec. 1, 1933, when he was 25 years of age, Harold was united in matrimony with Irma Jean Rivers (Jan. 22, 1908- ? ), daughter of Wilford and Rose (Ellis) Rivers of Black Hawk County. The couple's nuptials were held in Faribault, MN. They were the parents of five sons -- Richard Pullin, Robert Russell Pullin Sr., Glen Pullin, Roy Pullin and Max Pullin. They dwelled on a farm in Orange Township for decades. The couple retired in 1971. They endured the heartbreak of the untimely deaths of their sons Roy and Max. In her final years, Irma Jean resided in Ravenwood Nursing and Rehabilitation Center in Waterloo. Harold and Irma reached their 60th wedding anniversary in 1993, with a family dinner held at the Silver Fox Restaurant and the couple pictured in the

Waterloo Courier

. When reaching her 95th birthday in January 2003, she was pictured in the

Courier

and enjoyed taking part in a card shower.
Great-grandson Richard Pullin
Great-grandson Robert Russell Pullin Sr. ( ? - ? ) was born in (?). He grew up on the family farm and pursued that as his work. On July 22, 1956, he wedded Julia V. "Judy" Kerr ( ? - ? ), daughter of Mildred Kerr of near Waterloo and a senior at Orange Township Consolidated School. The ceremony was held in the South Waterloo Church of the Brethren. News of their engagement and subsequent wedding was printed in the Waterloo Courier. Together, the pair bore a son, Robert Russell Pullin Jr.
Great-grandson Glen Pullin made a home near Waterloo. He is believed to have been elected as an Orange Township trustee in the early 2000s.
Great-grandson Roy Eugene Pullin ( ? -1970) was born in (?). He was the father of Eugene Pullin and Jodi Pullin. As an adult he made a residence in Marion, IA and worked for Link Belt Company in Cedar Rapids. He belonged to the Machinists Union and to the South Waterloo Church of the Brethren. In 1963, he was arrested for repeatedly trying to break into a vending machine. Tragically, at the age of 28, he was killed in an automobile accident on Dec. 12, 1970. The Waterloo Courier reported that the "car he was driving skidded off an icy road near Cedar Rapids and overturned.... The casket will not be opened at any time." Rev. Kent E. Naylor, of the family church, presided at the funeral service.
Great-grandson Max Pullin put down roots in Cedar Rapids.
Grandson Donald F. "Don" Pullin

(1910- ? ) was born in about 1910 in Iowa. After graduation from the Orange Township schools, Donald attended the Iowa State Teachers College and was a member of the Phil Kappa Tau fraternity. When he was 22 years of age, on June 16, 1932, he was united in matrimony with Blanche Wilson ( ? - ? ), a resident of Hudson. The nuptials were held in the home of her grandfather Samuel Watters in Hudson, and officiated by Rev. F. Forest Byers, in front of 65 guests. In reporting on the wedding, the

Waterloo Courier

said that the bride "wore a frock of oyster white chiffon and a white net veil. She carried a bouquet of calla lilies. Beulah Wilson, twin sister of the bride, was bridesmaid and wore a blue gorget frock and a corsage of roses and sweet peas." An interesting twist was that the day marked the 75th wedding anniversary of Blanche's Watters grandparents. Two known sons produced by their union were Alfred Pullin and Ronald Pullin. The newlyweds put down roots on a farm in Orange Township, with Donald taking an active interest in continuing the family sheep-raising business, now known as

R.E. Pullin's Sons of Waterloo

. He served for a decades as president of the Iowa Sheep and Wool Growers Association and was the initial president of the Iowa State Sheep Association. He spent three years as president of the American Oxford Down Sheep Association and for two years, in 1957-1958, was president of the American Hampshire Registry Association. He also helped to organize the North Central Wool Marketing Corporation, representing farmers in five states. A July 1961 story in the

Cedar Rapids Gazette

said that

"Whenever midwestern purebred sheep breeders foregather at sale, show or meeting the name of Pullin is likely to be heard.... And if the occasion were a sheepmen's meeting, until recently the odds would have been that Don Pullin was presiding."

In 1987, he received the James McClure Award frmo the National Wool Growers Association for "significant contributions to the sheep industry." The

Courier

noted that Donald was one of "Iowa's premier sheep producers [who] has been recognized nationally for his work in promoting the sheep industry. This is the highest award presented by the association, which represents sheep and wool growers in 34 states."
Great-grandson Alfred Pullin (1933- ? ) was born in about 1933 in Orange Township. He became a partner in the family business, R.E. Pullin's Sons of Waterloo. He was the father of Larry Pullin.
Great-grandson Ronald Pullin (1937- ? ) was born in about 1937 in Orange Township. He became a partner in R.E. Pullin's Sons of Waterloo. He entered into the bonds of wedlock with Mary Esther ( ? - ? ). The couple's three children were David Pullin, Deb Pullin and Douglas Pullin.
Granddaughter Gladys M. Pullin

(1911-1998) was born on Aug. 30, 1910 in Black Hawk County. At the age of 25, on Dec. 17, 1936, she entered into wedlock with Freerk "Fritz" Eiklenborg ( ? -1986). The couple did not reproduce. Together, they worked at Martin & Fritz Tailor Shop in Waterloo. Their address in 1941 was 2516 East Fourth Street. Sadly, Freerk died on Feb. 15, 1986, bringing to a close their union which had endured for nearly half a century. Gladys remained Waterloo for the remaining dozen years of her life, at the address of 2742 Crestline Avenue. As she grew older she suffered from Alzheimer's Disease. Her final home was in Manorcare Health Services. She died there on June 28, 1998, at the age of 87. Funeral services were held at Kimball Avenue United Methodist Church, followed by interment in Garden of Memories Cemetery.
Granddaughter

Ruth M. Pullin

(1914-2001) was born on Jan. 4, 1914 in Waterloo. She never married but lived at home with her parents. For a number of years, she earned a living at Morris Printing Company and retired in 1980. She belonged to the West Orange Club and served a term as its president. Her final years were spent in her home at 5065 Hoff Road in Waterloo. Ruth died at home at the age of 87 on Nov. 19, 2001. She was pictured in an obituary in the

Waterloo Courier

. Her funeral service was held at Kimball Avenue United Methodist Church, with burial of the remains in Waterloo Memorial Park Cemetery.
Grandson

Edwin Russell Pullin

(1915-1998) was born on Aug. 8, 1915 in Waterloo. He attended Iowa State College in Ames and pursued a career in farming. Circa 1940, single at the age of 24, he worked on the home farm in Orange Township and belonged to the Graves

Memorial United Brethren Churc

h. On the fateful day of Feb. 16, 1941, upon his return from Sunday morning church services, he found his father on the ground near the barnyard, having been gored by a bull. Said the

Waterloo Courier

, he "carried the father to an automobile and drove to Presbyterian hospital, where he was pronounced dead." Just a little more than five months later, on Aug. 9, 1941, he was joined in matrimony with Wanda Jane Paulsen ( ? - ? ), daughter of L.H. Paulsen of near Waterloo. The brood of offspring born to this union were Judy Smelser, Nancy Risse, JoAnne Wooden, Jack L. Pullin and John Pullin. Edwin went on to serve in the U.S. Army during World War II. Over the years, the Pullins farmed in Hudson and South Waterloo. He also was employed for 21 years by John Deere & Company and retired in 1980. Just about every Sunday night, the family went to watch stock car races at the Tunis Speedway in Waterloo. Some of their favorite drivers were a neighbor, Bill Halupnick, along with Red Droste, Chuck Liebe, Jerry Sherbon, Charley Moffit, Ed Sanger and the Zwanziger brothers. Their address in 1998 was 717 Baltimore Street in Hudson. Edwin died in Covenant Medical Center of Waterloo at the age of 82 in May 1998. Burial was in Hudson Cemetery following a funeral held at Hudson United Methodist Church. An obituary in the

Courier

said he was survived by 11 grandchildren, 10 great-grandchildren and seven step-great-grandchildren.
Great-granddaughter Judy Pullin was joined in matrimony with (?) Smelser. She was in Billings, MT in 1998.
Great-granddaughter Nancy Pullin married (?) Risse. She lived in Dysart, IA in the late 1990s.
Great-granddaughter JoAnne Pullin was united in wedlock with (?) Wooden. Her home in 1998 was in Hudson.
Great-grandson Jack L. Pullin lived in Independence. He has built racing stock cars with his brother.
Great-grandson John Pullin resided in 1998 in Jesup, IA.
Granddaughter

Delores Arlene Pullin

(1919-1996) was born on Oct. 4, 1919 in Waterloo. In young womanhood she attended Iowa State Teachers College in Cedar Falls and the Dickinson Secretarial School and then became employed by Litchfield Manufacturing Company. On the afternoon of Easter Sunday, April 5, 1942, she was united in marriage with Robert M. Wilson ( ? - ? ), son of P.W. Wilson of 226 Sunnyside Avenue. More than 200 guests attended the wedding ceremony, held in the family church and led by Rev. W.N. Roush. The union was announced on the pages of the

Waterloo Courier

, which noted that the bride "was attired in a white satin gown styled with a full skirt, short train and lace trim. She also wore a fingertip veil and the groom's gift, a three-strand pearl necklace. Her bouquet was of calla lilies, pink roses and sweetpeas." At the time, Robert earned a living with Alstadt and Langlas Baking Company. The Wilsons relocated to Denver and bore a family of six -- Lyle R. Wilson, Jeanice Stockton, Karen Young, Connie Tiller and Deanna Cline in addition to a daughter who died in infancy. The family home in the 1990s was in the Denver suburb of Northglenn. Sadness blanketed the family when, after undergoing surgery at Provanent St. Anthony Central Hospital in Denver, Delores passed away at the age of 76 on May 16, 1996. Her funeral was held in the Good Shepherd Presbyterian Church followed by interment of the remains in Highland Cemetery. An obituary appeared in her old hometown newspaper, the

Courier

, which noted that her survivors included 10 grandchildren. The family asked that any memorial donations be made to the American Heart Association or the National Kidney Foundation.
Great-grandson Lyle R. Wilson relocated to Littleton, CO.
Great-granddaughter Jeanice Wilson wedded (?) Stockton. Circa 1996, she made a home in Northglenn, CO.
Great-granddaughter Karen Wilson married (?) Young. She migrated to Thornton, CO.
Great-granddaughter Connie Wilson was joined in wedlock with (?) Tiller. She dwelled in Carlsbad, NM in the mid-1990s.
Great-granddaughter Deanna Wilson was united in matrimony with (?) Cline. She established a residence in Callallen, TX.
Granddaughter Virginia M. Pullin (1921-2019) was born on Oct. 10, 1921 in Orange Township. After graduating from Orange Township Consolidated School, she studied stenography at Gates Business College. On Nov. 18, 1940, when she was 19 years of age, she married Ralph L. Barrows ( ? - ? ), with the wedding held in Bethany, MO. Their marriage survived the ups and downs of an extraordinary 69 years of time. Together, they bore three sons -- James R. Barrows, Jerry L. Barrows and David M. Barrows. In 1941, the couple made a home at 431 LaPorte Road and over the decades remained in Waterloo. Virginia was employed for five years as a secretary to the superintendent of Orange Township Consolidated Schools. She worked for another five years as a secretary for Continental Insurance and then eight years in Cedar Falls for the Damsgaard law firm. In 1972, at the age of about 50, she was named assistant to the probate referee in the Black Hawk County courthouse in Waterloo and after three years was elevated to probate referee. She continued in that public service role for 14 years until retiring in 1989. Active in the South Waterloo Church of the Brethren, she sang in the church choir. She also spent 25 years with the Metropolitan Chorale and belonged to the West Orange Club, 15-30 Club and an Elks auxiliary. Among her free time pleasures were counted cross-stitching, her flower garden, bowling and travling to the Caribbean Islands, China and Europe as well as Alaska and other U.S. states. Sadly, Ralph succumbed to death on May 11, 2010. Virginia outlived her spouse by nine years and moved into Friendship Village Pavilion in Waterloo. She died there at age 97 on Feb. 23, 2019. She was pictured in her Courier obituary. Funeral services were held in the family church, with the remains lowered into the sacred soil of Waterloo Memorial Park Cemetery.
Great-grandson James R. Barrows wedded Carole. Their only known daughter was Jayme Nelson. The Barrowses have dwelled in Waterloo.
Great-grandson Jerry L. Barrows relocated to Portland, OR. He is the father of Randy, Christopher, Nicholas, Harry, Jason, Thuy, Steven, Jeremy, Jennifer, Robert, Diana and Vincent Barrows.
Great-grandson David M. Barrows was joined in matrimony with Maxine. They have lived in Waterloo and are the parents of Brooke Roberts.
Daughter Lola G. Pullin (1884-1950) was born in about 1884 in Pennsylvania. When she was 20 years of age, circa 1904, she wedded 20-year-old Clifford T. Loonan ( ? -1965), a resident of Hudson. News of their marriage license was published in the Waterloo Courier. The couple bore four known sons -- Forest Loonan, Gordon J. Loonan, Carrol Loonan and Everett F. "Fritz" Loonan. They first farmed and then in 1922 relocated to Hudson. Circa 1946-1947, Clifford served as a corn sealer for the Black Hawk County AAA, serving the townships of Black Hawk, Cedar Falls, Lincoln and West Waterloo. The purpose was to measure the moisture content of ear corn. Said the Waterloo Courier, "To be eligible for the program the corn must not test more than 20.5 per cent moisture in a seven foot crib or 19.5 per cent moisture in an eight foot crib." He was pictured at a farm site, using a probe to obtain measurement, in a March 1946 Courier article. The family was plunged into mourning with Lola died at home at the age of 65 on April 3, 1950. Burial was in Hudson Cemetery following services in the Community Church. Clifford died at the age of 79 on Nov. 29, 1965 as a patient in Schoitz Memorial Hospital of Waterloo.
Grandson Everett F. "Fritz" Loonan (1908-1991) was born on Feb. 15, 1908 in Hudson. On Dec. 19, 1942, in nuptials held in Nashua, IA, the 24-year-old Everett was joined in the bonds of holy wedlock with Pauline Rose Peters ( ? -1978). Three sons were born to this union -- Jack Loonan, Larry Loonan and Steven Loonan. The Loonans dwelled in rural Waterloo in the late 1960s. Reported the Waterloo Courier, Everett "was a professional sheep shearer for many years, winning many state and national awards. He was a part-time sheep shearing instructor at Hawkeye Institute of Technology in 1989. He farmed in rural areas of Waterloo for 15 years and was also employed at the Sheriff's Department as a jailer for many years." The family was plunged into grief when Pauline Rose succumbed to death on June 26, 1978, bringing to a close their 35-year marriage. Everett lived for another dozen-plus years, and at the end was at the address of 2724 Bicentennial Drive in Cedar Falls. He was admitted to Covenant Medical Center in Waterloo and died at age 83 on March 24, 1991. His obituary in the Courier included his photograph. Burial was in Hudson Cemetery.
Great-grandson Jack Loonan lived in Waterloo in 1991.
Great-grandson Larry Loonan was deceased by 1991.
Great-grandson Steven Loonan migrated to Denver, CO.
Grandson Gordon J. Loonan (1910-1967) was born on June 26, 1910 in Black Hawk County. On Sept. 16, 1938, in nuptials held in Marshalltown, IA, he entered into marriage. The couple produced a set of twin sons -- Gregory Loonan and Kent Loonan. In about 1950, the family relocated to Hudson. Gordon earned a living as a maintenance instructor for L. Altorfer Machinery Company in Cedar Rapids. The family enjoyed attending Hudson High School wrestling matches where their twins were members of the team. But tragedy struck on Dec. 13, 1967, at one of the matches, when Gordon was stricken with a massive heart attack. He was rushed to Schoitz Memorial Hospital in Waterloo and was pronounced dead on arrival. The incident was headline news in the Waterloo Courier. Rev. Ronald Smith preached the funeral sermon at Hudson Community Church, with the body interred under the sod of Hudson Cemetery.
Grandson Carrol Loonan ( ? -1981) was born in (?). As a young man, he worked at the John Deere plant. On June 20, 1929, he married Emma Steward ( ? - ? ), daughter of J.F. Steard of Shellsburg, in nuptials held at Sacred Heart Church in La Porte City, IA. Rev. F. Francis Habig officiated. The pair were the parents of David B. Loonan. The family made a home in the 1960s in Cedar Falls. In October 1962, Carrol is known to have purchased the Hi-Way Cafe in Hudson from the seller, Richard Fairbanks. It was renamed to Loonan's Cafe. Death swept him away at the age of 74 in March 1981
Great-grandson David B. Loonan ( ? - ? ) - In young manhood he earned a living at the State College of Iowa in Cedar Falls. On Aug. 20, 1966, he wedded Connie Lee Long ( ? - ? ), daughter of Marvin Long of 1326 Leavitt Street, Waterloo. The wedding ceremony was held at St. Edward's Catholic Church. At the time, she worked at West High School. Connie was pictured in a Waterloo Courier article about their upcoming nuptials.
Grandson Forest O. Loonan (1917-2018) was born on March 9, 1917 in Hudson. During World War II, in November 1942, he joined the U.S. Army and was a foreman of a wire crew with a signal unit, part of the 15th Army Air Force. His deployments took him to Europe, Africa and the Middle East. He was active in the military in organizing baseball leagues, reported the Waterloo Courier in October 1944 --"Wherever American soldiers go, they take baseball with them, and Sgt. Forest Loonan ... is helping to keep America's favorite sport alive until bats and balls take the place of rifles and bullets for American youth." After the war, he was employed for 43 years with Mead Container. He retired from Mead as a superintendent in 1981. On Oct. 3, 1948, he was joined in matrimony with Ruth Weiland ( ? -1997). Their union endured for 48 years. Together, they bore a family of four -- Kathleen Hankner, Joanne Loonan, Julia Loonan and Martin Loonan. The family lived in Cedar Falls in 1967. Sadly, Ruth died on May 31, 1997. Forest outlived her by more than two decades. At the age of 101, he passed into the arms of the angels on May 19, 2018 as a resident of Thalman Square of Western Home Communities in Cedar Falls. He was pictured in his Waterloo Courier obituary, which noted that he was survived by four grandchildren and two great-grandchildren.
Great-granddaughter Kathleen Loonan married Jerry Hankner and lived in Waverly, IA in 2018.
Great-granddaughter Joanne Waverly was married to or a companion of Lori Kluber of Cedar Falls, IA.
Great-granddaughter Julia Loonan dwelled in 2018 in Waterloo.
Great-grandson Martin Loonan maintained a home in Waterloo.
Son Scott Elbert Pullin (1888- ? ) was born in about 1888 in Pennsylvania. He was a farmer in young manhood, laboring in Waterloo, IA. On April 26, 1911, in a wedding held in Louisa County, IA, the 24-year-old Scott was joined in matrimony with 20-year-old Maude Alice Argyle (1892- ? ). She was the daughter of Francis Edwin and Anna May (Hunsicker) Argyle of Wapello. Methodist Episcopal Church Pastor Rev. J.E. Newsom officiated, with Julia Freeland serving as a witness. Together, the Pullins produced a family of four children -- Joseph F. Pullin, Lola Verlee Sivertsen, Betty Pullin and George R. Pullin. By 1910, Scott earned a living as a clerk in the drug store of M.L. Jamison in Waterloo, Black Hawk County, a fact noted in the gossip columns of the Muscatine Journal. In November 1913, they relocated from Waterloo to Wapello, taking occupancy of "the house vacated by Murray Hutton and wife," said the Journal. The federal census enumerations of 1920, 1930 and 1940 show the family in Wapello, where Scott earned a living as a machinist for a garage implement shop. Maude appears to have been a talented organist and to have performed in 1922-1924 for old Civil War soldiers at gatherings of the Grand Army of the Republic, a veterans organization. In October 1927, they attended his parents' 50th wedding anniversary celebration. Scott in 1928 is known to have been active with the Wapello Parent-Teachers Association and Maude with the Womens Christian Temperance Union. In 1940, Scott purchased a Mobilgas station on Wapello's South Main Street and immediately began to operate the business. The Pullins circa 1941 remained in Wapello when he was named in the Waterloo Courier obituary of his brother. They moved to Burlington, IA by 1943 and then circa 1945 migrated to Detroit, making a home at 14681 Griggs Street.
Grandson Joseph F. Pullin (1914- ? ) was born in about 1914 in Iowa. He attended the Chase Music School in Muscatine and was part of a band known as the Tri-City Symphony of Muscatine. By the early 1940s, he accepted a position with radio station WJR in Detroit, part of a band known as the Rhythmaires. On June 7, 1947, in a wedding ceremony held at the Christ Evangelical Lutheran Church in Boyne City, MI, he married Pauline Diehm ( ? - ? ), daughter of L.J. and Dorathea Diehm. Rev. Norman H. Kuck officiated the nuptials, with 75 guests attending. The news was announced in the Detroit Free Press and Petoskey (MI) News-Review, which said that Pauline "was gowned in white slipper satin. The dress was fashioned with a sweetheart neckline and a fitted bodice which extended into a bouffant skirt to form a bustle and long train. Her finger-tip length veil was secured by a head-piece of lilies-of-the-valley, and her prayer book corsage was a white orchid tipped wifh fuchia and lilies-of-the-valley tied with white streamers." At the time of her marriage, Pauline was employed in Dearborn at the Ford River Rouge plant.
George Pullin received a Purple Heart medal

Granddaughter

Lola Verlee Pullin (1915- ? ) was born in about 1915. She grew up in Wapello and graduated from the town's high school before relocating to Detroit. On Sept. 9, 1946, in Detroit, she wedded George Sivertsen

( ? - ? ). The news was announced in the

Muscatine (IA) Journal

.
Grandson George R. Pullin (1922- ? ) was born in about 1922. He served in the U.S. Army during World War II, attached to the 7th Army deployed to Germany. He was wounded in action and spent eight weeks of recupation in France, receiving the Purple Heart medal. Once recovered, he rejoined his unit in May 1945 and wrote to his mother in Detroit to give her the update.
~ Son Jacob "Lloyd" McMillan ~
Son Jacob "Lloyd" McMillan (1859- ? ) was born in March 1859, presumably in Somerset County.
When he was about the age of 19, circa 1878, he taught school in the community of Somerfield, Somerset County. Then in about 1883, still a bachelor, he made a decision to relocate. He aimed westward and made the voyage to Kansas, where he put down roots in Morrill, Brown County, KS.
Lloyd initially earned income as a correspondent for the Sabetha (KS) Weekly Herald. At about that time, he produced a 41-page booklet, entitled McMillan's Hand Book of Sets, printed by the Weekly Herald, at a retail price of 30 cents. A review in the newspaper said that the work "embraces a great variety of graded sets for single and double entry book-keeping. It is gotten up to aid teachers of common schools and private classes, and contains only as much theory as is indispensible to the learner."
A story in the Brown County (KS) World in December called him a successful teacher in District 12 who had spent Thanksgiving with friends. It added that he was "a fair 'mugwump' from Pa." -- a reference to a contemporary Republican movement which was known for attacking corruption in politics.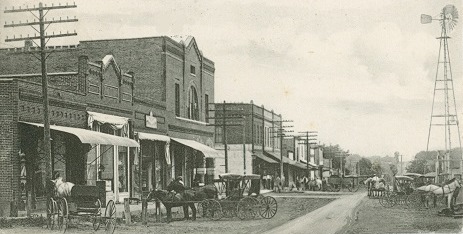 Morrill, Kansas, Main Street, early 1900s
The following year, he formed a partnership with S.S. Lindeman -- known as "Lindeman & McMillan" -- to produce combination fencing. The Morrill Inter-State Advocate called the product "a good fence."
He also sang in a choir of the Morrill Township Sunday School Association, known as the Morrill Choral Union, of which he was elected president. Just two years after arriving in Morrill, he helped lead the local Normal Institute, educating teachers, and was said by the Hiawatha Kansas Democrat to be "a thorough and energetic worker in the school room, and the students would be glad to see him remain."
In March 1887, the Democrat again said he was "a thorough and active worker in the school room. If teachers would all prepare themselves thus before entering the school room, we would have fewer poorly taught schools and the county would not be flooded with so many incompetent teacheres, as many counties in the west are. Mr. McMillan will again work at the fence business. Any one wishing a good lath fence will do well by calling on him."
By June 1887, he had secured more steady employment as a clerk in a Morrill hardware store owned by Mr. Huxtable. He was badly burned one day when a customer asked him to warm a medical liquid over a gasoline stove. As the concoction heated, it bubbled over and then ignited. Lloyd tried to "throw it out the door," said the Democrat, but it "spilt on his hand and arm burning him badly."
He then went to work for Fisher & Musselman but resigned in February 1889. He continued teaching in Brown County and became acquainted with a fellow educator, Martha Jane "Jennie" Sayre (July 24, 1866- ? ), a native of Union County, OH and the daughter of Charles Irwin and Sarah Jane (McNeil) Sayre. Together, they toured various schools as part of their duties. The professional acquaintance blossomed into a romance and eventually into marriage.
On June 5, 1889, when he was 30 and she 22, the couple tied the knot. The Horton (KS) Commercial reported on the wedding, saying it was held at the home of the bride's father near Horton, officiated by Rev. C.S. Spining: "The evening was a very pleasant one and the marriage vows were taken under the trees in the yeard. About 60 invited guests were present and after partaking of refreshments and spending a pleasant time in song and conversation the party dispersed wishing long life and happiness to the married pair who will make their future home at Morrill."
Among the gifts the newlywed received were a pair of towels, the book Gates Ajar, a silver pickle caster, vase, glass set, dishes, salt and pepper caster, tablecloth, bedspread, photo holder, set of irons, bread case, set of spoons and sugar shell and butter knife.
Together, the couple produced three known children, Harry McMillan, Vernon Ream McMillan and Helen Kitlena Middlebrook.
Jennie had migrated from Ohio to Kansas at the age of two. She grew up in a very talented household, with her grandfather a hymn writer and her parents both musically talented. At the age of 16, she enrolled in Highland University and spent two years there as a student. As a young woman she taught school in Everest for two years and at Mt. Hope for one. Then in 1887-1888, she instructed all eight grades in Morrill with a grand total of 76 pupils.
The same year as their marriage, in 1889, Lloyd operated a general merchandisizing business. He continued producing wire and picket fencing and placed graphic illustrations in local newspapers. He was appointed federal postmaster at Morrill in August 1892, the year when Grover Cleveland defeated incumbent Benjamin Harrison for the presidency of the United States. He also continued his hardware business, known in 1895 as McMillan & Ingham.
After having made a rich life in Morrill, the McMillans made a big decision to move to Georgia in 1896. Reported the Brown County World of Hiawatha, "They go there with a number of other families from Horton to start a colony."
For reasons not yet known, the family returned to Morrill by July 1898. Lloyd acquired ownership of the Morrill Weekly News, with Jennie named as editor. When his aged father died in late January 1900, Lloyd rab an obituary in the Weekly News, stating that the deceased had "lived the life of a good man and was honored and respected by all who knew him. His death is the first to occur in this family." When the federal census was made that year, he was marked as a "hardware merchant." Jennie served as president of the Sunday School Executive Committee of Morrill Township circa 1900.
In time Lloyd saw opportunity in furniture and embalming/funeral services and earned a living in those fields.
Unspeakable grief overwhelmed the McMillans in the winter of 1903. Son Harry, who had survived a fall in the elevator shaft of Lloyd's store, contracted membranous croup while at an editorial association meeting with his mother in Topeka. Within a week, he was dead. Said the Robinson (KS) Index, "his loss to his parents is a deplorable one."
Within the month, observed the Brown County World, he was juggling the newspaper, furniture and hardware story, and as mayor of the town. They continued the newspaper through the decade and, in 1908, the Index noted that Jennie ad "been at the helm of the Morrill News for ten years."
It may all have been too much. In July 1908, the McMillans sold the newspaper property to J.H. Schmucker. The new owner wrote this in his first edition: "If there is a panic in Wall street, a devastating flood in Texas, a Russian plot to murder the Czar, or if we have a new fourth class postmaster appointed in Kansas, a faithful account of it all is iserved up to us with our coffee the following morning."
By 1910, census records show that while the couple remained married, they lived separately and continued to do so for some time. Lloyd worked as a furniture salesman and lodged in the Morrill home of William E. and Rinnie Robertson, while Jennie and her children Vernon and Helen had migrated to Palmyra, Douglas County, KS, where she was proprietress of a hotel in Baldwin City. Said Lloyd's newspaper, the Weekly News, "There is only the one hotel in town and Mrs. McMillan is an excellent hostess. She will make a great success." The income from the hotel helped pay the tuition for their children to attend Baker College.
Jennie returned to Morrill on weekends to spend with her husband. After some years as a hotelkeeper in Baldwin City, Jennie occasionally expressed an interest in selling. But in 1919, oil was discovered in the region, and she arrived at the "conclusion it's a pretty good idea to stay," said the Weekly News. "She says oil has been struck in commercial quantities in three wells near Baldwin and others are to be put down right away. This has brought in such an influx of people that her hotel facilities are now continually taxed to the limit."
Lloyd returned to Confluence for a McMillan Reunion at his brother Charles' home in July 1928. Then in August 1930, when he returned to visit with Charles, the Meyersdale Republican said he had "been living in the west for 47 years, and was 52 years ago teacher of the Somerfield school." During that trip, he continued on to Philadelphia to see his brother Milton before returning to Kansas.
Lloyd could foresee the advantages provided by electricity and was an advocate for building a new electric light plant in Morrill.
Once the children graduated from college, Jennie returned to Morrill. There, she taught music exclusively in the 1923 to 1930 timeframe, including in some 25 rural schools. This included leading choirs and "hymnology." To broaden her continuing education, she attended five summers at the Chautauqua Assembly in New York and one summer with the music department of Colorado State University in Boulder. Said a Christmas Eve story in the Hiawatha Daily World, "Her work of teaching music in the rural schools is the first of its kind, her work is succeeding splendidly."
When his brother-in-law Joseph Pullin died on Dec. 20, 1931, in Hudson, IA, Lloyd traveled to attend the funeral.
Lloyd retired from his furniture and funeral business in about 1940. He lived for seven years in retirement and succumbed to the angel of death on May 23, 1947 at the age of 88. An obituary was published in the Brown County World.
Jennie followed her spouse to the grave just under a year later, on March 15, 1948. An obituary in the World credited her with a number of additional accomplishments. Among them was serving as president of the county chapter of the Womens Christian Temperance Union and helping to found the first youth meetings of the Junior Senior Epworth League in her own church congregation. Said the World, she "stood vigorously for the right, constantly crusading for the advancement of the community. As one former resident puts it 'The McMillan home yard was the civic center of Morrill, as well as the center of interest for the boys, girls.' There the first basketball was introduced, youngsters from all parts of the town were welcome to share in the play."
Jennie and her offspring are spelled out in great detail in Volume 1 of Jean Karns Ladd's 2008 online genealogy entitled Lillian Sayre Riley & Alfretta Cannady Dawson: Pioneer Mothers in the Story of Sara Jean Riley including the Riley-Sayre-Dawson-Cannady-Steele Families.
Son Harry McMillan (1890-1903) was born in July 1890. He was considered an "exceptionally bright" boy and took an interest in his parents' newspaper work. At the age of 12, in February 1903, he broke a collar bone when he "fell down the elevator shaft in his father's store," reported the Kansas Democrat of Hiawatha. He recovered well enough that, later in the month, he traveled to Topeka with his mother to attend a meeting of the Editorial Association. But the cruel hand of fate intervened in his seemingly upward path. He contracted membranous croup and was dead within a short time. "It was a shock to receive the cards announcing his death," said the Robinson (KS) Index. His "loss to his parents is a deplorable one." Rev. J.B. Vernon, of the Methodist Church, led the funeral service held at the McMillan residence.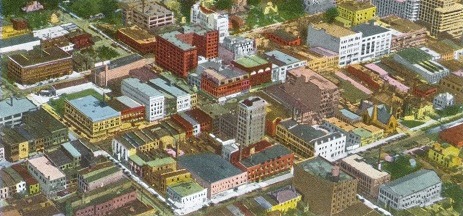 Above: bird's eye view of Terre Haute. Below, the city's Memorial Stadium baseball park, remodeled under Vernon McMillan's mayorship.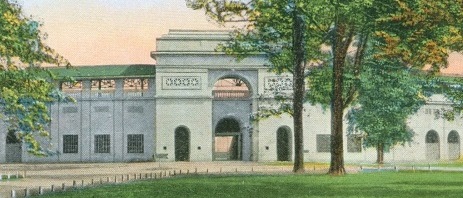 Son Major Vernon Ream "Vern" McMillan (1892-1968) was born on Sept. 15, 1892 in Morrill, Brown County, KS. After high school graduation, he received a degree from Baker University in Baldwin City, KS and in 1913 captained its football team and was a star track athlete. During World War I, he served as an officer in the U.S. Army and was promoted "on the battlefield before the armistice," noted the Meyersdale Republican. On July 14, 1917, Vernon married Frances Willard Botkin (Aug. 21, 1892-1984) of Sumner County, KS, the daughter of onetime Indiana congressman Rev. Jeremiah Dunham "Jerry" Botkin. They were the parents of an only child, Elizabeth Jane "Betty" McMillan. By 1923, they moved to Terre Haute, IN, where they remained for the rest of their lives. Vernon managed the wholesale business of his uncle Ed Sayre's firm, Sayre and Company, dealing in bicycles and sporting goods. There, he also was named commander of the Fort Harrison Post of the American Legion. A newspaper has called him a "colorful entrepreneur and innovator with a gregarious personality." The couple eventually divorced. In July 1928, he and his father are known to have traveled together to the old home region of Confluence, Somerset County, PA to attend the McMillan family reunion. Vernon opened his own sporting goods business in 1926 at the corner of Ninth Street and Wabash Avenue. He moved to a new location in 1932 at 726 Wabash Avenue. The final location circa 1967 was at 600 South Third Street. He came up with the slogan "It pays to play" which took on wide popularity in the sports world. Vernon invented a certain type of face guard for football helmets which he then sold in his store as well as a "table model inflator" utilized nationwide for basketball, football and volleyball. Another innovation was a "color size marking system" for sweat socks and a type of metal-free belt buckle. In about 1963, some half-century after his college graduation, he was named one of the top three Baker graduates. As an active booster of the Midwest Baseball Tournament held in Terre Haute, he received an award for outstanding sports promotion from the National Sporting Goods Association. For three years, from 1948-1951, he held the position of president of the Threre I Baseball League. Reported the Terre Haute Tribune, he was:
.... an early motorcycle enthusiast and was the first person to ride a motorcycle up the outside steps of the Vigo County Courthouse.... As a trackman, he once beat "Cannon Ball" Baker in a foot race. Baker, riding a motorcycle started from a standing start while McMillan, running on foot, completed one-fourth of a mile before Baker could complete a mile course.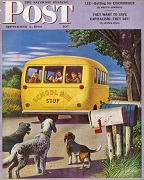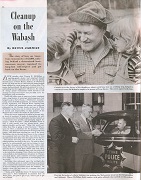 Saturday Evening Post article, Sept. 2, 1944, picturing and featuring Vernon McMillan in "Cleanup on the Wabash." Below: Terre Haute's downtown.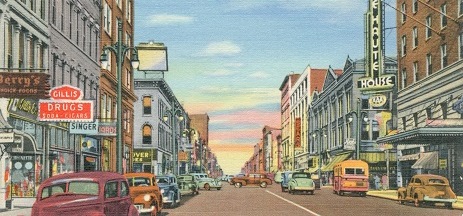 In Jan. 1935, he wedded his second bride, LaVerne Maude Knight (Aug. 23, 1907-1937), daughter of William Knight of Paris, IL. Together, they bore two daughters of their own -- Martha Anne McMillan and Sally Kaye McMillan. Tragically, the second marriage only lasted for two-plus years. Just two days before Christmas 1937, LaVerne was killed in an automobile accident in Clinton, Vermilion County, IN. She was returning from the company's Christmas party as a passenger in a vehicle driven by the Terre Haute Star sports editor. The automobile "plunged from a curving road, crashed into an abutment and overturned." Her skull was crushed, and she died in Vermillion County Hospital. Funeral services were held at the Centenary Methodist Episcopal Church, led by Methodist District Superintendent Rev. J.M. Purter and church pastor Rev. Russell Phillips.
Vernon outlived his second wife by more than three decades. For many years, he owned a lodge on Lake Temagimi in Ontario, Canada, where he spent summers entertaining friends and in 1948 was lauded as an honorary citizen of North Bay, Ontario.
For five years, from 1942 to 1947, Vernon served as mayor of Terre Haute. During his tenure as mayor, he was profiled in the Sept. 2, 1944 edition of the Saturday Evening Post, headlined "Cleanup on the Wabash," about how the city was trying to regain vitality and self-respect through a riverbank cleanup. Also during his mayor's term, the city's Memorial Stadium, home of the Terre Haute Phillies baseball team, was extensively remodeled into what a newspaper called "one of the finest minor league ballparks in the United States." He passed into the arms of the angels in Terre Haute's Union Hospital on Dec. 1, 1968. Interment of the remains was in Highland Lawn Cemetery following a funeral held at the Centenary Methodist Church led by Rev. Glen Alty Crafts. A lengthy obituary appeared in the Terre Haute Tribune.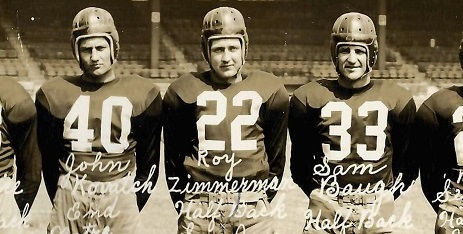 John Kovatch (left) with teammates Roy Zimmerman and hall-of-famer Sammy Baugh (right) members of the 1942 world champion NFL football team, the Washington Redskins. Below, John circled in the same panorama image.

Granddaughter

Elizabeth Jane "Betty" McMillan

(1922-2008) was born on June 28, 1922 in Terre Haute, IN. Her birth was announced on the pages of the

Kansas Democrat

of Hiawatha. On July 28, 1944, in St. Joseph County, IN, she was united in wedlock with John George Kovatch Jr. ( ? -2012), son of John and Anna (Gerschoffer) Kovatch of South Bend, IN. One known son was born to this marriage, Paul Kovatch. John stood 6 feet, 3 inches tall and weighed 200 lbs. He received a journalism degree from the University of Notre Dame, where he played for the Fighting Irish football team and was drafted professionally in 1942. During the 1942 season -- with Slingin' Sammy Baugh at quarterback -- he wore no. 40 and was an offensive end for the world champion Washington Redskins football team of the National Football League. During an Oct. 18, 1942 game in Ebbets Field against the Brooklyn Dodgers, in front of 25,635 spectators, he caught a 13-yard Baugh touchdown pass in a 21-10 victory, the only TD reception of his career. A week later, at Pittsburgh's Forbes Field, in a 14-0 shutout, he played against the Steelers' future hall-of-famer "Bullet Bill" Dudley. John left the team after a year to serve in the U.S. Marine Corps during World War II. Upon his return home, he rejoined the Redskins for the 1946 season. He then spent the 1947 season with the Green Bay Packers, playing under the tutelage of hall-of-fame coach Curly Lambeau. Thus in three seasons as a pro, he appeared in 21 games and caught 18 passes for 157 yards. (He is not to be confused with fellow South Bend native John Paul "Johnny" Kovatch" who starred in football for the Northwestern University Wildcats and played in 1938 for the Cleveland Rams.) After retirement from football, John obtained a forestry degree from Purdue University and went on to become employed in Monticello, IN for the Radio Corporation of America. The family held a membership in St. Matthew Cathedral in Monticello. Betty passed into the realm of eternity at age 85, in Tucson, AZ, on March 11, 2008. As a widower, John remained in South Bend. He died in the Sanctuary at St. Paul's at the age of 92 on Aug. 18, 2012. His remains were cremated and placed into eternal rest in Sacred Heart Cemetery. An obituary was printed in the

South Bend Tribune

.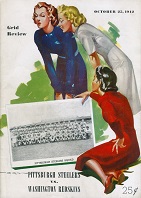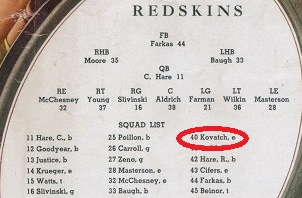 Football program from the Oct. 25, 1942 game between the Washington Redskins and Pittsburgh Steelers, with the Kovatch name on the roster (circled).
Great-grandson Paul Kovatch ( ? - ? ) was deceased by 2012.
Granddaughter Martha Anne McMillan (1936- ? ) was born on Jan. 30, 1936 in Terre Haute. She and was only two years of age when her mother was killed. On May 31, 1958, in West LaFayette, Tippecanoe County, IN, she was joined in marriage with Robert Joseph Lindner (March 1, 1936- ? ). Robert was a native of Chicago. Together, the pair produced three children -- Robert Vernon Lindner, Scott Michael Lindner and Cynthia Kaye Blake. The couple in time relocated to Alexandria, VA. Martha Anne was employed as a travel agent, while Robert was a commercial airline pilot.
Great-grandson Robert Vernon Lindner ( ? - ? ) was born in Millington, Shelby County, TN. He has worked in the health care profession.
Great-grandson Scott Michael Lindner ( ? - ? ) was born in Patuxent River, MD. On April 13, 1985, he wedded Helena Diane Bourgs (1962- ? ) in nuptials held in San Luis Obispo, CA. Scott has been employed as a landscape architect and Helena as a health care educator.
Great-grandson Cynthia Kaye Lindner ( ? - ? ) was born in Alexandria, VA. In young womanhood she pursued a career in advertising. At the age of 25, on March 16, 1991, she married dentist John Langdon Blake (1966- ? ). Their nuptials were held in Mission San Luis Rey, CA.
Granddaughter Sally Kaye McMillan (1937-2015) was born on April 7, 1937 in Terre Haute and was but six months old at the death of her mother. In 1959, she received a bachelor of science in English degree from Purdue University. Upon graduation, said a newspaper, "Her father then treated Sally and her sister, Martha, to a trip around the world by steamship, with stops including Hawaii, Japan, Hong Kong, India, South Africa, Brazil, and Trinidad. Back in the United States, Sally traveled to her first job with the National Security Agency in Washington, D.C., as a translator and analyst." She entered into matrimony on March 13, 1965 with World War II veteran Robert Milton "Bob" Arthur (March 21, 1924-2014), a native of Fond Du Lac, WI and the son of Simon and Irma (Spielberg) Arthur. The couple made a home in Terre Haute and were the parents of a son, Robert McMillan Arthur. During the world war, Robert was a radio operator in a field artillery observation battalion in Europe. He received degrees from four institutions of higher learning -- Ripon College (1949), Northwestern University (B.S.-Civl Engineering, 1953), Harvard University (B.S.-Sanitary Engineering, 1956) and the State University of Iowa (Ph.D.-Environmental Health Engineering, 1963). Robert was a civil engineering professor at Rose Polytechnic Institute from 1956 to 1967. During that time, he was founding chairman of a department of biological engineering, and, said the Fond Du Lac Reporter, "invented a revolutionary way to measure the metabolic activity of microorganisms, which had many industrial and scientific applications." Robert leveraged this technology by founding Arthur Technology, a developer of automated respirometers for biotechnology applications, especially wastewater treatment. Sally Kaye assisted as vice president of the firm. Robert obtained seven patents for his inventions and authored several books and dozens of technical papers and garnered many awards. The couple traveled extensively to promote their products, taking their son along. In time they lived in Taycheedah, WI, along Lake Winnebago, and then into what they called a "dream home" on the "ledge" with an aerial view of the town. There, Sally raised a pet goat, cultivated an asparagus farm and created in ceramics, painting and stained glass. Sadly, Robert died at home on Oct. 12, 2014. Sally Kaye died in the Hospice Home of Hope on June 18, 2015. An obituary eulogized her as "a loving wife, mother, artist, adventurer, writer, and free spirit.... Sally's life was an endless opportunity to grow and explore, and her only limitation was her imagination." Funeral services were led by Rev. Bill Beaton, with placement of the cremains in Rienzi Cemetery.
Great-grandson Robert McMillan Arthur ( ? - ? ) was born in Terre Haute. Following in his father's path, he became a biomedical engineer in his profession. He was in Milwaukee in 2014 and in Fond Du Lac, WI in 2015.
Daughter Helen Kitlena McMillan (1894-1993) was born in March 1894. She graduated from high school in Baldwin, KS and received a degree from Baker University. She was tapped to teach grade school and high school music in Sabetha, KS in 1922. Then for several years, she served as a missionary to India, where she taught music at Isabella Thoburn College in the town of Lucknow. After returning to the United States, in January 1927, she entered into marriage with Horace O. Middlebrook ( ? -1962) of Hiawatha, KS. Reporting on the wedding, the Sabetha (KS) Daily Star said that:
The people of Morrill gave Mr. and Mrs. Horace O. Middlebrook a hilarious start on their honeymoon. As they left the church to get into the A.C. Ellis car that was waiting for them about 150 of the guests took them by storm. While the bridegroom were put into a dray wagon, which was properly decorated with signs, the others disconnected the dinkyhorous on the automobile so they had to take the wagon ride. A mountain burro loaded for travel was hitched to the wagon. Mr. Middlebrook and his bride were equal to the occasion, rode over the streets of Morrill, treated all their friends at the restaurant. The ride was just long enough to cause the bride and groom to miss their train at Hiawatha. Mr. and Mrs. Vernon McMillan took them to Falls City where they caught a later train.
Three children were born to this marriage, James Holmes Middlebrook, Mary Ann DePrenger and Elizabeth Sara Papa. Sadness cascaded over the young couple when their firstborn, James, died in Kansas City at only two weeks of age on Dec. 28, 1927. Circa 1930, the couple was in Hiawatha, KS. For almost four decades, they jointly owned and ran the Golden Rule Store, a clothing merchandise business. She served as organist at the United Methodist Church of Hiawatha and freely gave of her time to church causes. She also furnished pipe organ lessons. The Fairview (KS) Enterprise once said that the pair "did more for Hiawatha than any couple who has ever lived there. They were behind the Hospital, the Kiwanis Club, every good cause." Tragically, on May 21, 1962, Horace at the age of 81 was killed along with friend Seward C. Neibling in a two-vehicle crash south of Sabetha along the couny road. After failing to halt at a stop sign, Horace's automobile pulled directly into the path of an oncoming car. The news made headlines in a number of newspapers, and the Fairview (KS) Enterprise opined that "All northeast Kansas is said this week by the tragic deaths of two prominent Hiawatha men." Helen outlived her husband by more than 30 years and endured the heartbreak of the untimely death of her daughter Mary Ann. At the age of 99, Helen was gathered away by the angel of death on Aug. 6, 1993, in Hiawatha Community Hospital. Her obituary was printed in the Enterprise. The funeral was held in the family church, with interment in Mt. Hope Cemetery.
Granddaughter Mary Ann Middlebrook (1930-1986) was born on June 21, 1930 in St. Joseph, Buchanan County, MO. She married Gerald "Jerry" DePrenger ( ? - ? ). They dwelled in Lincoln, NE and produced a son and daughter, Thomas Kevin DePrenger and Ann Kathryn DePrenger. Mary Ann was employed in 1975 as coordinator of federal programs in the Lincoln Public Schools system. Gerald was deceased by 1984. Mary Ann died in 1986.
Great-grandson Thomas Kevin DePrenger ( ? - ? ) was born in (?). On May 26, 1984, he was joined in matrimony with Joan Marie McCoy ( ? - ? ), daughter of Richard J. McCoy of Sioux City, IA. The nuptials were held at Sioux City's Blessed Sacrament Catholic Church, and the couple's wedding portrait was published in the Sioux City Journal. Joan received her master of science in 1995 at the University of Iowa. In 2019, they established the Mary Ann DePrenger Scholarship for Elementary Education at the university, honoring his mother, "to support one or more annual scholarships to deserving students in the University of Iowa College of Education, specifically to recruit students pursuing an elementary education certification."
Great-granddaughter Ann Kathryn Deprenger ( ? - ? )
Granddaughter Elizabeth Sara Middlebrook (1933- ? ) was born on July 9, 1933 in St. Joseph, Buchanan County, MO. At the age of 26, on Aug. 9, 1959, she was joined in wedded union with 28-year-old Kenneth Papa (July 25, 1931- ? ), a native of Octavia, Butler County. The couple's two offspring were William Middlebrook Papa and Kathryn Ann Papa. Circa 1961-1963, the Papas were in Ithica, Tompkins County, NY. By the mid-1980s, they moved to Athens, Clarke County, GA. Sadly, Kenneth passed away in Athens on Nov. 10, 1986.
Great-grandson William Middlebrook Papa ( ? - ? ) was born in Ithaca, Tompkins County, NY.
Great-granddaughter Kathryn Ann Papa ( ? - ? ) was born in Ithaca, Tomkins County, NY.
~ Son William Sullivan McMillan ~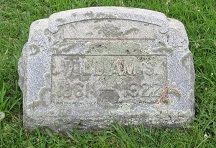 William's grave, Addison Cemetery
Son William Sullivan McMillan (1861-1922) was born on Dec. 13, 1861 in Listonburg, Somerset County. He never married.
William joined the Baptist Church of which he was a lifelong member. Said the Meyersdale Republican, "After leaving school he taught one term at Fort Hill, in his home township. After the completion of the school term at Fort Hill, he went to Accident, Md., where he learnt the trade of harness-maker in a shop owned and conducted by his uncle, the late Eli McMillan. After serving his apprenticeship and learning the trade, he left for the West in 1881, first locating at Sabetha, Kan., and later in Missouri, and other Western States, until in 1907 he located permanently in Potomac, Ill., where he resided constantly."
When in Missouri, circa 1894, he resided in Mound City, Holt County. He is known over the new year's holiday in 1893-1894 to have visited his brother Lloyd in Morrill, KS.
With his health failing in 1921, he underwent surgery at Lakeview Hospital in Danville, IL, and while showing some signs of recovery, went into uremic shock and died. An obituary was published in his old hometown newspaper, the Republican. The obituary revealed that when undergoing the operation, "should it have a fatal termination, his remains should be sent to his brother, C.R. McMillan at Confluence, for funeral services and interment. It also was his request while sick, that the family not be told about his sickness until there was a final turn for better or worse."
The body was shipped to Confluence, and funeral services were held in his brother Charles' home. Burial was in Addison Cemetery, with Rev. R.B. Dunmire preaching the service. [Find-a-Grave]
~ Son Charles R. McMillan ~
Son Charles R. "Charlie" McMillan (1866-1934) was born on New Year's Day or on Jan. 16, 1866 in Listonburg near Addison, Somerset County. As a youth, he attended school and then initially earned a living as a school teacher for 10 consecutive winters.
He was twice married. His first spouse was Ida May Augustine (July 1868-1902) of Addison Township.
They dwelled in or around Addison, and their two sons were Arthur Columbus McMillan and Paul Kilpatrick McMillan Sr.
At the age of 21, Charles was elected township clerk, and later was elected tax collector and after that a justice of the peace, spanning 15 years. He also served a three-year term as a school director.

Charles' profile in the 1906 book, History of Bedford and Somerset Counties
Sadly, Ida May died in 1902, at age 33 or 34. Her remains were interred in Addison Cemetery. Their motherless son Paul was taken into the home of Charles' sister, Susan Liston.
After a period as a widower, Charles married again to Minnie D. Mason (Dec. 26, 1870-1947), daughter of Joseph A. and Sidney Mason of Garrett County, MD.
In 1906, Charles was profiled in the book History of Bedford and Somerset Counties, Pennsylvania, authored by E. Howard Blackburn and William H. Welfley. The profile said that:
During the many years that Mr. McMillan has been a resident of Listonburg, he has not only witnessed its progress, but he has also aided in its development, being a promoter of nearly every industry in the community. His life has been a busy and useful one; he has rightly valued every moment given him, and has thus gained a reputation for promptness in originating plans and dispatch in executing them. Jon McMillan, great-grandfather of Charles R. McMillan, came to Somerset county from Dauphin county at an early date, and engaged in the tanning business on what is known now as the A.J. Case farm, at Fort Hill. He had no vats or leeches, and took large chestnut logs and made troughs in which to lime bait and tan his hides. He was probably the first tanner in Somerset county, and his great-grandson, Charles R. McMillan, whose name heads this sketch, is takking at the present time (1906) on the old methods, being the lastone to conduct business along those lines.... [T]hrough his instrumentality many business industries have been established along White's Creek, a beautiful mountain stream flowing rapidly; its headwaters are at the western base of Negro mountain, and it empties into the Castleman [sic] river near Harnedsville. In 1850 it was known as Jones' Mill Run, but between that year and 1856 the name was changed to White's Creek, the reason for this being that the Jones family, who resided where the town of Unamis now is, sold out to the White family.
Charles was "the last of the family to engage in the ancestral occupation, he having worked at the tanning business until 1905," said the Meyersdale Republican. "He was also one of the last of the small tanners of Pennsylvania who had to succumb to the large tannery corporations and their new system of turning out leather at a rate of 1000 sides or more a day."
He and his brother-in-law, Jesse Liston, operated the family woolen mill together at Listonburg.
Circa 1915, he was in Morrill, KS, where his brother Lloyd had migrated. After exiting the tanning business, Charles became involved with coal mining and processing as well as lumbering in neighboring Fayette County. In 1920, he was employed as manager of the Somerset Colliers Co.'s Liston coal mines at Listonburg, Somerset County.
Later, he supervised the Fair Oaks coal mine in Lower Turkeyfoot Township. Said the Republican, "Who is there in Somerset County that has not a good wordand a good wish for the genial and whole-souled 'Charlie' McMillan? His fellow citizens have honored him by electing him to the office of justice of the peace several terms, and also as jury commissioner. As a business man of many years standing, his word has always been as good as a bond." In a 1934 article about Charles, the Republican said:
He was familiarly known to many of his friends for many years as "Squire" McMillan, having filled for some years very efficiently the office of Justice of the Peace of Addison Township. In his official capacity he acquired much knowledge of the laws of Pennsylvania, and he was as proficient in giving legal advice as many members of the bar. He was highly intelligent, well read and a lover of good literature, and had committed to memory many literary gems both of prose and poetry, and running the gamut of human emotions from humor to pathos. His services were in much demand as a speaker and reader at public and private entertainments, and he was always ready to respond with an appropriate reading or address for any occasion. His genial, companionable disposition endeared him to a host of friends and made him welcome in every social circle.
Charles and his wife hosted a McMillan family reunion at their home on June 24, 1920. The event was featured at length in the Republican, which reported that it was "one of the most pleasant family reunions held in Somerset county in 40 years, Squire McMillan's brothers and sisters having gathered there on that day to enjoy their first reunion for a number of years." Relatives who attended included Silas McMillan, their only living uncle; Dr. and Mrs. Samuel J. McMillan of Somerset; Milton R. McMillan of Philadelphia; Susan C. Liston of Meyersdale; Martha J. Augustine of Addison; Mr. and Mrs. Joseph W. Pullin of Hudson, IA; Lloyd McMillan of Morrill, KS; William S. McMillan of Potomac, IL; Mr. and Mrs. Paul K. McMillan of Listonburg; cousin John J. McMillan and daughter Nettie of New Lexington, Somerset County; and Mr. and Mrs. Clinton McMillan of Kingwood. Other friends and family who came were Mr. and Mrs. Joseph A. Mason of Connellsville; Charles Rishebarger of Addison; Ruth Grimes of Baltimore, MD; Mr. and Mrs. R.F. Lenhart of Listonburg; and Mary Ellard of Uniontown.
In 1920, he hosted a visit by his first cousin Cleon K. Ream and sons George and Allen of Burlington, IA, and during that trip they visited the old Ream burying ground on the north bank of Laurel Hill Creek. Then again in July 1928 they hosted another reunion at their West Confluence residence, which also included a picnic at Deep Creek Dam in Garrett County, MD. Of the 1928 reunion, the Republican said it was the first one "the family had in nineyears."
For the last 10 years of his life, Charles drank heavily and contracted acute kidney problems, which a physician attributed to "chronic alcoholism." Sadly, in July 1934, their son Paul, who had worked with Charles in the family lumber and post business, died after throwing a blood clot following surgery for appendicitis. Newspapers suggested that the shock hastened Charles' own demise.
At age 68, he passed into eternity on Aug. 18, 1934. His remains were placed in the family plot at Addison Cemetery. J.C. McMillan of Markleton was the informant for the Pennsylvania certificate of death. [Find-a-Grave] An obituary in the Republican kindly noted that death followed "a short illness from a complication of diseases." Following funeral services held in the family residence, officiated by Rev. Kees of the Confluence Methodist Episcopal Church, burial was in Addison Cemetery.
Minnie survived her spouse by more than a dozen years. She enjoyed hosting her sister Mrs. S.A. Elleard of Uniontown, PA for visits. By 1944, she had moved into the home of her sister and nephew George Elleard in Uniontown. She died in Uniontown Hospital on Jan. 19, 1947, reported the Uniontown Morning Herald, which "followed a lingering illness with which she had been confined to the hospital since last Christmas." She was survived by her brothers James Mason of Uniontown, Harry Mason of Connellsville and George Mason of Los Angeles.
Charles and Ida were named in a May 1977 article in the Laurel Messenger newsletter of the Historical & Genealogical Society of Somerset County, entitled "Some Descendants of James McMillen," and authored by Kenneth Sanner.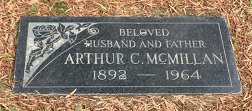 Rose Hills Memorial Park, Whittier, CA
Courtesy Pam Renee Wright -- Find a Grave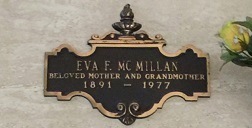 Son Arthur Columbus McMillan (1892-1964) was born on Oct. 26, 1892. He is believed to have received his middle name as he was born in the year of the 400th annivesary of Christopher Columbus "discovering" America. He moved to Braddock, near Pittsburgh, where he lived circa 1909, and may have worked in a steel mill. In the spring of 1911, he went west and traveled and eventually landed in Montana, where he got work with a street railroad company. From there, he relocated to California, where in 1915 he was employed in a steel mill in San Francisco. He married Eva Frances Mitchell (April 4, 1891-1977), daughter of newspaper man Francis Mitchell of the San Francisco Call and Chronicle. Their known sons were Norman Russell McMillan, Raymond Francis McMillan and possibly Larry Pat McMillan. By 1919, he was back in Pennsylvania and looking for work in Philadelphia. News stories in 1920 place him in Listonburg and then back in Philadelphia in May 1920. When her father suffered a third stroke in early 1928, Eva returned to Burlingame, CA to be at his side at death. By 1934, he made his home in Los Angeles. Eva and her sister Alma McMillan Allen returned to Somerset County in 1940 to visit with relatives and friend Lillie Lininger, and the trip was mentioned in the gossip columns of the Meyersdale Republican. They returned again from Los Angeles to Listonburg for a visit in May 1947. Arthur died in Los Angeles on March 13, 1964. Burial was in Rose Hills Memorial Park. [Find-a-Grave] Eva survived for another 13 years and died on Nov. 2, 1977. She rests in the Mausoleum of the Valley in Rose Hill Memorial Park.
Gr

andson Norman Russell McMillan (1915-1990) was born on May 10, 1915 in San Francisco County. He married Joann Ingram (Dec. 27, 1929-1991) of Fayetteville, Washington County, AR. They had one son, Larry Pat McMillan. The family grieved deeply when son Larry, age 17, died in Los Angeles on March 2, 1966. Norman died in Los Angeles County on June 29, 1990. [

Find-a-Grave

] Joann only lived for another year. She succumbed on March 23, 1991 in Orange County CA.
Grandson Raymond Francis McMillan (1920-2010) was born on Dec. 18, 1920 in Pennsylvania, possibly in Listonburg or Philadelphia. He appears to never have married, or perhaps to have divorced. Raymond died in Long Beach, Los Angeles County on Aug. 18, 2010, with burial in Rose Hills Memorial Park. [

Find-a-Grave

]
Son Paul Kilpatrick McMillan (1896-1934) was born on Sept. 4, 1896 in Listonburg. Age six when his mother died, he was brought into the home of his father's sister, Susan Liston, and raised as her foster son. In December 1912, residing with his aunt on the South Side of Confluence, he threw a "stag" party for his friends, among them Park Weimer, Earl Boyer, William Lint, Daniel Shaffner, James C. Chambers and Samuel Peck. The affair ended up being "more than filled by the many various trophies of the hunt which Paul has brought to earth in his Thanksgiving week's ramble through the wilds and primeval wilderness of Addison township," said the Meyersale Republican. "That those same denizens of the forest are more useful when browned and basted and set forth plates before hungry boys than when they are roaming about in the vicinity of Listonburg, both host and guests can testify after partaking of the rabbit, squirrel and pheasant together with substantial vegetable accompaniaments. Paul's ability as nimrod received the praise that was due, while the hostess, Mrs. Liston, was also tendered an unanimous vote of thanks for the exercising of her unsurpassed culinary skill." By 1915, he had relocated to Akron, OH, where he obtained a job in a rubber factory. Then in September 1915 he went to Morrill, KS to see his father and then left for San Francisco, where his brother had obtained employment in a steel mill, and where they wanted to see the "Exposition." He enrolled at Sanford University for a time. While in San Francisco, he met Alma Mitchell ( ? - ? ), daughter of newspaper man Francis Mitchell of the San Francisco Call and Chronicle. Said the Republican, Paul and Alma "became acquainted and an attachment was formed which culminated in their marriage. They have gone to housekeeping in Listonburg." (Interestingly, Paul's brother Arthur married Alma's sister Eva Mitchell.) They produced one known daughter, Ida Mae McMillan. Paul eventually returned to Somerset County and worked with his father over the years in the family's lumber and wooden post business. Noted the Republican, "It was largely through his lumber operation that a great many poor families were able to make a livelihood. He was not only a man who sought to give others a chance to make a living, but he was a fine friend to all with whom he did business, as well as his familiars in a social way." In 1920, he joined the local Masons lodge in Meyersdale. Circa 1926, while Paul was operating a coal mine in Listonburg, Alma and their daughter returned to California. Having come back to Somerset County, Alma and Ida left again on Nov. 28, 1927 to visit her parents in Burlingame, CA. Alma filed for divorce and it was granted on Feb. 21, 1929 in San Mateo County, case no. 15070. Three years later, on Oct. 26, 1932, at the age of 36, he married a second time to 35-year-old widow and piano teacher Florence (Boyer) Diver ( ? - ? ), daughter of Charles E. and Annie (Walker) Boyer. They produced one known son, Paul Kilpatrick McMillan Jr., born in 1933. In about October 1934, the family moved to a new home at 223 Meyers Avenue in Meyersdale, Somerset County. There, they switched their membership from the Southeren Methodist Episcopal Church of Listonburg to the Main Street Brethren Church, where Florence served as organist. Tragedy swept over the family in mid-July 1934, when Paul began to suffer from appendicitis. He underwent surgery but threw a blood clot and died on July 21, 1934. Burial was in Union Cemetery in Meyersdale. Traveling to attend the funeral were Mr. and Mrs. C.B. Dickey and son George. Former wife Alma remained in California and married again to (?) Allen. In October 1940, she and daughter Ida traveled back to Somerset County, along with Mrs. E.L. Lenhart and sister Eva McMillan, to visit with friends including Lillie Lininger.
Copyright © 2002, 2009, 2012, 2014-2017, 2020 Mark A. Miner.
Jesse Liston and Charles R. McMillan biographies courtesy Archive.org