Home

Samuel Weyand
(1826-1907)


The Weyands' graves in Orange Township Cemetery

Courtesy "Couple of Gravers," FindAGrave.com
Samuel Weyand was born on Nov. 7, 1826 in Somerset County, PA, the son of Michael and Mary Anne (Ream) Weyand Sr.
He "was raised on a farm and attended the district schools of Somerset County," said his profile in the 1904 book History of Black Hawk County, Iowa and Representative Citizens. "Upon reaching maturity, Mr. Weyand set out int he world for himself and was engaged in farming pursuits..."
Another source, the Waterloo (IA) Courier, said that "early in life he was compelled to make his own way, following the occupation of a farmer."
On Nov. 1, 1846, when he would have been approaching his 20th birthday, Samuel was united in holy matrimony with 24-year-old Caroline Umberger (1822-1895), a resident of of Brothersvalley, Somerset County, who had been born in Kentucky. News of their wedding was published in the Somerset Herald.


Somerset Herald, Nov. 10, 1846

Courtesy Library of Congress
The year of their marriage, the federal census taker recorded the Weyands as living in Brothersvalley, next door to her relatives Michael Umberger and Philip Umberger.
Together, the couple produced a family of four children -- among them Harriet "Hattie" Shaulis, Ellen Albright Meyers, Martha "Mattie" Weyand and Mary A. Shaulis.
The United States Census of 1860 shows the Weyands and their four daughters residing on a farm in Jefferson Township, Somerset County. At that time, they drew their postal mail at Benford's Store. Among their near neighbors were Andrew and Mary Hay, Daniel and Catharine Fike and Ludwick and Susannah Schrack, all farmers.
In 1870, after the death of his father, Samuel at the age of 44 inherited the sum of $969.90 from the estate. He is known to have traveled in May 1878 to Bloomington, IL to visit his sister Catharine Frank and brother William Weyand.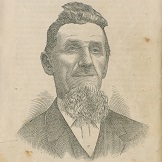 Caroline's brother Herman,
killed by the Nicely brothers

It must have been with mixed feelings that the Weyands bade farewell in the 1870s to their married daughter Hattie Shaulis and her husband Simon and grandchildren James and Ellen who migrated to Iowa and put down roots in Black Hawk County.

When their daughter Mary Shaulis divorced in the late 1870s, she went to Iowa to live with the Shaulises, and Samuel and Caroline brought Mary's young daughter Flora into their home to raise. The U.S. Census of 1880 shows that they also were raising a nine-year-old grandson, Charles Albright.

Grief wracked the Weyands in the dead of winter 1882 when daughter Mary died at the age of about 25. They buried her in Salem Reformed Cemetery, under her maiden name.

In 1883-1884, the Weyands made the decision to venture westward to Iowa to join their daughter Hattie who already had been there for several years, and where their motherless grandson William Edward Shaulis was living as well. They sold their farm in Jefferson Township and, upon arriving, established a home in the Waterloo community. Samuel purchased "one of the finest farms in Black Hawk county," said the Somerset Herald. Their married daughter and son-in-law Ellen and Henry Meyers also made the journey, in the spring of 1884.

The Weyands' signatures.

National Archives

The Weyands stayed in Iowa for good. They were therefor about six years when they received word of a horrific family tragedy back home. On the fateful day of Feb. 27, 1889, Caroline's brother Herman Umberger had been murdered in cold blood in his farmhouse two miles north of Jennerstown, Somerset County. Two brothers from neighboring Ligonier Township, Westmoreland County -- David Nicely and Joseph Nicely -- were apprehended, tried and convicted in the killing, and sentenced to die for their crimes. Then in September 1890, the brothers tried to escape from the Somerset County Jail and twice at close range shot Samuel's cousin, deputy sheriff Milton R. McMillin, who nearly died from his wounds. The Nicelys were re-arrested and in the spring of 1891 were executed by hanging, generating sensational coverage in newspapers from coast to coast. It was the most notorious murder case in county history, if not Pennsylvania's, up to that time.

Caroline and Samuel both signed an affidavit in the early 1890s saying they had known son-in-law Meyers for 16 years and that "he has complained and was often sick from Asthma and disese of heart. I first became acquainted with him in Somerset County Pa. and since he moved here in 1884 he has compalined of the same..." Samuel duly signed his name to the document, but Caroline, unable to write, signed with an "X" mark.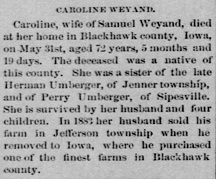 Somerset Herald, 1895

Courtesy Library of Congress
Caroline passed away at home at the age of 72 on May 31, 1895. An obituary was published in her old hometown newspaper, the Herald, which noted that her brother Perry Umberger survived her and mentioner her deceased brother Herman.
Samuel lived for another dozen-plus years after his wife's death. He returned to Somerset where on Dec. 21, 1899, he was united on the bonds of marriage to 71-year-old Elizabeth (Shaffer) Heiple (April 17, 1829-1908), the widow of Aaron Heiple. The daughter of Henry and Martha (Umberger) Shaffer, Elizabeth would have been Samuel's niece by marriage.
The newlyweds came to Iowa and moved into the town of Waterloo. The 1900 census shows Samuel and Elizabeth in a home on West Fourth Street in Waterloo, with 46-year-old, unmarried daughter Martha living under their roof and earning a living as a dressmaker. They hosted the wedding of their grandson William Edward Shaulis to Carrie Bertch in their home on Valentine's Day 1900, an event covered in the Waterloo Courier.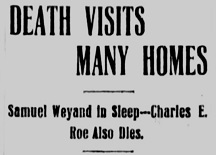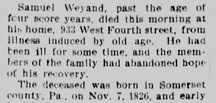 Waterloo Courier, 1907.
Courtesy Dan Floyd
In all, Samuel farmed and raised stock for 17 years. When named in the 1904 Black Hawk County history, he had produced a dozen grandchildren and two great-grandchildren, and took "great interest in the family."
He joined Caroline in eternity on Nov. 4, 1907. Following funeral services in the South Waterloo Church, led by Rev. Frank Cole, burial was beside his first wife in the Orange Township Cemetery. [Find-a-Grave] An obituary in the Courier noted that he was survived by 14 grandchildren and five great-grandchildren, with all of them making a home in Black Hawk County.
The Courier eulogized that Samuel "had been ill for some time, and the members of the family had abandoned hope of his recovery.... The deceased was a worthy man and he held the respect and friendship of all who came in contact with him. He was a member of the Methodist Episcopal church, and his councils were valued highly in that organization. His greatest monument is the family of stalwart and God fearing children that survive him."
The widowed Elizabeth then returned to Somerset County where she spent her final months. She passed away from the effects of old age and rheumatism on Sept. 6, 1908 in the Jenner Township home of a nephew, Aaron Shaffer. Her remains were laid to rest in Friedens Cemetery.
In 1909, Samuel was named in E. Clayton Wyand's book A Brief History of the Andrew Putman (Buttman, Putnam), Christian Wyandt (Weyandt, Weygandt, Voint, Wyand) and Adam Snyder (Schneider) Families of Washingon County, Maryland, in a quote from a letter written by William H. Welfley of Somerset.
Circa 2000, he also was mentioned in genealogy research done by James Weyand, MD of Seattle, WA.
~ Daughter Ellen (Weyand) Albright Meyers ~
Daughter Ellen Weyand (1851-1934) -- also known at times as "Helen Weyant" -- was born in June 1851 in Somerset County.
She was wed twice. In the early to mid-1870s, she married first to Jacob Albright (1837- ? ), a native of Maryland.
The federal census of 1870 shows the newlyweds residing with her parents in Jefferson Township, Somerset County. That year, Jacob, who could not read or write, earned a living as a laborer.
The couple bore a son, Charles Albright, born in 1870 or 1871.
The first marriage ended after only a handful of years, before 1875.
When Ellen was age 23, on Feb. 11, 1875, she was united in holy matrimony with her second spouse, 27-year-old Henry B. Meyers (Jan. 3, 1847-1915). Officiating at their wedding was Elder Edward Bevins, with Ammon Barkman serving as one of the witnesses. No family or church record was kept, except for a wedding notice in the Somerset Herald giving her name as "Miss Ellen Weyand." Henry was a native of Brunswick, Germany, who had emigrated at the age of about one with his parents in 1848. He stood 5 feet, 5 inches tall, weighed 140 lbs., and had grey eyes and a fair complexion.

Henry's signature.

National Archives

At the age of 17, Henry joined the Union Army during the Civil War, enlisting on Aug. 26, 1864 in Somerset County. He was assigned to the 5th Pennsylvania Heavy Artillery, Battery K, commanded by Capt. John M. Kent. Ellen's distant cousin David Harbaugh also was a member of the 5th Heavy Artillery, in Battery D. Henry did not see active service during his term of service. During the winter of 1864-1865, the 5th worked at the Bull Run/Manassas battlefield, burying thousands of dead soldiers whose rotting corpses had lain exposed since the battle the previous two summers earlier. In late October 1864, in Piedmont along the Orange and Alexandria Railroad in Virginia, he became ill with intermittent fever and infalamed tonsils and was sent to an army hospital in Alexandria. Fellow soldier John R. Zufall, of Somerset, heard him complain of asthma and heart disease. He received his honorable discharge on June 30, 1865 at Vienna, VA.

The Meyerses bore these eight known offspring -- Caroline Janett "Carrie" McMillin, George Alber Meyers, Margaret G. "Maggie" Waltman, Mary Elizabeth Hudson, Anna Belle Raber, John Henry Meyers, Lloyd Edgar Meyers and Hattie Meyers. The eldest three were born in Pennsylvania, and the rest in Iowa.

Henry earned a living as a carpenter in the years after the war. When the United States Census was taken in 1880, the family dwelled in Somerset, Somerset County. That year, Ellen's son from the first marriage, Charles Albright, age nine, lived with her parents in Jefferson Township. Among their neighbors during that peeriod was Joseph Zimmerman.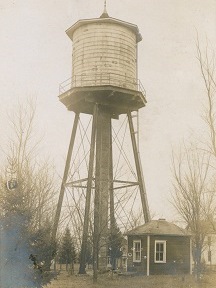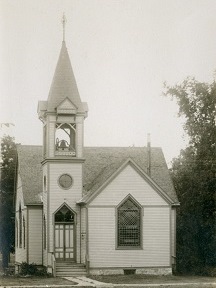 Water tower in rural Hudson, IA, and the Baptist Church Henry helped found
In the spring of 1884, the Meyerses migrated to Iowa with Ellen's parents. They put down roots on a farm northwest of Hudson, Black Hawk County, and remained for good. From 1886 to 1889, they dwelled on the farm of brother-in-law Simon Shaulis and then moved about three miles away. He provided farm labor during that time for Shaulis and for father-in-law Samuel Weyand.
Henry is known to have been a charter member of the Hudson Baptist Church and was a member for the rest of his years. He "had many friends both in and out of the church," said the Waterloo Courier.
Henry was awarded a pension in 1890 for his service and ailments during the Civil War. [Invalid App. #848.060 - Cert. #1.060.087] Subsequent efforts to have the pension amounts increased due to claims of asthma, fever, laryngitis, bronchitis and enlarged heart were rejected. One physician, Dr. Willard Eddy, of Waterloo, wrote that "Bad weather causes frequent and severe attacks of asthma. Active exercise of any kind causes severe pain and palpitation of his heart and compels him to stop all work or exercise to regain composure of his heart." Dr. R.J. Nestor wrote that "Only occasionally can he get a good nights rest as he is not able to lie down -- frequently he must sit in a chair the whole night long and nearly every night until past midnight."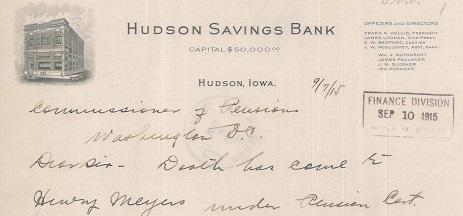 The Hudson Bank sent letters of support in Ellen's pension claim.
National Archives
The Meyerses returned to Somerset in the spring of 1891 and remained for a month, visiting relatives and old friends, among them Abraham Faith and Joseph Zimmerman. They were plunged into grief on Feb. 22, 1893, when their youngest child Hattie died at the age of just one month.
In 1904, when Ellen was named in Isaiah Van Metre's book History of Black Hawk County, Iowa and Representative Citizens, she dwelled in Black Hawk County.
Henry spent the last few years of his life afflicted with "pernicious anemia" -- a decrease in his red blood cells. As the condition worsened, he was confined to his bed, and Dr. Cecil C. Grant came for a visit. Henry passed into eternity at the age of 67 on Aug. 18, 1915. A lengthy obituary in the Courier spelled his last name as "Myers." Funeral services were held in the family church, with burial following in Hudson Cemetery. On his official Iowa certificate, signed by daughter Anna Belle Raber, she was unable to state the names of her father's parents.
Ellen became eligible to receive her late husband's pension, and on her behalf, Hudson Savings Bank cashier C.W. Beford wrote letters to the commissioner of pensions in Washington, DC, and Ellen's sisters Hattie Shaulis amd <artja Weuamd among others signed affidavits. Her paperwork was approved on Sept. 23, 1915. [Widow App. #1.053.429 - Cert. #801.234]
Ellen hosted a reunion of the Meyers family at her home in Hudson on June 29, 1930, Among those attending, said the Courier, were Lloyd Meyers and family of Stockton, CA; George Meyers and family of Dodge City, MN; Alvin Reid McMillin and family of Waterloo; Joan and Ellen Meyers of Savannah, MO; and Fred Waltman and family of Hudson.
Suffering from asthma, Ellen became seriously ill in February 1934. She lingered for two months and succumbed to the Angel of Death on April 17, 1934, at the age of 82.
Several years later, Ellen and Henry were identified as "pioneer residents" of Hudson in the 1938 Courier obituary of their daughter Anna Belle Raber.
Son Charles R. Albright (1870- ? ) was born in July 1870 or 1871 in Somerset County, PA. He was very young when his parents' marriage ended, and he was taken in and raised by his mother's parents in Jefferson Township. Charles later relocated to Iowa. When the U.S. Census was taken in 1900, the unmarried Charesl boarded in the home of a step-cousin, Henry and Minnie Shaulis in Hudson, Black Hawk County. He eventually settled in the community of Waukon, Allamakee County. At the age of 38, in about 1909, he was united in matrimony with 18-year-old Rose Beutler (1890- ? ), a native of Wisconsin and the daughter of Fred Beutler, a Swiss immigrant. There was a 20-year age gap between the pair. The Albrights produced four offspring -- Edna Presho, Ralph Albright, Henry Albright and Anna Wagner. The federal census enumeration of 1930 shows Charles and Rose as tenant farmers in Fairview Township, Allamakee County, with rose's 74-year-old widowed father under their roof. Charles was in Waukon at the death of his mother in 1934.
Granddaughter

Edna Albright (1909- ? ) was born in about 1909 in Iowa. She married (?) Presho.
Grandson Ralph Albright

(1910- ? ) was born in about 1910 in Iowa.
Grandson Henry Albright

(1913- ? ) was born in about 1913 in Iowa.
Granddaughter Anna Albright (1917- ? ) was born in about 1917 in Iowa. She wedded (?) Wagner

.
Daughter Caroline J. "Carrie" Meyers (1876-1948) was born on Aug. 23, 1876 in Somerset, Somerset County. When she was about eight years of age, she joined her parents in a migration to Iowa, settling in Black Hawk County. She remained in the area for the 64 years until death. The day after Christmas 1906, the 31-year-old wedded 31-year-old Alvin Reid McMillin (Jan. 19, 1876-1952), the son of William R. and Emma (Wenner) McMillin and a native of Illinois. Rev. H.G. Beeman officiated, with the ceremony held in Waterloo. At the time of the marriage, Alvin was a farmer of Dunkerton, IA who had attended Iowa State College in Ames. The couple produced two children -- Annetta McMillin and Irene Kirby. For their married lives, spanning four-plus decades, they were farmers on a tract located two miles east of St. Francis Hospital and 1.5 miles north of Route 20 near Waterloo, an area thought to be known as Dewar. Carrie belonged to the Walnut Street Baptist Church, while Alvin was a member of the Church of the Open Bible. Grief blanketed the family when Carrie died on Oct. 20, 1948, terminating their marriage which had endured for 42 years. Alvin remained a widower for about two years and then on Jan. 3, 1951, wedded Clara Glaspie ( ? - ? ) in nuptials held at Waterloo. The second marriage was short-lived, lasting only 15 months. Without warning, Alvin suffered a heart attack at home at the age of 76 and died on April 12, 1952. An obituary was printed in the Waterloo Courier.
Granddaughter

Annetta McMillin was in Washington, DC in 1948-1952.
Granddaughter Irene McMillin married (?) Kirby

. Her home circa 1948-1952 was in Hyattsville, MD.
Son George Alber Meyers (1878- ? ) was born on Sept. 4, 1878 in Somerset, Somerset County. Single at the age of 30, in 1910, he lived at home and earned income as a hired farmhand laboring wherever work was available. At the age of 33, on Jan. 31, 1911, he married 23-year-old Maud Pickinpaugh ( ? - ? ), daughter of Josiah and Ella (Fowler) Pickinpaugh. Officiating at the nuptials was Rev. J.H. Bauernfeind. His home in 1934 was Claremont, MN and in 1938-1948 was in Dodge Center, MN.
Daughter Margaret G. "Maggie" Meyers (1881-1946) was born on March 14, 1881 in Somerset, Somerset County. She made the move to Iowa with her parents when she was age three, in about 1884, and grew up on a farm near the town of Hudson. On Sept. 20, 1899, she was joined in the bonds of wedlock with Frederick J. Waltman ( ? - ? ), age 22, a farmer of Hudson, Black Hawk County. He was German and the son of George and Nergine (Seufferlein) Waltman. Rev. A.K. Lewis led the wedding ceremony. A story about the wedding, in the Waterloo Courier, reported that "The bride was attired in a lovely white dress with lace and ribbon trimming and carried bride's roses. The groom was attired in conventional black... This young couple have the best wishes of a large circle of friends." They became the parents of one daughter, Florence Lydon. During their married lives, the Waltmans resided on a farm northwest of Hudson. In 1929, Margaret served as president of a delegation from Black Hawk County to the ninth annual convention of Tri-County Rebekah Association, affiliated with the International order of Odd Fellows. She also was a member of the Good Luck Club and the Federated Church. Margaret's health began a long decline, and at the end she was admitted as a patient to Presbyterian Hospital near Waterloo. She died there on Nov. 20,. 1946. An obituary in the Waterloo Courier noted that interment of the remains was in Greenwood Cemetery in Cedar Falls, IA.
Daughter Mary Elizabeth "Bessie" Meyers (1883-1917) was born on Feb. 26, 1883 in Somerset County. On Sept. 28, 1904, she was united in matrimony with John F. Hudson ( ? - ? ), a farmer from Hudson, Black Hawk County and the son of Timothy and Fanny Holland. Rev. J.F. Esker, a minister of the Baptist Church, performed the rites. The couple is known to have produced children. Mary Elizabeth is known to have lived in 1915 in Frederick, SD, when she returned to Waterloo to visit her widowed mother. Sadly, Mary Elizabeth was cut away by the Grim Reaper in 1917. The cause of her passing is not yet known. Interment of the body was in Hudson Cemetery. Many years later, her mother later bequeathed funds for the Holland offspring.
Daughter Anna Belle Meyers (1886-1938) was born on Jan. 13, 1886 in Waterloo, Black Hawk County, IA. Single in 1910, at the age of 24, she resided with her parents. She was joined in marriage on June 4, 1913 with 40-year-old railway agent S. "Elmer" Raber ( ? - ? ), son of Samuel and Sarah Ann (Lee) Raber. Baptist pastor Rev. E. Bodenham officiated. At the time, Elmer worked in Savannah, Andrew County, MO, and it was his second marriage. They established a home in Savannah and were the parents of a son, Max Raber. They also raised a niece, Ellen Meyers. In December 1931, she is known to have traveled to Waterloo for the funeral of her uncle, Simon Shaulis. Sadly, Anna Belle was diagnosed with cancer of the uterus. She underwent a hysterectomy in August 1938, but there was no hope for a recovery. The 52-year-old died on Oct. 21, 1938 in her home. An obituary was printed in the Waterloo Courier, with burial taking place in Savannah.
Son John Henry Meyers (1888- ? ) was born on April 26, 1888 in Black Hawk County. He lived in Black Hawk Township in 1934. He migrated to California and in 1938-1948 was in Farmington, CA.
Son Lloyd Edgar "L.E." Meyers (1890- ? ) was born on Sept. 26, 1890 in Black Hawk County. He was employed in young adulthood as a "traveling man" and stationed in Fort Dodge, IA. At the age of 27, two days after Christmas 1915, he wedded 28-year-old Marie Lawson ( ? - ? ), of Ellsworth, KS and the daughter of Andy and Carrie (Bly) Lawson. Rev. Hector C. Leland officiated at the nuptials. Circa 1938-1948, he lived in Stockton, CA.
~ Daughter Martha "Mattie" Weyand ~
Daughter Martha "Mattie" Weyand (1853-1937) was born on Sept. 14, 1853 in Somerset County, PA.
She never married and in 1883, at age 30, settled with her parents in Iowa near the town of Hudson in Black Hawk County. She remained in the local area for the balance of her life.
In 1900, at the age of 46, she lived with her father and step-mother in Waterloo, in a house on West Fourth Street, and earned income as a dressmaker.
Again in 1904, when named in the book History of Black Hawk County, Iowa and Representative Citizens, she lived at home.
Little is known of her adult years. Her address in 1937 was 1017 Fifth Street West in Waterloo.
On the fateful day of Oct. 19, 1937, Martha's clothing caught fire as she was cooking breakfast on her gas stove. She was badly burned on her right shoulder and legs and was rushed to Presbyterian Hospital. Her case was beyond hope, and the 84-year-old succumbed on Oct. 25, 1937. Burial was in Orange Township Cemetery in Black Hawk County, after a funeral preached by Rev. Dr. Will Bowers of the First Methodist Episcopal Church. [Find-a-Grave] An obituary in the Waterloo Courier noted that she "was the last of her family" and that she was survived by six nephews and six nieces, all living in Waterloo and Orange Townships.
Under the terms of her will, she left her estate to her nieces and nephews. A story in the Waterloo Courier of Oct. 28, 1937 gave the particulars: one-sixth each to William E. Shaulis and Flora Keefe -- one-twelfth each to Ada Hatch, Anna Queer and Frank Shaulis -- one-twenty-fourth each to Lloyd Meyers, John Meyers, George Meyers, Carrie McMillin, Maggie McMillin and Anna Raber -- one-twenty-fourth jointly to Frances Holland, Lewis Holland, Louisa Holland and Vera Holland; and also to Rose Albright, Edna Albright, Ralph Albright, Henry Albright and Anna Albright.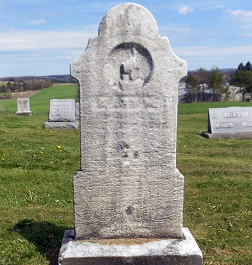 Mary's illegible grave marker, Lavansville, PA

Courtesy Dan Floyd
~ Daughter Mary A. (Weyand) Shaulis ~
Daughter Mary A. Weyand (1856-1882) was born on June 21, 1856 in Jefferson Township, Somerset County.
During the mid-1870s, Mary wedded David Shaulis (June 28, 1855-1930), son of Jacob D. and Susanna (Gardner) Shaulis.
The Weyand and Shaulis families were close. Mary's sister Harriet "Hattie" Weyand married David's kinsman, Simon Shaulis, son of Emanuel Adam and Julia Ann (Harsh) Shaulis, sometimes misspelled "Shauley."
The couple produced two children during their short-lived marriage -- William Edward Shaulis and Florence "Flora" Keefe.
By 1880, the marriage ended in divorce, and David remarried to Caroline (1859- ? ).
When the federal census was enumerated in 1880, the 24-year-old Mary and her two-year-old son William were in Iowa, residing in Orange Township, Black Hawk County with her married sister Hattie Shaulis and family. David and his second family were back in Somerset County, with him earning a living as a cooper, and three-year-old Mary Philips under their roof.
Sadly, at the age of only about 25, Mary passed away in Somerset Township on Feb. 11, 1882. The cause of her untimely death is not yet known. Her remains were lowered into eternal rest in Salem Reformed Church Cemetery in Somerset Township, a burying ground also known as Lavansville Reformed Cemetery. A one-sentece obituary in the Somerset Herald provided Mary's precise age as 26 years, seven months and 20 days and date of death and gave her parents' names, although it mis-named her mother as "Martha."

Somerset Herald, Feb. 15, 1882

Courtesy Library of Congress
A marker was erected at the grave, bearing her maiden name "Weyand" and not the married name. The carving featured a hand pointing toward heaven, a motif common in that era, including among Pennsylvania German families. The inscription on the marker today is virtually illegible. However, in 1934, during the grip of the Great Depression, laborers with the Works Progress Administration -- a popular "New Deal" program of President Franklin Delano Roosevelt's to put unemployed men back to work -- surveyed the names on the graves at Salem Reformed and recorded Mary's name and month and year of death.
Her son William remained in Iowa, where he apparently was raised by members of the family. The daughter Florence went to live with Mary's parents until she, too, moved to Iowa.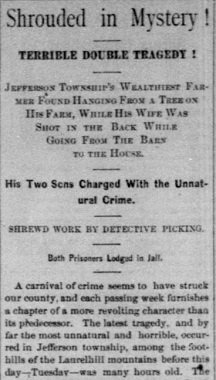 Somerset Herald, May 1, 1889

Courtesy Library of Congress
Ex-husband David J. Shaulis lived for nearly five decades more. He and his brother George got into serious trouble in 1889 during a complicated dispute after their father had been married to a second wife, Belinda, for about three years. David's father was considered the wealthiest farmer in the area, and he and Belinda resided in what one newspaper called an old-fashioned, red farmhouse on the brow of a hill commanding a view of their acreage. Fifteen rods away -- about 250 feet -- David and his wife and brother George and his wife and families dwelled in a newly built frame house of one and a half stories. In addition to natural bad blood between two men and their wives against the stepmother, jealousy turned darker when Belinda became pregnant, with the brothers fearing their share of the estate would diminish accordingly. The father once took a bag of flour into a local physician's office, asking him to check it for poison, fearing his sons were trying to kill him. The father also learned of four notes he allegedly had signed, promising to repay his sons in amounts of thousands of dollars each, and declaring them forged and having the fraudulent documents removed from all references in the county prothonotary's office.
Then one morning in late April 1889, the father went missing in the early morning, and Belinda directed David to go looking. Then after milking the cows, as Belinda was walking in the farm yard with David's wife, she was shot in the back by an unknown assailant. She cried out and staggered home while the daughter-in-law continued on as though nothing had happened. As she awaited medical help in her home, David arrived after a lengthy delay and told the awful news that the father 's body had been found "cold in death, suspended by a small flaxen cord from the limb of a tree on his farm, a short distance from his dwelling house," reported the Somerset Herald. "Whether the old farmer took his own life, or was foully murdered by those whose greatest pleasure it should have been to guard and tenderly care for him in his declining years, remains a mystery." Belinda's wound was dressed, and physicians found that the bullet had exited the body through the breast, and that she would recover. Belinda naturally suspected that her stepsons were behind the shooting. Authorities found David's story incongruent, and discovered missing guns from his and George's dwellings. The two were arrested, even though George had been in Somerset on the morning in question. In a lengthy investigative story, the Herald went on to say that:
The scene at the Shaulis homestead this afternoon beggars description. A half hundred of the neighbors had gathered in the little old house where the dead man was being prepared for burial, while all over the farm groups of a half-dozen men were collected discussing the horrible tragedy... While neither of the prisoners opened their lips in their own behalf, a number of their neighbors volunteered to enter into security for any amount for their appearance [in court] next week, if they could only be permitted to witness the last sad rites over their father's body. But the law is dear to all entreaties, and whenthe two poor, miseeable creatures were placed upon a single horse and headed for prison, accused with the atrocious crime of a father's murder and the attempted murder of his wife, it required a heart of stone to look upon the scene and remain unmoved.... The sentiment of the neighbors is very much divided as to the guilt of the young men. While the surrounding circumstances point very strongly toward David as having shot his father's wife and many maintain who know of the bitter feeling existing between the two households that he assisted his father in adjusting the noose around his neck, some few going so far as to intimate that he choked his father to death and then humg him on the limb where he was found. Others insist that the father was of infirm mind and was given to brooding over the loss of fortune that has recently overtaken him to a limited extent, and that while suffering from a fit of despondency took his own life.
Farmers Frederick Shaulis, Peter F. Shaulis, Philip H. Walker and Conrad Miller each put up bond money for the brothers' release so they could return home for the funeral. Stories were made public that the father had tried to drown the wife in Laurel Hill Creek. The brothers were charged with coercing their father into suicide, and were imprisoned in the county jail, said by a news reporter to have been "but little more secure than a pig-stye, and was as foul smelling." The outcome of their trial is not yet known, but he was a free man by 1905.
David married a third time to Malinda Barron ( ? - ? ). He spent the balance of his life as a farmer -- "tiller of soil," in the words of a family member. In September 1894, his daughter Anna was admitted to the School for the Deaf and Dumb in Edgewood near Pittsburgh. Then in June 1905, while cutting a tree, he was injured when a limb fell on his body. Burdened at the age of 74 with congestive heart failure and "dropsy" (buildup of fluids), he died on Feb. 23, 1930. Interment was in Samuels Cemetery, near Lavansville, with Rev. H.M. Petrea officiating. Samuel Shaulis was the informant for the official Pennsylvania certificate of death. An obituary in the Somerset Daily Herald named not only his children from the first marriage (with Flora's name misspelled as "Cora") but also from the later marriage(s) -- Arthur Shaulis and Clara Crissey (at home) and Alice A. Fritz and Mary Stapleton (both in Ligonier, PA).
Daughter Florence "Flora" Shaulis (1876-1948) was born in about 1876 in Pennsylvania. When her parents divorced, Florence was taken in by her grandparents, Samuel and Mary (Umberger) Weyand of Somerset County, and is shown there circa 1880. She too migrated to Iowa and lived in Waterloo, Black Hawk County and then in Oskaloosa, Mahaska County. A story in the Marshalltown (IA) Times-Republican in 1902 reported that she had undergone surgery for a tumor in Singleton Hospital, that she worked as "a Pilgrim dining room girl" and that while her parents lived in Waterloo, "for a number of hears she has resided in this city." In 1907, she made news in the gossip columns of the Waterloo (IA) Courier when traveling from Oskaloosa to Waterloo to visit her brother. She was united in wedlock with (?) Keefe ( ? - ? ). The couple did not reproduce, and the husband's fate is not yet known. Marked by a census-taker as widowed, Florence made a home in St. Paul, Ramsey County, MN in 1930 and 1940. Her occupation in 1930 was as a pastry cook in a cafe at a bus depot. She was still in St. Paul in 1947 at the death of her brother William when she was named in his newspaper obituary. Her address at that time was 31 Iglehart Avenue. Sadly, at the age of 71 on St. Patrick's Day 1948, she suffered a heart attack and died in St. Paul. Her remains were shipped to Waterloo's Kearns Garden Chapel for funeral services. A brief death notice was printed in the Courier and a listing of her passing in the Minneapolis Star.
Son William Edward Shaulis (1877-1947) was born on Jan. 6, 1877 or 1878 in Pennsylvania. He was very young when his parents divorced. As a two-year-old, he and his mother resided in the home of an aunt and uncle, Hattie and Simon Shaulis, in Orange, Black Hawk County, IA. He appears to have remained in the Waterloo area for the rest of his life. Circa 1899-1900, he was employed by a local contractor named Smith, working as a carpenter and well known for his integrity and hard work. On Valentine's Day 1900, when he was 22 years of age, William was joined in marital union with Carrie Bertch ( ? -1940). The ceremony was held in the home of William's grandparents in Waterloo, led by Rev. Gillen of the Progressive Lutheran Church. "At eight o'clock the wedding march was played by Carl Pray, and the bride and groom preceded by the minister marched through an aisle which was made by two little ribbon girls, nieces of the bride," reported the Waterloo Courier. "The bridal party stood under a floral bell of smilax... The bride was handsomely dressed in a gown of white satin and she carried white bride's roses. The young couple were the recipients of many presents, rugs, chairs, tables, glassware and many other useful articles were received." Two daughters were born to this union -- Ruth Cory and Vera Briden. The couple initially lived on a farm in Eagle Township. Then in about 1908, they moved to a farm in Waterloo Township, remaining there for three decades. At his 45th birthday in 1923, William was thrown a surprise party by friends from the old Cedar Falls Road. Carrie's nieces Dorothy and Darlien Bertch provided music, with Vera Shaulis giving readings. William is known to have made a living over the years as a building contractor. For 24 years, he also served as the elected assessor for Waterloo Township, on the Republican ticket, and for a time as a township trustee. He was a member of the Elks Club and was active with the local Farm Bureau. The couple celebrated their 38th wedding anniversary in 1938 with a gathering for friends in their home. Reported the Courier, "The anniversary party was also a farewell courtesy, for the couple is moving from the farm to Waterloo on March 1." Sadly, Carrie died on Aug. 27, 1940, ending their marriage which had endured for four decades. Rev. Harry J. Moore, of the Westminster Presbyterian Church, officiated at the funeral service, with interment in Elmwood Cemetery. Reported the Courier, her pallbearers were H.A. Degener, A.J. Hansen, Floyd Bell, J.J. Kelley, George Strayer and O.L. Harner. William survived his wife by seven years and moved in with his married daughter in Janesville, IA. Having borne heart problems, death carried William away on Feb. 18, 1947. An obituary in the Courier named both parents and said he had "moved here when he was very young."
Granddaughter Ruth Shaulis ( ? - ? ) was born in (?). She wedded (?) Cory ( ? - ? ). She dwelled in La Porte City, IA in 1947 and Jesup, IA in 1948.
Granddaughter Vera Shaulis ( ? - ? ) was born in (?). She married Eldon Briden ( ? - ? ). Circa 1947, they lived in Janesville, IA, and provided a final home for her aged, ailing father.
Copyright © 2002, 2009, 2012, 2014-2015, 2017, 2019-2020, 2023 Mark A. Miner
Minerd.com extends gratitude to Bob Mariani and Dan Floyd for sharing valuable content and images for this biography.