Home

Mary Anne (Ream) Weyand
(1789-1871)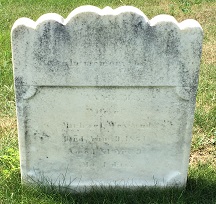 Mary Anne's fading grave, Wills St. Johns Evangelical Lutheran Church Cemetery
Mary Anne "Annie" (Ream) Weyand was born on Dec. 8, 1789 in Ursina, Somerset County, PA, the daughter of John and Anna Rosina (Weitzel) Ream, and the stepdaughter of Catharine (Minerd) Ream. She was only two years of age when her mother died from the bite of a poisonous snake. She never learned to read or write.
In about 1814, when she would have been age 24, Mary Anne was united in matrimony with 25-year-old farmer John "Michael" Weyand Sr. (April 4, 1789-1868), son of Jacob and Catherina (Schlichter) Weyand.
Michael's father was an immigrant from the town of Freinsheim, Bad Dürkheim in the Rhineland-Palatinate section of Germany. As a newborn, Michael was baptized in the Berlin Church, witnessed by Michael Laure and Anna Maria (?).
Neither Mary Anne nor Michael could read or write.
Over the years, the couple produced nine offspring, among them Catharine Frank, Sarah Coleman, Mary Rhoads, William Weyand, John Weyand, Joseph Weyand, Samuel Weyand and Michael Weyand Jr.
A daughter, whose identity is not yet known, succumbed at the age of 19.

Mary Anne, who could not write, signed
her name with an "X" on June 2, 1868
In 1850, the family lived near Somerset in Somerset Township, Somerset County. That year, Michael earned a living as a farmer, and his sons Michael as a carpenter and John as a laborer. Others in the household were 21-year-old Susan Coleman and 15-year-old William Fox, both marked as laborers. Their married daughter Catharine Frank and her family resided next door.
The Weyands were members of the Reformed Church. In 1839, Michael became an original member of the Wills St. Johns Evangelical Lutheran Church, five miles east of Somerset, and was one of two deacons at the outset.
When the census was taken in 1860, Mary Ann and Michael lived under the same roof and were near neighbors to their sons John and Joseph and their wives and families.
At the age of 79, Michael passed away on May 31, 1868. His remains were placed into repose in Wills St. Johns Evangelical Lutheran Church Cemetery in Somerset. [Find-a-Grave] Inscribed at the base of his upright grave marker was this epitaph:
...you pass by ... so I have been,
As I am now so you must be.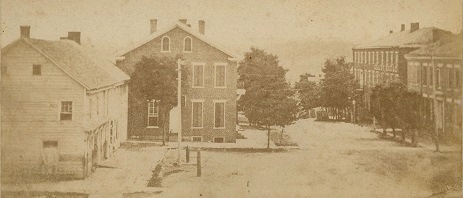 Center of Somerset (the "Diamond") prior to the great fire of 1872
Michael's grave marker, Wills Church
His estate was quickly appraised and filed on Sept. 15, 1868. An inventory was made, and in addition to a wide range of farming tools and household furniture, the Weyands' possessions included a German family Bible, old books, a looking glass and more. By law, Mary Anne received the right to administer the estate, but she renounced this in favor of "my two trusty sons Joseph & Michael." When much of her personal property was sold to generate funds to pay debts, she chose to retain some of the items including a bureau, big rocking chair, two pots, stand and dishes, two chairs, corn broom, bed clothes, dishes and carpets.
Among others, the following were paid by Michael's estate for services connected with the funeral and estate administration -- B. Woolly for the tombstone, Theodore Woy for clerking, Josiah Shafer for auctioneering, J. George Shaullis for making the coffin and Daniel Weyand for professional services.
When in 1870 the census again was made, Mary Anne was living on her son Michael's farm in Somerset Township, making her residence near sons John and Joseph.
Mary Anne died on Aug. 9, 1871, at the age of about 81, with burial in the Wills Church Cemetery. Her passing is mentioned in Iva (Ream) Barkley's book Ream-Riehm. Her name on the face of her grave marker is inscribed as "Annie."
Michael and/or Mary Anne are mentioned in several profiles of their sons, including Isaiah Van Metre's 1904 book History of Black Hawk County, Iowa and Representative Citizens, and the 1916 volume by Jerome E. Blough, History of the Church of the Brethren of the Western District of Pennsylvania. Michael also is named in the 1884 book, History of Bedford Somerset and Fulton Counties, Pennsylvania.
Circa 2001, this family was researched by James Weyand, MD of Seattle, WA.
Copyright © 2002, 2009, 2012, 2014-2015, 2017, 2019-2020 Mark A. Miner