John Weyand was born in about 1818 in Somerset County, PA, the son of Michael and Mary Anne (Ream) Weyand Sr.
When he was 32 years of age, he was unmarried and lived at home with his parents in Somerset Township, Somerset County, earning a living as a laborer.
John married Catharine Brant (1828-1909) -- also spelled "Brooks" -- during the decade of the 1850s. An immigrant to the United States, she was born in Hesse Darmstadt, Prussia.
Their four known children were Mary L. Weyand, Lucy Weyand, William Weyand and Henry Weyand. Sadly, daughter Mary died on Aug. 21, 1861, at the age of six, with burial in the family plot in Wills Church Cemetery.
The family apparently spoke the German language and/or carried on German customs, and while their grandchildren knew Catharine had been born in Germany, they believed John had as well.
The 1860 United States Census shows John and Catharine and family living on a farm in Somerset Township next to his parents and brother Joseph. As well, 15-year-old Elizabeth Brook resided in the household as a servant as did 19-year-old Henry Frank as a farm laborer.
In 1870, after his father's death, John was paid $798.00 as an inheritance from the estate. The federal census of 1870 shows the family in Somerset, with sons William (age 14) and Henry (11) living under their roof in addition to six-year-old Anna Rubright.
John is known to have traveled to Illinois in September 1878 to visit his brother William in the town of Bloomington, McLean County. The news was published in the gossip columns of the Bloomington Pantagraph.
By 1880, U.S. Census records show that the couple had moved from Somerset Township to a farm in Berlin, Somerset County. They were empty-nesters that year.
John succumbed in Berlin on Nov. 30, 1885. A short death notice was published in the Somerset Herald, which noted that he was in age 68 years, five months and three days, and that in "accorance with his request, he was buried at Will's Church, near the Somerset and Bedford Pike." [Find-a-Grave]
Catharine survived him by more than a quarter of a century. She died on Aug. 10, 1909.
~ Daughter Lucy Weyand ~
Daughter Lucy Weyand (1855- ? ) was born in about 1855 in Somerset Township.
In 1870, when she otherwise would have been age 15, she was not shown in that year's federal census in her parents' household, and may have been deceased.
~ Son William Weyand ~
Son William Weyand (1857- ? ) was born in about 1857 in Somerset Township.
When he was age 14, in 1870, he lived with his parents in Somerset and is known to have attended school. His whereabouts in 1880 are not known.
Research suggests that he is not the same William Weyand who migrated to Hancock County, IL -- married Mary F. Miller (April 9, 1856-1897) -- moved to Keokuk, Lee County, Iowa -- died on June 2, 1900 -- and is buried in Oakland Cemetery in Keokuk.
~ Son Henry Weyand ~
Son Henry Weyand (1859-1941) was born on Feb. 22, 1859 in Somerset Township.
He was united in marital union with Arminta Forney (Feb. 11, 1860-1928), daughter of Franklin and Mary (Musser) Forney of Berlin.
They produced two children -- John F. Weyand and Mary Earhart.
Henry earned a living over the years as a salesman. The Weyands are known to have hosted the wedding of he sister Annie Forney to Ira S. Nicholson in their home in November 1903.
In about 1917, they left Berlin and moved to the Hazelwood section of Pittsburgh, making a home at 240 Hazelwood Avenue. They stayed in Hazelwood for the remaining years of their lives.
Arminta was diagnosed with cancer of the duodenum, stomach and liver and admitted to Pittsburgh's South Side Hospital. Also burdened with anemia, she succumbed there at the age of 68 on Oct. 14, 1928. Son John of the family home provided vital information for the death certificate.
Henry lived for another nearly 13 years. Suffering from hardening of the arteries, he died at the age of 82 on April 8, 1941. The remains were transported to Berlin for burial. An obituary in the Somerset Daily American reported that Rev. D. Snider Stephan, of the Trinity Reformed Church, preached the funeral sermon, with burial in the Berlin Odd Fellows Cemetery. Son-in-law L.C. Earhart, of 1456 Franklin Avenue in Wilkinsburg, was the informant for the official Pennsylvania certificate of death. [Find-a-Grave]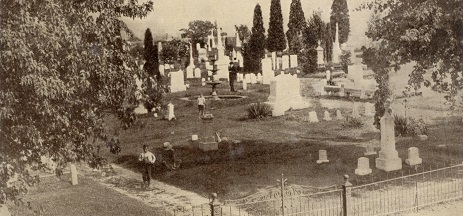 Berlin's picturesque Odd Fellows Cemetery, where the Henry Weyands are buried
Son John F. Weyand (1882-1958) was born on July 27, 1882 in Berlin. He moved to Pittsburgh where he resided in Hazelwood at 240 Hazelwood Avenue in 1928. He married Catherine Croner ( ? - ? ). The couple produced two children. John was employed for many years by the Baltimore and Ohio Railroad, a position from which he retired. He died on May 14, 1958. Funeral services were held in Pittsburgh and Berlin, with Rev. Donald R. Yost officiating. An obituary was printed in the Meyersdale Republican.
Daughter Mary Catherine Weyand (1890-1966) was born on Dec. 1, 1890 in Berlin. She wedded Lawrence Cleveland Earhart ( ? - ? ). They were the parents of sons James W. Earhart and Herbert Earhart. Their home in 1928 was in Wilkinsburg. Lawrence was in the news in 1938 when fired from his job as a salesman/mechanic from the Hodson Motor Company on Baum Boulevard in Pittsburgh's Oakland section. He claimed that in his role as union local 521 president, he had enrolled 32 co-workers in the union and that he was let go as punishment. The company countered that he was dismissed for "inefficiency." A grievance was filed with the Pennsylvania Labor Relations Board and reported in the Pittsburgh Sun-Telegraph. In the 1960s, their address was 1334 Meadowlark Drive in Pittsburgh's Scott Township. Lawrence passed away at the age of 76 on Dec. 11, 1964. Mary outlived him by a little more than a year. Suffering from heart disease, she was admitted to John J. Kane Hospital in Scott Township. She died there on Feb. 2, 1966 at the age of 75. Her remains were returned to Berlin for burial, with Rev. Walter L. Brandau officiating. An obituary in the Somerset Daily American noted that she was survived by her son Herbert of Scott Township and two grandchildren.
Copyright © 2002, 2009, 2012, 2014-2015, 2017, 2019 Mark A. Miner