Home

Sarah (Weyand) Coleman
(1820-1899)
Sarah (Weyand) Coleman was born in about 1820 in Somerset County, the daughter of Michael and Mary Anne (Ream) Weyand Sr.
She was united in matrimony with Joseph Coleman (1803-1876). They were the parents of Mary Weller and Henry Coleman.
The couple resided on a farm two-and-a-half miles west of Somerset in the 1850s and for many years thereafter.
In 1870, Sarah inherited $650.00 from the estate of her late father.
Sadness blanketed the family when Joseph died at the age of 73 on July 17, 1876. A brief death notice was published in the Somerset Herald.
Sarah outlived her spouse by a number of years and moved into the home of their daughter Mary Weller as of 1880.
She died at the age of 82 on or about Nov. 22, 1899. Word of her passing was telegraphed to her 86-year-old sister Catharine Frank in Illinois.
~ Daughter Mary (Coleman) Weller ~
Daughter Mary Coleman (1849-1935) was born on June 16, 1849.
At the age of 16, on Jan. 23, 1866, she wedded 24-year-old Civil War veteran William "Frederick" Weller (May 25, 1841-1907), son of Jacob and Barbara (Shaulis) Weller. The nuptials ceremony was held in Somerset, officiated by Rev. L. Gerhard. A pre-printed marriage certificate blank in red ink was inscribed in black-ink handwriting with the details of the wedding. At the top, in small lettering, read "What God hath joined together, let no man put asunder." At the bottom, on a diagonal, read "Wagner SC."
Frederick stood 5 feet, 7½ inches tall, weighed 16 lbs. and had a fair complexion, brown hair and blue eyes.
The children born to this marriage were Elizabeth J. "Lizzie" Weller, Charles Edwin Weller and Daniel Weller.
During the Civil War, on Sept. 28, 1864, Frederick joined the Union Army. He was assigned to the 52nd Pennsylvania Infantry, Company C. Among his comrades in the company were Abraham Howard, William Mull and John Schrock of Bakersville, Somerset County. Frederick often exchanged letters with Mary, his sweetheart and future wife. While on duty at Morris Island, SC in January 1865, he contracted typhoid fever which led to bronchitis, heart disease and lung problems. He was feverish and stayed on duty until it got worse. Then he received treatment at the regimental hospital. Recalled Howard, his tentmate and messmate, "I never expected to see him get of[f] Morris Island alive, he was so low from the diseases..." and was then transferred to a hospital in Charleston and thence to another hospital in the District of Columbia. After receiving an honorable discharge, he returned home in July 1865.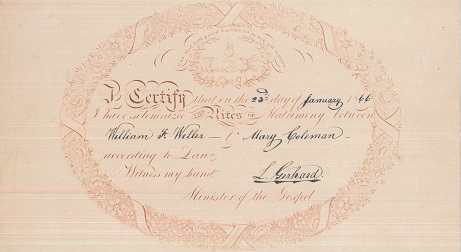 Marriage certificate for William and Mary Weller, 1866.
National Archives.
The couple were farmers for many years in Somerset Township, living sabout two-and-a-half miles from the county seat. When the federal census was taken in 1880, Mary's widowed mother resided in the household. In the late 1880s, Frederick began receiving a Civil War soldier's pension from the federal government. [Invalid App. #738.602 - Cert. #499.851]
He found it difficult to work at farming, complaining often to neighbors Harmon Barron and Samuel S. Miller about "spells of sickness" which included pain in the chest and difficulty in breathing. Perhaps finding politics a lighter form of work, he is believed to have won the elected position of Director of the Poor in 1888-1892. The Somerset Herald noted in September 1892 that he "contemplates a trip to Erie, Pa., early next month, at which time the Poor Directors of the State hold their annual convention in that city." Then in 1893 he ran for county commissioner and in 1894 was a candidate for school director in the township. He was known for not consuming alcohol. Mary is believed to have been a sufferer from tuberculosis, known as "consumption" at the time.

Civil War stereoview of soldiers' tents in the sands of Morris Island, SC.

Library of Congress
Circa 1898, he made plans to become a resident of the Soldiers' Home in Erie. While en route, he stayed overnight in a hotel in Sharon, and nearly died of natural gas inhallation. Reported the Herald, "Frederick Weller, an old soldier who formerly resided in the vicinity of Stoyestown, was found unconscious in his room ... where he had blown out the gas before going to bed... To the physician at Sharon who attended him he said his wife is a consumptive and that when his pension money was exhausted his children kicked him out. He bewailed his fate, and wished he had died." He apparently did not complete the relocation.
One day while plowing in the hot sun, he drank a quantity of cold water from a nearby well. When he quit work at 4 p.m. that day, he came home, put his horse away and consumed a light supper. Then between 6 p.m. and 7 p.m. he became nauseous and commenced vomiting. Dr. S.J.H. Louther was called and diagnosed a case of gastritis. At some point the couple moved into the town of Somerset, owning a half-acre of land which included a small house. On the last day of his life, on May 16, 1907, Frederick seemed to be in reasonable health. His brother came for a visit, and they talked for two hours. But after the brother's departure, Frederick complained of sharp heart pain, fell into bed and died. He was just nine days shy of his 66th birthday.
Mary outlived her spouse by nearly 30 years. She learned she was eligible for a military pension as the widow of a Civil War veteran, and it was awarded the month after his death. [Widow App. #871.389 - Cert. #633.965] Toward the end, she lived with Elizabeth Trent at 145 East Catherine Street. Widowed in her mid-80s, Mary suffered a cerebral hemorrhage and died at the age of 85 on April 1, 1935. Burial was beside her spouse in Christ Casebeer Lutheran Church Cemetery in Sipesville. Elizabeth Trent was the informant for the Pennsylvania death certificate. [Find-a-Grave]
Daughter Elizabeth J. "Lizzie" Weller (1866-1935) was born on April 24, 1866 or April 25, 1867 in Somerset Township. As a young woman, circa 1889, she taught in a local school. On April 11, 1889, at the age 22, Lizzie was united in matrimony with 26-year-old farmer Norman E. Trent ( ? - ? ), son of Uriah and Harriet Trent, also of Somerset Township. The nuptials were performed by J.F. Shearer. Lizzie and her brother Charles are known to have traveled to attend the Central State Normal School graduation of their brother Daniel in Lock Haven, PA in June 1898. In the early 1930s, the widowed Elizabeth lived at 145 Catharine Street in Somerset. She suffered a heart attack in April 1935 and passed into eternity two days later on April 22, 1935, just two days shy of her 69th birthday. Burial was in Union Cemetery in Somerset. Mrs. Norman E. Knepper Jr., of South Center Avenue in Somerset, was the informant for the official Pennsylvania certificate of death.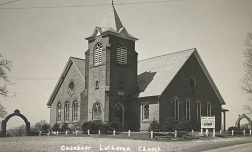 Christ Casebeer Lutheran Church
Son Charles Edwin "C.E." Weller (1869-1926) was born on Jan. 29, 1869 in Somerset Township. He grew up learning the occupation of farmer. At the age of 26, three days before Christmas 1895, he was joined in holy wedlock with 19-year-old Carrie May Miller ( ? - ? ), daughter of Jeremiah "Jerre" and Maggie L. Miller. The wedding was held at the home of the bride in Lincoln Township, performed by Rev. C.F. Gephart in front of a room about 60 invited guests. In a report about the wedding written by Gebhart, the Somerset Herald said that "After the ceremony and congratulations all were invited to the dining room where a sumptuous supper was served, that all enjoyed. After a pleasant, social time during the evening the guests bid Mr. and Mrs. Weller God speed, upon the voyage of life together, and returned to their homes delighted with the pleasant event they were invited to witness." The couple lived on a farm in Somerset Township. When Carrie's mother died in 1899, she brought her widowed father into their household in the village of Husband, and he remained until his death in May 1942. Charles is believed to have been the same "C.E. Weller" who, in June 1905, built a water reservoir near their home and, reported the Somerset Daily American, "now enjoys the convenience of having water piped through all parts of his house." The family was plunged into grief when Charles, stricken with "neuraligia of the heart," succumbed on Oct. 31, 1926 at the age of 57. Interment was in Christ Casebeer Lutheran Church Cemetery.
Son Daniel W. Weller (1879-1931) was born on Jan. 19, 1879 on a farm near the village of Husband, Somerset Township. In his late teens, after receiving his public school education, he attended Lock Haven State Normal School and graduated in 1898. From there he became employed as a clerk with the banking department of County Trust Company. On June 26, 1900, when he was 22 years old, he wedded 21-year-old Darl I. Kifer (Feb. 18, 1879-1929), daughter of Michael and Mary (Saylor) Kifer. Rev. E.P. Wise was the officiant at the wedding ceremony. They produced these known offspring -- Edward Weller, Daniel W. Weller Jr., Edna Weller and Mrs. John Speicher. Daniel eventually left the trust company to join a Pittsburgh wholesale business as a traveling salesman. He resigned from his sales work in February 1926 to become postmaster in Somerset and then was re-appointed for a second term at the recommendation of Congressman Samuel Austin Kendall. In his free time, he enjoyed singing in the choir of Trinity Lutheran Church and belonged to the Lions Club. Sadly, Darl contracted kidney failure compounded by a serious case of pneumonia. She was admitted to St. Francis Hospital in Pittsburgh, where she passed away at the age of 50 on Dec. 6, 1929. Daniel only outlived his wife by a little more than a year. On the fateful day of Jan. 8, 1931, while a passenger in a vehicle driven by his son-in-law John Speicher, he suddenly slumped in the seat while they passed the Farmers National Bank in the city's public square. Speicher sped to the post office to get help and then drove to the office of Dr. Charles C. Barchfield, who pronounced Daniel dead on arrival. Said the Somerset Daily American, "Word of Postmaster Weller's passing spread quickly throughout the community and everywhere was received with profound sorrow. After the public had recovered from the first shock men and women gathered in groups and discussed the loss the community had sustained in the unexpected removal of an efficient and popular public servant." Following funeral services in the home, led by Rev. Dr. I. Hess Wagner of the family church, interment was in Somerset.
~ Son Henry Coleman ~
Son Henry Coleman (1854-1929) was born on Sept. 17, 1854 and grew up in Somerset.
At the age of 25, on Sept. 21, 1879, he married Binnie Barron ( ? - ? ). Rev. A.E. Truxal officiated. In a letter to the editor of the Somerset Herald, a writer pen-named "Little Schnacum" wrote the following: "Let me tell you a little about the happy couple Mr. Henry Coleman and Miss Binnie J. Barron, who were united together in matrimony ... on Sunday morning, ... and happily serenaded on Monday night following. The serenading party numbered about one hundred and fifty men and boys; and after serenading about an hour and a half they were all invited to partake of the hearty supper prepared. All we had for supper I cannot state; I couldn't name everything. This serenading is estimated to have been one of the best that ever took place in Somerset county. The serenading took place at Mr. Coleman's residence. I, with all the rest of the serenaders, wish you and your pretty wife all the luck we can, and a happy life in this world and in the world to come, and are ever so thankful for the kind usage we got."
The couple were farmers for decades before retiring in the 1920s.
Their only child was Stewart E. Coleman.
They left their farm and purchased a residence in Somerset at 608 South Center Street. Henry was employed in those later years as a tipstaff in the Somerset County Court system, appointed by his brother-in-law, Judge J.A. Berkey.
At the age of 74, Henry began to be treated medically for angina pectoris -- severe chest pain caused by poor blood flow into the heart. After four months of suffering, he went to work on Dec. 12, 1929 and put in a full day. Sadly, after a good supper that evening he "was seized with a sudden and violent illness" and died that evening, said the Somerset Daily American. His obituary reported that the "citizens of Somerset were shocked" at the news. Interment was in St. John's Cemetery in Somerset, following funeral services preached by Rev. J.J. Funk of the United Brethren Church.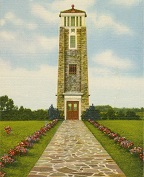 Somerset County
Memorial Park
Son Stewart E. Coleman (1883-1957) was born on Nov. 16, 1883 in Somerset Township. As a young man, he dwelled near Lavansville, Somerset County. On March 20, 1904, at the age of 21, he was joined in marriage with Jennie M. Weigle ( ? - ? ), daughter of John and Marion (Ringler) Weigle of Somerset Township. The ceremony was performed by Rev. John Wilson at his home in Somerset, with the news reported in the Somerset Daily American. Their attendants were Lewis Wilson and Naomi Wilson. They dwelled in rural Somerset Township, and Stewart earning as a moulder for Somerset Foundry and Machine Company. They produced five known children, John Henry Coleman, Frances Fox, Cloyde E. Coleman, Paul F. Coleman and JoAnn Cage. Over the span of decades of their marriage, they remained in the same house. The couple were members of the First Evangelical United Brethren Church in Somerset, and Stewart belonged to the International Order of Odd Fellows in Somerset for four decades. When the children all married and started making babies, the Colemans received the gift of five grandchildren in the single year of 1949. The couple celebrated their 46th wedding anniversary in March 1950 with a restaurant dinner and driving trip to Altoona, courtesy of their daughter JoAnn Cage and her husband. At their 50th anniversary in 1954, they held an open house for family and friends at the First Evangelical United Brethren Church. In reporting on the anniversary event, the Daily American said that "Mr. Coleman is now retired, and spends a great deal of his time in doing carpenter work, while Mrs. coleman makes rugs. She makes several different types of rugs, hooked and braided, and just enjoys making rugs for various placed in her home and in the homes of her children. Both are enjoying good health and keep quite active. Mr. Coleman is a member of the Odd Fellows lodge and has been quite active in the unit for many years." On June 24, 1957, burdened with heart disease and hardening of the arteries, Stewart died in Somerset Community Hospital after a 10-day stay. The remains were placed into eternal repose in Somerset County Memorial Park, with funeral services co-officiated by Rev. Melroy M. Wirick and Rev. Dr. B.F. Bungard. Their son John signed the official Pennsylvania certificate of death, and the Daily American ran an obituary.
Arlington National Cemetery

Grandson John Henry Coleman (1906-1967) was born on May 12, 1906 in Somerset Township. He served in World War II with the U.S. Navy, with three and a half years spent in the Pacific Theater as a member of the Navy and the Seabees. He was discharged with the rank of chief petty officer. He married Lorene Blevins ( ? - ? ) of Nashville, TN. Children born to this marriage were Jacqueline "Jacquie" Coleman, JoAnn Coleman and John Michael Coleman. After the war, he secured employment in Baltimore with the local shipyard. The couple lived in 1949-1957 in Chattanooga, TN and then in 1967 in McLean, VA. Sadly, John died unexpectedly at the age of 60 on Jan. 29, 1967. Funeral services were held in the chapel at Fort Myer, VA, followed by military burial in Arlington National Cemetery (Section 51, Grave 1983).
Grandson Cloyde E. Coleman (1910-1981) was born on Nov. 8, 1910 in Somerset. He married Thelma Merrill ( ? - ? ). They dwelled over the years on West Garrett Street and on Berkey Lane in Somerset. The couple bore these children -- Carol Anselmo, James Coleman and William Coleman. Cloyde earned a living over the years with Jewel Tea Company, the Pennsylvania Turnpike Commission and IXL Creamery. For half a century, he was a member of First United Methodist Church of Somerset and was active in its Brotherhood Bible Class. As his health failed, Cloyde was admitted to Somerset Hospital, where he succumbed at the age of 80 on Aug. 7, 1991. Dr. Arthur J. Gotjen preached the funeral sermon, with interment in Somerset County Memorial Park.
Grandson Paul F. Coleman ( ? - ? ) lived in Chattanooga, TN in 1954 and in Johnstown, Cambria County, PA in 1967 and Dayton, Montgomery County, OH in 2000-2011.
Granddaughgter Frances Coleman (1920-2011) was born in 1920. She worked in Washington, DC in 1945. She wedded Paul A. Fox ( ? - ? ) and made a home in Jackson, MI in 1949-1967. They bore three children, David Fox, Alan Frederick Fox and Lori Kelly. By 2000, Frances was in Cadiz, KY. She died in Trigg County Hospital at the age of 91 on Oct. 18, 2011, with an obituary appearing in the Louisville (KY) Courier Journal.
Granddaughter JoAnn Coleman (1928-2000) was born on Nov. 28, 1928 in Somerset and was 22 years younger than her eldest brother. She married Albert L. Cage Jr. ( ? - ? ). Their address in 1949 was on East Sanner Street in Somerset and they remained in the city for the balance of their lives. They were the parents of Brenda Suzanne Winkelman, Sara Elizabeth Cage and Kristine Brockwell. The Cages were members of Calvary Methodist Church, where JoAnn served for many years as the organist. Later, she played organ for Grace United Methodist Church. JoAnne was a member of the Order of Eastern Star, the Rotary Club of Somerset (where she was a Paul Harris Fellow) and Somerset Music Club. She also volunteered her time with the Somerset Food Pantry and Meals on Wheels. JoAnn died at the age of 71 at home on July 9, 2000. Funeral services were held in the Calvary Church, co-officiated by Rev. Raymond Lyon and Rev. Charles Olson, and burial in Somerset County Memorial Park. An obituary was printed in the Somerset Daily American.
Copyright © 2002, 2009, 2012, 2014-2015, 2017, 2019 Mark A. Miner