Jacob Minerd III
(1816?-1907)
Normalville Cemetery
Jacob Minerd III was born on the Fourth of July 1816 (or 1817) in Hexebarger near Kingwood, Somerset County, PA, the son of Jacob and Catherine (Younkin) Minerd Jr. Extensive research in local newspapers and court records reveals a long life filled with activity.
As a boy, Jacob may have attended school but never learned how to sign his name. Ever after he signed his name with an "X."
He was united in the bonds of matrimony with his neighbor Rachel Ansell ( ? -1887), the daughter of Michael Ansell. The Minerd and Ansell families were close, and Jacob's brother John married Rachel's sisters Sarah and Hannah.
Jacob and Rachel together produced an only daughter, Elizabeth (Minerd) Long Gallentine.
When his father died in 1842, Jacob agreed to purchase a quarter share of his late father's farm. The section totaled 122.75 acres. Within two years, he built a two-story log house on his tract. The "1849" date was carved into the cornerstone in the foundation. The house stands today, and was profiled in a July 1986 Historical Resource Survey - Selection of Significant Structures published by the Somerset County Planning Commission.
Jacob's name was recorded in Somerset County records when he bought items at estate auctions of deceased neighbors. His purchases were small but provide a window into his needs of the time -- including a bell (34 cents) and kettle ($1.01) at the estate sale in January 1840 of his late cousin, John J. Younkin; and two chairs (27 cents), also in 1840, also from the Younkin estate.
In the 1850s, Jacob is known to have held an account at the John McMillan tannery in Listonville. His entries from the year 1852 to 1855 are recorded in the tannery's business ledger which is preserved today. The entries read as follow:
...settled accounts with J.K. McMillen + I remain due him four dollars + thirty seven cents, May 15, 1852 [signed]. – 7 years interest on the above, $1.84 – balance due on mare $5.00 and 4 years interest $1.20, cost $6.20, March 19, 1855.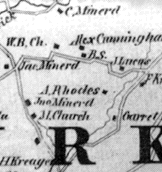 1860 Map of Somerset County showing Jacob's farm
In 1854, serving as a trustee of the Methodist Episcopal Church, Jacob persuaded his brother John to sell a small portion of his farm to the congregation "so that they shall erect and build a house or place of worship for use of members." (The "M. Church" is shown next to the farms of "Jno. Minerd" and "Jac. Minerd" on a rare 1860 map, seen here. The "W.B.Ch." was the "Winebrennarian" Church of God, also known as the Old Bethel Church.) Jacob's church was named "Mt. Zion." Nineteen years later, in 1873, the tract was sold back into private hands by the remaining trustees -- Harmon Younkin, William Eicher and John Eicher. It's thought that the Mt. Zion congregation joined with a newly formed church, the Mt. Bethel Church at nearby Paddytown. [Note -- Harmon Younkin's daughter Joanna would later marry Jacob's nephew Ephraim Miner.]
Jacob and his brother John sold their farms in 1865, and both moved to Normalville, Fayette County, PA, where they remained for the rest of their lives.
Heartache struck in the winter of 1872 when son in law George Long Jr. died from pneumonia, contracted while helping a neighbor build a barn. The next year, at his daughter's suggestion, Jacob was appointed guardian for his three grandchildren -- Rachel, Susannah and William Long. He served in this role for 30 years, until 1903.
Jacob operated a small coal mine "in working condition" on his farm east of Normalville, as described in Franklin Ellis' 1882 History of Fayette County.
Typical harvest scene
Weekly newspapers of Jacob's era carried tidbits about everyday living. An 1894 issue of the Connellsville Keystone Courier reported that "Jacob Miner is putting a new roof in his house." The next year, The Courier reported that "Jacob Miner and [grandson] William J. Long cut wheat on Thursday. This is the first cut in this section."
Jacob also suffered many physical ailments. On Christmas Day 1881, said the Uniontown (PA) Republican Standard, "He was in the act of getting on one of his horses to ride him to water, when he scared and threw him heavily to the ground, dislocating his shoulder-blade, besides other painful injuries." Added the Courier, "Dr. McCoy reduced the fracture, and at present the patient is doing as well as could be expected."
In 1887, the Courier reported that "Jacob Minor, an old and respected citizen of this township, is confined to his room with a complication of diseases."
That same year, Rachel died on May 12, 1887, and is buried at the Normalville Cemetery. And in 1892, niece Sadie (Minerd) Luckey wrote to a cousin, "Tell your papa that Uncle Jake Minerd is poorly. I was over there last Sunday. They don't think he can live long. They Dr. says he will have to have his foot taken off and he thinks he can't stand the operation. He says he will die first."
Green dot in the lower middle section shows Jacob's farm (marked "J. Minor") in the 1872 Atlas of Fayette County, near Elm (today's Normalville), while the orange dot marks the farm of his brother John.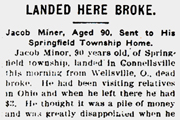 Connellsville Daily Courier, 1906
Jacob's foot apparently continued to be a problem over time. The March 4, 1902 issue of the Daily Courier reported that "Jacob Miner, who some time since had his toe amputated, is suffering intense pain and fears are entertained as to his recovery."
As Jacob aged, he lost track of prices as they rose due to inflation. In June 1906, after visiting his granddaughter Susanna Kooser in Wellsville, Ohio, he traveled back to Connellsville alone, and under-funded. According to a front-page story in the Daily Courier, when he arrived, he was "dead broke."
He had been visiting relatives in Ohio and when he left there he had $3. He thought it was a pile of money and was greatly disappointed when he found that it had taken all of it to get to Connellsville. How he managed to get through on such a small amount was the wonder of Burgess Soisson this morning when the old man told his tale. After endeavoring to learn where his home was and all about him the Burgess gave him money to hire a team to take him to his home in Springfield township.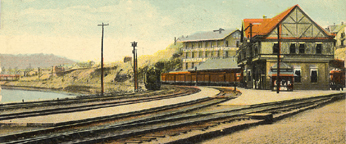 B&O station in Connellsville, where Jacob "landed broke"
Jacob lived another 20 years following Rachel's death.
He passed away on Oct. 31, 1907 at the home of his granddaughter Susanna Kooser, in East Scottdale, Westmoreland County, PA. He is buried beside Rachel at Normalville Cemetery.
Jacob is mentioned in a lavishly illustrated, 2011 book about about his nephew who was a Civil War veteran -- entitled Well At This Time: the Civil War Diaries and Army Convalescence Saga of Farmboy Ephraim Miner. [More]
Copyright © 2000-2003, 2005-2008, 2015, 2022 Mark A. Miner
1860 Map of Somerset County courtesy of the Pennsylvania State Archives