Susanna 'Anna' (Long) Kooser
(1863-1935)

Susan Kooser
Susannah Phalitia "Anna" (Long) Kooser was born on Aug. 15, 1863, in Normalville, Fayette County, PA, the daughter of George and Elizabeth (Minerd) Long. She went by both the names "Susan" and "Anna."
When Susan was eight, her father died, and she became the legal ward of her grandparents, Jacob and Rachel (Ansell) Minerd III of Normalville, Fayette County. The Minerds would care and provide for Susan for many loving years.
At the age of 22, Susan married 25-year-old John R. Kooser (1860-1923), the son of Samuel and Sarah (Kern) Kooser of nearby Somerset County, PA. The nuptials took place in about 1885.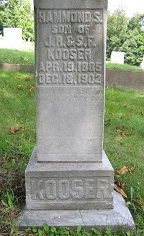 Hammond's grave,
Hill Grove Cemetery
They became the parents of at least seven children – Hammond S. Kooser, William McKinley Kooser, Elizabeth Burchett Smith, Sadie McLaughlin, Amy Browne Phelps, Freed Ira Kooser and Mary Lohman.
In early 1886, John and Susan moved to a house at the east end of Normalville, which her mother had purchased. But John appears to have been restless. Later that year, the Uniontown Genius of Liberty reported that he "talks of locating in Scottdale. He was down looking for a house. John is a good mason, and we wish him good luck wherever he goes."
By 1898, the Koosers lived in Pennsville, near Connellsville, and in 1900 were in Scottdale, Westmoreland County, PA. John's father Samuel Kooser, a longtime wagon driver of Normalville, died on Sept. 18, 1900, and was buried on the farm of Susan's cousin, Martin Miner.
In about 1903, the Koosers moved to eastern Ohio, where they resided in Wellsville and eventually in East Liverpool, along the Ohio River.
Tragedy struck a week before Christmas in 1902. Son Hammond, age 17, was known in and around both Connellsville and Wellsville as "a good boy, bright," said the Connellsville Courier. But he contracted a deadly case of typhoid fever, and was unable to recover his health. He died at the Kooser home in Wellsville on Dec. 18, 1902. The Courier's correspondent in Normalville said "his early demise is sorrowfully felt by all here, where he was born and reared." His body was sent back to Connellsville for burial at Hill Grove Cemetery. A tall pylon marker was placed on his grave, inscribed with a line of text of tribute that today is nearly faded.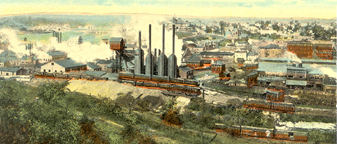 Bird's eye view of industrial Scottdale
Susan's widowed grandfather, who remained in Normalville, missed having them close by. He is known to have traveled to visit them in Wellsville in June 1906, when he was 90 years of age and suffered from feet problems.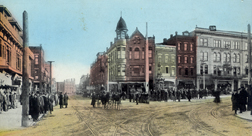 East Liverpool's famed "Diamond"
The Koosers moved back to Fayette County, and they were residing there in East Scottdale in 1907. That year, Susan's infirm grandfather Minerd lived under their roof, and died in the Kooser home in October.
The family relocated again at some point to East Liverpool, Columbiana County, OH. A rare old photographic postcard of East Liverpool's famed "Diamond" is seen here.
By December 1910, Susan moved yet again, to Columbus, Franklin County. She sent her mother a birthday postal card, depicting a scene on West High Street in Columbus. The brief note said: "Mother, I am right on this street now."
Susan sent another postal card the following year, in late August 1911, from East Liverpool, to where she must have returned after a short stay in Columbus. Suffering from glaucoma, she wrote:
Forgive me for being so slow answering. I had broke my glasses and can't see to write at all without them. Will write you a letter in a few days. We are all well. Hope you are all the same.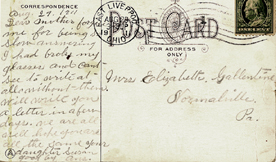 Susan's 1911 postcard to her mother
That postcard, seen at right, is preserved today in the Minerd-Minard-Miner-Minor Archives.
Susan and her children enjoyed visiting with their Long and Pritts relatives in Connellsville and Normalville, and often made the railroad trip from their home in East Liverpool. In September 1915, they came to Connellsville and spent several days with Susan's brother William Jacob Long and niece Katherine Long. In a postcard, Katherine wrote:
Just finished washing and am resting a while so will drop you a card. They all left yesterday and it seems most awfully lonesome. Papa is going away again at three o'clock in the morning. Aunt Ann just coaxed and begged me to go along back but I thought that was a little too much. I'm feeling better again although I'm some weak yet.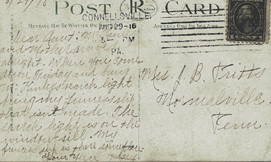 Mary Lohman's 1916 postcard to her
aunt Rachel Pritts in Normalville
In another postcard dated Aug. 29, 1916, from Connellsville, daughter Mary sent a note to her aunt in Normalville, Rachel Ruamy Pritts. Mary wrote: "McKinley and Mother arrived alright. When you come down Friday and bring McKinley's search light. Bring my princess slip that isn't made. The search light is on the window sill. My princess slip is there someplace."
Tragically, their son William "McKinley" Kooser (1896-1919) suffered from diabetes. He is known to have traveled to visit his Pritts relatives in Normalville in August 1917, as his cousin Bessie Pritts wrote to Homer Pritts: "Suppose you are having some time since Kinley is there. Did they surprise youns. I would like to see them. What time did Father and Mother get home." Tragedy struck again in the spring of 1919 when McKinley died at home at age 22. His body was sent by the "Pennsylvania train" to Connellsville, PA for burial at Hill Grove Cemetery.
Sadly, the Kooser marriage did not last. At some point Susan and John divorced. John continued to resided in East Liverpool at 1028 St. George Street. He worked as a "millman" in the sheet heating industry. Susan then moved in with her married daughter Mary Lohman in Sebring, Mahoning County, OH.
John passed away in East Liverpool at the age of 62 on March 20, 1923. "He was found dead in bed," wrote his physician. His remains were returned to Connellsville via the Pennsylvania Railroad, and were laid to rest in Hill Grove Cemetery. The pallbearers were his cousins, Grant Dull, Harry Dull, Ernest R. Kooser and Daniel Kooser. His brother, A.K. Kooser of East Liverpool, published a "Card of Thanks" in the Daily Courier, thanking "our kind relatives and friends in Connellsville for their sympathy shown us during our recent bereavement [including] those who donated automobiles and the minister, Rev. Lambertson."
Obituary, 1935

Susan was in Cleveland, Cuyahoga County, OH in August 1929, and hosted her sister Rachel Pritts and niece and nephew-in-law Elizabeth and Albert Sleasman for a four-day visit. The news was reported in the gossip column of the Connellsville Daily Courier.

Susan suffered from hardening of the arteries in her final years. She died at the Lohman residence in Sebring at the age of 71 on March 22, 1935. Her remains were returned to Fayette County for burial. At her funeral, held at the Methodist Episcopal Church in Connellsville, the choir sang "Good Night and Good Morning" and "The Old Rugged Cross." As with sons Hammond and John, she was buried at Hill Grove Cemetery, but their graves are not marked.

~ Son Freed Ira Kooser ~

Son Freed Ira Kooser (1891- ? ) was born on June 23, 1891 in Normalville, Fayette County, PA. He moved with his family to East Liverpool, Columbiana County, OH, where he found work with American Sheet and Tin Plate Co., laboring as a catcher in a hot mill. He was tall and of medium build, with brown eyes and dark brown hair.

On Nov. 30, 1915, at the age of 24, Freed married 22-year-old Emma Taylor (1893- ? ), daughter of Henry and Anna (Prince) Taylor of Kentucky. Rev. J.C. Strubel performed the ceremony. Emma worked at the time of marriage in one of East Liverpool's potteries.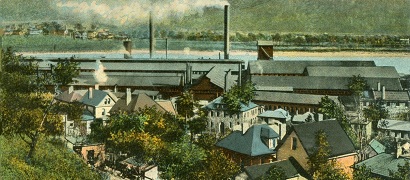 Mills of the American Sheet & Tin Plate Company in Wellsville, hard by the Ohio River, where Freed Kooser worked circa 1910
They lived in East Liverpool in June 1917, when Freed registered for the military draft during World War I.
Freed lived in Louisville, Stark County, OH in the early 1920s.
By 1935, he had moved to Alabama, residing in the city of Birmingham.
Freed spent his final years in Ontario, San Bernardino, CA. He died there in November 1972 at the age of 80.

Elizabeth Burchett Smith Heckel
~ Daughter Elizabeth "Lizzie" (Kooser) Burchett Smith Heckel ~
Daughter Elizabeth "Lizzie" Kooser (1889- ? ) was born on May 24, 1889 in Pennsylvania. She was married four times but never reproduced.
On Nov. 14, 1914, she married Grover Cleveland Burchett (1884- ? ), a Kentucky native, and the son of Wyley and Mary (Hawes) Burchett. She was age 25 at the time, and he 30, and both were residents of East Liverpool. Rev. A.W. Gruber of East Liverpool performed the nuptials.
Grover was tall and slender, with brown eyes and dark hair. He was employed in 1914 as a potter in one of East Liverpool's clay factories, and she was an artist, likely decorating the clayware for sale to the public. Circa 1918-1923, they resided in Sebring, Mahoning County, OH, where Grover worked for Sebring Pottery Company. In September 1918, with World War I raging in Europe, he registered for the military draft, and listed Elizabeth as his next of kin.
Later, Lizzie married a man named Smith, and in 1935 they lived in Hamilton, Canada. She signed her name as the informant on her mother's death certificate in 1935.
Marrying for the third time, she was united with Dennis (?). He was a member of the Masons lodge and she belonged to the Order of Eastern Star.
Lizzie's last husband was Perry Heckel ( ? - ? ), a veteran of World War I.
~ Daughter Sadie (Kooser) McLaughlin ~
Daughter Sadie Kooser (1893- ? ) was born in January 1893 in Pennsylvania.
She was close with her cousin Katherine (Long) McClain (daughter of William Jacob Long). In a postcard dated Sept. 9, 1915, Katherine wrote this to another of their cousins, Hannah Pritts, in Normalville: "I had a letter from Sadie to-day. She is trying to hold me to my promise to go out there Xmas. Would like well enough to but guess I can't."
At the age of 24, in about 1917, Sadie married 32-year-old William Arthur Shaw McLaughlin Sr. (1886- ? ), an emigrant from Liverpool, England. As a young man, he was tall with a medium build, and with grey eyes and black hair. He worked as a potter for Cartwright Brothers in East Liverpool, played semi-professional soccer and emigrated to the United States aboard the Mauritania. In June 1917, he registered for the American military draft. "During World War I," recalled a granddaughter, "he served in one of the Queen's house guard regiments in Canada as a Calvary officer and played coronet in the house guard band."
The McLaughlins lived in Cleveland, Cuyahoga County, OH in 1923-1935, where the 1930 federal census shows him employed as a motorman with a street railway. They later resided at 932 South Arch Avenue in Alliance, Stark County, OH.
They had three known children -- William A. McLaughlin Jr., Wanda Dolores Riedel and Charles Robert McLaughlin.
"Sadie had beautiful henna colored hair," said the granddaughter. "She was only 5' 2" -- the other sisters were taller. She was very sweet, frugal and wise. Until she met my grandfather, she worked in the pottery part time as a painter and part time in a book bindery."
William passed away in Sandusky, Erie County, OH on Sept. 30, 1961.
Sadie is believed to have outlived him by four years and to have succumbed in 1965.
Son William Arthur McLaughlin (1920-2002) was born on April 13, 1920 in Cleveland. On July 2, 1941, at the age of 21, he married his 19-year-old high school girlfriend, Mildred Ruth "Millie" Corbett (Sept. 26, 1920-2004). Their four children were William McLaughlin Jr, Nancy Jeanne Lord, Janis Lyn McLaughlin and James McLaughlin. He spent his career as a production manager for Chardon Bubber Company in Chardon, OH, which he joined Oct. 5, 1950 and from which he retired 39 years later on Jan. 5, 1989. He also was a professional musician, playing trumpet as well as conducting and arranging. During World War II, he served in the U.S. Navy and was a musician in the Pacific Theatre, said to have played at a party honoring Admiral Halsey. Said the Willoughby (OH) News Herald, "Bill is remembered by many as a musician during the 'Big Band' Era, playing the trumpet with Lew Ayers, Lew Anderson and Hal Lynn among others. He appeared in many clubs and ballrooms.... He and Millie were founding members of the Geauga Lyric Theater Guild and he served as Director from 1955 to 1980. He directed more than 30 musicals. Remaining active until 1990. From 1960 to 1976, he was director of the Great Geauga County Fair Band and was honored for his service in 2001.." The McLaughlins made their home in Burton, Geauga County, OH. At the age of 82, William passed away on May 29, 2002. Funeral services were held at the Newbury United Community Church, led by Rev. Brian Bagley-Bonner. Mildred followed him to the grave two years later, at the age of 83, on April 22, 2004. Obituaries for both were published in the Cleveland Plain Dealer as well as in the Willoughby News Herald.
Granddaughter Nancy Jeanne McLaughlin (1943-2013) was born in on July 10, 1942 in Cleveland. She obtained a bachelor of fine arts degree in education from Ohio University. She wed (?) Lord. She dwelled in Middlefield and Burton and produced two sons, Robert William Lord and Donald Lee Lord. Reported the Willoughby (OH) News Herald, "A resident of this area for 30 years, Nancy worked in sales at Flambeau in Middlefield for over 20 years and at Shade Tree in Middlefield 10 years, retiring in 2009. Her hobbies included bird watching and music. She was a choir director at Newbury Community Church for 20 years and directed several shows for Geauga Lyric Theatre Guild." Nancy Jeanne died at the age of 70 on Feb. 19, 2013 in UH Geauga Medical Center. A memorial service was held at the Burton Congregational Church, and the family asked that any memorial donations be made to the rescue village at the Geauga County Human Society. The Cleveland Plain Dealer published an obituary. Their son Robert married Jacque and resided in Seattle, while son Donald made his home in San Jose, CA.
Granddaughter Janis Lyn McLaughlin ( ? - ? ) has made her home in Burton. Circa 2003, she ran a non-profit organization known as Heartland Circle, which helped rural women in the farmlands of western Ohio.
Daughter Wanda Dolores McLaughlin (1922- ? ) was born in 1922 in Ohio. She was wedded to Donald F. Riedel (1914-2014), son of Michael and Anna Riedel of Highland Heights, OH. Their three children were Douglas Riedel, Karen Leyde and Craig Riedel. Wanda worked as a secretary during her career and enjoyed singing in the Sweet Adalines. Noted the Willoughby (OH) News-Herald, Donald "was a department manager at Cleveland Crane for over 40 years.... Don and Wanda moved to Florida after his retirement and enjoyed 25 years there. They returned to Ohio in 2003. He loved fishing and caught many muskies at Chautauqua Lake." Just four months shy of his 100th birthday, Donald died at home in Mentor on June 27, 2014. Burial was in Whitehaven Memorial Park, with an obituary appearing in the News-Herald.
Grandson

Douglas Riedel

wed Kimberly. He is said to have been interested in the family genealogy.
Granddaughter

Karen Riedel married Richard Leyde.
Grandson

Craig Riedel was joined in wedlock with Mai.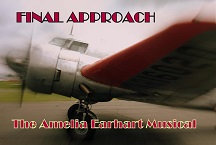 Laurie's musical about Amelia Earhart
Son Charles Robert "Chuck" McLaughlin (1924-2004) was born on Nov. 22, 1924 in Ohio. He was united in holy matrimony with Mary Alice Owens (1928-1995), thought to have been the daughter of Paul Clarence and Hilda Mary (Mauntel) Owens of Cleveland. Their only child was Laura Marie "Laurie" McLaughlin. He served in the U.S. Army as an infantryman and parachutist during World War II. After the war, he was employed as a mechanical engineer. He enjoyed playing guitar and singing in local bands. Mary Alice passed into eternity on Aug. 26, 1995 with burial in All Souls Cemetery in Chardon, a property of the Catholic Cemeteries Association of the Diocese of Cleveland. Charles survived his wife by nine years. He relocated to Valrico near Tampa, Hillsborough County, FL. He joined her in death on June 17, 2004, with his remains shipped to Ohio for interment.
Granddaughter Laura Marie "Laurie" McLaughlin ( ? -2017) was born on Nov. 23, (?). She grew up in Chagrin Falls, OH and was employed in customer service at CCS Medical. Laurie graciously shared information for this biography in 2003. A graphic designer and playwright, she authored Final Approach: The Amelia Earhart Musical and recruited Minnesota singer-songwriter Claudie Schmidt to play one of the lead roles. She also completed the manuscript of Earhart's husband, George Palmer Putnam. In March 2014, during a trip to Austrlia, she became a Buddhist nun and was given the name "Venerable Gyalten Yangchen." She went to live in Land of Medicine Buddha, a green certified non-profit Tibetan Buddhist retreat center in the Santa Cruz Redwood Mountains. In November 2013, she authored "Vegetarian Eating Experience" on the Land of Medicine Buddha's website. Stricken with cancer, she died in Soquel, CA on Jan. 18, 2017.
~ Daughter Ruamy "Amy" (Kooser) Browne Phelps ~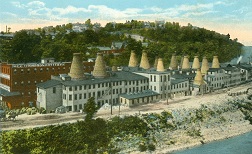 Pottery in East Liverpool, with uniquely
shaped stacks, hard by the Ohio River
Daughter Ruamy "Amy" Kooser (1898- ? ) was born on Nov. 19, 1898 in Scottdale, Fayette County. She migrated with her parents to East Liverpool, Columbiana County, OH.
At the age of 23, on Oct. 9, 1920, she married 23-year-old Leslie A. Browne (1898- ? ), of Wellsville, Columbiana County, the son of Tennessee natives Walter L. and Etta (Bills) Browne. Rev. P.E. Carson performed the ceremony in Lisbon, OH. At the time of marriage, Amy was employed as a potter in East Liverpool, and he worked for the railroad.
They had one known son, Leslie Browne Jr., born in Pittsburgh in March 1922, and brought back home to Wellsville. Tragically, the boy died at the age of one month, 13 days, on May 6, 1922, most likely of bronchial pneumonia, just as the physician arrived at their home. The child's remains were taken to Leslie's hometown of Nashville, TN for burial.
Amy later married a man named Phelps. By 1935, they had moved to Columbus, Franklin County, OH. Mr. Phelps belonged to the local lodge of the Masons, and she was a member of the Order of Eastern Star.
Their fates are unknown.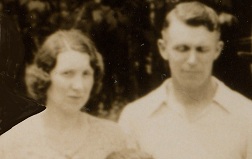 Mary and Charles Lohman, 1936
~ Daughter Mary F. (Kooser) Lohman ~
Daughter Mary F. Kooser (1902-1956) was born in 1902 in East Liverpool, Columbiana County, OH.
She married Charles Lohman (1898-1969), a native of Salineville, Columbiana County. He was of medium height, and of slender build, and had brown eyes and blond hair. He played semi-professional baseball and was considered somewhat of a rogue.
They produced an only son, Glenn Lohman.
Prior to marriage, in September 1918, when he was required to register for the military draft, he stated his employer as Androlic Pressed Steel Co., his position as "making shells" and his nearest relative as Mrs. Rose Lohman of Salineville.
They are seen here circa 1936, at the golden wedding anniversary of their aunt and uncle, John and Rachel (Long) Pritts. Mary would have been age 34 at the time, and Charles 38.
Circa 1926, their home was on West Maryland Avenue in East Liverpool, Columbiana County, OH. That year, Mary hosted a visit from her married sister Sadie McLaughlin of Cleveland. By 1930, they resided in Sebring, Mahoning County, OH, on Maryland Avenue, when the federal census was taken. Mary's aged mother Susan made her home in their residence that year, and died there in 1935. Charles worked as a turner in a pottery in Sebring.
At some point the Lohmans divorced. Charles apparently moved to the West Coast where, said the Alliance (OH) Review, he was a "potter in California."
Charles later married Katherine (?), and they divorced in September 1950. He then is believed to have moved to San Jose, CA. He passed away at age 70 on July 17, 1969 in Marlboro, OH, with burial at Woodland Cemetery in Salineville.
Mary suffered from asthma in her later years but remained in Ohio against doctor's orders. She succumbed to an asthma attack in Stark County, OH on June 9, 1956. Burial was in Grandview Cemetery in Sebring, Mahoning County, OH. [Find-a-Grave]
Son Glenn D. Lohman (1936-2004) was born on Dec. 11, 1936. He was age 19 when his mother died. He was married and had a family of children, among them Shari Lohman, Mitch Lohman and Scott Lohman. Sadly, Glenn suffered a stroke and died in Fullerton, Orange County, CA on Aug. 7, 2004.
Copyright © 2001, 2004, 2006, 2007, 2012-2013, 2017 Mark A. Miner