Henry Younkin
(1789-1837)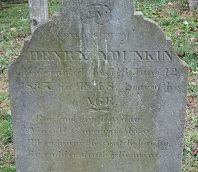 Henry's grave, Younkin Cemetery
Henry Younkin was born in about 1789 in Turkeyfoot Township, the son of Jacob and Hannah (Nicola) Younkin, pioneer settlers of Somerset County, PA.
Upon his father's death in 1811, when Henry was age 22, he inherited 169 acres, approximately half of the 300-acre family farm. His brother John J. Younkin inherited the remainder.
On May 7, 1811, when Henry was 22, he married 17-year-old Elizabeth "Betsy" Weimer (1794-1870), daughter of John "Frederick" and Barbara (Harbaugh) Weimer Jr. and and the granddaughter of Casper and Mary (Cramer) Harbaugh. The ceremony took place in Somerset County, and was offiiciated by justice of the peace John McMillen.
A dozen local men signed their names on a marriage statement to show that they had been witnesses to the wedding -- John McMillen, Tom Lamb, Henry Nicola, John Benford, John Vought, John Philippi, Peter Bradford, brother Jacob J. Younkin [Jr.], Joseph Bowling, John Weimer, Robert Nicholson and Peter Bender. This certificate was passed down among the generations in the family. In the 1960s, it was in the possession of a great-great granddaughter, Blanche (Tedrow) Bowman of Rockwood, PA and the text was printed in the May 1968 edition of the Laurel Messenger of the Historical and Genealogical Society of Somerset County.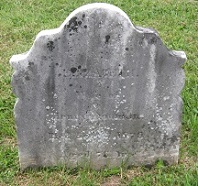 Betsy's grave, Paddytown
These early pioneer families were closely inter-twined. Barbara Weimer's brother Leonard Harbaugh Sr. married Martha Minerd, and Martha's brother Jacob Minerd Jr. wedded Catherine Younkin.
Henry and Betsy produced the following nine children: Rachel Husband, David Younkin, Phoebe Boucher Lybarger, Sarah "Sally" Whipkey, Susan Lichliter, Mary "Polly" Knable, Catharine Luddington, Elizor Lewis ("Eleanor"?) Younkin and Anna Maria McNeill.
Sadly, daughter Elizor died young, as did one other in infancy.
The Younkins were farmers on a hilly tract populated with stands of ash, beech, chestnut, dogwood and poplar trees. Their farm shared or touched on the borders of farms owned by Jacob and Catherine (Younkin) Minerd Jr. and Nicholas Hartzell, among others.
Henry was a heavy drinker and apparently left his family at some point in time. Adding to the heartache, he died suddenly in Turkeyfoot Township at the age of 48 on June 12, 1837. His remains were placed into rest at the family's Younkin Cemetery, where his brother John J. would be interred the following year, with others to follow later.
The burying ground was known at the time as the Brougher Cemetery, and sometimes referred to in more modern times as the Lemmon Farm Cemetery. An inscription was carved onto the face of his grave stone, the same wording as would be inscribed on his brother John's.
Henry's Epitaph
Boast not another day,
Nor call tomorrow thine,
Thou mayest be snatched away
By sudden death like mine.
--Younkin family cemetery, 1837
Betsy was left as a widow at the age of 43. Ultimately, she survived her husband by more than 33 years.
She was named as an administrator of her husband's estate along with her son in law Harmon Husband, J.L. Snyder and F. Gebhart. Because so many of her children were underage, she arranged for the following guardians to be named -- John K. McMillen for Mary, John Rush for Susanna, Elias Stahl for Ann and Henry Younkin "of Frederick" for Catharine.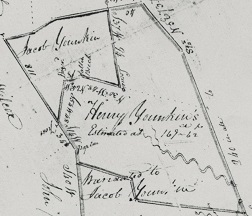 Survey plot of Henry's farm, carved from
his father's farm dating to 1789
At the time, a description of Henry's 169-acre farm was made, reading: "Upwards of 100 acres cleared, the ballance tolerably well timbered, on which is an orchard of excellent fruit. The improvements are a hewed log house + log barn, an excellent spring .... The land is in good order and highly productive."
In July 1837, an auction was held to sell Henry's property. The list of buyers, in fine handwriting, fills nearly four legal-size pages.
Her whereabouts in 1850 when the federal census enumeration was taken are not yet known.
In June 1860, at the age of 65, she dwelled in Paddytown, Upper Turkeyfoot and supported herself as a "spinster" or clothing maker. That year, 12-year-old granddaughter Almira Lichliter lived under her roof and helped with household chores. Next-door neighbors were Henry L. and Mary Holbrook and Jacob and Christiana Swarner.
At some point Betsy resided with her daughter Phoebe Boucher in a small brick house near Paddytown.
Elizabeth resided by herself in 1870 when the census again was taken. Among her near neighbors that year were Susan King, Jemimah Hanna and Hiram and Mary Cramer.
She died in Upper Turkeyfoot Township at the age of 76 on Dec 10, 1870. Her remains were placed into rest not beside her husband, but rather in a completely different family burying ground in what today is known as the "Younkin Cemetery" in Paddytown, Somerset County.

Family notes, 1934, by Henry's great-grandson David F. Younkin of Johnstown, PA

Younkin Family
News Bulletin, 1939
At Betsy's death, an inventory of her "goods and chattels" was made as part of the appraisement of the estate. Among these were $151 in notes to be paid by Phenice Sechler and Betsy's son David Younkin and cash in hand with F. Kreger and son. Her assets included a cooking stove and pipe, copper kettle, pair of stilard [?], shovel, hoe, spinning wheel, sink, trough, lot of tin ware, axe, three chairs, 18 yards of carpeting, falling leaf table, clock, chest, coverlet, quilts, a pair of bedsteads, two split botom chairs and a meat tub. Solomon Snyder and John Cunningham were involved in helping to settle the estate.
In 1933, the Younkins' great-grandson David F. Younkin, grandson of David and Maria (Culver) Younkin, attended the Harbaugh Reunion held at Cramer's Grove in New Centerville. At that gathering, he met cousin Edith Susan Lichliter of the family of John C. and Susan (Younkin) Lichliter and found they shared an interest in their ancestry.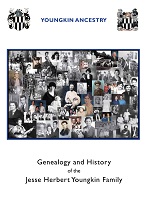 Mark Terry Youngkin's book
Edith told David that their mutual great-grandfather Henry was a heavy drinker and did not always live with his wife Betsy -- that Betsy resided with her daughter Phoebe Boucher in a small brick house near Paddytown -- and that Henry was buried in some small country churchyard near Scullton, Kingwood or New Lexington. In March 1934, David Younkin typed his reunion notes as part of a lengthier multi-page history of the Younkins, outlining some of these early stories, perhaps the only place where they have been recorded before now.
Almost 70 years after Elizabeth's death, Betsy and Henry were remembered in an article headlined "Descendants of Henry J. Younkin" in the Younkin Family News Bulletin edition of Aug. 10, 1939. The article -- penned by their granddaughter Edith Susan Lichliter of Salisbury, Somerset County -- spelled out each of the couple's children and what had become of their lives.
Henry was named in an April 2020, updated masterwork authored by Mark Terry Youngkin, of the family of John Harrison and Eliza Jane (Coble) Youngkin, entitled Youngkin Ancestry - Genealogy and History of the Jesse Herbert Youngkin Family. The 456-page work is solely distributed in Portable Document Format (PDF) from the digital library called the Internet Archive in San Francisco, CA, which contains the latest book version. View/download the web-optimized version of Youngkin Ancestry on DropBox [60MB in size] or the full, high-resolution version on the Internet Archive [360MB].
Copyright © 2016 Mark A. Miner
Research for this page graciously shared by the late Olive (Rowan) Duff and the late Donna (Younkin) Logan.