Home

Rosanna (Ream) McMillen
(1838-1891)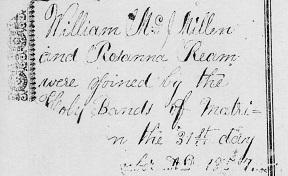 The McMillens' wedding record inscription, 1857
Historical & Genealogical Society of Somerset County
Rosanna (Ream) McMillan was born on June 26 (or 2), 1838 in Ursina, Somerset County, PA, the daughter of Samuel W. and Mary (Rheims) Ream.
On New Year's Eve, 1857, the 19-year-old Rosanna was united in the bonds of holy matrimony with 20-year-old William McMillen (July 15, 1837- ? ), son of Samuel E. and Rachel (Pringey) McMillen, and grandson of John and Nancy (Kilpatrick) McMillen and of John and Abigail (Rhoads) Pringey Jr.
William's McMillen ancestors had settled near Fort Hill, Somerset County in 1790 and were widely known as hide-tanners and farmers. Through his Pringey relatives, the couple was related to Joseph and Margaret Rebecca (Younkin) Pringey, Daniel W. and Abiah Virginia "Abi" (Pringey) Younkin and Dr. Jonas and Martha (Pringey) Younkin.
A notation of Rosanna's and William's wedding was duly inscribed in writing in the McMillen family Bible. Copies of the pages from the Bible later were donated to the Historical & Genealogical Society of Somerset County, in Somerset, PA.
Their children, all born in Iowa, were Samuel William McMillan, Mary McMillan, Milton McMillan and Ellen "Ella" McMillan.
Sometime in 1860, the McMillans along with William's parents came to the conlusion that they wished to leave Somerset County and seek a new life of opportunity in Iowa. After the long voyage, they made a new home in Wapsinonoc Township, Muscatine County.
They are shown there in the federal census of 1870, with Virginia-born farm laborer William Reynolds living under their roof.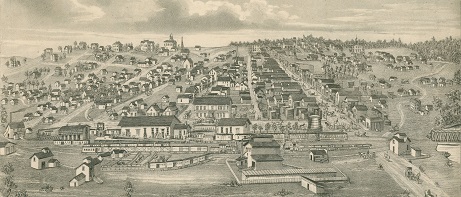 Atlantic, Iowa, 1875
.
Andreas' Illustrated Historical Atlas of the State of Iowa
Wedding notice, Wapsi Index
West Liberty Public Library
The McMillans remained on their Wapsinonoc farm during the 1870s. A.E. Caffee's Muscatine History and Directory of 1876-1877 notes that the McMillan farm was comprised of 125 acres and was located 20 miles from Muscatine, and four and a half miles southwest of West Liberty, where they received their mail. The census of 1880 shows the family remaining on their Wapsinonoc farm, with 21-year-old farm laborer William Reynolds living with the family. At one point, reported the Des Moines Register, William held a sales position and was "well known" as a "representative of the Walter A. Wood Harvesting Machine Company."
Evidence suggests that the McMillans divorced in the early-to-mid 1880s. At the age of 49, on April 16, 1887, he was wedded again to 43-year-old W.T. (Calvis) Walker (1844- ? ), daughter of John and M. (Skillings) Calvis and a native of New Brunswick. The union took place in Atlantic, with Dr. McCall and W. Morrison serving as witnesses. Cass County marriage license records confirm that this was his second marriage and that he was a native of Pennsylvania. In reporting on the marriage, the Wapsi Index reprinted a story in the Cass County Democrat:
Saturday evening last at the rooms of the bride in Richards' block, and in the presence of only a few close friends Rev. Fred Harris united in marriage Mr. Wm. McMillan and Mrs. W.T. Walker. The ceremony being the beautiful and impressive one of the Episcopal church. The groom is the confidential traveling salesman for this part of their territory of the Walter A. Woods Harvesting Co. He is a genial, well informed gentleman and by his sterling qualities has made many friends here. The bride is too well known to Atlantic people to make it necessary for the Democrat to make special mention. She has lived here for years and number her acquaintances by the hundreds and her friends in equal number. She is one of Atlantic's most deservedly popular ladies, and her friends one and all unite in wishing her and her husband a world of happiness. The happy couple are not "at home" to their friends in their apartments at the Hotel Anderson.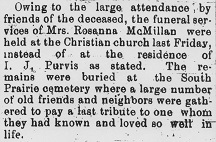 Obituary, West Liberty Enterprise
West Liberty Public Library
At the age of 52, Rosanna died on May 13, 1891, most likely in the home of son-in-law C.S. Lawrence in Manning, Carroll County, IA. Obituaries are known to have been published in the May 13, 1891 edition of the West Liberty Enterprise and possibly also in the Humeston (IA) New Era. The New Era story said she "has been a resident of Atlantic for many years, where she was held in high esteem by all." The Wapsi Weekly Index noted that "Wm. McMillan of Atlantic was a home visitor last week. His wife is no more. She was buried on Wednesday of last week, at Manly [sic], Iowa." Her remains were returned to Muscatine County for interment.
Reported the Enterprise, "Owing to the large attendance by friends of the deceased, the funeral services of Mrs. Rosanna McMillan were held at the Christian church last Friday, instead of at the residence of I.J. Purvis as stated. The remains were buried at the South Prairie cemetery where a large number of old friends and neighbors were gathered to pay a last tribute to one whom they had known and loved so well in life." Rev. J.H. Wright officated at the funeral service. Cemetery records showing her name have been compiled by volunteers Marlene Parizek, Mary Lou Wilson, Marilyn Henderson and Pam Schnittjer of West Liberty Public Library.
When William's 89-year-old father died in West Liberty, just four days after Christmas 1895, the Des Moines Register published an obituary naming William. The son in turn penned a letter back home which was published in the Somerset Herald. The article reads in full: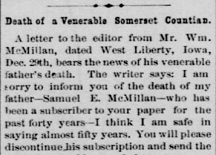 William's letter, Somerset Herald, 1886
Library of Congress
A letter to the editor from Mr. Wm. McMillan, dated West Liberty, Iowa, Dec. 29th, bears the news of his venerable father's death. The writer says: I am sorry to inform you of the death of my father -- Samuel E. McMillan -- who has been a subscriber to your paper for the past forty years -- I think I am safe in saying almost fifty years. You will please discontinue his subscription and send the paper to my address. I have your receipt for the former subscription paid up to January 1, 1896. Father was taken sick with heart failure eight months ago, and from that time up until his death he was compelled to sit in a rocking chair day and night -- any attempt to lie down would bring on smothering which would have resulted in instant death. During this time he had an excellent appetite and did not suffer pain; but confinement told on his vitality. Some three months since dropsy made its appearance in the lower limbs and he soon lost the use of his legs. His vitality gave way to old age and disease and at 1:40 P.M., Dec. 29,, 1895, death claimed him as his own. He passed away without a mumer [sic]. He was 88 years, 1 month and 17 days old.
It's believed that William was a collector of antiquities and oddities. The Des Moines Register reported in July 1891 that a "Wm. McMillan" was a "well known traveler and antiquarian collector" whose "interesting collection" was on display at the Cuautauqua in Colfax, IA. Continuing the story, a Register reporter wrote that "Mr. McMillan is so well known in almost every Iowa town that I think I need only say that the curiosity hunter has been here ever since the assembly opened." Two years later, in February 1893, the Algona Upper Des Moines newspaper noted that William, of "Atlantic City lays claim to the ownership of the largest ox in the world. His measurements are as follows: From head to rump, 12 feet 4 inches..., weight, 3,890 pounds. This weight was taken last fall on his return from an exhibition tour to the county and state fairs in Iowa and Nebraska. Mr. McMillan estimates that his ox, named Jumbo, will now weigh at least 300 pounds more than when weighed last fall."
We are looking into the question of whether the widowed William may have moved to Des Moines where in 1900 he lived at age 62, at the corner of 12th and Grand Streets. He may further have relocated in the mid-1900s to Long Beach, Los Angeles County, CA. A man we'll call "Long Beach William" (1837-1908) had the nickname of "Colonel" and is known to have been a native of Pennsylvania. At the age of 68, on Sept. 24, 1907, he married 60-year-old Mary C. Heller (1847- ? ), a native of Michigan. Reported the Los Angeles Times, "William McMillan and Mary C. Heller, who for years have lived opposite each other on East First street, surprised their friends and neighbors Tuesday by quietly slipping off to Los Angeles, returning as Mr. and Mrs. McMillan." Long Beach William died on Dec. 2, 1908 and rests under his own stone in Sunnyside Cemetery in Long Beach. [Find-a-Grave] A year late, on March 11, 1909, the Times reported that son Milton, " a tourist from Kansas City, Mo., temporarily residing in Long Beach, discovered the skeleton of an Indian at White's Point this afternoon which gave evidenceof having been buried for many years. The skeleton was that of a man of unusually large stature and thickness of skull, the latter being three-eighths of an inch.... McMillan picked up the bones after they had been overturned by a grading machine." Then in April 1909, Milton made more news when friends feared he had drowned in a boating disaster. Asked the Los Angeles Herald: "Has the sea claimed as its victims Milton McMillan and four other men who started for San Nicholas island Saturday night in the launch May? Fear that such is the case has grown during the past twenty-four hours. Relatives and friends, anxiously awaiting some word of the voyagers, are clinging to the hope that they are still safe. Statements differ as to McMillan's plans when he left San Pedro. Some say he expected to return Monday from San Nicholas, while others say they believe he expected to remain longer. He had in mind the collection of a large number of curios and relics and the excavation of the skeleton of a huge whale, which he proposed to ship east. Provisions were taken on board at San Pedro Saturday evening. Food sufficient for four or five days only is believed to have been secured. San Pedro boatmen and the men on the vessels of the Wilmington Transportation company have been warned to look out sharply for some sign of the missing men or the launch. There was a hard blow Sunday and Monday, and the sea undoubtedly was unusually rough west of Catalina island. McMillan came here recently from Kansas City, Mo. His father, Colonel William McMillan, died here a few months ago. A sister of the missing man, Miss Mary McMillan, lives at 1328 East Second street. The son, who is about 40 years of age, has made several trips from here to nearby islands, apparently much interested in his explorations. He had in mind the leasing of Santa Barbara island and the running of plesaure [sic] launches there this summer with camping parties." Milton showed up a few days later, amused that friends had feared the worst. He and C.B. Linton returned by schooner to San Nicholas Island, where Linton was collecting specimens for the Archaeological Society of Los Angeles, among them several hundred large pearls. Faced with these opportunities, Milton decided to remain in Long Beach and was called a "wealthy 'sailor of fortune' " by the Times. In February 1916, living at 1025 East Ocean Avenue, with his first name misspelled as "Melton," he was pictured in the Times holding a shark's skull as he prepared to explore for gold and jewels -- "hidden by a pirate chief, of course, a la Stevenson -- [which] is secreted on a mushroom shaped island somewhere off the coast of Labrador." He undertook this voyage in association with Capt. Ward and two wealthy Los Angelinos. The paper trail ends there and Milton is believed to have died in 1951, with interment in Melrose Abbey Memorial Park in Anaheim. [Find-a-Grave] This all needs to be confirmed before we will state that Long Beach William and his son Milton are ours.
In 1939, Rosanna and William were named in the 591-page book Genealogy of the Stukey, Ream, Grove, Clem, and Denniston Families, authored by Elmer Leonidas Denniston. In the book Ream Riehm, Rosanna is mis-named as her older sister Lydia. Circa 1983, this family was researched by Neila Rohan of Everly, IA, with her family group sheet on file at the Historical & Genealogical Society of Somerset County (PA).
~ Son Samuel "William" McMillan ~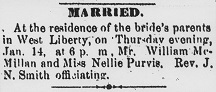 Wedding notice, Wapsi Index
West Liberty Public Library
Son Samuel "William" McMillan (1860-1898) was born on about Oct. 24, 1860 in Iowa and may have been named for his maternal grandfather. His middle name also has been given as "Wellington."
At the age of 20, in 1880, he lived on his parents' Wapsinonoc farm and earned his keep as a farm hand.
William married Nellie Purvis (Nov. 22, 1863-1929), the daughter of Isaac and Mary A. (Wright) Purvis. They were wed on Jan. 14, 1886 at the home of her parents in West Liberty, with Rev. J.N. Smith officiating. A Wapsi Index story nis-named him as "William McMillan."
They produced at least two sons, Ray McMillan and Walter McMillan.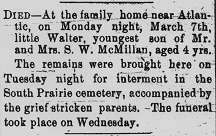 Obituary, Wapsi Weekly Index
West Liberty Public Library
The couple grieved when son Walter died at the age of two years, eight months on March 7, 1892, with burial in South Prairie Cemetery in West Liberty. The Wapsi Weekly Index carried a death notice about the boy, which reported that he was the couple's "youngest" son and that "The remains were brought here on Tuesday night for interment in the South Prairie cemetery, accompanied by the grief-stricken parents."
Sadly, William succumbed in Atlantic on Feb. 26, 1898, at the age of 38. The cause of his untimely passing is not yet known. Interment took place in South Prairie Cemetery, the same burying ground as his mother and young son. An obituary about the funeral was printed in the West Liberty Index, saying that "The wife, father, brother and sisters were present. A large number of relatives and friends joined in the funeral procession. The young man was highly esteemed in this community, where had lived in his boyhood days."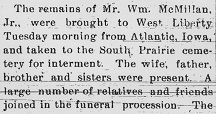 Obituary, West Liberty Index
West Liberty Public Library
Nellie survived her husband by an undetermined number of years. The federal census of 1900 shows her and 13-year-old son Ray residing in Bear Grove, Cass County, with 33-year-old day laborer Wallie Lamb (or "Link") living under their roof.
After five years as a widow, Nellie wedded again at the age of 39 to 38-year-old Atlantic farmer Moses A. Bell (1865-1921), the son of Henry Crooks and Margaret (Shipman) Bell. The ceremony took place in Sioux City, IA on Feb. 19, 1903, led by Rev. John F. Watts, with Nellie's son Ray and Mary McMillan serving as witnesses. It was Moses' first marriage.
Federal census records for 1910 show Nellie and Moses residing on a farm in Bear Grove, Cass County, marked as having been married for seven years, with her having borne two children, and with one living. Hired man Bert Armstrong, a native of Pennsylvania, lived with them that year.
By 1920, when the census again was enumerated, the Bells had relocated into the town of Atlantic, on Elm Street, with Moses having no occupation.
Moses passed away in 1921 after 18 years of marriage. His remains were lowered into the earth in Atlantic Cemetery.
Nellie joined him in death eight years later, on Nov. 10, 1929, on just a dozen days shy of what would have been her 66th birthday. She rests beside Moses in Atlantic Cemetery. [Find-a-Grave]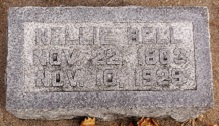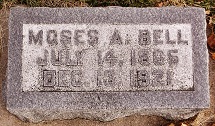 Graves of Nellie and Moses Bell, Atlantic Cemetery
.

Courtesy Glenn Fleming
Son Ray McMillan (1887- ? ) was born in 1887 in Iowa.
~ Daughter Mary McMillan ~
Daughter Mary McMillan (1862- ? ) was born in about 1862 in Iowa. In 1880, unmarried at age 17, she dwelled with her parents in Wapsinonoc.
~ Son Milton McMillan ~
Son Milton McMillan (1864- ? ) was born in about 1864 in Iowa. He grew up on his parents' farm and age 15, in 1880, he helped provide farm labor.
Census records suggest that in 1910, at the age of 46, he was a "manufacturer" who lived on South Main Street in Wichita, KS.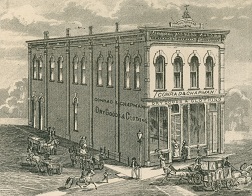 Conrad & Chapman Dry Goods store, Atlantic
~ Daughter Ellen"Ella" (McMillan) Conrad ~
Daughter Ellen "Ella" McMillan (1866-1953) was born on Aug. 28, 1866 or 1867 in Iowa.
Circa August 1883, at the age of 16, and while residing at Atlantic, Cass County, IA, she may have been the same "daughter of Wm. McMillan, aged 16 years" who was kidnapped by two men, one of whom was wearing women's apparel. Reported the Des Moines Register," The whole neighborhood is out looking for the girl. The family is poor, and the object could not have been money." How the matter was resolved is not known.
When she was 22 or 23 years of age, on June 29, 1890, Ella was wedded to Sedgwick M. "Sed" Conrad (June 1870-1930), son of George and Elizabeth (Doner) Conrad. The ceremony took place in Atlantic, IA, and Rev. Dr. Thayer officiated at the ceremony. The news was published in the Atlantic Telegraph, and reprinted in the Wapsi Index, which noted that "The bride and groom, who were remembered with a few choice presents, are well known and highly respected residents of Atlantic. They form a part of that company of young people of which Atlantic is proud. Like sensible ones they take no trip this hot weather. The well wishes of our city go with them as they embark together on life's voyage."
The Conrads are not known to have reproduced.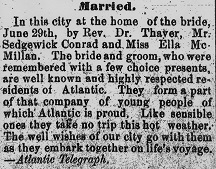 Wedding news, Wapsi Weekly Index
West Liberty Public Library
Perhaps attracted by the bustling possibilities of the Windy City, the Conrads migrated into Chicago, and in 1900 lived in an apartment on Dearborn Street, with Sedgwick employed as a clerk in a grocery store. During the decade between 1900 and 1910, they moved to a residence on East 61st Street, and took in brother-in-law and railroad stenographer Edward Killin and Abbie Dennison as boarders to generate additional income. Sedgwick worked in 1910 as a grocery store salesman, and Ella as a keeper of their small boarding house.
The Sedgwicks relocated to Florida during the 1910s, and found a new home in Coconut Grove, Dade County. There, Sedgwick earned a living as a watchman for a private property, with bachelor brother-in-law Edward Killin remaining under their roof and continuing his service as a railroad stenographer.
Sadly, Sedgwick died at the age of about 60 in 1930. Burial was in Atlantic Cemetery in Iowa.
As a widow, Ella remained in Miami, making her home in 1930 on South Bayshore Drive. She continued to have Killin as a boarder, who now was working as an accountant for a racetrack. Then sometime between 1935 and 1940, she left Miami and moved to the West Coast, establishing a residence in Long Beach, Los Angeles County, CA. The 1940 census shows the widowed, 73-year-old Ella in Long Beach.
She was swept away by the Grim Reaper on Dec. 10, 1953. Her remains were brought back to Atlantic to rest beside Sedgwick's. [Find-a-Grave]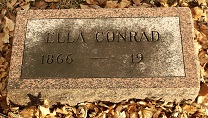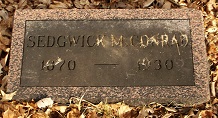 The Conrads' graves, Atlantic, Iowa
.
Courtesy Glenn Fleming, Find-a-Grave
~ Daughter ? (McMillan) Lawrence ~
Daughter (?) McMillan ( ? - ? ) married Charles S. "Charlie" Lawrence (1855-1895), the son of Samuel H. and Rachel (Wead) Lawrence.
In Iowa, Charles joined the newly formed Manning Monitor newspaper a foreman in November 1881 in Manning, Carroll County. Along with B.I. Salinger and L.P. Bingham, he bought out the founder in about 1883 and then a year later, Charles acquired his partners' interests outright. Said the 1912 book by Paul Maclean, the History of Carroll County, IA: "Though a republican paper at the start, it was made democratic by S. C. Lawrence, who declared that because of the position of the republican party on the liquor question in the state, he was impelled to support the other party."
In 1891, his mother-in-law passed away in their home in Manning.
Charles ran the Monitor until about 1893, when, suffering from poor health, he sold the assets to A.L. Heikes of North Dakota. Stricken when hemorrhaging of his lungs, in December 1893, the 40-year-old Charles along with his wife and young daughter traveled back to his mother's home in Malone, Franklin County, NY. The Carroll (IA) Sentinel said ht had been 20 years since he was last home, but was going there "to remain until the balmy breezes of spring-time again visit us" and that in the "home of his youth... the fond mother dwells whose tender care and loving words he shared in younger days." He returned to Iowa in November 1894, saying he was now on the "road to recovery.
In Malone, he purchased a stationery and book store in February 1895, at the corner of Main and Amsden Streets, formerly owned by S. Francis Klohs. Reported the Sentinel, he "expected to return again to Iowa this fall and engage in the newspaper business." But a recovery was not to be. In March 1895, he suffered what the Burlington (IA) Free Press called a "severe hemorrhage" and that he was "in delicate health." He finally succumbed in Malone on Sept. 6, 1895. Burial was in Webster Street Cemetery in Malone. Word of his death was sent to friends in Manning, and published in the Omaha (NE) Daily Bee.
Copyright © 2002, 2009, 2012, 2014-2017 Mark A. Miner