Julia Ann (Ream) Nicklow
(1820-1895)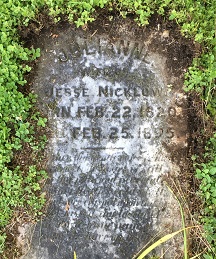 Normalville Cemetery
Julia Ann (Ream) Nicklow was born on Feb. 22, 1820 in Ursina, Somerset County, PA, the daughter of Samuel W. and Mary (Rheims) Ream. Her name also has been condensed to the spelling "Julianne."
In about 1844, when she was 24 years of age, Julia Ann was married to 22-year-old Jesse B. Nicklow (1822-1874?).
The couple produced a family of 10 known children -- Irvin R. Nicklow, Rebecca Jane McNeill, Harriet Ann Prinkey, Dianna Shipley, Marcellus Nicklow, Julia A. King, Jesse "Bruce" Nicklow Jr., Dora B. Wildey and Forward Ream Nicklow.
The Nicklows were farmers. In 1860, the year before the Civil War broke out, they made their home in Lower Turkeyfoot. That year, 75-year-old Rhoda (Spencer) Jennings, widow of Capt. Benjamin Jennings, lived under their roof.
By 1870, the family moved across the county line into Springfield Township, Fayette County, with Jesse earning income as a domestic servant.
Research suggests that Jesse passed away at the age of 54 on April 7, 1874, with burial in Normalville Cemetery.
Now widowed, Julia Ann headed her own household in Normalville when the 1880 federal census was taken. Her children Bruce, Julia, Dora and Forward all were in the household that year. Their next door neighbors were distant cousins Elijah and Hannah (Minerd) Murray.
Julia died on Feb. 25, 1895 in Uniontown, Fayette County. Her remains were transported into the mountains for burial in Normalville Cemetery. Her grave marker is still legible today but lies flat in the ground, toppled over at some point in time. [Find-a-Grave]
~ Son Marcellus Nicklow ~
Son Marcellus Nicklow (1853-1928) was born in about 1853.
He was married. Over the years, when able, Marcellus made a living as a laborer.
The federal census enumeration of 1880 shows Marcellus living at what's believed to have been the Fayette County Home, where he was marked as "Insane."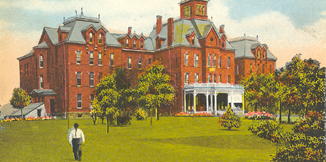 Fayette County Home, where Marcellus spent his adult years
The 1920 United States Census, and listings in Uniontown city directories in the 1920s, show Marcellus residing as a "guest" in the county home.
At the age of 76, on March 19, 1928, he suffered a cardiac embolism and paralysis, leading to his death in the county home four days later on March 23, 1928. No obituary has been found in Uniontown newspapers. The body was buried in an unmarked grave the Fayette County Cemetery.
Copyright © 2002, 2009, 2012, 2014-2018, 2021 Mark A. Miner