Home

Irvin R. Nicklow
(1844-1864)
Badly misspelled grave marker, Nashville National Cemetery

Courtesy
Michaele Harrington
Irvin R. Nicklow was born in about 1844 in Addison Township, Somerset County, PA, the son of Jesse B. and Julia Ann (Ream) Nicklow. The family name also has been used and spelled as "Nicolay."
Irwin was united in matrimony with a cousin, Mary Jane Ream (Nov. 15, 1842-1927), the daughter of John and Susan (Hyatt) Ream of the family of Thomas and Barbara (Haines) Ream Sr.
During their very brief marriage, the couple conceived one daughter, Alvena (Nicklow) Bryner.
Irvin served in the Civil War with the 77th Pennsylvania Infantry, Company F. Suffering from "inflammation of the brain" (today known as encephalitis), he died as a casualty of the war in the General Hospital in Nashville on Dec. 16, 1864. His remains were lowered into rest in Nashville National Cemetery, with his marker incorrectly inscribed as "Nicholas Irwin." [Find-a-Grave]
Other military records have misspelled his name "Irwin Nichlow" and list an incorrect date of death of Sept. 28, 1865.
Mary Jane applied for and was awarded a military pension for her loss. [Widow App. #110.706 - Cert. #844.422].
Mary Jane appears to have married again by 1869 to John Williams ( ? - ? ). Her daughter from the first marriage was placed in the guardianship of Williams and began receiving her late father's pension payments. [Minor App. #174.376 - Cert. #142.143]
The couple produced two more offspring of their own -- Irvin Williams and Martha "Anna" Williams.
The Williamses' home was about three miles from Ohiopyle. The Connellsville Daily Courier reported that Mary Jane "had been a life-long resident of that community and was well known by everyone in the vicinity. Her maiden name was Mary Jane Ream..."
On July 19, 1917, Mary Jane filed to begin receiving again her first husband's pension.
Death caused by influenza and pneumonia carried Mary Jane away at the age of 84 years, four months and 23 days on April 7, 1927. Her obituary was published in the Daily Courier. Burial of the remains was in Mitchell Cemetery in Ohiopyle.
Mary Jane's son Irvin Williams (1869-1932) was born on Sept. 16, 1869. He married Mary A. ( ? - ? ). Irvin lived in Ohiopyle and earned income as a sawyer. At the age of 62, he suffered a heart abscess and, when influenza struck, he died on March 14, 1932. Burial was in Roebuck Cemetery, with Goldie Williams of Dunbar, PA signing the official Pennsylvania certificate of death.
Mary Jane's daughter Martha "Anna" Williams (1880-1946) was born on Nov. 15, 1880. She never married and spent her life in Ohiopyle, Fayette County. In her later years she contracted cancer of the large bowel. A few weeks after her 66th birthday, she began suffering from congestive heart failure and pneumonia and died on Dec. 3, 1946. Bertha Cromwell of Chalk Hill, Fayette County was the informant for the death certificate. Interment of the remains was in Mitchell Cemetery in Ohiopyle.
~ Daughter Alvena "Veney" (Nicklow) Bryner ~
Daughter Alvena "Veney" Nicklow (1864-1944) was born on Jan. 7, 1864. She was not yet one year of age when her father died away at war.
In about 1880, when she would have been 16 years of age, Alvena was united in matrimony with 21-year-old Alfred M. Bryner (Oct. 1858- ? ).
The couple were tenant farmers and settled near Kentuck Knob on the outskirts of Ohiopyle in rural Stewart Township, Fayette County.
At least seven children were born into the family -- among the known names Ida May High, Harry Lee Bryner, Mary Jand Swearingen, Clyde Austin Bryner, Nellie Margaret Bryner and Clara E. Bryner. They also raised a nephew, Thomas Bryner, born in 1899.
Alfred became an invalid during the decade of the 1900s. When the federal census enumeration was made in 1910, he had no occupation.
Alvena made news in May 1908 when she filed a deed in Fayette County for 25 acres of land in Stewart Township. She claimed the tract "by right of 'adverse possession' for 25 years from October 6, 1885," reported the Connellsville Daily Courier. "The deed is made out in the name of John Williams the last owner or reputed owner of the property, to Mrs. Bryner."
When she went shopping and friend-visiting in Ohiopyle in February 1909, the news was published in the "Ohiopyle" gossip columns of the Daily Courier. Again in September 1923, when Alvena and Mrs. Harry Bryner traveled for the day to Point Marion, Fayette County, it was fodder for the Daily Courier pages.
Sadly, Alfred was deceased by 1915.
The widowed lvena moved sometime in the 1920s or early '30s to Nanticoke, Luzerne County, PA, where her son Harry was working as a carpenter. She is known to have been there in 1926.
She appears to have returned to Fayette County at some point in time..
Suffering from senility and myocarditis (heart disease), she passed away on Aug. 28, 1944. On her official Pennsylvania death certificate, with information furnished by Anna Williams of Ohiopyle, her father's name was listed as "Irwin Nicolay" and mother as "Mary Jane Rieves." Interment of the remains was in Bryner Cemetery.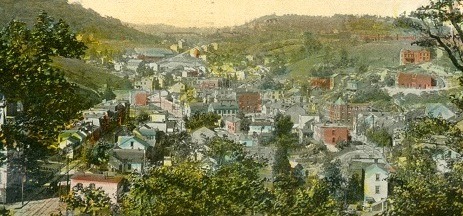 View of Millvale, seen from Samples Hill, home of the High family
Daughter Ida May Bryner (1883-1936) was born on Oct. 24, 1883 in Ohiopyle. On March 30, 1904, when she was age 20, Ida was joined in matrimony with 26-year-old Joseph E. High (Nov. 3, 1877-1947), the son of John and Frances (Moser) High. They united themselves in marriage in the presence of Logan Rush and Minnie L. Barke. The Connellsville Weekly Courier reported on the happy event, saying that groom and bride "came in from Woodside, Nicholson township, Wednesday, took out a license to wed and were self-married before leaving the office of the Register and Recorder." The couple bore these known children, Alfred Henry High, Alvena "Frances" High, Stella Welker, Freda Weiher, Myrtle Carothers and Edward High. The family initially lived in Woodside near Masontown, where Joseph earned income performing odd jobs. After 1910, they settled in the Millvale neighborhood of Pittsburgh. Ida and her daughter Frances often returned to Ohiopyle for visiting. The family developed anxiety and later grief when Ida was diagnosed with leukemia. When she then developed pneumonia, rheumatism and influenza, she succumbed to death in Presbyterian Hospital at the age of 52 on May 9, 1936. Interment of the remains was in St. Luke's Cemetery, with obituaries appearing in the Courier and Uniontown Evening Standard. Joseph outlived his wife by 11 years and married again to Lula Miller ( ? - ? ). They established their own home on Spring Garden Road in Sharpsburg. Having contracted chronic bronchitis and bronchial pneumonia, he died in St. John's Hospital on May 18, 1947, at the age of 69. Interment of the remains was in St. Luke's.
Grandson Alfred Henry High (1905-1962) was born on May 5, 1905 at Woodside. He married Mary Fiore ( ? - ? ). They made a home in Dunbar, Fayette County and were the parents of Edward Carl High. Alfred was unemployed in the early 1960s. Sadly, Alfred contracted lunch cancer which spread to other parts of the body. He was admitted to West Virginia University Hospital in Morgantown, WV, where he died at the age of 57 on June 6, 1962. Burial was in Thorpe Cemetery near Ohiopyle.
Granddaughter Stella High ( ? -2002) was born in (?). She wedded

Cyril J. "Whitey" Welker ( ? -1977). The couple bore two children, Donald J. Welker and Norma Jean Hufnagel. They were in Millvale near Pittsburgh. Cyril worked for many years for Westinghouse Electric Corporation and retired in 1969. They belonged to St. Anthony Roman Catholic Church, Millvale.

Tragedy blanketed the family when their four-year-old grandson Dale Joseph Welker was found dead in his bed at home in Zelienople on July 17, 1971. Cyril died on May 29, 1977 at the age of 72. His obituary was published in the

North Hills News Record

. Stella passed into eternity at the age of 87 on Aug. 22, 2002. A death notice in the

Pittsburgh Post-Gazette

reported that she was survived by four grandchildren and six great-grandchildren. Her funeral mass was sung at St. Mary Assumption Church of St. Matthew Parish. Son Donald was married to Angie, and daughter Norma Jean to David Hufnagel.
Granddaughter Freda High married Lewis E. Weiher ( ? -1994). The couple settled in Pittsburgh's Shaler Township and together bore four children -- Lewis E. Weiher Jr., Larry Weiher, Ronald Weiher and Joyce Carnprobst. Lewis died at the age of 77 on May 21, 1994. The Pittsburgh Post-Gazette published an obituary.
Granddaughter Myrtle High ( ? -1990) was born in (?). She entered into marriage with Walter Carothers ( ? - ? ). The Carotherses were the parents of Ida May Piroth, Wilma Haas and Nancy Carothers.

Myrtle succumbed to the angel of death on June 8, 1990. Her

Pittsburgh Press

death notice said that her survivors included six grandchildren.
Grandson Edward High

migrated to Georgia and in 1962 dwelled in Kingsland, GA.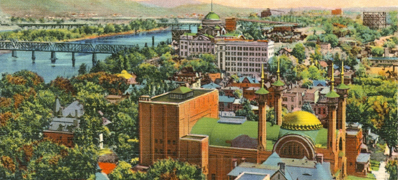 Bird's eye view of Wilkes-Barre
Son Harry Lee Bryner Sr. (1886- ? ) was born in Sept. 1886. As a young man of 23, he earned a living as a laborer on the home farm, and also learned the trade of carpentry. Then by 1915, he had moved to Pittsburgh where he had become employed by Dravo Construction Company. Within the year, he relocated to Nanticoke near Wilkes-Barre, Luzerne County, PA, where as a carpenter he helped build a new bridge. He appears to have been married twice. When he was age 29, on Aug. 26, 1915, he was united in matrimony with 17-year-old Elizabeth Thomas (Dec. 22, 1900-1925), daughter of United Kingdom immigrants Emanuel and Anna (Robinson) Thomas and a native of Pittston, PA. At the time of marriage, Elizabeth resided with her father in Nanticoke. Their nuptials were held in her father's home on Spring Street, officiated by Rev. J. E. Davis of Nebo Baptist Church. The Wilkes-Barre Evening News reported the wedding, saying the "ceremony was witnessed by immediate friends and relatives only... Mr. and Mrs. Bryner left last evening for Pittsburgh and points in Ohio. The young comple will make their home at Youngstown, O." The couple bore two children, Lydia Korns and Harry Bryner Jr. In time they returned to Wilkes-Barre, where he secured work as a foreman at the Thomas P. Jones lumberyard. Their address was 18 East Grand Street. Unspeakable grief cascaded over the family on Nov. 13, 1925. On that fateful, dark day, Harry walked to work, only to see that his six-year-old son had followed him there. So he took the boy back home. Upon arriving, he found Elizabeth on the second floor landing. She called out, "Harry, come here. Look, I'm going to shoot myself!" At that point she pointed a .32 caliber revolver at her head and pulled the trigger, dying instantly. Her remains were lowered into eternal sleep in Hanover Green Cemetery. A headline story in the Wilkes-Barre Evening News said that "Domestic troubles is reported to have been the cause for the suicide. It is said that she had been despondent since an argument last evening." After eight months of mourning, on July 10, 1926, at the age of 39, Harry wedded again to 34-year-old widow Margretta (Harry) Harmer of Sheatown, Newport Township, PA. The daughter of Welsh immigrants David O. and Ann (Llewellyn) Harry, her first husband had died on Oct. 21, 1918. She brought a daughter of her own to the second union, Rita "Helen" (Harmer) Hunt. The pair settled in Fairmount Springs, Luzerne County, and their address in 1937 was 86 Goeringer Avenue.
Granddaughter Lydia "Leda" Bryner (1916- ? ) was born in about 1916. On July 26, 1934, she married Bruce Korns ( ? - ? ) of Stillwater, PA. The marriage was held at the home of the officiating pastor, Rev. Hugh Griffith, of Plymouth. The Wilkes-Barre Evening News called it a "pretty wedding ceremony" and said that Lydia's father served as best man.
Grandson Harry Bryner Jr. (1917- ? ) was born in Pittsburgh in 1917. He grew up in Nanticoke, Luzerne County. In young manhood, in Wilkes-Barre, he joined the workforce of the railroad and in 1939 was a brakeman. When he was 22 years of age, on Aug. 19, 1939, he wedded 18-year-old Irene Hughes ( ? - ? ) of Nanticoke, the daughter of Hugh and Mary (Biggs) Hughes. Officiating at their wedding ceremony was Rev. Hugh W. Griffith of Plymouth, PA.
Step-granddaughter Rita Helen Harmer ( ? - ? ) was born in (?). She was a graduate of Wanamie High School. On Sept. 18, 1937, she was joined in marriage with Theron A. Hunt ( ? - ? ). He was the son of Caroline Hunt of Adams Center, NY. The ceremony was held at the Lynwood Congregational Church, led by Rev. Hugh Griffith. The news was printed in the Wilkes-Barre Evening News, which said that the bride "chose a green transparent velvet dress and wore a corsage of talisman roses and gladiolias." At the time of their marriage, Theron earned a living as a dealer of Socony Vacuum Products in Adams Center.
Daughter Mary Jane Bryner (1890-1923) was born on Valentine's Day 1890 in Ohiopyle. As a young woman she lived in Smithfield, Fayette County, PA. When she was 17 years old, on May 18, 1907, she was joined in wedlock with 29-year-old laborer Owen Swearingen (1877-1956), son of Alpheus "Alfred" and Rebecca (Booord) Swearingen and a native of New Geneva, PA. Justice of the peace Elmer Cagey officiated the wedding ceremony in Smithfield. Six known children born to this couple were Ezra Swearingen, Elmer Swearingen, Hadella Pearl Swearingen, Dora Elizabeth Swearingen, Owen Leroy Swearingen and Arthur Swearingen. The couple dwelled in Point Marion, Springhill Township, Fayette County in 1910, where Owen was employed as a glass house laborer. Then in the early 1920s they dwelled in Dunbar, Fayette County. Sadly, Mary Jane contracted bronchial pneumonia and influenza in February 1923. She suffered for more a little more than two weeks until the Angel of Death spirited her away on March 4, 1923. The remains were laid to rest in Dunbar's Franklin Cemetery. Owen outlived his wife by decades and moved across the state line into Morgantown, Monongalia County, WV. There, he earned a living as a coal miner. Burdened with hardening of the arteries, he was felled by a heart attack and died at the age of 83 on March 22, 1956. Interment was in Point Marion Cemetery.
Grandson

Ezra Swearingen

(1908-1982) was born on July 5, 1908 in Point Marion, Springhill Township, Fayette County. In 1930, he made his home in Riverseam, near Morgantown, Monongalia County, WV and worked as a coal miner. At the age of 22, on Dec. 26, 1930, he was united in matrimony with 19-year-old Mary Wilson (1912- ? ), a Riverseam resident and the daughter of John F. and Bessie (Howell) Wilson. Rev. Sheridan Watson Bell, of the Methodist Episcopal Church in Morgantown, WV, officiated the wedding. (In an interesting twist, Ezra's sister Pearl wedded Mary's brother James.) Circa 1940, federal census records show the couple in Monongahela, Greene County, PA. His occupation that year was as a snapper in a coal mine. Ezra is believed to have died in Morgantown in July 1982.
Grandson Elmer Swearingen

(1910-1971) was born on Oct. 6, 1910 in Point Marion, Springhill Township, Fayette County. Evidence suggests that he was twice-wed. In July 1931, he married his first wife, Anna Torma (Oct. 27, 1913-1966), a native of Flat River, MO and the daughter of Louis and Mary (Szabo) Torma. The couiple bore one son, James Elmer Swearingen. In 1940, they resided with their son in Monongahela, Greene County but spent most of their lives in Greensboro. Elmer spent his career with Duquesne Light Company, working in its coal mine in or near Greensboro, Greene County. He was a member of the Greensboro Local 6310 of the United Mine Workers of America. They were members of Holy Family Roman Catholic Church, with Elmer belonging to the Greensboro Hunting and Fishing Club. At the age of only 53, Anna died as a patient in West Virginia University Hospital on Nov. 13, 1966. Her remains were lowered into eternal sleep in Evergreen Memorial Park, with an obituary printed in the

Waynesburg (PA) Republican

. Elmer married again to Clara Hardy ( ? - ? ). She is believed to have brought a son to the union, James Martin of Canonsburg, PA. Elmer became seriously ill in July 1971. After two months' of suffering, he succumbed at home at the age of 61 on Sept. 16, 1971. His obituary was published in the

Republican

.
Great-grandson James Elmer Swearingen lived in North Royalton, OH in 1966.
Granddaughter Hadella "Pearl" Swearingen (1912-2004) was born on Dec. 20, 1912 in Point Marion, PA. In young adulthood she made a home in Cheat Canyon, WV. When she was 23 years of age, on March 14, 1936, she was joined in the bonds of wedlock with 26-year-old James Ernest Wilson (1910- ? ), a West Virginia native and the son of John and Bessie (Howell) Wilson. Rev. Ralph Richards led the nuptials, held in Morgantown. (In an interesting twist, Pearl's brother Ezra married James' sister Mary.) At the time, James was a coal miner living in Warm Hollow, Monongalia County. The pair is believed to be the parents of Ernest Wilson and Freeman O. Wilson. Circa 1940, federal census enumeration records show the couple living with Pearl's father in Union, Monongalia County, with James laboring in a local coal mine. By 1954, now living in Morgantown, James was employed as a janitor by West Virginia University. Pearl died in Morgantown on May 31, 2004.
Granddaughter Dora Elizabeth Swearingen (1915-2004) was born on Jan. 15, 1915 in Point Marion, PA. As a young woman she migrated to Fairmont, Marion County, WV. On May 4, 1934, when she was 19 years of age, she wedded 24-year-old farmer Thomas Archer Scritchfield (1910- ? ) of Fairmont. He was the son of Thomas J. and Ida May (Berdine) Scritchfield and a native of Hundred, Wetzel County, WV. Rev. Sheridan Watson Bell, of the Methodist Episcopal Church in Morgantown, presided over the wedding. The couple went on to produce a family of three sons -- Robert Scritchfield, David Scritchfield and Archie Scritchfield. The Scritchfields lived in Dunkard Township, Greene County in 1940, with Thomas earning a living as a road construction laborer. His father T.J. dwelled under their roof that year. In time, she married again to (?) Green ( ? - ? ). Her home in 1971 was in Tice, FL. She passed into the realm of eternal life on June 6, 2004 in Fort Myers, Lee County, FL.
Great-grandson Robert Scritchfield (1935- ? ) was born in about 1935.
Great-grandson David Scritchfield (1937- ? ) was born in about 1937.
Great-grandson Archie Scritchfield (1938- ? ) was born in about 1938.
Grandson Owen Leroy Swearingen (1918- ? ) was born in 1918. He dwelled in Greensboro, Greene County in 1971.
Grandson Arthur Swearingen (1920- ? ) was born in 1920. He was deceased by 1971.
Son Clyde "Austin" Bryner (1892-1925) was born on July 17, 1892 in Ohiopyle. He was born without the ability to speak and was widely consider a "mute." Austin worked on the home farm during his young manhood. He was tall and slender, with brown eyes and brown hair. During the World War I era, he was required to register for the military draft. He disclosed that he was employed as a laborer by East Fayette Coal Company at Ohiopyle and that his income helped support his aged mother. At the age of 33, he contracted a stomach ulcer, and it began to bleed uncontrollably. He succumbed to his illness on Sept. 3, 1925. Burial was in Bryner Cemetery in Ohiopyle.
Daughter Nell Margaret "Nellie" Bryner (1896-1922) was born on July 21, 1896. She was united in holy matrimony with John W. Provance Sr. (1880- ? ). The couple were 17 years apart in age. John brought three offspring to the union, Irene Provance, Leore Provance and Elizabeth Provance. Together, they bore three more children of their own, John Woods Provance Jr., Ruth Provance and Ruby Provance. They lived in or near Point Marion, Fayette County in 1920, where John operated a drill for local oil and gas wells. The family was plunged into grief when their daughter (Ruby?) was stillborn on March 4, 1920. At the age of 25, Nellie was diagnosed with problems in her reproductive system, and she underwent a hysterectomy at West Penn Hospital in Pittsburgh. Further problems developed post-surgery, and she died just four days later on Jan. 29, 1922. Her remains were transported to Point Marion for interment, with Rev. Green officiating. Obituaries appeared in the Uniontown Evening Standard and Uniontown Morning Herald. Further compounding the heartache, daughter Ruth (July 1, 1919-1924) died at the age of four in Point Marion on April 5, 1924. Burial was in Mount Moriah Presbyterian Cemeterey in Point Marion.
Grandson

John Woods Provance Jr.

(1917-2000) was born on Feb. 5, 1917 in Point Marion. As a young man, he obtained employment as a glass polisher for a company in Point Marion. He stood 5 feet, 11 inches tall, weighed 160 lbs. and had brown eyes and blonde hair. When he was 23 years of age, on June 22, 1940, he entered into marriage with 17-year-old Miriam Fuller Matlack (Dec. 20, 1922-2017), daughter of Frank and Jean (Fuller) Matlack. The nuptials were held in Summit County by the hand of Rev. F.H. Groom of the Franklin Circle Christian Church of Cleveland. At the time, she resided at 1801 Marks Avenue in Akron, Summit County. The newlyweds immediately established their residence in Cleveland at 3654 West 102nd Street. There, John found work with Cleveland Welding Company. Two children born to this union were John W. Provance III and Diane Judson. Their home later in life was in the Cleveland suburb of Fairview Park. John was swept away by the spectre of death at the age of 83 in Cuyahoga County on Oct. 8, 2000. His remains were cremated. Miriam outlived her husband by more than 16 years. Said the

Cleveland Plain Dealer

, she "served on Meals on Wheels, enjoyed travelling, reading, gardening, bowling league, coterie and Red Hats.... Her smile brightened the darkest of rooms and the warmth of her charm comforted the loneliest of souls." She died on Feb. 24, 2017. The couple sleeps side-by-side in Sunset Memorial Park in North Olmsted, OH.
Great-grandson John W. Provance III is thought to be the father of Wendy Provance and John W. Provance IV.
Great-granddaughter Diane Provance wedded (?) Judson. They are believed to be the parents of Dawn and Brett Judson.
Daughter Clara E. Bryner (1900- ? ) was born in May 1900. Her story and fate are not yet known.
Copyright © 2012, 2014-2019, 2021 Mark A. Miner