Home

Thomas Ream Sr.
(1786-1840)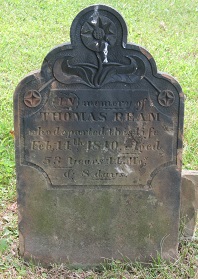 Ream Cemetery, Ursina
Thomas Ream Sr. was born in 1786 in Ursina, Somerset County, PA, the son of John and Anna Rosina (Weitzel) Ream, and the stepson of Catharine (Minerd) Ream.
At the age of four, Thomas moved with his parents and siblings to Draketown, Somerset County. He was only six years of age when his mother died from the bite of a poisonous snake.
He married Barbara Haines ( ? - ? ).
The Reams together produced a family of six known children -- Jacob Ream, John Ream, Moses Ream, Thomas Ream Jr., Christina Jennings and Mary Flanigan. All were deceased by 1884 except for Thomas Jr.
Thomas Sr. is profiled in the 1884 History of Bedford, Somerset and Fulton Counties. His entry reads as follows:
Thomas was a miller, and ran the old gristmill at Draketown. He was killed by the falling of a tree one stormy night while returning from a visit to a sick girl. He married Barbara Haines, and was the father of Jacob, John, Moses, Thomas, Christina (Jennings) and Mary (Flanagan).
The Reams owned two tracts or "plantations" in Turkeyfoot Township, one numbering 250 acres bounded by the lands of Daniel N. Beall, Sylvester Colborn and others, comprising their home place. The other farm was 350 acres in size bounded by lands of George Prinkey, Josiah Tannehill and others.

Barbara's "X" signature dated Feb. 27, 1840
Thomas Sr. died on Feb. 14, 1840, at the age of 53 years, 11 months and eight days. In an obituary, the Somerset Herald amplified the cause of his death as "killed by a limb falling from a tree, as he was walking through his wheat field in which there was deadened timber." His mortal remains were returned to the earth in the Ream Cemetery in Confluence.
The death of Thomas triggered a call from family and friends to whom he owed money, not uncommon at a time when there was not much cash in the community and borrowing and issuing IOUs were common, to be paid after each harvest. An estate sale was held on March 13, 1840 to auction a number of the Reams' farming implements and goods to raise the necessary funds. The sale list is long and on file today in the Somerset County Courthouse -- some 231 items or lots, which would have made for a busy day for the auctioneer. The sale items ranged from barrels, shovels and hoes to a coffee pot, German Bible and rocking chair and to bear skins, shot guns, heifers, colts, plows and buckwheat bakers. Among the many buyers, those profiled on this website included George Firestone (cog, half bushel and three barrels), Benjamin Leonard (strap and three bells), Jacob Younkin Jr. (cask with paint and oak/poplar boards) and John K. Rush (oak boards and still tub). Total proceeds from the sale were $847.57.
As did many early Somerset County farmers, Thomas died without writing a last will and testament. Thus after his passing, his widow held the right to administer the estate, but she renounced and released this in favor of her son John Ream and friend John Hanna, signing the paperwork with an "X." In turn, son John petitioned the judges of the Somerset County Orphans Court to award an inquest to partition the two tracts, without prejudicing or diminishing the overall value, so that a value could be determined for purposes of a potential sale. The inquisition and appraisement were held at the home of the widow on Jan. 21, 1841, involving High Sheriff George Mowry who oversaw a panel of a dozen neighbors familiar with farm values and who could arrive at a reasonable estimate of the Ream farms' value. The 12 selected men were John Prinkey, Jonathan Mountain, Sylvester Colborn, George Prinkey, Abraham Colborn, David Mountain, James McNeal, David Jennings, Steward Rowan, Israel Jennings, John P.H. Walker and Michael Sanner.
The panel appraised the 250-acre tract as worth $5.50 per acre, and the 350-acre property as worth only 12½ cents per acre.
Barbara's final fate is not yet known.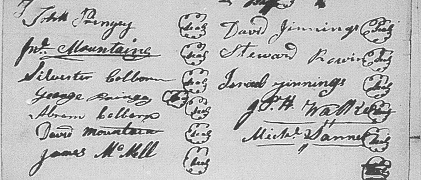 Signatures of the 12 neighbors who appraised the Ream farms in 1841
~ Son John Ream ~
John Ream (1815-1849) was born on May 5, 1815 in or around Ursina, Somerset County.
He was joined in holy wedlock with Susannah "Susan" Hyatt (March 13, 1816- ? ), reputedly the daughter of John and Mary (Skinner) Hyatt Jr. of Turkeyfoot Township, Somerset County.
Four daughters were born to this union, of whom three grew to adulthod -- Mary Jane (Ream) Nicklow, Martha "Annie" (Ream) Rush and Sarah (Ream) Rowan. The fourth daughter -- Barbara Ellen Ream -- died in infancy in 1849.
Sadly, John succumbed to the angel of death on Jan. 22, 1849, at the age of just 33 years, one month and 17 days. Burial of the remains was in the soil of Jersey Baptist Church Cemetery. A stone was erected at the gravesite. [Find-a-Grave].
Jacob Rush was named as the legal guardian for the three daughters. He continued in this role until the last of the girls reached the age of maturity. To generate income for their support, he sued the estate to force a partition of the family farm. In case 33 February Term 1850 in Somerset County Court, a partition was approved, giving the three girls half of the acreage.Then on Dec. 12, 1863, Rush filed with the Somerset County court a final accounting of his activity as their guardian.
In 1850, the three girls dwelled in the home of their mother. Federal census enumeration records for 1850 show the family in Lower Turkeyfoot, with 24-year-old laborer Matthias Hoyt (Hyatt?) and 21-year-old Elisha Hoyt in the household.
Susan wed again during the 1850s to Frederick Nicklow/Nicolay (1819- ? ). He had been married previously to Margaret Jennings ( ? - ? ) and brought four children to the union -- Rhoda A. Nicolay, James B. Nicolay, Dr. Silas Jennings Nicolay and Hiram Jennings Nicolay. The combined family remained in Lower Turkeyfoot as of the time of the 1860 census.
As shown in the 1860 census, Susan was a dressmaker ("spinster") and taught the skill to her daughters.
Susan's fate after 1860 seems to be lost to the misty haze of history. She may be the same "Susanna Nicola" who died on Jan. 3, 1869, in her 52nd year of life, and was laid to rest in the Mitchell Cemetery in nearby Ohiopyle.
Frederick's fate also is not yet known. In 1891, living in Pennsylvania, he petitioned the federal government for a military pension as compensation for the loss of his son James, a Union Army veteran. The application was not approved. [Father App. #524.026]
Daughter Mary Jane Ream (1842-1927) was born on Nov. 15, 1842. She was but a girl when her father died. In girlhood she lived with her widowed mother in Lower Turkeyfoot. Mary Jane learned the seamstress craft. She married a cousin, Irvin R. Nicklow (1844-1864), son of Jesse and Julia Ann (Ream) Nicklow. See the Nicklow biography for more.
Daughter Martha "Annie" Ream (1844-1924) was born on April 11, 1844. She grew up in Lower Turkeyfoot, Somerset County. At the age of 15, in 1860, she worked in her mother's home as a seamstress. When she was 21 years of age, on Jan. 31, 1867, she entered into the bonds of wedlock with Francis Rush (Dec. 3, 1844-1917), son of Jehu and Mary (Hanna) Rush. They together became the parents of these offspring who grew to adulthood -- Alice Rush, Charlotte "Lottie" Garletts, Calvin Rush and Harry "Lee" Rush. Five others died in childhood. In an interesting twist, Francis' brother Jacob J. Rush wed Sarah Dull. Francis was a lifelong farmer and considered "a well known resident of Upper Turkeyfoot Township," said the Meyersdale Republican. He "was a hard working, industrious man, honest and conscientious in all his dealings with his fellow men." When the 1870 federal census enumeration was made, the Rushes lived next to his parents and brother John in Lower Turkeyfoot and obtained their mail at the Somerfield post office. In their final years, they lived on the John Brooks farm near Ursina. The road from their farm to Ursina was often "in very bad condition," said a newspaper, due to "numerous washouts." Francis passed away in the home of their daughter Lottie Garletts at the age of about 73 on May 28, 1917. Said the Republican, "He had been sick for a long time, first from rheumatism and then other complications." Funeral services were held in the family home, led by Rev. J.T. Davis of Ursina, with burial in the Jersey Baptist Church Cemetery. An obituary in the Connellsville Daily Courier noted that he was survived by his brother Jacob Rush of Ursina, Mrs. Isaac Mitchell of near Ohiopyle and his brother in law J.S. Rowan of Connellsville. The Republican's obituary made a point of stating that he had been born "before the division of the township into Upper and Lower turkeyfoot, the division taking place in 1848. He was a direct descendant of William Rush, who settled near the Jersey Church in 1773." Martha outlived her husband by seven years and went to live with her daughter Lottie Garletts/Garlitts. While on a visit to the residence of her son Lee in Markleton, she became ill with pneumonia and died on Dec. 16, 1924. Her obituary was published in the Republican.
Granddaughter Alice "Allie" Rush (1868-1915) was born on Oct. 18, 1868. She never married nor had an occupation. Having contracted consumption (tuberculosis), she died in her parents' residence on April 30, 1915. Physician

Winfield Scott Kuhlman, MD

, who observed her after death, wrote that "She was an invalid for a no. of years being a cripple and from information she seems to have taken the grippe and from which she died. Did not see her personally." Interment of the remains was in the Jersey Baptist Church Cemetery, with a short obituary appearing in the

Meyersdale Repoublican

.
Daughter Sarah Ream (1846-1909) was born on July 28, 1846. She was only two-and-a-half years of age at the death of her father. She grew up in her widowed mother's household in Lower Turkeyfoot. Circa 1872, at the age of 25, she married Jahue S. "J.S." Rowan (March 1848- ? ). The couple bore six known children -- Martha J. Woodward, Charles E. Rowan, Annie Rowan and John R. Rowan plus two others who were deceased by 1900. They dwelled on a farm in Stewart Township, Fayette County in 1900. Later, they moved into the city of Connellsville, Fayette County at the address of 11th Street. At the age of 62, Sarah contracted pneumonia and succumbed to the illness on May 2, 1909. Interment of the remains was in Ohiopyle, Fayette County, and J.S. Rowan signed the death certificate.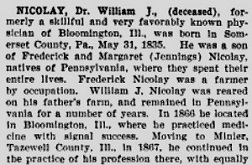 Historical Encyclopedia of Illinois
Courtesy Google Books

Susan's stepson Dr. William J. Nicolay (1835-1896) was born on May 31, 1835. Unmarried in 1864, William was a teacher in Lower Turkeyfoot Township and is known to have registered for the military draft during the Civil War. On May 15, 1864, in Highland County, OH, William entered into marrige with Mary E. Shannon (Oct. 25, 1835-1913), daughter of Capt. Samuel B. Shannon. Rev. Joseph Smith presided at the nuptials. They first lived in Ohio, where in about 1866 he graduated from the Eclectic Medical Institute in Cincinnati and began a career as a physician. In 1869, they relocated to Little Mackinaw, Tazewell County, IL. Four known children of this union were Cora Nicolay, Estella "Stella" Nicolay, Florence Nicolay and John Nicolay. Federal census records for 1880 show the family in Minier, Tazewell County, IL. William practiced medicine in Minier until relocating to Bloomington, IL in 1887. Sadly, he died on his 61st birthday on May 31, 1896. Mary survived as a widow for another 17 years. Said the Bloomington Weekly Pantagraph, "She was a membeer of the First Baptist church and until ill health prevented, was active in church and religious circles. She was particularly fond of home life and family ties..." She passed away in her residence at 409 North Prairie Street on Aug. 8, 1913. Her obituary in the Pantagraph said she "has been in failing health for several years as the result of infirmities incident to old age. During the past few weeks she has been growing weaker, but not until yesterday did her condition assume a critical aspect. Death therefore came rather suddenly." The Pantagraph called her husband "a pioneer physician and surgeon of Tazewell and McLean counties" and her father as "a pioneer Bloomington resident, who will be remembered by the older generation of the city."
Susan's step-granddaughter Cora Nicolay (1867- ? ) was born in about 1867 in Ohio. She wed (?) Henderson ( ? - ? ). She lived in Saybrook, IL in 1913.
Susan's step-granddaughter Estella "Stella" Nicolay (1869- ? ) was born in June 1869 in Illinois. She was united in matrimony with Eugene Packard ( ? - ? ). The pair resided in Bloomington in 1913.
Susan's step-granddaughter Florence Nicolay (1872- ? ) was born in about 1872 in Illinois. She married (?) Fleming ( ? - ? ) and dwelled in 1913 in Bloomington.
Susan's step-grandson Dr. John Nicolay (1874- ? ) was born in about 1874 in Illinois. In 1913, he was in Springfield, MO.
Susan's stepdaughter Elizabeth Nicolay (1835-1908) was born in about August 1835. She never married and made a living as a seamstress. Her final address was on Schoonmaker in Monessen, Westmoreland County. Afflicted with kidney disease and a fluid buildup of the body known as "oedema," she died at the age of 72 on Jan. 30, 1908. Burial was in Belle Vernon Cemetery. Margaret Nicolay of Monessen was the informant for the Pennsylvania death certificate.
Susan's stepdaughter Rhoda A. Nicolay (1841-1929) was born on March 2, 1841 at Harnedsville, Somerset County. She never married. With her health in decline, she was admitted to reside in the Home for Aged Protestant Women in Wilkinsburg near Pittsburgh. She passed away from the effects of a stroke at the age of 88 on Sept. 8, 1929. Burial was in Belle Vernon Cemetery.
Susan's stepson James "J.B." Nicolay (1843-1874) was born in 1843 in Somerset County. As a 17-year-old in 1860, he resided with his father and stepmother in Lower Turkeyfoot and earned income as a laborer. James joined the Union Army during the Civil War, enlisting on Nov. 12, 1861. He was placed in the 85th Pennsylvania Volunteer Infantry, Company H. He received an honorable discharge on June 24, 1865. Sadly, James died in 1874 at the age of about 31. Burial was in the soldier's circle in Oak Grove Cemetery in Uniontown. After James' death, his father in 1891 petitioned the federal government for a military pension as compensation for his loss. The claim was not approved. [Father App. #524.026]
Susan's stepson Dr. Silas Jennings Nicolay (1847-1887) -- also spelled Nicola, Nicholas and Nicoli -- was born on Feb. 8, 1847 in Somerset County. During the Civil War, he served as a private with the 107th Pennsylvania Infantry, Company H. On June 17, 1875, in Butler County, OH, he entered into marriage with Margaret C. "Maggie" Parrish (1848-1930), of Hamilton, Butler County. Rev. C.H. Kalbfrel officiated. The pair's only known child was Helen Oakey Evans. They relocated to Bloomington, IL. The Bloomington Pantagraph reported in December 1875 that Silas, "who has been occupying the Allensworth building has rented Mr. W.A. Dixon's house, and Mr. Dixon is going to Iowa to spend the winter." Then in April 1877, he bought the dwelling-place of C.R. Thomas for $700 and moved into the house in Minier near Bloomington on May 1. When the federal census enumeration was made in 1880, the Nicolays resided in Minier, Tazewell County. He is known to have been a member of the State Pharmaceutical Association of Ohio. Sadly, at the age of 40, he died on May 11, 1887. His remains were laid to rest in West Chester Cemetery in Butler County. In June 1887, his name was read aloud at the pharmaceutical association's meeting in Summit County. Margaret outlived her husband by 43 years and maintained her residence at 415 South Third Street in Hamilton. Sadly, she "was taken ill suddenly on Friday and complications developed which resulted in pneumonia," reported the Hamilton Evening Journal. She died on Feb. 1, 1930. Reported the Journal, "Hamiltonians were shocked to learn of the death... Mrs. Nicolay was a member of one of Hamilton's oldest families and her death comes as a great sorrow to innumerable friends here."
Susan's stepson Hiram Jennings Nicolay (1849- ? ) was born on Jan. 10, 1849 in Somerset County. He was very young when his mother died. He married Viola Frew ( ? - ?). Together, they produced four known children -- Ada Cook, James D. Nicolay, Frederick H. Nicolay and Hugh J. Nicolay. Hiram held a membership in the Monessen lodge of the Independent Order of Odd Fellows. His final home was with his married daughter Ada S. Cook at 19 Club Drive in Brentwood in Baldwin Township near Pittsburgh. Having borne heart disease for the final years of his life, Hiram developed acute bronchitis and died at the age of 84 on June 1, 1933. Burial was in Belle Vernon Cemetery.
Susan's step-granddaughteer Ada Nicolay was joined in wedlock with C. Lawrence Cook. Circa 1933, they made a home at 19 Club Drive in Brentwood in Baldwin Township near Pittsburgh.
Susan's step-grandson James D. Nicolay ( ? - ? )
Susan's step-grandson Frederick H. Nicolay (1881-1975)
Susan's step-grandson Hugh J. Nicolay ( ? - ? )
Copyright © 2014-2017, 2020-2021, 2023 Mark A. Miner