Home

Thomas Ream Sr.
(1786-1840)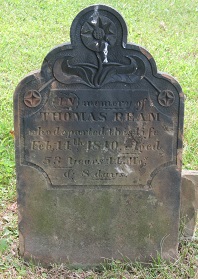 Ream Cemetery, Ursina
Thomas Ream Sr. was born in 1786 in Ursina, Somerset County, PA, the son of John and Anna Rosina (Weitzel) Ream, and the stepson of Catharine (Minerd) Ream.
At the age of four, Thomas moved with his parents and siblings to Draketown, Somerset County. He was only six years of age when his mother died from the bite of a poisonous snake.
He married Barbara Haines ( ? - ? ).
The Reams had six known children -- Jacob Ream, John Ream, Moses Ream, Thomas Ream Jr., Christina Jennings and Mary Flanigan. All were deceased by 1884 except for Thomas Jr.
Thomas Sr. is described in the 1884 History of Bedford, Somerset and Fulton Counties:
Thomas was a miller, and ran the old gristmill at Draketown. He was killed by the falling of a tree one stormy night while returning from a visit to a sick girl. He married Barbara Haines, and was the father of Jacob, John, Moses, Thomas, Christina (Jennings) and Mary (Flanagan).
The Reams owned two tracts or "plantations" in Turkeyfoot Township, one numbering 250 acres bounded by the lands of Daniel N. Beall, Sylvester Colborn and others, comprising their home place. The other farm was 350 acres in size bounded by lands of George Prinkey, Josiah Tannehill and others.

Barbara's "X" signature dated Feb. 27, 1840
Thomas Sr. died on Feb. 14, 1840, at the age of 53 years, 11 months and eight days. In an obituary, the Somerset Herald amplified the cause of his death as "killed by a limb falling from a tree, as he was walking through his wheat field in which there was deadened timber." His mortal remains were returned to the earth in the Ream Cemetery in Confluence.
The death of Thomas triggered a call from family and friends to whom he owed money, not uncommon at a time when there was not much cash in the community and borrowing and issuing IOUs were common, to be paid after each harvest. An estate sale was held on March 13, 1840 to auction a number of the Reams' farming implements and goods to raise the necessary funds. The sale list is long and on file today in the Somerset County Courthouse -- some 231 items or lots, which would have made for a busy day for the auctioneer. The sale items ranged from barrels, shovels and hoes to a coffee pot, German Bible and rocking chair and to bear skins, shot guns, heifers, colts, plows and buckwheat bakers. Among the many buyers, those profiled on this website included George Firestone (cog, half bushel and three barrels), Benjamin Leonard (strap and three bells), Jacob Younkin Jr. (cask with paint and oak/poplar boards) and John K. Rush (oak boards and still tub). Total proceeds from the sale were $847.57.
As did many early Somerset County farmers, Thomas died without writing a last will and testament. Thus after his passing, his widow held the right to administer the estate, but she renounced and released this in favor of her son John Ream and friend John Hanna, signing the paperwork with an "X." In turn, son John petitioned the judges of the Somerset County Orphans Court to award an inquest to partition the two tracts, without prejudicing or diminishing the overall value, so that a value could be determined for purposes of a potential sale. The inquisition and appraisement were held at the home of the widow on Jan. 21, 1841, involving High Sheriff George Mowry who oversaw a panel of a dozen neighbors familiar with farm values and who could arrive at a reasonable estimate of the Ream farms' value. The 12 selected men were John Prinkey, Jonathan Mountain, Sylvester Colborn, George Prinkey, Abraham Colborn, David Mountain, James McNeal, David Jennings, Steward Rowan, Israel Jennings, John P.H. Walker and Michael Sanner.
The panel appraised the 250-acre tract as worth $5.50 per acre, and the 350-acre property as worth only 12½ cents per acre.
Barbara's final fate is not yet known.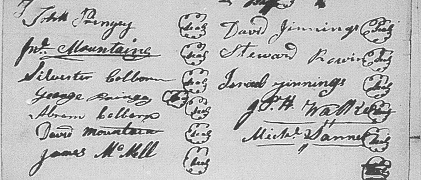 Signatures of the 12 neighbors who appraised the Ream farms in 1841
Copyright © 2014-2017, 2020 Mark A. Miner