Forward Ream Nicklow
(1859-1926)
Forward R. Nicklow
Courtesy John McPherson
Forward Ream Nicklow was born in about Oct. 1859 or 1860 in Somerset County, PA, the son of Jesse B. and Julia Ann (Ream) Nicklow.
Circa 1885, when he would have been age 25, he married 29-year-old Susan Yowler (Jan. 15, 1856-1931), also spelled "Youler," the daughter of Adam and Catherine (Denny) Yowler.
The couple produced four known children -- Annie Ferguson, Ewing Nicklow, Dakota Lerch and Roy Nicklow.
The Nicklows made their home in the Percy Mines village in 1886, and in June that year Forward "brightened his home with a fresh coat of paint," noted the Connellsville Weekly Courier. They resided in or around Normalville, Fayette County in the mid-1890s.
In May 1895 Forward and his married sister Julia King traveled back to Ursina to visit relatives, as noticed in the gossip columns of the Weekly Courier.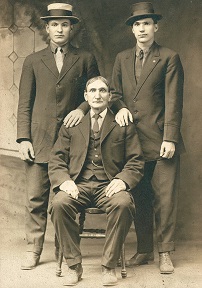 Forward and sons Ewing (left) and Roy

Courtesy John McPherson
The family remained for good in the coal mining patch town of Percy, though continued to visit family back in the mountains. The Weekly Courier reported in January 1896 that Forward had "butchered a porker on Tuesday that weighed 468 pounds. This is the largest we have heard of in this section."
The federal census enumerations of 1900-1920 show the family dwelling in North Union Township. Forward's occupation in 1900 was as a hauler in a coal mine, in 1910 as a coal mine laborer and in 1920 as a laborer.
They lived in Percy again circa 1920 and were members of the Percy Methodist Church.
Forward died at home at the age of 65 on March 2, 1926. Burial was in the Percy Cemetery. Daughters Annie and Dakota, ans son Ewing, served as co-executors of his estate.
Susan lived in widowhood for nearly five years and remained in Percy. For the last year of her life, she suffered from cirrhosis of the liver and was treated by Dr. J. Herrington.
At the age of 74, Susan died on Jan. 5, 1931. An obituary appeared later that day in the Connellsville Daily Courier. In addition to her children, she was survived by brothers Ewing Yowler and Robert Yowler, both of whom dwelled in Percy. Funeral services were held in the family house of worship. Daughter Annie was the informant for the official Pennsylvania certificate of death.
~ Daughter Anna "Annie" (Nicklow) Ferguson ~
Daughter Anna "Annie" Nicklow (1883-1973) was born in Nov. 1883 and grew into adulthood in Percy.
On April 10, 1907, at the age of 21, she wedded 22-year-old immigrant John J. Ferguson ( ? - ? ), the son of James and Mary Ferguson of Scotland. Their nuptials were held in the rectory of St. Colman Roman Catholic Church in Turtle Creek, PA. At the time, he made his home in East Pittsburgh, where he was considered a "skilled laborer."
The couple together bore four offspring -- Loretta Bridge, William Roy Ferguson, John A. Ferguson and Helen Schaefer.
They appear to have remained in Turtle Creek for good.
Sadly, Anna died on Nov. 3, 1973. Her funeral mass was sung in the same church where she had been married 67 years earlier. A death notice in the Pittsburgh Press said she was survived by six grandchildren and three great-grandchildren.
Daughter Loretta Ferguson Bridge ( ? - ? )
Son William Roy Ferguson ( ? - ? )
Son John A. Ferguson ( ? - ? )
Daughter Helen Ferguson Schaefer ( ? - ? )
~ Son Ewing Albert Nicklow ~

Ewing Nicklow
Courtesy John McPherson
Son Ewing Albert Nicklow (1888-1937) was born on May 18, 1888 in Percy, Fayette County.
Ewing was of medium height and build, with light-colored hair and blue eyes. He never married.
Ewing at the age of 20 got into trouble with the law in 1908 when convicted of robbery. The Uniontown Morning Herald reported that the crime took place when his accomplice Frank Jordan held down their victim and Ewing went through the man'spockets.
At the age of 21 in 1910, he lived with his parents and earned a living as a brickyard laborer.
During World War I, Ewing was required to register for the military draft. He disclosed that he was employed as a miner for Johnson Fuel Company of Percy.
He joined the U.S. Army during the war and was assigned to the 60th Infantry, Company K. He was deployed overseas. At the Battle of the Argonne Forest, he was severely wounded in action, and afterward received a medical discharge.
Still unmarried in 1920, and at home, he worked as a coal miner.
Ewing's residence in the 1930s was in Lemont Furnace, with carpentry as his occupation.
He contracted tuberculosis of the vertebrae of his spine which became abscessed. He traveled to Dayton, OH in early 1932 where he was admitted to the Old Soldiers Home. He returned to Percy in May 1932 to visit with family and friends, reported the Uniontown Evening Standard.
Ewing eventually was admitted to the Veterans Administration Hospital in Pittsburgh. There, at the age of 49, he passed into the arms of the angels on Sept. 20, 1937. On his death certificate, his father's name was given as "Fowler" Nicklow and mother as Susan "Yowler." Interment of the remains was in Percy Cemetery, following funeral services at the Percy Methodist Protestant Church, led by Rev. William King. The American Legion provided additional rites at the graveside.
~ Daughter Dakota (Nicklow) Lerch ~
Daughter Dakota Nicklow (1892-1985) was born on Aug. 28, 1892 in Percy, Fayette County.
In young womanhood she taught school in or around Percy.
At the age of 21, on March 21, 1914, she was united in holy wedlock with 22-year-old telegraph operator John James Lerch (Dec. 31, 1891-1941), son of German immigrants John and Julia (Houseman) Lerch of Mount Braddock. Robert I. Wilson officiated the wedding.
The couple bore a daughter, Naomi Stewart.
John continued his work as a telegraph operator and dispatcher for the Pennsylvania Railroad Company over a career spanning a quarter of a century. He held a membership in the Junior Order United American Mechanics. They belonged to Calvary Methodist Church.
Sadly, John contracted rheumatism and heart failure which lingered until he succumbed to death at the age of 49 on Oct. 8, 1941. His remains were lowered into eternal repose in LaFayette Memorial Park.
Dakota also helped to raise several foster children. One was Martha Morgan Sauers, daughter of Kenneth E. Gould Sr. ( ? - ? ). Another was Dolores (Hegner) Howard. Two others were Raymond W. Colflesh and Dorothy (Colflesh) Provance, originally from Indian Head, Fayette County.
Dakota's home in 1941-1955 was at 10 Collins Avenue (East Winona Street) in Uniontown's East End.
Grief descended upon the family in mid-December 1950 when Dakota received word that her foster son Raymond, with the U.S. Army in Korea, had been killed in action. Dakota lived on for several decades and was active with her church. She passed away in 1985.
Daughter Naomi Lerch (1922-2010) was born in 1922. On July 18, 1942, in a ceremony held in the Methodist Church of Oakland, MD, she was joined in matrimony with John R. Stewart (1923-1998), son of Frank L. and Lydia E. Stewart of Flatwoods, Fayette County. News of the wedding was announced on the pages of the Uniontown Evening Standard. At the time, John worked for H.C. Frick Coke Company. Two children were born into this family -- David L. Stewart and Susan J. Stewart. Soon after marriage, John joined the U.S. Army and was shipped overseas during the height of World War II. As a member of the 312th Engineer Battalion, Company C, he was involved in finding and de-arming booby traps. On Jan. 2, 1945, near Reagne, Belgium, a mine exploded and killed and wounded several of his men, and despite some hearing loss he supervised their evacuation. For this action he received a Silver Star medal for gallantry in action. John passed away in 1998. Naomi died in 2010. Burial of the remains was in LaFayette Memorial Park.
Foster daughter Martha Gould ( ? - ? ) was born in (?). She was an alumna of the Maison Frederic School of Beauty Culture and in 1969 was employed by Rockwell International. She appears to have first married Merle Morgan Jr., ( ? - ? ), son of Merle Morgan Sr. of UniontownThen in the summer of 1969, she was joined in the bonds of matrimony with John D. Sauers ( ? - ? ), son of John H. Sauers of 225 Braddock Avenue in Uniontown. Their wedding was held at St. John's Roman Catholic Church, led by Rev. Stephen A. Hart. Martha was pictured in a related story in the Uniontown Evening Standard, which noted that she "wore an Alfred Angelo gown of nylon organza with Venice lace and empire bodice. It had a mandarin collar and full sheer bishop sleeves with detachable chapel length train trimmed with tiny daisies. The four tier scalloped veil of silk illusion was held by lace and satin forward petals." John was a graduate of Washington and Jefferson College, and, at the time of marriage, worked in his father's Sauer's Men's Store in Uniontown.
Foster daughter Dolores Hegner ( ? - ? ) was born in (?). In young womanhood she worked for Shenandoah Life Insurance in Uniontown. On Sept. 25, 1955, she entered into marriage with Staff Sergeant James G. Howard ( ? - ? ), son of B.J. Howard of Wilson Avenue in Uniontown. The wedding was held in St. George's Church, and was featured with the couples' photograph in the Uniontown Evening Standard. At the time, James was with the U.S. Air Force, stationed at Lockbourne Air Force Base in Columbus, OH.
Foster son Raymond W. Colflesh (1930- ? ) was born in about 1930 in Indian Head, Fayette County. At the age of six, he came to Uniontown where he was taken in by Dakota and raised to adulthood at 10 Collins Avenue in Uniontown's East End. He dropped out of Lafayette Junior High School at the age of 16 to go to work as a Western Union messenger boy. He quickly gained a reputation as one of the best boys the office ever had had. In May 1947, the teenager was injured during a message delivery when "his bicycle collided with a truck," reported the Uniontown Morning Herald. "Rushed to the hospital, the popular lad was treated for a possible cerebral concussion and a fractured shoulder." He joined the U.S. Army in January 1949. After the outbreak of the Korean War, he was assigned to the 15th Anti-Aircraft Artillery, 7th Division and was sent oversea . Tragically, at the age of 20, he was killed in action in late 1950.
Foster daughter Dorothy Colflesh ( ? - ? ) was born in (?). She went to work as a young adult for the A&P Tea Company in Hopwood. On Jan. 28, 1951, in nuptials held in the Calvary Methodist Church, she wedded Jason D. Provance ( ? - ? ), son of Irene Provance of Hopwood. Rev. Dr. E.J. Keifer officiated, and John Ray Stewart gave her away at the ceremony. The Uniontown Evening Standard reported that she wore a "two-piece ice blue dress with navy accessories and carried white roses on a prayer book." At the time of marriage, Jason worked as a ticket agent for Blue Ridge Bus Lines in Morgantown, WV.
~ Son Roy Nicklow ~

Roy Nicklow
Courtesy John McPherson
Son Roy Nicklow (1895-1956) was born in Sept. 7 or 10, 1895 or 1894.
Circa 1911, he joined the U.S. Army and later served during World War I.
On Aug. 13, 1919, he was united in wedlock with Rebecca "Rita" Ganer (Nov. 1891-1957), a New York native and the daughter of immigrants Simon and Hannah Ganer. Their wedding was held in New York.
The couple produced a family of four -- Helen Susan Thiess, Althea Sybil Gouin, Lorelei Diane McPherson and Roy Ewing Nicklow. The eldest two were born in New York and the younger two in New Jersey.
Roy joined the employ of Erie Railroad as a detective after the war. In time, circa 1935-1937, he changed jobs to become a longshoreman on the docks at Jersey City, NJ.
When the federal census enumeration was made in 1940, the family home was in Jersey City. All four children were under their roof at that time, ranging in age from 20 to 10.
Roy passed away in Jersey City at the age of 62 on Dec. 13, 1956. Interment of the remains was in Arlington Memorial Park in Kearney, NJ.
Rita only lived for another nine months as a widow. She died on Sept. 26, 1957. Her remains are in repose in Pinelawn Memorial Park in East Farmingdale, NY.
Daughter Helen "Susan" Nicklow (1920-1992) was born on Feb. 25, 1920 in New York. Circa 1941, when she was about 21 years of age, she married Kingston G. Thiess ( ? - ? ) in New York. One daughter was born to this union, Diane Thiess. The couple divorced in 1944. Helen relocated to California and settled in Monterey County. She never remarried. Death swept her away on Nov. 28, 1992, with her ashes scattered in the Pacific Ocean.
Daughter Althea Sybil Nicklow ( ? - ? ) wedded John Paul Gouin (March 10, 1921-2016), son of Joseph and Anna (Belanger) Gouin of Connecticut. Their union endured for an extraordinary 72 years. During World War II, John served in the U.S. Navy aboard the battleship USS North Carolina. They resided in Farmingdale, Nassau County, NY and were the parents of Janice Savage. John Paul died on Aug. 31, 2016 at the age of 95. An obituary was printed in Newsday. His remains were cremated.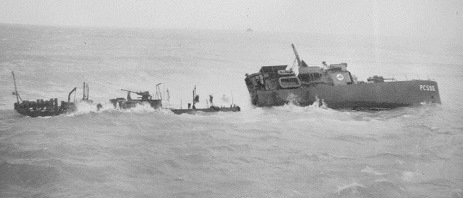 Sinking of John McPherson's ship, subchaser PC 590 in Okinawa, 1945
Courtesy U.S. Coast Guard/Navsource.org
Daughter Lorelei Diane Nicklow (1927-1993) was born on May 11, 1927 in Jersey City, Hudson County, NJ. After the end of World War II, she was joined in marriage in December 1945 with U.S. Coast Guard veteran John Henry McPherson Sr. (Feb. 17, 1923-2006), son of John Douglas and Anna Laura (Young) McPherson of Arlington, VA. They were wed at the Arlington Methodist Church, VA by the hand of Rev. Joseph S. Johnston. The couple went on together to bear three offspring -- Linda Joan McPherson, John Henry McPherson Jr. and Earl Craig McPherson. John had been employed prior to the war with the Chesapeake & Potomac Telephone Company. During the war, John was aboard ships patrolling New York Harbor. Later, he was deployed to Okinawa, where in October 1945 his submarine chaser ship PC 590 broke in half and was sunk in a typhoon in Buckner Bay. Upon his return home, he rejoined the telephone company and worked there until retirement in 1977. Lorelei earned a living over the years through her work with the federal government and the Northwest Federal Credit Union. Sadly, she died in Fairfax County at the age of 65 on April 16, 1993. John outlived his wife by a baker's dozen years. He was carried away by the spectre of death on June 21, 2006. The couple sleep eternally side by side in Columbia Gardens Cemetery in Arlington, Arlington County, VA.
Son Roy Ewing Nicklow (1929-2005) was born in 1929. He served in the U.S. Navy during the Korean War. While in New Orleans in 1967, Roy entered into marriage with Martha "Martie" Mauppin (June 26, 1929-1988), a native of Arkansas and the daughter of Daniel Rufus and Jewel Eva (Gossett) Mauppin. The couple did not reproduce but made their home in Fresno, CA. Sadly, Martha passed into eternity in Fresno County at the age of 58 on Jan. 6, 1988. Her obituary appeared in the Fresno Bee. Roy outlived her by 17 years and relocated to Las Vegas. He died on Christmas Eve 2005. Burial of the remains was in Southern Nevada Veterans Memorial Cemetery in Boulder City, NV.
Copyright © 2003, 2009, 2012, 2014-2018, 2021 Mark A. Miner