Rebecca 'Jane' (Nicklow) McNeill
(1847-1937)
Rebecca "Jane" (Nicklow) McNeill was born on May 1, 1847 in Somerset County, where she spent her lifetime, the daughter of Jesse B. and Julia Ann (Ream) Nicklow. Her maiden names at times has also been spelled "Nicola."
On Valentine's Day 1864, when she was 18 years of age, she was joined in wedlock with 31-year-old Robert Lloyd McNeill Sr. (Feb. 8, 1833-1895), son of James and Margaret (McNeill) McNeill. The family resided in Confluence.
The couple produced six children -- James B. McNeill, Richard McNeill, Bruce McNeill, Margaret Ann McNeill, Dora Charlotte Harris and Robert Lloyd McNeill Jr. Two of the sons died young -- Richard at age one day on June 2, 1867 and Bruce at age three on Sept. 1, 1872.
Further heartbreak wrapped the family in blackness when Robert Sr. died on New Year's Day 1895 at the age of 62. Burial was in the Jersey Baptist Church Cemetery.
Jane lived for another four-plus decades as a widow. A descendant has referred to her as "one tough woman." The Meyersdale Republican once noted that she "was a life-long member of the Jersey Baptist Church, and for many years was an active and sincere church worker."
She retired from farming about 1930 after a lifetime of work, and sadly, she outlived four of her six offspring.
Having endured heart disease, Jane spent her final years residing with her son Robert living in a farmhouse near Confluence. Plagued with an intestinal obstruction, she died at home at the age of 89 on Feb. 12, 1937. Rev. Lester C. Barton led funeral services in Jane's home, with Samuel "Judson" Enos (of the family of Mary Ann [Younkin] Phillippi), Robert Tannehill, William Colborn, Scott Holiday (of the family of Frederick J. Younkin) and P.S. Rowe serving as pallbearers. Her remains were buried in the Jersey Church Cemetery, with a short obituary appearing in the Connellsville Daily Courier and a longer one in the Meyersdale Republican. She was survived by four grandchildren.
~ Son James B. McNeill ~
Son James B. McNeill (1864-1896) was born three days after Christmas 1864.
Very little of his life is known, other than it was cut short just five days before his 32nd birthday.
He passed away, reputedly of an accident, on Dec. 23, 1896 in Somerset County.
Burial was in the Jersey Baptist Church Cemetery.
~ Daughter Margaret Ann McNeill ~
Daughter Margaret Ann McNeill (1874-1910) was born three days before Christmas 1874 in Somerset County.
She never married but spent her life pursuing a career as an educator in an era when women teachers were not allowed to be married.
She died in Dawson, Fayette County on Oct. 6, 1910. Her remains were returned to Ursina for interment in the Jersey Baptist Church Cemetery. In 1912, she was named in a profile of her brother in law Burley Milroy Harris in the Genealogical and Personal History of Fayette County, Pennsylvania.
~ Daughter Dora Charlotte "Dorcy" (McNeill) Harris ~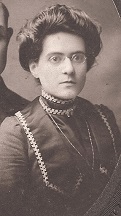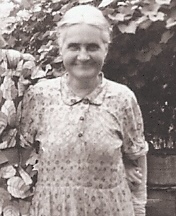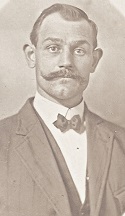 Dora (McNeill) Harris and Burley Harris - Courtesy Chuck-X-Gen, Find-a-Grave
Daughter Dora Charlotte "Dorcy" McNeill (1877-1946), also spelled "McNeal," was born on March 30, 1877 in Somerset County.
As a teenager, she enrolled in Valparaiso University in Indiana. There, she became acquainted with Burley Milroy Harris Sr. (1881-1946?), son of Winfield and Mary E. (Temple) Harris of Logansport, IN. On March 12, 1903, when she was age 25, and he 21, they were joined in matrimony.
They were the parents of Burley Milroy Harris Jr., Dora Charlotte Hammer Perry Beachy, Mary Jane "Jennie" Hinners, Albert Winfield Harris II and one who died unnamed in infancy.
The Harrises are profiled in the 1912 book Genealogical and Personal History of Fayette County, Pennsylvania, which stated that "The Nicklows and McNeals are old Somerset county families," and that Dora was a "first cousin of Norman B. Ream, the well-known capitalist of Chicago and New York." The text reads that during his senior year at Valparaiso, Burley "taught classes in psychology and physiology in that institution, being then only twenty years of age. The funds for his university course were all provided by himself."
Later in 1903, the newlyweds:
...came to Connellsville, Pennsylvania, where [Burley] entered the employ of the Baltimore & Ohio railroad in an humble position in their shops. In 1904 was apponted airbrake inspector, then entered the train service as brakeman, continuing until 1908. In that year he entered the service of the Penn Power Company, in the machine department, remaining thirteen months. He next joined a bridge building gang working for the Pennsylvania railroad, but after three months began canvassing for the International Correspondence School of Scranton, Pennsylvania, continuing as their representative for nine months. In 1910 he entered the employ of the Pittsburgh & Lake Erie railroad as fireman, and in 1911 was appointed night foreman at Dickerson Run, where he still continues.
The couple's home in 1912 was at the corner of Locust and Snyder Streets in Connellsville. But the marriage did not last. The Harrises divorced in the early 1920s.
Burley went back to Indiana and on Feb. 4, 1923, married again to Ada Koogle ( ? - ? ). Burley and Ada relocated to Fort Myers, FL (circa 1927). From there in about 1935 he moved again to Eagle Lake, TX and was wedded to his third wife, Lila Mae Hinton (April 17, 1883-1966), daughter of W.F. and Elizabeth (Farley) Hinton of Billingsley, Autauga County, AL. Burley and Lila established a home in Huntsville, TX. He died in Walker County, TX at the age of 65 on Feb. 16, 1946, reputedly after accidentally ingesting Sloan's Liniment while in the dark. Burley's widow, Lila Mae, then married John Robert Addison (1886-1969), and died in Alvin, Brazoria County, TX on March 26, 1966.
Dora maintained a home on Stauffer Street in Dawson, Fayette County.
At the age of 69, suffering from intestinal cancer, she was felled by an infection of peritonitis and died on Dec. 12, 1946. Her remains were transported to Confluence for burial. Son Burley Harris Jr. of Confluence was the informant for the certificate of death.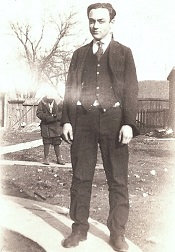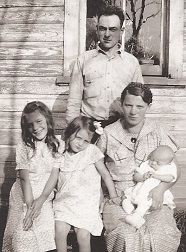 Burley and Alma (Lytle) Harris and family
Courtesy Chuck-X-Gen, Find-a-Grave
Son Burley Milroy Harris (1906-1985) was born on March 27, 1906 in Fayette County, PA. As a young man, he learned the trade of machinist, and worked in Confluence. When he was 21 years of age, on Aug. 23, 1927, Burley was wedded to 17-year-old Alma Beatrice Lytle (Nov. 28, 1909-1994), daughter of farmers John C. and Leah (Green) Lytle of Confluence. The ceremony was held in Confluence, with Rev. Z.H. Powell officiating. The couple dwelled in the Fair Oaks section of Confluence, Somerset County. They were the parents of Dora Elsetta Moore (1928-1998), Joyce Naomi Phillips (1930-1996), Lena Eleanor Linderman (1936-2009), Alice May Mitchell McClintock (1937-living), Alma Beatrice "Patty" Basinger (1939-living) and Burley Milroy Harris III. Burley provided carpentry services for construction of a garage by Dewey Lytle. He was a member of the Masons and Knights Templar. The family underwent shock in May 1950 when Alma's 25-year-old brother, Charles Lytle of Confluence, was shot and killed by a neighbor. Burley died in Latrobe Area Hospital at the age of 78 on Jan. 16, 1985. At the time, he was survived by 16 grandchildren and 19 great-grandchildren. Burial was in the Jersey Baptist Church Cemetery. Alma lived for another nine years, and as her health declined she was admitted to the Maple Mountain Manor in Berlin, Somerset County. On Aug. 25, 1994, she died in the Manor. An obituary was published in the Somerset Daily American, and burial was in the Jersey Baptist Church.
Daughter Dora Charlotte Harris (1908- ? ) was born on Nov. 5, 1908. She was married several times over the years. Her first spouse was (?) Hammer. Her second husband was (?) Perry Beachy. By 1985, she had united in wedlock with (?) Beachy and made her home in Lafayette, IN.
Daughter Mary Jane "Jennie" Harris (1911- ? ) was born on Sept. 26, 1911. She wedded (?) Hinners. Her home in 1985 was in Carbondale, IL.
Son Albert Winfield Harris II ( ? - ? ) lived in Des Moines, IA in the mid-1980s.
~ Son Robert Lloyd McNeill Jr. ~
Son Robert Lloyd McNeill, Jr. (1879-1957) was born on April 5, 1879 near Confluence.
He never married.
He is believed to be the same "Robert McNeill" who owned 150 acres of farmland near the Jersey Baptist Church. In late October 1913, the Meyersdale Republican reported that his farm was 10 times smaller than in reality. The following week, the newspaper ran a correction, saying "the size of the farm of Robert McNeill could scarcely contain himself on a 15-acre patch, since he is a man who likes to do things on a large scale, and the tilling of 150 acres is none too much for him."
He remained on his Confluence farm for the balance of his long life.
In October 1924, irritated at intruders on his property, perhaps hunters, he placed a classified notice in the Republican, stating: "No trespassing on the McNeill farm in Lower Turkeyfoot Township, Somerset County, Pa., in any way."
Over the years, he developed a gastric ulcer leading to what a physician called a "massive gastric hemorrhage." In late April 1957, he was admitted to the Somerset County Home. There, just five days later, he passed away at the age of 78 on May 3, 1957. Burial was in the Jersey Baptist Church Cemetery.
Copyright © 2009, 2012, 2014-2018, 2021 Mark A. Miner