Rebecca 'Jane' (Nicklow) McNeill
(1847-1937)
Rebecca "Jane" (Nicklow) McNeill was born on May 1, 1847 in Somerset County, where she spent her lifetime, the daughter of Jesse B. and Julia Ann (Ream) Nicklow. Her maiden names at times has also been written as "Nicola" and "Nichelo."
On Valentine's Day 1864, when she was 18 years of age, she was joined in wedlock with 31-year-old Robert Lloyd McNeill Sr. (Feb. 8, 1833-1895), son of James and Margaret (McNeill) McNeill, also spelled "McNeal."
The couple produced six known children -- James B. McNeill, Bruce McNeill, Richard McNeill, Margaret Ann McNeill, Dora Charlotte Harris and Robert Lloyd McNeill Jr. Two of the sons died young -- Richard at age one day on June 2, 1867 and Bruce at age three on Sept. 1, 1872.

Article about our Robert, 1879, in the
Somerset Herald? Library of Congress

Despite the fact that he would have been eligible, there is no evidence that Robert served in the Army during the Civil War.

The federal census enumerations of 1870 and 1880 show the family living on a farm in Lower Turkeyfoot Township. Their closest post office in 1870 was in Somerfield. Circa 1880, their next-door neighbors were James and Kesiah McNeal and family.

He may be the same "Robert McNeil" of Ursina who made news in the Somerset Herald in February 1879 when, "while splitting shingle timber, a few days since, struck a block too hard, the axe passing through the block, cut his big toe off damaging his foot very much."

Further heartbreak wrapped the family in blackness when Robert Sr. died on New Year's Day 1895 at the age of 62. The Herald reported that he had passed "suddenly at his home in Addison township..." Burial was in the Jersey Baptist Church Cemetery.

1876 map showing the farms of "R." and "J." McNeal east of Draketown, near-neighbors to Dr. William Steele Harah.
Atlas of Somerset County
Robert's obituary, Somerset Herald
Courtesy Library of Congress

Jane lived for another four-plus decades as a widow. A descendant has referred to her as "one tough woman." The Meyersdale Republican once noted that she "was a life-long member of the Jersey Baptist Church, and for many years was an active and sincere church worker."

She retired from farming about 1930 after a lifetime of work, and sadly, outlived four of her six offspring.

Having endured heart disease, Jane spent her final years residing with her son Robert in a farmhouse near Confluence.

Plagued with an intestinal obstruction, she died at home at the age of 89 on Feb. 12, 1937. Rev. Lester C. Barton led funeral services in Jane's home, with Samuel "Judson" Enos (of the family of Mary Ann [Younkin] Phillippi), Robert Tannehill, William Colborn, Scott Holiday (of the family of Frederick J. Younkin) and P.S. Rowe serving as pallbearers. Her remains were buried in the Jersey Church Cemetery, with a short obituary appearing in the Connellsville Daily Courier and a longer one in the Meyersdale Republican. She was survived by four grandchildren.

~ Son James B. McNeill ~

Son James B. McNeill (1864-1896) was born three days after Christmas 1864.

Very little of his life is known, other than it was cut short just five days before his 32nd birthday.

He passed away, reputedly of an accident, on Dec. 23, 1896 in Somerset County.

Burial was in the Jersey Baptist Church Cemetery.

~ Daughter Margaret Ann McNeill ~

Daughter Margaret Ann McNeill (1874-1910) -- also spelled "McNeal" -- was born three days before Christmas 1874 in Somerset County.

She never married but spent her life pursuing a career as an educator in an era when women teachers were not allowed to be married. In preparing for this field of work, she is known to have attended a teacher's institute in February 1905, held at the Hochstetler School, where she gave a recitation.

Circa 1910, she may have taught at a school in Dawson, Fayette County.

Margaret contracted an incurable case of typhoid fever in late August 1910 and suffered for 41 days. She received medical treatment during that time from Dr. Frank P. Righter of Markleton. Sadly, she surrendered to the spirit of death on Oct. 6, 1910, at the age of 32, in Upper Turkeyfoot Township. Her remains were brought to Ursina for interment in the Jersey Baptist Church Cemetery. Her brother Robert, living in Confluence at the time, and using the "McNeal" spelling, signed the official Pennsylvania death certificate.

In 1912, Margaret was named in a profile of her brother in law Burley Milroy Harris in the Genealogical and Personal History of Fayette County, Pennsylvania.

~ Daughter Dora Charlotte "Dorcy" (McNeill) Harris ~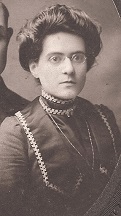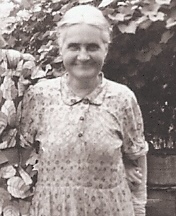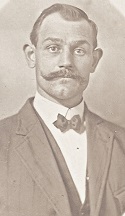 Dora (McNeill) Harris and Burley Harris Sr. - Courtesy Chuck-X-Gen, Find-a-Grave
Daughter Dora Charlotte "Dorcy" McNeill (1877-1946), also spelled "McNeal," was born on March 30, 1877 in Somerset County.
As a teenager, she enrolled in Valparaiso University in Indiana. There, she became acquainted with Burley Milroy Harris Sr. (1881-1946?), son of Albert "Winfield" and Mary E. (Temple) Harris of Logansport, IN. On March 12, 1903, when she was age 25, and he 21, they were joined in matrimony.
They were the parents of Burley Milroy Harris Jr., Dora Charlotte Hammer Perry Beachy, Mary Jane "Jennie" Hinners, Albert Winfield Harris II and one who died unnamed in infancy.
The Harrises are profiled in the 1912 book Genealogical and Personal History of Fayette County, Pennsylvania, which stated that "The Nicklows and McNeals are old Somerset county families," and that Dora was a "first cousin of Norman B. Ream, the well-known capitalist of Chicago and New York." The text adds that during his senior year at Valparaiso, Burley "taught classes in psychology and physiology in that institution, being then only twenty years of age. The funds for his university course were all provided by himself."
Later in 1903, the newlyweds:
...came to Connellsville, Pennsylvania, where [Burley] entered the employ of the Baltimore & Ohio railroad in an humble position in their shops. In 1904 was apponted airbrake inspector, then entered the train service as brakeman, continuing until 1908. In that year he entered the service of the Penn Power Company, in the machine department, remaining thirteen months. He next joined a bridge building gang working for the Pennsylvania railroad, but after three months began canvassing for the International Correspondence School of Scranton, Pennsylvania, continuing as their representative for nine months. In 1910 he entered the employ of the Pittsburgh & Lake Erie railroad as fireman, and in 1911 was appointed night foreman at Dickerson Run, where he still continues.
The couple's home in 1912 was at the corner of Locust and Snyder Streets in Connellsville. But the marriage did not last. The Harrises divorced in the early 1920s.
Burley went back to Indiana and on Feb. 4, 1923, married again to Ada Koogle ( ? - ? ). Burley and Ada relocated to Fort Myers, FL (circa 1927). From there in about 1935 he moved again to Eagle Lake, TX and was wedded to his third wife, Lila Mae Hinton (April 17, 1883-1966), daughter of W.F. and Elizabeth (Farley) Hinton of Billingsley, Autauga County, AL. Burley and Lila established a home in Huntsville, TX. He died in Walker County, TX at the age of 65 on Feb. 16, 1946, reputedly after accidentally ingesting Sloan's Liniment while in the dark. Burley's widow, Lila Mae, then married John Robert Addison (1886-1969), and died in Alvin, Brazoria County, TX on March 26, 1966.
Dora maintained a home on Stauffer Street in Dawson, Fayette County.
At the age of 69, suffering from intestinal cancer, she was felled by an infection of peritonitis and died on Dec. 12, 1946. Her remains were transported to Confluence for burial. Son Burley Harris Jr. of Confluence was the informant for the certificate of death.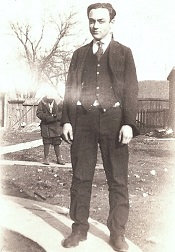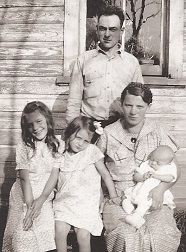 Burley and Alma (Lytle) Harris Jr. and family
Courtesy Chuck-X-Gen, Find-a-Grave
Son Burley Milroy Harris (1906-1985) was born on March 27, 1906 in Fayette County, PA. As a young man, he learned the trade of machinist, and worked in Confluence. When he was 21 years of age, on Aug. 23, 1927, Burley was wedded to 17-year-old Alma Beatrice Lytle (Nov. 28, 1909-1994), daughter of farmers John C. and Leah (Green) Lytle of Confluence. The ceremony was held in Confluence, with Rev. Z.H. Powell officiating. The couple dwelled on Fair Oaks Street in Confluence, Somerset County. They were the parents of Dora Elsetta Moore, Joyce Naomi Phillips, Lena Eleanor Linderman, Alice May Mitchell McClintock, Alma Beatrice "Patty" Basinger and Burley Milroy Harris III. Burley is known to have provided carpentry services for construction of a garage by Dewey Lytle. He was a member of the Masons and Knights Templar, Syria Temple as well as the Order of Eastern Star. The family underwent shock in May 1950 when Alma's 25-year-old brother, Charles Lytle of Confluence, was shot and killed by a neighbor.
Burley died in Latrobe Area Hospital at the age of 78 on Jan. 16, 1985. At the time, he was survived by 16 grandchildren and 19 great-grandchildren. Burial was in the Jersey Baptist Church Cemetery, with funeral services jointly conducted by Rev. David Dayhoff and Rev. Raymond Schermerhorn. Alma lived for another nine years, and as her health declined she was admitted to the Maple Mountain Manor in Berlin, Somerset County. On Aug. 25, 1994, she died in the Manor. An obituary was published in the Somerset Daily American, and burial was in the Jersey Baptist Church.



L-R: Elsetta Moore, Joyce Phillips, Lena Linderman, Alice Mitchell McClintock. Courtesy Chuck-X-Gen, Find-a-Grave
Granddaughter Dora "Elsetta" Harris (1928-2022) was born on June 6, 1928 in Confluence. At the age of 18, in July 1946, she and Eugene Goddard together produced a son, Terry Lee Goddard. Elsetta later married Earl Cloyd Moore (1921- ? ). They may have produced two more offspring, Gwen Marie Moore and Alan Dale Moore. Circa 1949, the couple made their residence in Jersey Hollow near Ursina. Tragedy unfolded on the fateful day of March 23, 1949 when Elsetta's son Terry, age two-and-a-half years, was scalded over the entirety of his body after he tripped into a vat of boiling maple syrup. Reported the Somerset Daily American, "The babe met his death when he fell into a boiling vessel of sugar water his grandmother, Mrs. Burley Harris, was preparing and removed to a place of apparent safety while replenishing the fire." The child was rushed to Price Hospital in Confluence and mercifully died a day later. Interment of the tender remains was in the cemetery at Johnson Chapel, with Rev. H. Kermit Figart leading the services. Elsetta and Earl relocated by 1950 to Hyndman, Bedford County, PA. They are shown in Hyndman in the 1950 federal census enumeration and remained there for decades. Dora passed away in Baltimore, MD at the age of 94 on Oct. 25, 2022. Burial was in the Jersey Baptist Church Cemetery, Ursina.
Granddaughter Joyce Naomi Harris (1930-1996) was born on Dec. 6, 1930 in Confluence. She wed Charles A. Phillips (Sept. 25, 1925-1985). The pair's duo of children were Sharon K. Blair and Rex Allen Phillips. Charles was a World War II veteran of the U.S. Army. At one point the family made its home in Amherst/Lorain, OH, where she served as worthy matron of the Day Chapter of the Order of Eastern Star. Sadly, Charles died at the age of 59, in Cleveland, on July 2, 1985. Burial was in Brookdale Cemetery in Elyria, OH. The widowed Joyce later relocated to Texas and resided in Arlington, TX in the mid-1990s. Death carried her away in Arlington Memorial Hospital at the age of 65 on April 20, 1996. The body was shipped back to Pennsylvania for burial in Jersey Baptist Church Cemetery, with funeral services presided over by Rev. George Mason, and an obituary published in the Somerset Daily American.

Great-granddaughter Sharon K. Phillips (1958-1991) was born on May 5, 1958 in Lorain County, OH. She wed (?) Blair. They were the parents of Logan S. Blair and Amber Blair. Sadly, Sharon died in Bethesda, MD at age 33 on June 12, 1991. At that time, her children lived in Bloomfield, IN.

Great-grandson Rex Allen Phillips served in the U.S. Marine Corps in 1982 and trained at Camp Pendleton, CA. He made his residence in 1996 in Cogan Station, PA.

Granddaughter Lena Eleanor Harris (1936-2009) was born on June 9, 1936 in Confluence. She was the mother of Wayne Harris and Sondra Waite. Lena entered into marriage with William Paul Linderman (Feb. 19, 1938-1976), the son of John and Cora (Dean) Stark of Stewart Township, Fayette County. They bore two additional offspring -- Timothy William Linderman and Ruth Naomi "Ruthie" Baptie. They held memberships in the Confluence Veterans of Foreign Wars and the Turkeyfoot Fish and Game Association. In 1974, her address was 518 Dean Street. By 1965, the couple separated, with William moving out, and Lena suing him for non-support. On the tragic day of Oct. 12, 1976, the 38-year-old William was killed in a timber accident. Reported the Somerset Daily American, he "was apparently killed instantly when a 12-inch thick tree limb fell and struck him on the head while the man was cutting trees to be taken to a sawmilll in Southampton Township, three miles north of the intersection of Rt. 160 and LR 55014... Police said the limb, which had been previously broken in a storm, fell about 50 feet from the top of the tree Linderman was cutting. The body was found by Linderman's employer who notified police." Rev. Norbert Zick led the funeral service, with burial following in the Jersey Baptist Church Cemetery. Lena outlived him by more than three decades. At the age of 73, Lena passed away in Somerset Hospital on July 1, 2009. The headcount of her survivors included eight grandchildren and a baker's dozen great-grandchildren, according to an obituary in the Somerset Daily American. Burial was in the Jersey Baptist Church Cemetery.

Great-grandson Wayne Ray Harris attended Turkeyfoot Area High School. Wayne enlisted in the U.S. Army in February 1974 during the final era of the Vietnam War. His term was to have lasted for two years. Later, he wed Sheri ( ? - ? ). Three offspring born to the couple were Kelly Harris and two others. In the 1970s and 1980s, Wayne was arrested in several charges of burglary, including at an automobile dealership, the Holiday Inn hotel and a private home. Circa 1987, the family lived in Wheaton, in northwestern Pennsylvania. Tragedy shook the family in May 1987 when their two-year-old daughter Kelly drowned in the Youghiogheny River near Confluence. Tracking dogs, scuba divers, a helicopter and fire department volunteers, 100 people in all, engaged in the search, with no happy result. By 1991, with the family in Mercer County, Wayne was sentenced from between 2½ to 5 years in prison for conspiracy to commit theft. In more recent years, Wayne has resided in Confluence.

Great-granddaughter Sondra Lee ( ? - ? ) was born on (?). On June 15, 1974, she was joined in wedlock with John T. Waite ( ? - ? ), son of Willard W. Waite of Wellington, OH. Their wedding ceremony was held at Johnson Chapel, led by Rev. John Hickson. Circa 1998, she was in Arlington, TX and as of 2009, she was back in Markleton.

Great-grandson Timothy William Linderman (1956-1998) was born on Nov. 10, 1956 in Confluence. He studied at Turkeyfoot Area High School. Timothy entered into marriage with Bonnie Shultz ( ? - ? ). Their three children were John William Linderman, Bobbi Jo Linderman and Tina Louise Linderman. Timothy jonied the U.S. Army in November 1974 with plans to attend the Army's automotive mechanic school to study diesel and gasoline powered engines. Circa the late 1990s, Timothy and Bonnie made a residence in Bonner Springs, KS. At the age of 41, Timothy died at home on March 21, 1998. The body was transported back to Confluence for funeral services, by the hand of Rev. A. Merl Calkins, and burial at the Jersey Baptist Church Cemetery, with an obituary published in his hometown newspaper, the Daily American.

Great-granddaughter Ruthie Naomi Linderman ( ? - ? ) is a 1981 graduate of Turkeyfoot Valley Area High School. She was united in matrimony with Daniel Williams Sr. ( ? - ? ). They produced a son, Daniel Williams Jr. The couple divorced, with Daniel moving to Markleysburg. She supported herself through her work at the Monterrey in Confluence. Then on Sept. 17, 1994, she married again to Jeffrey I. Baptie ( ? - ? ). The nuptials were held at the Ursina Church, by the hand of Rev. John "Rick" Gamble. The newlyweds were pictured in a wedding announcement in the Somerset Daily American. Jeffrey was a 1987 alumnus of West Mifflin High School, had attended Duffs Business Institute and at the time of marriage worked for Hlasnick Remodeling. Their first home together was in West Mifflin. In 2009, she is known to have been in Confluence. Their son Daniel Jr., a 2002 graduate of Turkeyfoot Valley High School, served in the U.S. Army in 2009. He wed Megan Bottomley and settled in Rockwood.

Granddaughter Alice May Harris (1937-living) appeared to have been twice-married. Her first spouse was Teddy Junior Mitchell Sr. (Feb. 1935-1961), a native of Fort Hill and the son of Robert and Grace (Miller) Mitchell. Their two known children were Teddy J. Mitchell Jr. and Denise E. Rugg. Teddy Sr. had served in the U.S. Army in 1955-1956, training at Fort Dix, NJ. Grief cascaded over the family when, on Sept. 2, 1961, the 26-year-old Teddy and his brother Tommy Dale Mitchell were instantly killed in an automobile accident. With Teddy at the wheel, their 1961 convertible ran off Route 53 two miles south of Confluence at a high rate of speed and struck a lumber pile. A medical report said Teddy had suffered fractures of the legs and crushed skull as well as lacerations and contusions over the entire body. The men's double funeral was held in the Confluence Lutheran Church, under the direction of Rev. Russell Kerns, with their broken remains laid to rest in the Silbaugh Cemetery. By 1985, she had married again to World War II veteran Claude "Evans" McClintock (March 30, 1921-1995), son of Nevin and Dora (McClintock) McClintock. Their offspring were Claude Evans McClintock Jr. and Tina D. Hudec. As of 1988, their address was 711 Meyers Street, Confluence. Sadly, Evans died in Uniontown's Laurel Health Center at the age of 74 on July 13, 1995. Rev. Richard McClintock presided over the funeral, followed by burial in Addison Cemetery. Evans' obituary appeared in the Somerset Daily American. The widowed Alice outlived her spouse by many years. Circa 2009, she was in Confluence.

Great-grandson Teddy J. Mitchell Jr. (1958- ? ) was born in about 1958. He put down roots in Confluence and frequently has had run-ins with the law, as chronicled on the pages of the Somerset Daily American.

Great-granddaughter Denise Elaine Mitchell ( ? - ? ) entered into marriage with a distant step-cousin, Clayton Eli "Tim" Rugg (1953- ? ), son of Clayton R. and Betty Lou (Miner) Rugg of Mill Run, of the family of Franklin and Bertha C. (Basinger) Miner. See the Rugg/Miner biography for more.

Great-granddaughter Tina Darlene Mitchell ( ? - ? ) was joined in wedlock with (?) Hudec ( ? - ? ). She resided in Confluence in 1995.

Great-grandson Claude Evans McClintock Jr. served in the U.S. Navy circa 1983-1988, attaining the rank of petty officer. In 1988, he was sent on a seven-month deployment to Rota Spain as a member of the Naval Mobile Construction Battalion. Then in 1995, he lived in Confluence. Claude at the age of 43 married 28-year-old Alverda Christina Habera in 2008.

Alma Basinger
Courtesy Chuck-X-Gen

Granddaughter Alma Beatrice "Patty" Harris (1939-2023) was born on Feb. 5, 1939 in Connellsville. She was united in matrimony with James "Herbert" Basinger (May 21, 1936-1997), a native of Normalville and the son of Benjamin F. and Goldie (Rugg) Basinger. Two sons born into this union were Herbert J.R. Basinger and Jay Basinger. Herbert was accidentally shot in the back at the age of 17 by his future brother-in-law Burley Harris. The local newspaper said that he had been "working on a .22 rifle, and had taken the butt or stock off the gun, and placed the butt on the kitchen table. He took the barrel of the gun and placed it on an icebox near the table, and continued working on the stock of the gun. Burley ... came into the kitchen, and picked the barrel of the gun off the icebox and shot Basinger. Neither of the boys was aware that the gun was loaded, and the bullet struck Basinger in the back between the fourth and fifth ribs on the left side, the bullet entering under the left lung." The state police investigated but filed no charges. Later Herbert joined the U.S. Army in service to his country. The family put down roots in Confluence. Herbert's name was in the news in December 1969 when he testified in a court case after his brother William Frederick Basinger allegedly had shot and killed his wife Donna in their Ursina mobile home. Reported the Somerset Daily American, Herbert said he "lives in a trailer behind his brother's [and] was asleep at the time of the shooting and did not know who had awakened him to tell him about the incident." In 1987, the couple endured the untimely death of their son Herbert. Sadly, Herbert died at home at the age of 61 on May 29, 1997. Rev. A. Merl Calkins led the services, with an obituary appearing in the Daily American. Alma outlived her husband by more than a quarter of a century. While in Utah in the Pleasant Grove home of her granddaughter Goldie Daniels, on Feb. 5, 2023, Alma passed away on her 84th birthday. The remains were transported back to Somerset County for interment in the sacred soil of Jersey Baptist Church Cemetery. Rev. Samuel McClintock presided over the funeral service. Alma was survived by five grandchildren, 15 great-grandchildren and two great-grandchildren.

Great-grandson Herbert J.R. Basinger (1959-1987) was born on May 9, 1959. He does not appear to have married. Herbert relocated to Washington, DC. Grief descended on the family when, at the age of 27, and a patient in George Washington University Hospital, he surrendered to the angel of death on April 15, 1987. Following a funeral led by the hand of Rev. Vernon Witt, the remains were lowered under the sod of the Jersey Baptist Church Cemetery. The Somerset Daily American printed an obituary. Inscribed on his grave marker is this epitaph: "Always in our heart." On the second anniversary of his passing, the family placed a memorial in the Daily American reading, in part: "No one knows the silent heartache, Only those who have loved can tell The grief we bear in silence For the one we loved so well."

Great-grandson Jay K. Basinger ( ? -living) was born on (?). He is a 1978 graduate of Turkeyfoot Area High School. Jay joined the U.S. Army and trained as a vehicle mechanic, with a two-and-a-half year deployment to Baumholder, Germany. He received his honorable discharge in 1981. Jay was joined in wedlock with Diane ( ? - ? ).

Grandson Burley Milroy Harris III ( ? -living) has dwelled in Roanoke, VA.

Dora Beachy
Courtesy Chuck-X-Gen
Daughter Dora Charlotte Harris (1908-1990) was born on Nov. 5, 1908 in Connellsville, Fayette County. A newspaper once said that she "attended school in Pennsylvania and Florida and at Purdue University." She was married at least thrice over the years. Her first spouse was Elmer F. Hammer ( ? - ? ). The only child of this union was Donna May Peneton Prass. The family made its home in Lockport, IN. But the marriage was troubled, and Dora filed for divorce in February 1929 in Carroll County Circuit Court. On Christmas Eve 1931, Dora married her second husband, Lafayette resident Claude Perry ( ? -1943). In announcing the wedding, the Lafayette Journal and Courier said that the nuptials were officiated "by Rev. J. Newton Jessup at his home on North street. They were accompanied by Mr. and Mrs. Leonard Acheson. Mr. and Mrs. Perry will make their home at 511 New York street." During that second marriage, the pair owned Perry Window Shade Shop located at 904 Main Street in Lafayette, IN. But fate intervened to cut their marriage short, and the grim reaper swept away Claude in 1943. Dora outlived Claude by seven years and moved the window shade business to 1123 Main Street in 1946. On Feb. 12, 1950, Dora entered into marriage with Harvey Beachy (Nov. 24, 1916-1995), originally from Arthur, IL, and a World War II veteran of the U.S. Navy. Their wedding was held in Lafayette, and they remained for good. Harvey joined with Dora in the ownership of the family window shade business. Their address circa 1990 was 1123 Main Street, Lafayette. The pair belonged to the First Christian Church and she to the Hope Chapter of the Order of Eastern Star. Sadly, as a patient in Home Hospital, she was gathered away by the angel of death at the age of 81 on April 7, 1990. The Journal and Courier printed an obituary. The widowed Harvey spent the remaining years of his life first at 2739 Kossuth Street and then was admitted in about 1992 to the Eastwood Nursing Home of Easton, PA. There, he succumbed to the spectre of death at age 78 on Oct. 29, 1995. His obituary was printed in the Journal and Courier.
Granddaughter Donna May Hammer (1928-2011) was born on May 7, 1928 in Lockport, IN. During her childhood, said a newspaper, she lived in Carroll County and Lafayette, IN from 1932 to 1950. She was a 1945 graduate of Jefferson High School and then majored in science at Purdue University. Her first husband was William Wesley Peneton ( ? - ? ), son of James Peneton. They tied the knot in the Brown Street Methodist Church on Aug. 29, 1948, by the hand of Rev. Earl Heimburger. In reporting on the marriage, the Lafayette Journal and Courier said that the groom also was a Jefferson alum, had completed three years of service in the U.S. Navy during World War II, with two years of deployment in the Pacific Theatre. He also was a Purdue student and at the time of of marriage was manager of the window shade shop owned by Donna May's mother. Their union did not last. On March 3, 1951, at the age of 22, Donna May entered into marriage with Richard Neil Prass ( ? -1994). Two sons of this family were Claude A. "Chuck" Prass and Paul F. Prass. Donna May was employed from 1958 to 1976 as a registered nurse and laboratory technician in Lafayette, and she received her bachelor's degree in 1975 from Purdue University. Richard was a longtime member of the U.S. Air Force. The Prasses relocated several times, including to Indianapolis, Fairfield, CA (by 1953, at Travis Air Force Base) and then Anderson, IN (in 1957) and Greenfield, IN. From 1977 to 2000, in Indianapolis, she was a real estate agent with Tucker Realty. As time allowed, she liked to dance, make dresses, paint and travel, including two trips to Italy. Richard died on March 11, 1994. Donna May's final years were spent in Nazareth, PA, where she moved in 2000 and where her son Claude was residing. She died there at the age of 83 on Sept. 1, 2011. The Lafayette Journal and Courier published an obituary. Burial was in Spring Vale Cemetery.

Great-grandson Claude A. "Chuck" Prass (1953-2015) was born on July 31, 1953 in Fairfield, CA, where his father was serving in the U.S. Air Force. He relocated with his family to Indiana when he was a boy, and he was a 1971 graduate of Jefferson High School. He went on to additional education with Chicago's Midwestern Broadcasting School and then Walker Career Center in Indianapolis. Also trained as a mechanic, he moved frequently during the 1970s and 1980s, living variously in Portsmouth, VA, Pentwater, MI and Chicago. In 1978, he moved to Lawrence, IN and eventually to Greenfield, IN. Additional moves were in 1982 to Pyrmont and, in about 1985, to Colfax, where he spent the 30 remaining years of his life. His employers included Schwab Safe Company, Essex Wire Corporation and Uniroyal Corporation. He also owned his own business in Greenfield, Fair Deal Tune-Up and Repair Shops. At the age of 18, in 1971, he wed his first bride, Linda Faye York ( ? -1979). They divorced within two years. On Nov. 5, 1973, he married again to Marcia Sue Dolby (July 14, 1953-2012), originally from Logansport, IN, and the daughter of William Curtis and Florenze Elizabeth (Marshall) Dolby. The couple's wedding was held in Pyrmont. Their family of children included Matthew Prass, Samuel Prass, Daniel Prass, Arthur Prass, Gloria East and Tanya Schimmel. Over the years, the Prasses dwelled in such places as Lafayette, Rossville, Pyrmont, Greenfield, Lawrence, and Indianapolis and, for the last 28 years, in Colfax. Said the Lafayette Journal and Courier, Claude "was founder of the Indiana Alligators Inc., a non-profit radio group that raised funds for handicapped children in North-Central Indiana, and served as its first president and later secretary-general of the organization. Mr. Prass was also a Scout Leader, serving as Cubmaster and Scoutmaster for Pack and Troup 321 in Colfax, and Advisor for Explorer Post 922. He later served as district Activity Director for the Sugar Creek District of Crossroads of America Council for several years, planning and running Camporees, and he was in charge of the annual District Scouting for Food collections." Claude also was a champion bowler in Frankfort and Lafayette, traveled with Marcia all around the five Great Lakes photographing lighthouses, and spent four decades compiling family history. In her own right, Marcia was a 1971 graduate of Rossville High School. Noted an obituary, "In the 1980's, Mrs. Prass worked for Cree/Knop Auctioneers and Lafayette Auto Exchange, and then 23 years with Frito-Lay until illness forced her retirement in 2011... She was an expert crotcheter, making large blankets and other items for her family and friends." Sadly, Marcia passed into eternity in St. Elizabeth Central Hospital, Lafayette, on Aug. 25, 2012. Claude outlived her by three years. Having been ill for a lengthy time period, he died on Dec. 9, 2015 at the age of 62 in St. Elizabeth East Hospital in Lafayette. Burial ws in Rossville Cemetery, with Pastor Greg Eberhard leading funeral services.

Great-grandson Paul F. Prass received his associate degree in applied science in mechanical engineering in 1980 from Purdue University, and then went on to earn his bachelor's (1982) and master of science of business administration (1992) degrees, also from Purdue. He relocated to Bethlehem, PA, where he worked for Rexroth Corporation in Bethlehem and in 1992 was elected vice president and chapter support for the International Organization for Fluid Power and Motion Control Professionals. He is believed to own Innovative Designs & Publishing Inc., which produces The Home News of Walnutport, PA.
. Rev. Jon Cockrel led the funeral service, followed by interment of the remains in Metropolis Memorial Gardens. Scott outlived his bride by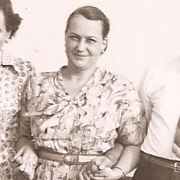 Jane Hinners.

Courtesy Chuck-X-Gen

Daughter Mary Jane "Jennie" Harris (1910-2004) was born on Sept. 26, 1910/1911 in Connellsville, PA and grew up in neighboring Somerset County. She relocated to Indiana as a young woman where she lived in West Lafayette and obtained her bachelor of science degree in home economics in 1938 from Purdue University. A year before graduation, on March 20, 1937, at age 26, she wed Scott William Hinners Sr., PhD (Jan. 2, 1913-2010), with the wedding taking place in Pontiac, IL. He was a native of Massac County, IL, and the son of William and Elizabeth Hinners. Their union endured for an extraordinary 67 years until the separation of death. The pair begat a family of three children -- Scott William Hinners Jr., Karen Sue Vaughn Ward and Jane Ann Engh.

By the time of marriage, Scott already held his bachelor's degree from the University of Illinois (1934) and had spent two years as a vocational agriculture teacher in Equality, IL. Then from 1936 to 1942, he was an extension poultry specialist at Purdue, where the two apparently had met. In 1942, he earned a master of science degree from Purdue and eventually, in 1958, a doctorate at UI. He joined the Indiana State Poultry Association as executive secretary-treasurer in 1942 and remained in the role for two years. Then in 1944, he was tapped to manage the Fairview Poultry Farm in Metropolis, IL. After seven years with the Farm, he was hired to teach at Southern Illinois University's College of Vocations and Professions. He was promoted in 1955 to assistant professor, again in 1958 as associate professor of animal industries and then in 1970 as a full professor. His work during those years included extensive research in animal science and poultry nutrition. Other assignments in the 1970s involved U.S. Agency for International Development (USAID), the Uttar Pradesh Agricultural University in Pantnagar, India and consulting in Saudi Arabia. He wrote more than 100 scientific and popular articles and, in recognition of his accomplishments, was bestowed the Illinois Egg Council Achievement Award in 1961 and the Poultry and Egg National Board Achievement Award in 1960. His memberships included the American Society of Animal Science, American Association for the Advancement of Science, Poultry Science Association and World's Poultry Science Association.

In her own right, for many years, Jennie taught at Southern Illinois University and was a general studies advisor. Then in 1955, she received her master of science degree from SIU. In her free time Jennie liked to garden, do needlework, travel and write. She was a member of First United Methodist Church. The family was plummeted into grief when their son Scott died of cancer in 1969. Widely traveled, the couple became visiting residents of Pantnagar, Indiana in the early 1970s and similarly were visiting residents of Saudi Arabia in the 1980s-1990, while maintaining a home base of Carbondale and Metropolis, IL. At the age of 93, Mary passed away at home in Metropolis on Feb. 3, 2004. An obituary was published in the Carbondale Southern Illinoisan and Paducah (KY) Sun. Rev. Jon Cockrel led the funeral service, followed by interment of the remains in Metropolis Memorial Gardens.
Helmer and Jane Engh
Courtesy Chuck-X-Gen

Granddaughter Jane Ann Hinners (1941-2009) was born in 1941. Jane received her bachelor's degree at Southern Illinois University. On July 7, 1962, in nuptials held in the First Methodist Church of Carbondale, IL, she was united in wedlock with Helmer Arthur "Bud" Engh Jr. (May 21, 1935-2009), a native of Mankato, Blue Earth County, MN, and the son of Dr. Helmer Arthur and Helen I. (Runnestrand) Engh Sr. In announcing the marriage, the Carbondale Southern Illinoisan said that the ceremony was led by Rev. Donald Crocker and that the bride "wore a gown of silk organza and chantilly lace. The fitted lace bodice was designed with long sleeves and a jeweled sabrina neckline. An overskirt of silk organza was caught up with lace roses just above the hemline." They were the parents of two -- Thomas Helmer Engh and Anne Linnea Nelson. Helmer was an alumnus of Washington University and held a master's degree from Southern Illinois University. He taught in the 1960s in the Cook County (IL) Public School System, including at Beeman High School in Midlothian in 1962. The couple relocated to Helmer's home community of Mankato, where he had been named a professor of biology at Mankato State University. Jane was employed as a librarian with the Minnesota Valley Regional Library and the Traverse de Sioux Library System. Tragically, they both were instantly killed in an automobile accident on Interstate 380 near Cedar Point, IA on Feb. 26, in 2009. Reported the Des Moines Register, "The accident happened with the couple's car crossed the center median and struck a semitrailer truck." Their double funeral was conducted in Mankato's Unitarian Universalist Fellowship Church. Afterward, burial took place in the Metropolis Memorial Gardens in Massac County, IL. In their obituary in the Southern Illinoisan, the family asked that any memorial contributions be made to the Mankato Meals on Wheels, Blue Earth County Historical Society or Friends of the Deep Valley Libraries.
Granddaughter Karen Sue Hinners (1945- ? ) was born in 1945. She was twice-married. She first was joined in matrimony with (?) Vaughn ( ? - ? ). The pair was in Decatur in 1969. Later, she wed James Ward ( ? - ? ). In 2004, the Wards made a residence in Springfield, IL.
Grandson Scott William Hinners Jr. (1946-1969) was born five days before Christmas 1946 in Paducah, KY. He was a 1968 graduate of Southern Illinois Univeresity and went on to study for a master's degree at his alma mater. He held memberships in the university's glee club and Chemeka, the American Chemical Society, and the First United Methodist Church. Sadness swept over the family when Scott was diagnosed with leukemia. After a year of suffering, he died from its effects at the age of 21 in Chicago's St. Luke's Hospital on Nov. 3, 1969. Rev. Lee C. Moorehead presided at the funeral service. The Evansville (IN) Press and Carbondale Southern Illinoisan printed obituaries. His remains sleep for all time in Metropolis Memorial Gardens. A few months after his death, in January 1970, the SIU glee club performed a memorial concert in his name.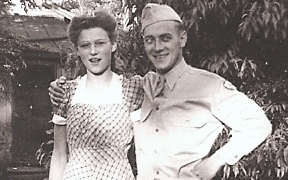 Albert W. Harris and (?).

Courtesy Chuck-X-Gen

Son Albert Winfield Harris II (1918-1993) was born on Feb. 17, 1918 in Dawson, Fayette County, and was named for his maternal grandfather. He stood 5 feet, 7½ inches tall in adulthood, and weighed 135 lbs., with brown hair and brown eyes. On April 30, 1936, when he was 18 years of age, he entered into marriage with Fern Addis ( ? - ? ), with their wedding taking place in South Connellsville. The couple is not known to have reproduced. During the grip of the Great Depression, Albert is known to have relocated to Texas and in 1939 dwelled at Eagle Lake, TX. He joined the U.S. Army on Oct. 26, 1939, in Houston, TX, and continued military service with the rank of private during World War II. On Dec. 6, 1942, he was joined in wedlock with Beulah I. Sanders ( ? - ? ). Justice of the peace W.P. Howard officiated. Upon Albert's discharge, the Harrises established a home in Iowa. As of late 1945, he was unemployed and lived in Lafayette, Tippecanoe County, IN, at 304 South Sixth Street. Later that same year, in mid-December 1945, he relocated to Joplin, MO, where he began employment as a trucker for the St. Louis & San Francisco Railway. As of 1956, his home was in Oskaloosa, Mahaska County, IA, at the address of 312 North Market Street. Later, he moved to Des Moines, IA and settled as of 1965 at 717 Franklin Avenue. A welder by occupation, he appears to have been self-employed. Albert made news in the Des Moines Register in September 1965 when he declared bankruptcy in federal court, citing assets of $2,478 against debts of $3,596. Albert died in Des Moines, at the age of 75, on June 28, 1993. Burial was in Rock Island National Cemetery, with a standard-issue military marker standing at the grave. A brief notice of his passing was printed in the Register..

~ Son Robert Lloyd McNeill Jr. ~

Son Robert Lloyd McNeill, Jr. (1879-1957) was born on April 5, 1879 near Confluence.

He never married.

He is believed to be the same "Robert McNeill" who owned 150 acres of farmland near the Jersey Baptist Church. In late October 1913, the Meyersdale Republican reported that his farm was 10 times smaller than in reality. The following week, the newspaper ran a correction, saying "the size of the farm of Robert McNeill could scarcely contain himself on a 15-acre patch, since he is a man who likes to do things on a large scale, and the tilling of 150 acres is none too much for him."

He remained on his Confluence farm for the balance of his long life.

In October 1924, irritated at intruders on his property, perhaps hunters, he placed a classified notice in the Republican, stating: "No trespassing on the McNeill farm in Lower Turkeyfoot Township, Somerset County, Pa., in any way."

Over the years, he developed a gastric ulcer leading to what a physician called a "massive gastric hemorrhage." In late April 1957, he was admitted to the Somerset County Home. There, just five days later, he passed away at the age of 78 on May 3, 1957. Burial was in the Jersey Baptist Church Cemetery.

Copyright © 2009, 2012, 2014-2018, 2021, 2023 Mark A. Miner