Dora B. (Nicklow) Wildey
(1858-1941)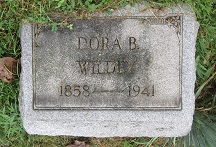 Hill Grove Cemetery
Dora B. (Nicklow) Wildey was born on June 16, 1858 near Ursina, Somerset County, the daughter of Jesse B. and Julia Ann (Ream) Nicklow.
On Aug. 3, 1881, at the age of 23, Dora was united in matrimony with widowed, 34-year-old immigrant Jacob Wildey (March 23, 1847-1926), a native of Berne, Switzerland. Jacob had come to the United States with his parents at the age of 12 and initially settled in Allegheny County.
Jacob's first wife had been Swiss-born Margaret Elizabeth "Maggie" Derschinger ( ? - ? ), and he brought two sons to the marriage with our Dora -- John Henry Wildey and Clarence Wildey.
Dora and Jacob produced four more children of their own, Nevada Nickel Riggar, Dakota Mitchell, Theodore H. Wildey and Lloyd Wildey.
Jacob made a living over the years as a wagon maker, and was well and widely known for his craft. His shop was located next to their residence at 213 East Apple Street. Reported the Connellsville Daily Courier: "...when as a young man, Mr. Wildey came to this city. He learned his trade in the employ of a man named Matthews, and later was associated in business with him. The establishment was located in East Crawford avenue, and when he began business for himself, Mr. Wildey opened a shop where his residence now stands. Later he built the larger plant occupied at present." He sold wagons to customers not only in Fayette County but also the surrounding counties of Greene, Washington and Westmoreland.
The Connellsville Weekly Courier profiled his business in a May 1899 edition:
The proprietor personally superintends all operations of his establishment, selecting material with the utmost care and sound judgment, thus insuring such products as will withstand the most crucial tests, both in regard to their materials and workmanship. The vehicles turned out by him are unsurpassed for strength, lightness, caswe of draft and thorough reliability, while the prices are always low. A full stock of buggies, wagons, both single and double, are constantly carried, while he does all kinds of repairing, putting on new wheels, rims, spokes, painting, etc. Those who want the best carriages that can be made at a reasonable price can do not better than to place their orders with Mr. Wildey. All orders are promptly attended to.
He installed new technology to add efficiency to his work, including a new rip saw and planer in July 1903. He told a Weekly Courier correspondent that he "can now do work in an hour that it took half a day to do by hand."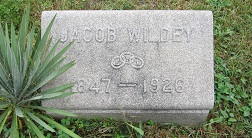 Hill Grove Cemetery
Jacob was a member of the "Three Link Fraternity" -- known for short as "FLT" -- today known as the International Order of Odd Fellows. He also belonged to the German Lutheran Church, was a Democrat in politics and in 1895-1898 served on the board of education in Connellsville, representing the Third Ward. He owned stock in the West Penn Power Company as well as bonds, coal and stock and coal properties. They also owned a farm in Connellsville Township.
The coal land was known as the "Zollar Tract" in Washington County, and was purchased in 1907 for $65,600 through a syndicate of Connellsville investors also including George W. Campbell, Daniel Sinclair, Grant Dull, John B. Davis J.W. Buttermore, Anthony Brookman, P.H. Beighley, J.B. Echard, Joseph T. Johnston and Charles F. Bishop.
The Wildeys enjoyed day trips in their wagon to visit relatives in friends. A May 1898 article in the Weekly Courier states that they "drove out last Sunday and spent a few hours visiting the family of Mrs. Wildey's brother, J.B. Nicklow."
Sadly, Jacob was stricken at the age of 79 with a deadly case of bronchial pneumonia, and died on Dec. 29, 1926. His death was front page news in the Daily Courier, which said that "Although not feeling well during the past year he had remained active in the business." His remains were placed into rest in Connellsville's Hill Grove Cemetery. The FLT's symbol is included on his grave marker.
Under the terms of his will, he bequeathed his carriage shop at 217 East Apple Street to his son Lloyd along with stock in West Penn Power Company. Everything else, including cash, coal properties, real estate, a farm in Connellsville Township and other stock was left outright to the widow.
Now alone, Dora remained in their East Apple Street home and continued to enjoy traveling. She is known to have spent many visits with her married daughter Dakota Mitchell in Warren, PA.
Dora suffered from senility and organic heart disease toward the end of her life. She died at home on Nov. 11, 1941 at the age of 83. Following funeral services led by Rev. Dr. William H. Hetrick of Trinity Lutheran Church, her remains were placed into rest in Hill Grove Cemetery in Connellsville. Her daughter Nevada of Connellsville's Jefferson Street signed the death certificate. She was survived by eight grandsons, one granddaughter and four great-grandchildren. The Daily Courier and Uniontown Morning Herald printed obituaries.
When the founder of this website photographed her grave marker in October 2017, he found it upside down, toppled presumably by vandals.
~ Stepson John Henry Wildey ~
Stepson John Henry Wildey (1874-1951) was born on Sept. 22, 1874 in Connellsville.
In about 1906, he relocated to Point Marion, Fayette County, where he remained for the balance of his life. There, he was employed as a blacksmith at a coal mine.
He married Bertha Bell Cromwell (Feb. 28, 1881-1943), daughter of John and Susan (Grover) Cromwell and a native of Chalk Hill, Fayette County.
They produced these known children, Marguereite Shriver, Elizabeth Schmidt, Marie Maple, John Wildey Jr., Milton Wildey and Rev. Donzel Wildey.
Point Marion, PA, home of John Henry and Bertha Wildey, early 1900s
Sadly, Bertha Bell died of a heart attack at age 60 on Jan. 25, 1943. His address in the early 1950s was on Sadler Street.
John lived for another eight years and dwelled in Point Marion, PA. He suffered for 15 years with hardening of the arteries and, in late November 1951, he suffered a heart attack. He lingered for three days and died at the age of 77 on Nov. 30, 1951. His remains were placed into eternal rest in Evergreen Memorial Cemetery in Point Marion.
Daughter Marguerite Wildey married (?) Shriver. In 1936, with the marriage apparently over, she lived with her parents in Point Marion. Later, she married (?) Trump and made their home in Lake Lynn, Fayette County.
Daughter Elizabeth Wildey (1908-1973) was born in about 1908. She lived in Pittsburgh circa 1936. She married (?) Schmidt by 1943. Later, she wed Carl L. Curry ( ? - ? ). Her two known offspring were Richard W. (?) and Carla Albridge (or "Albright"). Their home was at 2987 Crab Hallow Road in the Pittsburgh suburb of Penn Hills. They were members of Edgewood Presbyterian Church, the Penn Hebron Club and Edgewood Country Club. Sadly, Elizabeth died at the age of 65, on Nov. 21, 1973, in Columbia Hospital. An obituary was printed in the Pittsburgh Press.
Daughter Marie Wildey married (?) Maple ( ? - ? ). The Maples dwelled in the coal mining town of Dilliner, Greene County, PA.
Son John Wildey Jr.
Son Milton Wildey was a student in the Ad-Art Studio School in Pittsburgh in 1937, studying commercial art. He made his home in New York in 1973.
Son Rev. Donzel C. Wildey was enrolled in 1937 in Waynesburg College and in 1939 was in school in Western Maryland, studying for the ministry. He often filled in as a guest preacher at the First Methodist Church in Point Marion. On Aug. 25, 1942, Donzel was wedded to Ellen E. Renner ( ? - ? ), daughter of Larry S. Renner of Flemington near Lock Haven, PA. The ceremony was held at the Flemington Methodist Church, officiated by Rev. W.H. Gould. Also in 1942, he was assigned to a congregation in Leeds, MD. Then in 1943 he had charge of a church in Flemington. At some point he was named executive director of the Maryland Council of Churches. Then by 1973, they had relocated to Wilmington, DE.
~ Stepson Clarence J. Wildie ~
Stepson Clarence J. Wildey (1877-1934), primarily spelled "Wildie" in adulthood, was born on Jan. 16, 1877 in Connellsville.
In young manhood, he earned a living as a sawyer in Chalk Hill, Fayette County.
On March 10, 1898, when he was about 21 years of age, he married 20-year-old Mary Agnes Harbaugh (Jan. 11, 1878-1963), daughter of Robert and Ellen (Holland) Harbaugh. The nuptials were held in Ohiopyle, Fayette County, officiated by George D. Livingston.
Their known daughters were Rosella Gensler, Lena Frame, Euphemia W. "Phema" Hoover Oberdick Rebuck and Vergie M. Smith.
He made his home in Carnegie, near Pittsburgh, in the mid-1920s and on the Steubenville Pike in Gayly, Robinson Township in 1934.
Clarence was a longtime laborer. Just four weeks after his 57th birthday, stricken with chronic heart problems, he died suddenly on Feb. 13, 1934. Funeral services were held at the Union United Presbyterian Church of Gayly. A short obituary appeared in the Pittsburgh Sun-Telegraph.
Mary endured in widowhood for another 29 years and spelled her name "Wildey." She lived with her daughter Lena Frame in the Meadowlands community near Washington, Washington County, PA. Suffering from heart disease, she died at the age of 85 on March 4, 1963. Burial was in the Union Cemetery in Robinson Township. A death notice was published in the Pittsburgh Press.
Daughter Rosella Wildey ( ? -1972) was born in (?). She entered into wedlock with Joseph Gensler ( ? - ? ). Together, they bore a brood of children, among them Glenn Gensler, James Gensler, John Gensler, Mary Skarypa and Pearl Wischmann. The family's dwelling in 1972 was on Scotia Street in Ingram. Sadly, Rosella died on Aug. 11, 1972. A death notice was printed in the Pittsburgh Press. She was survived by 15 grandchildren and one great-grandchild.
Granddaughter Mary Gensler married (?) Skarypa
Granddaughter Pearl Gensler wedded (?) Wischmann
Daughter Lena Wildey ( ? - ? ) was born in (?). She married (?) Frame. Her home in the early 1960s was in the Meadowlands neighborhood near Washington, PA.
Daughter Euphemia W. "Phema" Wildey ( ? - ? ) was born in (?). She first married (?) Hoover ( ? - ? ). The couple divorced on Oct. 1, 1932. As a single woman, she dwelled in Carnegie at 14 Finley Avenue. Her second spouse was 38-year-old laborer Oscar Conrad Oberdick ( ? - ? ), son of Louis and Carrie (Renner) Oberdick. He too was divorced from his first spouse. They tied the knot on April 21, 1934 in Gayly near Robinson Township. By 1972, she had wed again to Charles E. Rebuck ( ? - ? ) and had relocated to Syracuse, NY. Sadly, Charles died at the age of 1 on Nov. 12, 1965. An obituary in the Canonsburg (PA) Daily Notes reported that he lived in North Syracuse but was "known in the Meadow Lands area."
Daughter Vergie M. Wildey ( ? - ? ) was born in (?). On April 13, 1935, in Washington County, she was united in matrimony with George W. Smith ( ? - ? ). She dwelled in 1963 in Irwin, Westmoreland County, PA.
~ Daughter Nevada (Wildey) Nickel Riggar ~
Daughter Nevada Wildey (1882-1947) was born on June 22, 1882 in Connellsville.
On Sept. 30, 1908, at the age of 26, she was joined in marriage with 40-year-old Grant Nickel (Oct. 2, 1868- ? ), son of Amzi and Sabina (Jordan) Nickel. Rev. A.J. Heller officiated at the 8 p.m. ceremony at the Reformed Church on Green Street. Said the Connellsville Daily Courier, "Both of the contracting parties are widely known and have a wide circle of friends and acquaintances who will be glad to wish them a long and prosperous matrimonial journey.... The affair was kept unusually quiet and came as a surprise to their friends." At the time of marriage, Grant was a salesman working for wholesale merchant R.J. Welsh.
Two known sons were born to this union -- Jack Nickel and Jacob Nickel.
Their first home was a cottage at 117 North Prospect Street. Then circa 1914 their residence was at 206 West Green Street, with Grant earning a living as a teamster.
Heartache shook their lives when Grant was diagnosed with tuberculosis of the right lung. His health failed and he died at the age of 46 on Nov. 29, 1914.
By the mid-1920s, she had married again to Frank Riggar (1879- ? ), also spelled "Rigger." He was the son of Harry and Jennie (Martin) Riggar of Bullskin Township, Fayette County.
Frank too had been married before and brought three children of his own to the second marriage -- Elizabeth Hafer, Mabel Russman and Harry J. Riggar.
They dwelled in Connellsville at 337 Jefferson Street and held a membership in the Central Methodist Church.
In early 1945, Nevada began to suffer from cancer of the uterus. The malignancy spread into her abdomen and at the age of 65 she died in Connellsville State Hospital on Aug. 23, 1947. Burial was in Walnut Hill Cemetery.
Frank lived for another 15 years after his wife's death. His address in 1960 was 408 Johnston Avenue, Connellsville. He died in Connellsville State Hospital at the age of 81 on April 4, 1960. An obituary in the Connellsville Daily Courier said he was survived by 11 grandchildren and one great-grandchild.
Son Jack W. Nickel served in the U.S. Navy in the years following World War II. He lived in Washington, DC in 1960 and in California in 1994.
Son Jacob F. Nickel (1921-1994) was born on Dec. 31, 1920 in Connellsville. On April 17, 1942, when he was 20 years of age, he entered into wedlock with Annabel Pfeiffer ( ? - ? ). Their wedding ceremony was held in New London, CT. He joined the U.S. Navy and served during World War II and into 1947. The couple produced two sons -- Theodore Riggar and Jack Riggar. In 1960, the Nickels made a home in New London. He was a member of the Masons lodge in Connecticut and the Veterans of Foreign Wars in Chattanooga, TN. He died at the age of 73 in Carbondale (IL) Memorial Hospital on Dec. 15, 1994. Burial was in Oakland Cemetery in Carbondale. His obituary was published in the Carbondale Southern Illinoisan.
Grandson

Theodore Riggar

dwelled in Carbondale, IL in 1994.
Grandson Jack Riggar

settled in Chattanooga, TN.
Stepdaughter Elizabeth "Betty" Riggar was born in (?). She was united in matrimony with (?) Hafer. They relocated to Syracuse, NY and were there in 1947-1960. By 1994, they had migrated to Tennessee.
Stepdaughter Mabel Riggar married (?) Russman. They put down roots in Little Summit near Dunbar, Fayette County.
Stepson Harry J. Riggar joined the U.S. Navy and served in 1947. In 1960, Harry resided in San Francisco.
~ Daughter Dakota (Wildey) Mitchell ~
Daughter Dakota Wildey (1883-1962) was born in October 1883.
She was wedded to James J. Mitchell (1877- ? ).
The couple's two sons were Joel E. Mitchell and Harold E. Mitchell.
By 1941, they had relocated to Warren, Warren County, PA, with an address of 1019 Conewango Avenue. There, James earned a living as manager of the Warren Water Company. They were members of the First Baptist Church. They appear to also have lived or vacationed in the mid-1920s in Long Beach, NJ.
At the death of her mother in November 1941, Dakota is known to have traveled to Connellsville for the funeral.
Dakota's final years were spent in the Ashbrook Nursing Home in Scotch Plains, NJ. She died on Oct. 21, 1962 as a patient in Memorial General Hospital in Union, NJ. Her obituary was published in the Warren (PA) Times Mirror. Rev. Dr. Robert G. Longoher, of the First Presbyterian Church of Cranford, NJ, led the funeral service in Westfield, NJ.
Son Joel E. Mitchell (1906-1985) was born in 1906 in Connellsville, Fayette County. He grew up in Warren, PA. Then in 1948, he relocated to Westfield, NJ. Joel was united in matrimony with Margaret Ahern ( ? - ? ). One daughter was born to the couple -- Louise L. Pearson. After establishing roots there for 23 years, they pulled up stakes and relocated to Mountainside, NJ. He founded his own public accounting firm in New York City, named Joel E. Mitchell & Company. He belonged to the Westfield Presbyterian Church and to the Echo Lake Country Club. Their address in 1960 was 426 Birch Avenue. He retired in 1979. Sadly, Joel died at Overlook Hospital in Summit, NJ at the age of 79 on May 23, 1985. An obituary appeared in the Bridgewater (NJ) Courier-News.
Granddaughter Louise L. Mitchell ( ? - ? ) was born in (?). As a young woman she was an alumna of the Hartridge School in Plainfield and attended Pennsylvania State University. On Oct. 29, 1960, she wedded H. Frank Pearson ( ? - ? ), a resident of Moylan, PA and the son of Frank H. Pearson. The

Bridgewater (NJ) Courier-News

printed the news of their marriage license. Her home in 1985 was in Chatham, NJ.
Son Harold E. Mitchell (1910- ? ) was born in 1910. He grew up in Warren, Warren County, PA. Harold lived in Bloomfield, NJ in 1962 and in Lakewood, NJ in 1985.
~ Son Lloyd S. Wildey Sr. ~
Son Lloyd S. Wildey Sr. (1885-1953) was born on Nov. 9, 1885.
He dwelled near his parents in Connellsville and helped his father operate the family wagon-making business.
Circa 1914, Lloyd was wedded to Stella Matiben ( ? -1924) of the coal mining town of Trotter in Dunbar Township near Connellsville, and the daughter of German immigrant August Matiben. News of their marriage license was announced in the Pittsburgh Post-Gazette.
They made their home near his parents, at 216 Apple Street.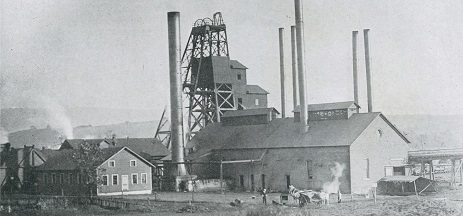 Trotter works in Stella Wildey's hometown area
The couple produced one known son, Lloyd Wildey Jr.
Tragically, Stella contracted typhoid fever at the age of 35 and, after suffering from a hemorrhage, died on Sept. 15, 1924. Interment was in St. Joseph Cemetery.
After the parents' deaths, Lloyd was bequeathed the family-owned carriage shop and residence at 213-217 East Apple Street along with a block of stock in West Penn Power Company.
Further heartache compounded the family when son Lloyd Jr., burdened with chronic heart disease, died at the age of 18 on April 19, 1933. Lloyd Sr. continued his work as a carpenter in his wagon shop, a role from which he eventually retired.
At the age of 67, Lloyd suffered a cerebral hemorrhage at home and died on Sept. 14, 1953. His body was not found for a week. Burial was in Hill Grove Cemetery.
Four years later, the Wildeys' old carriage/wagon shop and residence, on East Apple Street between Carnegie Avenue and Prospect Street, was torn down. The site then was paved to provide parking for members of the Immaculate Conception Catholic Church. Reported the Connellsville Daily Courier, "When not needed for parking the lot also provides a playground area for students of Immaculate Conception School."
Son Lloyd Wildey Jr.
~ Son Theodore H. Wildey ~
Son Theodore H. Wildey (1893- ? ) was born in 1893.
When he was about 20 years of age in 1913, he was badly injured in Clarksburg, WV when "crushed between an express truck and a freight train," said the Connellsville Daily Courier. Fortunately, he recovered.
In about 1914, he was joined in the bonds of wedlock with Antoinette Hefft ( ? - ? ) of Scottdale, Westmoreland County. News of the marriage license, obtained in Pittsburgh, was published in the Pittsburgh Press and Uniontown Morning Herald.
The couple made their home in Scottdale.
Together, they produced two known sons, James E. Wildey and Theodore George Wildey.
In mid-August 1956, while watching the annual parade of the Western Pennsylvania Fireman's Association in Connellsville in 90-degree heat, Theodoe suffered a heart attack and was hospitalized.
Son Theodore George Wildey (1914-1961) was born on Nov. 15, 1914 in East Scottdale, Fayette County. He married Thelma K. ( ? - ? ) and lived at Box 209 in rural Scottdale. To earn a living, Theodore labored at the Melter Steel Works. He suffered from pulmonary emphysema for five years and finally succumbed at the age of 46 on Feb. 18, 1961, while a patient at Frick Community Hospital in Mount Pleasant. His remains were lowered into the earth in Green Ridge Cemetery north of Connellsville.
Son James E. Wildey (1920- ? ) was born in about 1920. He married Marjorie Lain ( ? - ? ) of Willow Springs, IL. He joined the U.S. Army Air Forces on Nov. 1, 1939 and trained at Langley Field, VA and in Atlanta. Then in June 1944, he was stationed at the Overseas Replacement Depot in Kearns, UT.
Copyright © 2009, 2012, 2014-2018, 2021 Mark A. Miner